Last Updated on November 5, 2021
"Ashley Biden" is trending on Twitter following the verification of her diary that National File published last year, which included various scandalous details regarding her life, including "not appropriate" showers she took with her father Joe as a child.
A week and a half before the 2020 election, National File broke the story after a Project Veritas whistleblower provided a digital copy of Ashley Biden's diary to journalist Patrick Howley.
Today, the FBI searched two addresses in New York related to Project Veritas in an apparent attempt to gain information about how the diary was acquired, admitting that Ashley Biden reported the diary stolen in the process when the story was then broken by the New York Times. The Project Veritas whistleblower told National File that the diary was found at an address where Ashley Biden used to stay.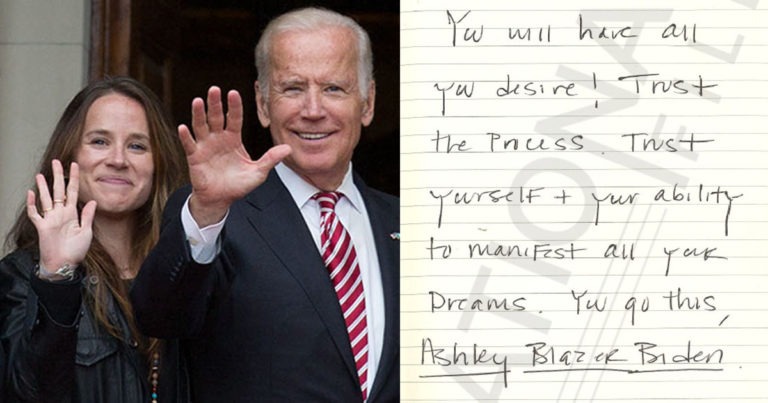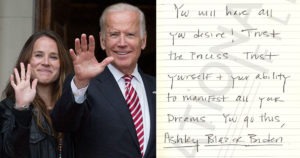 Entries in the diary include the author revealing she believes she was sexually molested as a child and shared "probably not appropriate" showers with her father, some that detail the author's struggle with drug abuse and the author's crumbling marriage with multiple affairs, along with entries showing the family's fears of a potential scandal due to her brother's new home, and those that show a deep resentment for her father due to his money, control, and emotional manipulation.
On Friday, The New York Times published an article confirming that the FBI was investigating how the diary was obtained, and had raided two addresses in New York in connection. Despite the fact that their story included no discussion of the contents of the diary itself, the story of the diary was now widely spread across the internet. As a result, Ashley Biden trended on Twitter, hitting at the time of writing the sixth spot on the trending list.

Many conservatives and supporters of President Trump were quick to bring up a number of salient points, including why the FBI was investigating the theft of a book, something that John Cardillo highlighted would not even be picked up by "local police," with Representative Paul Gosar quizzing if the FBI were now the Bidens's "private security force," and if the mainstream media would once again ignore the allegations included in the diary.
Have you read Ashley Biden's diary in which she discusses her probably not appropriate childhood showers with Joe? Millions of people have read it at https://t.co/GFYUudqjzh!https://t.co/3M1Xb1Q7w1

— Patrick Howley (@HowleyReporter) November 5, 2021
I'm confused. Are federal agents the private security force for Hunter Biden (remember the lap top) and Ashley Biden? Running around hiding evidence and what not. https://t.co/ttIo3btPRv

— Paul Gosar (@DrPaulGosar) November 5, 2021
Why are they so terrified of the contents of Ashley Biden's diary?

What did Joe do to those kids that fucked them up so badly?

This is chilling. DOJ and FBI are more weaponizes against the right now more than ever. https://t.co/vbVNpadKvY

— John Cardillo (@johncardillo) November 5, 2021
If the diary isn't Ashley Biden's and it doesn't contain damning info on Joe, why would DOJ (SDNY) and FBI even be involved?

Then it would just be a missing worthless book.

Local police wouldn't even investigate that. They would maybe take a report and forget about it.

— John Cardillo (@johncardillo) November 5, 2021
So it really was Ashley Biden's diary, yikes.https://t.co/QDpcHczHU0

— Rosie Memos (@almostjingo) November 5, 2021
Sooo now that it's confirmed that Ashley Biden's diary was real… Now we get to watch the corporate media ignore her accounts of Joe molesting her…

— Tim Young (@TimRunsHisMouth) November 5, 2021
In 24 hours the Justice Department confirmed the dossier was fake and confirmed Ashley Biden's diary was real.

That blows 2 major leftist narratives… let the screeching begin.

— Tim Young (@TimRunsHisMouth) November 5, 2021
No one in the GOP was saying sh*t about Ashley Biden's diary. The FBI screwed up by authenticating it to the NY Times, who then published a hit piece on Project Veritas.

The FBI is as effective as Biden. #LetsGoBrandon https://t.co/xVm97aDJEe

— Jennifer Van Laar (@jenvanlaar) November 5, 2021
https://twitter.com/NotAlexSheppard/status/1456706866826862602
The FBI conducted a raid of two New York addresses of people connected to Project Veritas as part of an investigation on how Ashley Biden's diary was made public shortly before the 2020 election.,,100% COMMUNISM ON DISPLAY…I HATE IT, PURE INTIMIDATION!

— Anthony (@Tony19542) November 5, 2021
So Ashley Biden's diary was real.

The same diary where she says she was molested at a young age and took inappropriate showers with her father.

Are you awake yet?

— Lavern Spicer (@lavern_spicer) November 5, 2021
Ashley Biden detailed being molested and taking inappropriate showers with her dad.

FBI confirms it is real.

Why did the FBI raid Project Veritas journalists homes for having the diary?

They should raid the White House.

— Carmine Sabia (@CarmineSabia) November 5, 2021
However, despite the fact that New York Times reporters confirmed that the diary published by National File was legitimately from Ashley Biden, Democrat supporters on Twitter refused to believe that it was real, saying it was a hoax from the "GQP," and that even if it was real, President Trump was somehow worse, and that it was completely "unChristian" to publish the diary.
Ashley Biden's diary…….we all know this is a weak, depraved attempt by the GQP to discredit President Biden. There's no way in hell that diary is authentic. When will the lies stop?

— Sydney Marie has some nerve. (@SydneyMarie_13K) November 5, 2021
https://twitter.com/BrienneOfSnark_/status/1456704675860918277
Wait. Ashley Biden had a diary stolen and published that detailed, among other things, how she wanted to be sober and her marriage problems.
MAGA are only not calling these thieves criminals but whistle blowers.
I'm starting to hate MAGA with every fiber in my body.

— redwhiskeypete (@redwhiskeypete) November 5, 2021
Once again every attack from the Right is projection and confession.

Now they're trying to claim Biden molested his daughter Ashley Biden when Trump publicly and loudly would talk about how hot he found his own daughter.

— Michael Swartz (@Maswartz226) November 5, 2021
https://twitter.com/FLOA_MissLinda/status/1456708399110840330
There may well have been a diary stolen from Ashley Biden but the disgusting bits that someone is releasing from a supposed diary of hers are totally fake. Totally.

— Judith Rosenberg (@RosenbergJudith) November 5, 2021