Last Updated on November 18, 2022
GOP establishment leader and Speaker of the House pretender, Kevin McCarthy used FTX cash to defeat conservatives in 2022, as the corrupt, globalist-tied crypto exchange funded the establishment wings of both parties. Now, McCarthy is feeling the heat, as conservative members of Congress, and the voters they're accountable to, are demanding answers for the GOP's failed "red wave," which looked more like a pink trickle.
Throughout the midterm campaign season, GOP establishment leader Kevin McCarthy (CA-23) used his Congressional Leadership Fund political machine to inject massive amounts of cash into House races nationwide. In doing so, he targeted GOP primary races and even general elections vs. Democrats, in which America First conservatives, aligned with President Trump, were on the ballot.
Millions of dollars worth of the campaign money came straight from corrupt crypto exchange FTX and its top executives.
Along for the ride on McCarthy's scheme were GOP lobbyist Jeff Miller, described as one of McCarthy's "closest friends," and Brian Walsh, an establishment strategist who McCarthy brought in to take down Madison Cawthorne after the young Representative blew the whistle on DC drug use and Capitol Hill pervert parties.
As they often do, over a month ahead of the 2022 primaries, The Washington Post, notoriously used for decades as a uni-party communication rag, openly admitted that McCarthy was using left-wing oligarch money to "sway" the GOP field in favor of his establishment agenda.
Conveniently for McCarthy and the establishment, the piece wasn't published until after the last of the GOP's nominating primaries had ended.
McCarthy, The Post reported in their September piece, led a "secretive," anti-MAGA campaign within the GOP, using the party's oligarch-funded pocketbook to "systematically weed out GOP candidates who could either cause McCarthy trouble if he becomes House speaker or jeopardizes GOP [establishment] victories." 
"Most" of the money (millions of dollars), reported The Post, "came from Ryan Salame, an executive at cryptocurrency exchange FTX."
FTX, The Post explained, is "a major donor to both McCarthy's own operation and to other groups backing McCarthy's favored candidates."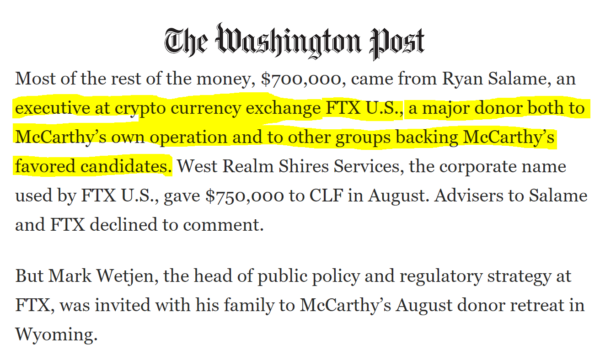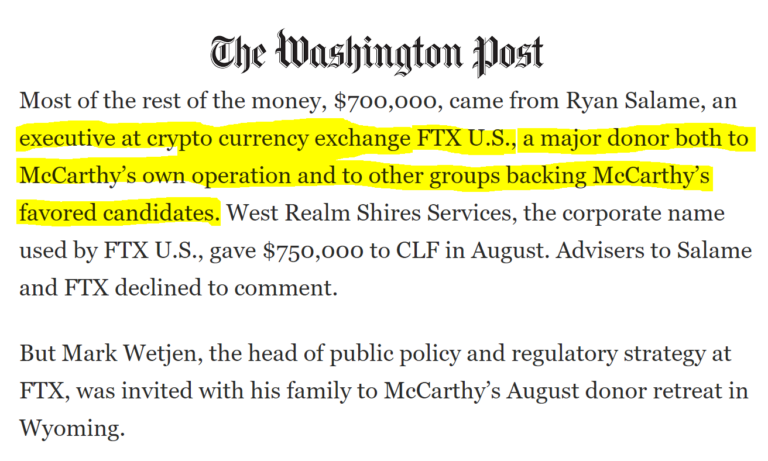 Armed with corrupt FTX crypto money, Kevin McCarthy spent the 2022 midterms picking winners and losers, with his long-term speakership fantasies at the top of his agenda.
America First candidates and others who couldn't be controlled by the establishment or, more importantly, couldn't be bribed into supporting McCarthy for speaker, were sold down the river.
The seats they were fighting for were surrendered to Democrats, and conservatives "in the know" spoke of a "power-sharing" agreement between McCarthy and Democrat leadership, which now appears to be materializing.
In The Post's reporting on McCarthy's corrupt FTX campaign money scheme, several candidates were named as victims of McCarthy's financial electioneering, including several who've been profiled by National File.
In Ohio, J.R. Majewski, who was in a heated battle against a 20-term Democrat, faced false allegations of stolen valor from the Associated Press, which appeared to be working hand-in-hand with the Democrat campaign to take down Majewski.
Even after National File publicly proved, with the help of Majewski and his fellow veterans, that he had in fact served in Afghanistan in support of the War on Terror, McCarthy and the establishment refused to support their own party's nominee, ultimately leading to a Democrat win on election day.
McCarthy used similar tactics against other candidates he didn't like throughout the primary and general election seasons, including notables like Jarome Bell, Laura Loomer, Anthony Sabatini, Joe Kent, and Carl Paladino.
"Everything is happening behind the scenes, but obviously that is what the money shows," Sabatini, of Florida, said.
"They don't want a conservative to win. They want a brainless, spineless robot."
And it wasn't just FTX. McCarthy was using money from elite banking and usury interests throughout the 2022 midterm campaign season, with groups like the National Association of Realtors shelling out even more money for McCarthy and his crew.
While McCarthy's use of the GOP's oligarch-funded purse strings to enforce compliance among legislators and candidates has been framed as an act of "unity" by him and others within GOP leadership, everyday voters and incoming legislators aren't so sure about that and have become vocally critical of McCarthy's machine-style politics.
Read More from National File on Kevin McCarthy's Shady Financial Dealings and Red Wave DESTRUCTION in the Thread Below:  
BREAKING:

Kevin McCarthy Used #FTX #SBF Stolen to Defeat Conservatives in 2022.

Which Destroyed the so-called "Red Wave." pic.twitter.com/TDwJpKbRd4

— National File (@NationalFile) November 18, 2022