Last Updated on October 26, 2020
National File recently published several pages from what our whistleblower has identified as the 2019 diary of Ashley Blazer Biden, the 39-year-old daughter of Democrat presidential candidate Joe Biden. In the diary, the author reveals she has had multiple affairs while married, and that her husband has cheated on her, at one point declaring "my marriage is over." Ashley Biden married Howard Krein in 2012.
Among the explosive revelations in the diary is the author's assertion on page 49, written on February 17, 2019, that "I am pissed, freaking out, & acting insane – thinking of Howard – my husband – with another woman! It's actually not fair & not right. I have been with other men & it's just not fair @ all."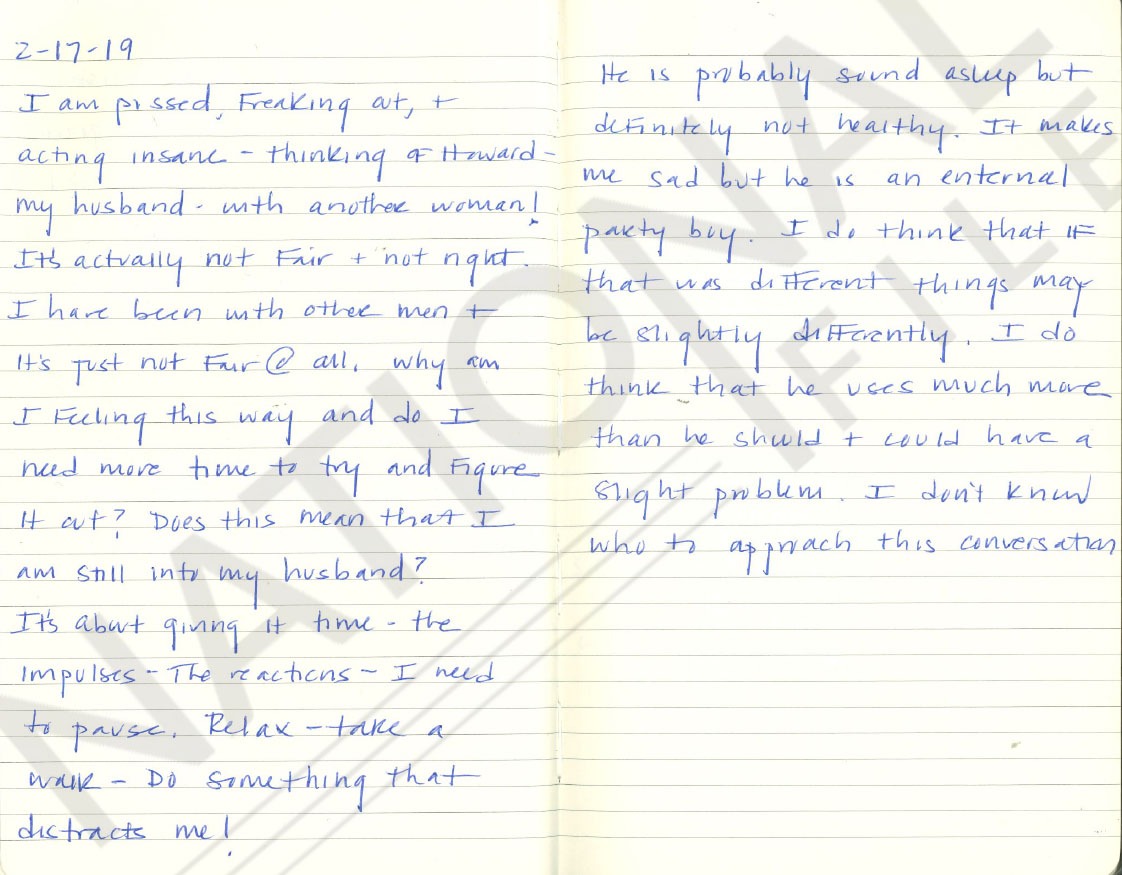 References to a few of the "other men" that the author has had adulterous liaisons with can be found elsewhere in the diary.
The author had at least two affairs she wrote about in the diary. Early in the diary, she was in a relationship with a man named Kevin, who she met in recovery. On an undated entry on page 11 of the diary, she lists several "positive things" about her relationship with this man. Among them, she writes "I like/can feel passion/sex."
"Residuals" referenced by the author include "wanting to have sex" and "avoid dealing with emotions."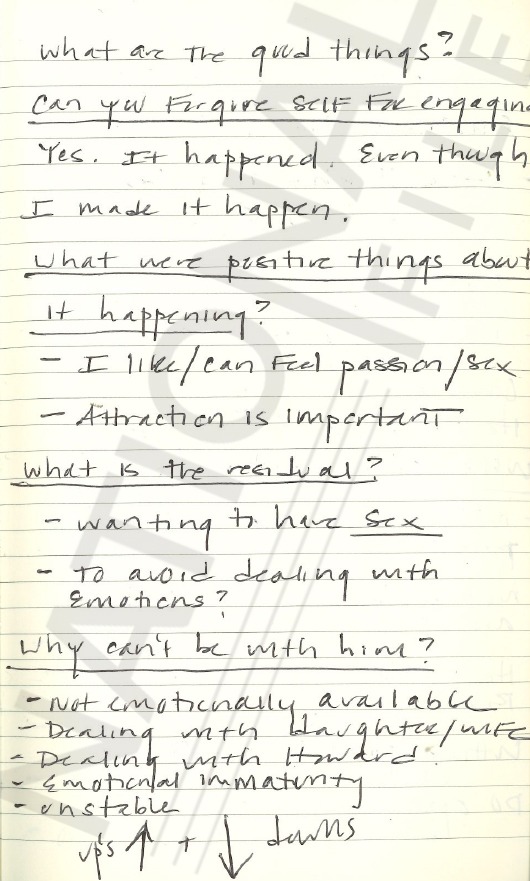 On a chart made on page 29 to help her decide whether she should leave Howard for Kevin, the author listed pros such as "insane/deep sex" and "kissing – like smell of breath."
The author created another chart on page 35 to help her decide whether she wanted to leave her husband and live in Florida after leaving the rehabilitation facility.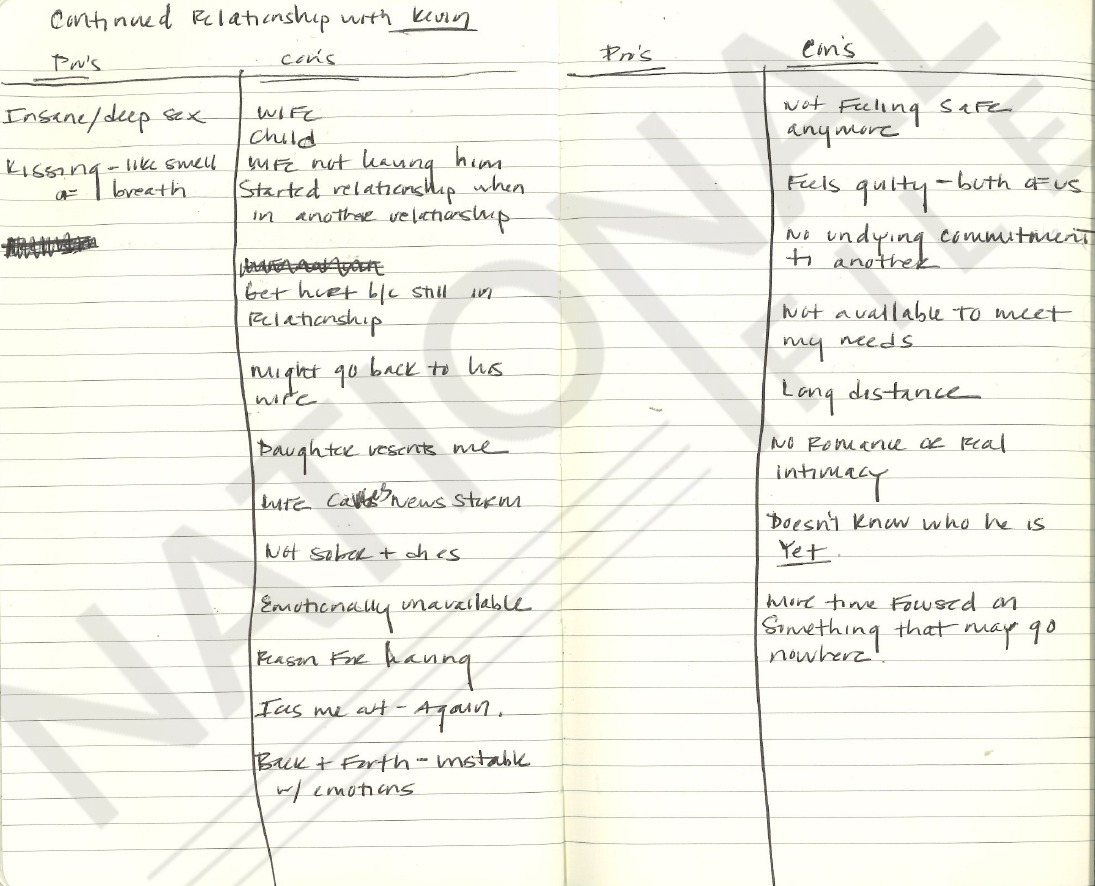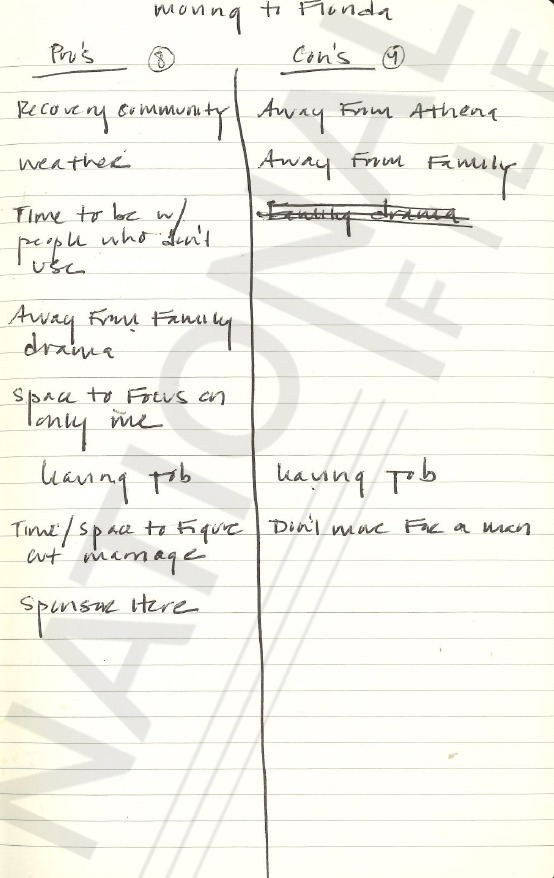 The relationship with Kevin was ultimately not meant to be, and it ended before she left the rehabilitation facility. Before the author left the facility, though, she met another man in recovery, named Eric, who she dated for a prolonged period of time.
"Is Eric up to Howard's or my parents' standards? No," wrote the author on page 52, in an undated entry.
"He is a surfer – not highly educated – barely knows his grammar," she continued. "But he does know how to love – how to treat me like I need to be treated."
"He gives me affection in ways I only hoped Howard would," she added. "It is light & fun."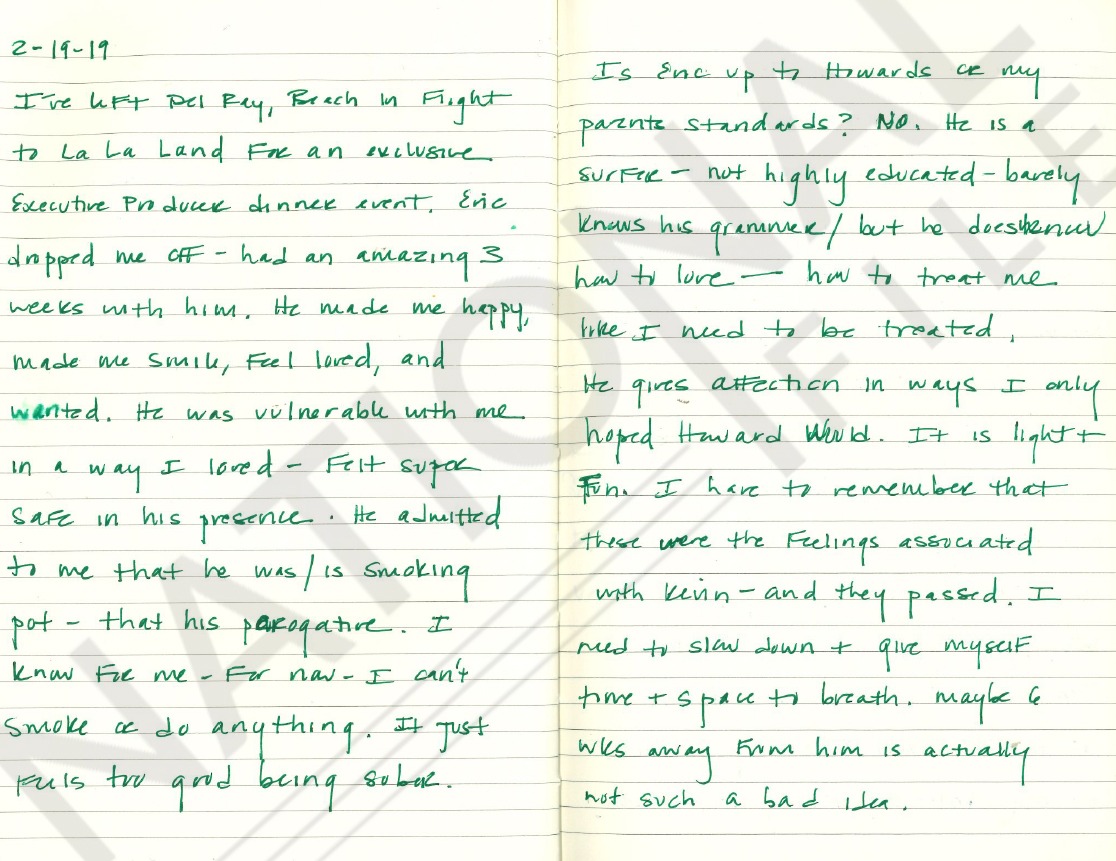 In another entry dated February 24, 2019, the author revealed that her marriage had reached its breaking point.
"Holy crap – here we go again," she wrote. "So much has happened. My marriage is over & it breaks my heart in two. There are no feelings of 'I need to be with him.' – 'I need to see him.' – 'I need to kiss him.'"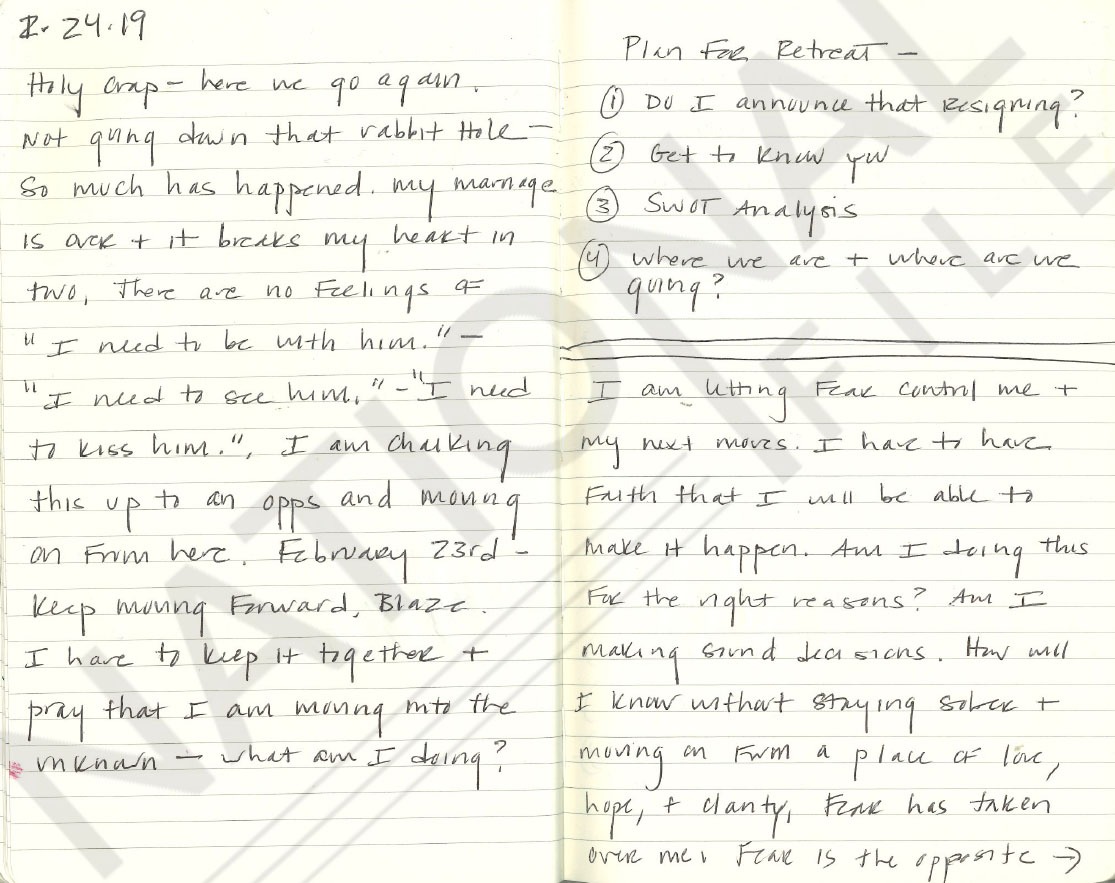 In an entry dated March 1, 2019, the author mused "Who thought I would be single & childless @ age 37. Maybe I did?"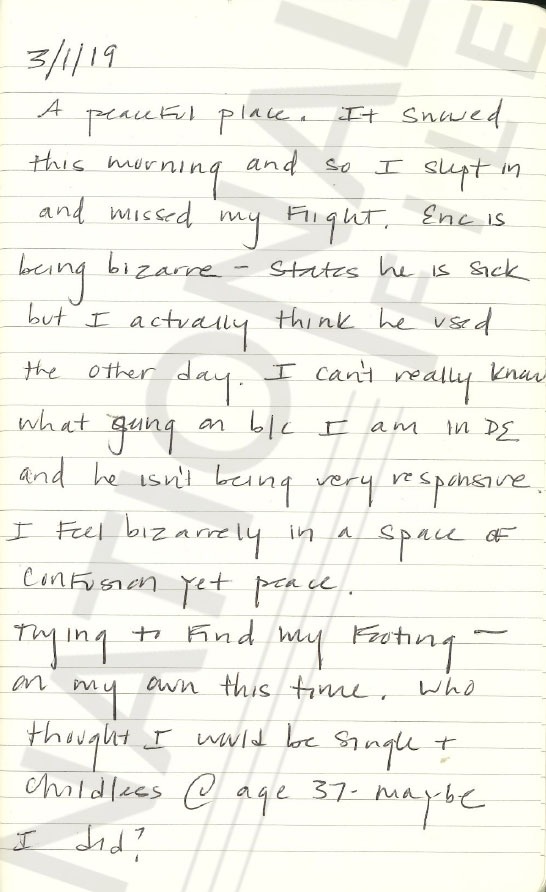 On page 104, in an entry dated September 8, 2019, the author revealed that it had been "over a year" since she spoke to her husband. "Howard came to visit – it was lovely. First time in over a year. Sad that I've been in 3 places since then. Where do we go from here? I'm not entirely sure."
At this point, the author begins reflecting on her current boyfriend, the surfer named Eric mentioned previously.
In a subsequent entry on September 11, 2019, she revealed that "Howard will give me money to live for the next 6 weeks!" Howard is the name of Ashley Biden's husband.
The author wrote in an entry dated September 13, 2019, "I can't know where Howard's head is @ & although I know he [loves] me… I just don't know if we can make it work."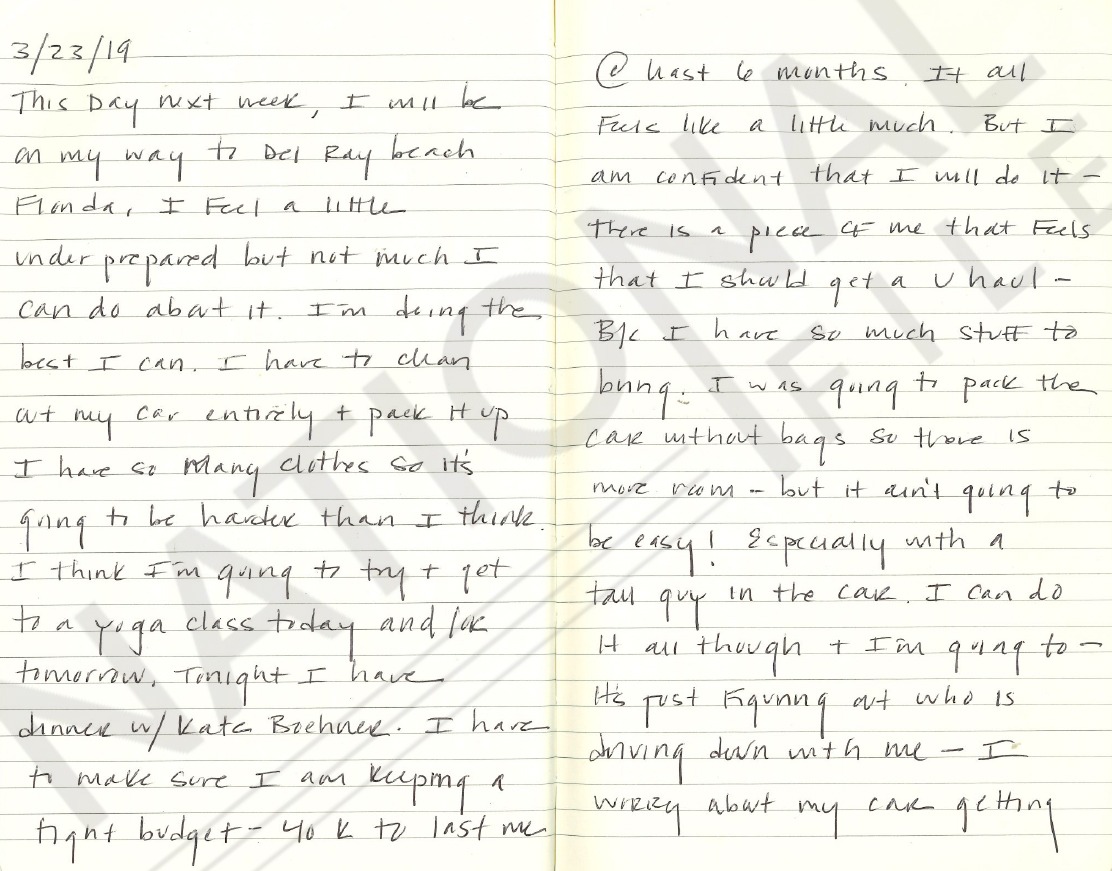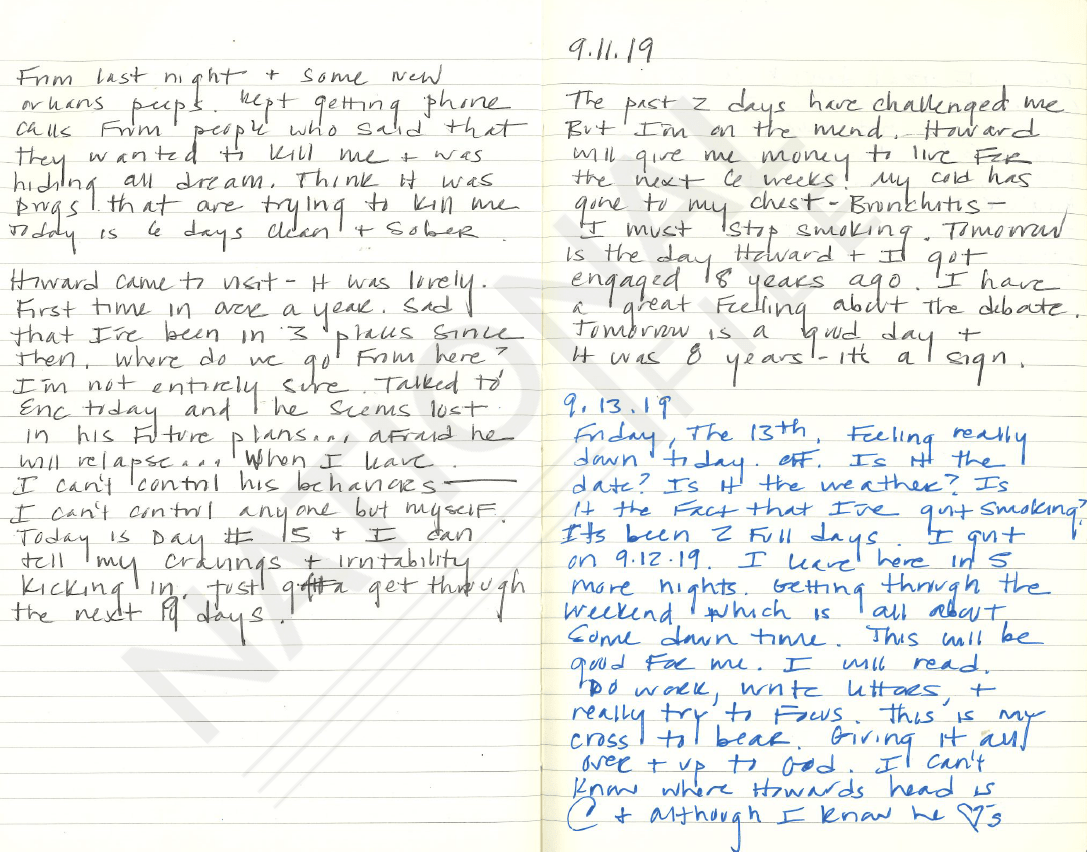 National File has a complete copy of the diary that our source has identified as belonging to Ashley Biden. Our source, a whistleblower at another media organization, has a recording of Ashley Biden confirming the diary was written by her. Additionally, our whistleblower employed a handwriting analyst who confirmed the writing to be authentic.