'Rona Madness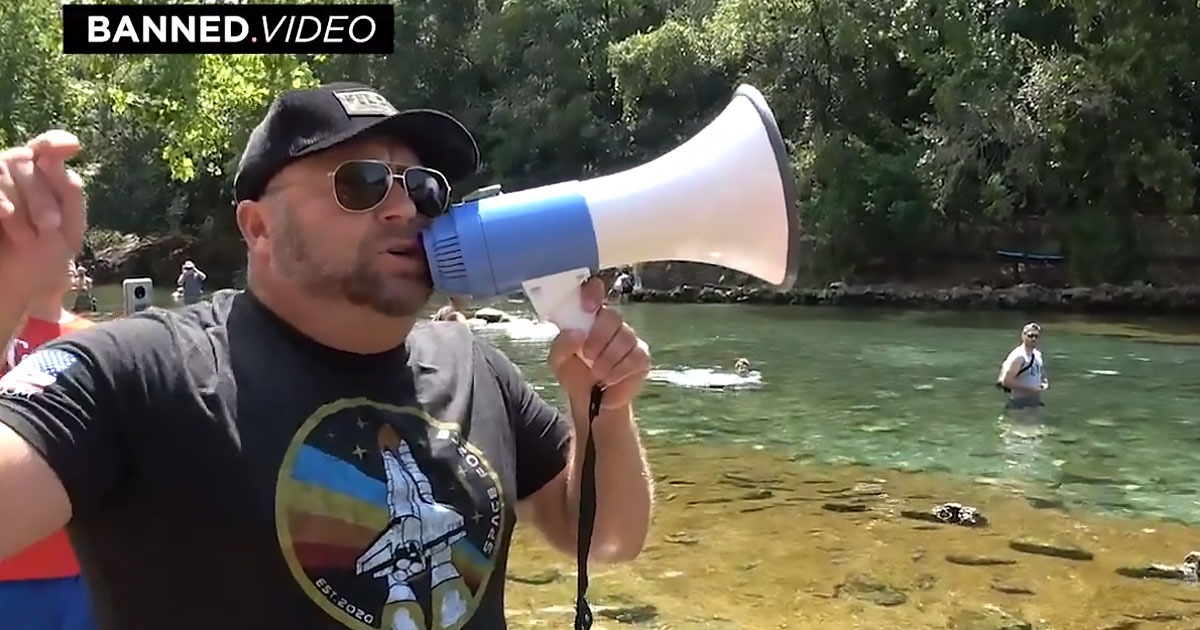 VIDEO: Alex Jones Returns to Austin Greenbelt Closed by COVID-19 'Life Guards,' Hosts Swimming Party With Beer
Video of Alex Jones returning to the Barton Creek Greenbelt went viral on Sunday, as the radio show host "forcibly" opened an Austin park while carrying a bullhorn, calling out authorities for their response to COVID-19 and partying with Austinites.
The park was, in theory, reopened by COVID-19 lifeguards on Monday, August 9, but required a reservation checklist to ensure social distancing as well as permission to enter the park to ensure a low occupancy. After his wife was denied entry due to the new regulations, Jones drew attention to the situation by filming himself confronting officials.
Days later, reporter Savanah Hernandez went to the park and destroyed several of the barriers installed to keep the public from enjoying the park. After the video was released, on August 15, Jones hosted a swimming event at the park.
Advertisement - story continues below
Following its success, Jones promoted a second swimming party on his Infowars broadcast, ultimately leading to the events from last weekend.
In one video that simply reads, "I love Alex Jones," Jones rips away a barricade blocking off a path to a body of water. Once at the water's edge, Jones cannonballs into the water before raising a can of beer to other revelers partaking in the miniature impromptu party.
The viral video has been viewed nearly 300,000 times as it amassed over 11,000 likes on Twitter. Other videos showing different angles and shots of the stunt also enjoyed significant success. A video of Jones shouting at Barton Creek lifeguards through a bullhorn calling them "cult-member kooks" as they checked reservations to enter the park.
I LOVE ALEX JONES pic.twitter.com/ALmFydjml3

— 🌴 Josh Lekach 🌴 (@JoshLekach) August 22, 2020
Advertisement - story continues below
The shortened version went onto enjoy massive success on Twitter as several attendees appear to enjoy the stunt.
Different angles, this time, with a drone, show the energetic park reopening.
https://twitter.com/rexjonesnews/status/1297219469991845889
Jones initially went to the park to confront the young lifeguards on August 9, after his wife was told that she needed a "permission slip" to enter the grounds.
"It's constitutional. This is not even a city ordinance. This is an illegal power grab of the people's Greenbelt, and it's time to free Austin," Jones said about the Greenbelt's requirement for a reservation to enter the park in another clip that also went viral in which he rants to the young lifeguards on duty.
National File reported on Jones' confrontation with the reservation guards:
Advertisement - story continues below
With over one hundred thousand acres of parks in Austin, residents are usually free to enjoy themselves in the summer months among the green spaces. However, with the stated goal of fighting the spread of COVID-19 in public parks, Austin Mayor Steve Adler decided to install 10 guarded entrances to the parks, illegally requiring registrations and reservations from citizens, complete with masked guards preventing unwanted entrances.

Adler hired a number of lifeguards who lost their jobs to stand guard at the parks complete with masks. Alex Jones of Infowars went to one Austin park after his wife was refused entry for not having a registration.

Jones approached the masked contact tracers with a megaphone, declaring that their presence and control of the Austin parks was totally "unconstitutional," noting it's "not even a city ordinance." Jones instead described the actions from the mayor as "an illegal power grab of the people's Greenbelt."
Another video on YouTube shows the Infowars host leading a protest against the shutdowns, leading a sparse crowd and thunderously speaking out in favor of the First Amendment through a bullhorn.
Advertisement - story continues below
https://www.youtube.com/watch?v=lk69IGlIwrM
Days after Jones confronted the authorities at the park, Savanah Hernandez filmed herself tearing down obstacles leading into the park as disgruntled Austinites showed their frustrations at the closures over the pandemic.
Via National File:
Hernandez turned up to Barton Springs public park in Austin on Thursday, where there were roadblocks preventing Austin residents from entering the parks, following an order from Mayor Steve Adler to shut them down to supposedly stop the spread of COVID-19.

"No one in Austin gives a damn about the blockade," Hernandez said, before she ripped apart the barriers and roadblocks in the path.
https://twitter.com/sav_says_/status/1294324999818555392
Extended video of the latest event is available on Banned.video.
National File is committed to ensuring your voice can and will be heard. To keep your speech free, we are switching our commenting platform to Insticator. Don't worry! All you have to do is create a commenting account with Insticator. We will be transferring previous comments to our new site, and then you will be able to link your past comments to your new Insticator account. If you have any feedback or questions about your Insticator commenting account, please email them at: [email protected]
Conversation