Last Updated on April 7, 2021
President Donald Trump criticized Georgia's new election reform law, calling it "far too weak and soft to ensure real ballot integrity," slamming Governor Brian Kemp for caving to the "radical left-wing woke mob who threatened to call him racist" and failing to get rid of weekend voting.
In a statement, President Trump said "Election Day is supposed to be Election Day, not Election Week or Election Month. Far too many days are given to vote. Too much "mischief" can happen during this very long period of time. You saw that in the 2020 Presidential Election. How's Ruby Freeman doing?"
President Trump then slammed Georgia Governor Brian Kemp and Georgia Secretary of State Brad Raffensperger, who he said "should have eliminated no-excuse, widespread mass Mail-In Voting, gotten rid of the dangerous and unsecure Drop-Boxes, and should have kept and EXPANDED Signature Verification to do matches against the historical voter file, among other things!"
"Kemp also caved to the radical left-wing woke mob who threatened to call him racist if he got rid of weekend voting. Well, he kept it, and they still call him racist," added President Trump.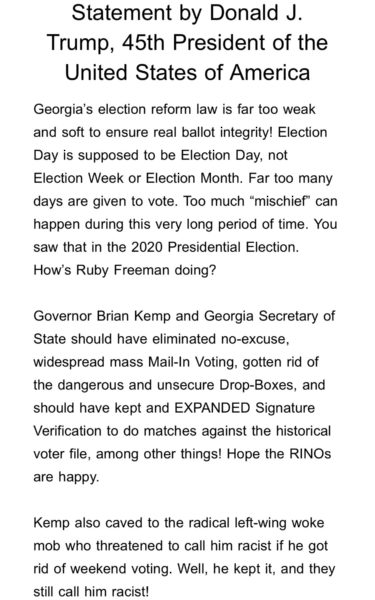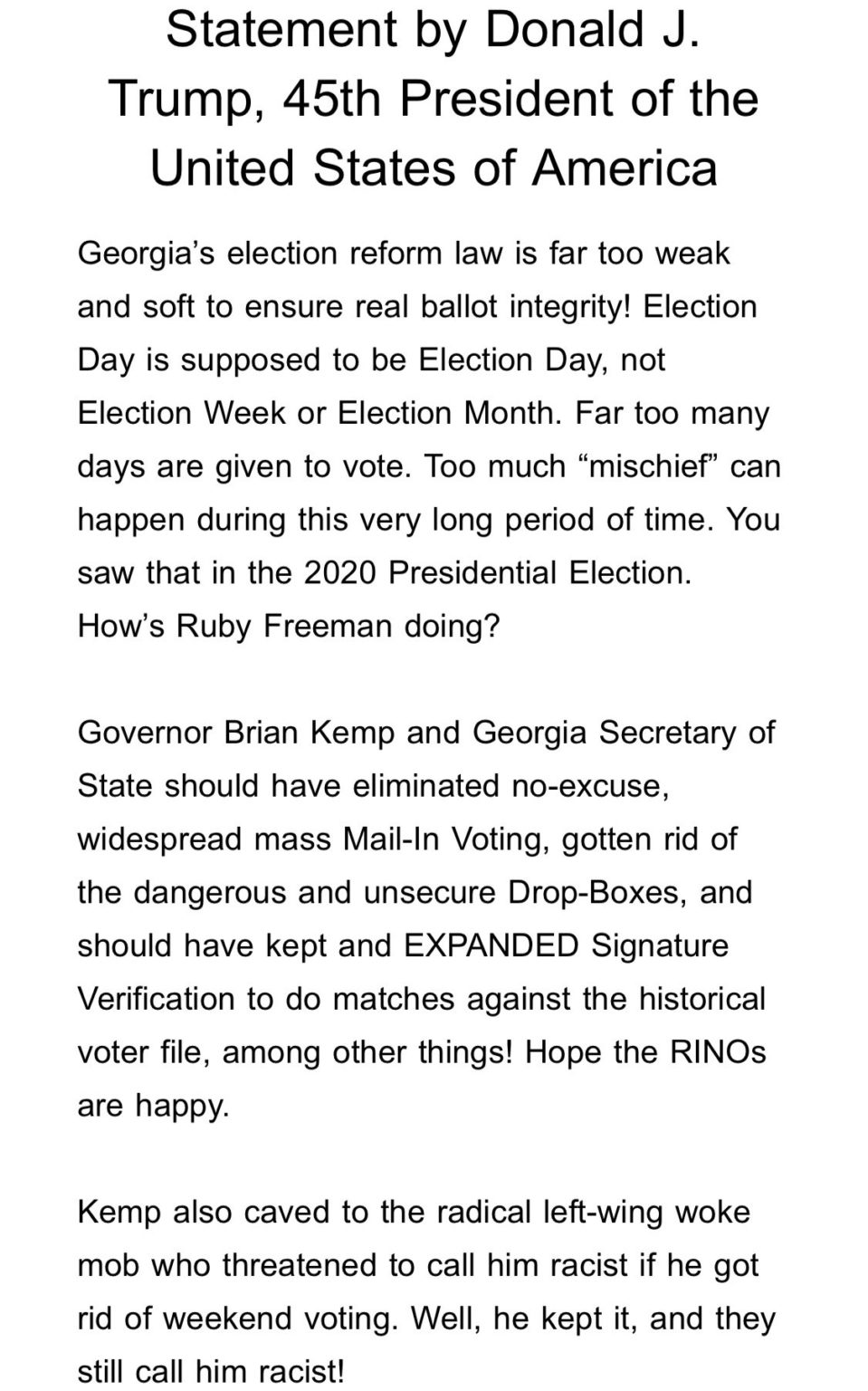 President Trump referenced Georgia poll worker
Ruby Freeman
, who was caught on multiple videos with her daughter and supervisor
Shaye Moss
committing apparent election crimes, sparking wide-ranging concerns over election security in the state. Those concerns have been repeatedly echoed by President Trump and censored by the mainstream media, who even bleeped out Trump saying the names of Freeman and Moss in a leaked phone call,
as National File reported
. 
"We had at least 18 thousand that's on tape. We had them counted very painstakingly. 18 thousand voters having to do with (bleep). She's a vote scammer, a professional vote scammer and hustler, (bleep). That was the tape that has been shown all over the world, that makes everybody look bad," said President Trump.
President Trump has been outspoken about recent reports that the state of Georgia had failed to produce chain of custody documentation for over 400,000 mail-in ballots cast in drop boxes and counted in the 2020 election. "It is now reported that chain of custody records for over 400,000 Absentee Ballots are missing or not being shown. I wonder why? Show them now!" said President Trump in an earlier statement.
"The watered-down version, that was just passed and signed by Governor Kemp, while better than before, doesn't have Signature Matching and many other safety measures, which were sadly left out. This Bill should have been passed before the 2020 Presidential Election, not after."