Last Updated on November 9, 2022
Constance Milstein, Joe Biden's Ambassador to Malta, co-founded the shadowy Humpty Dumpty Institute, a globalist "non-profit" that has been led by the brother of convicted child sex offender Jeffrey Epstein and is closely tied to the Chinese Communist Party.
Biden's Ambassador to Malta, Constance "Connie" Milstein, co-founded the Humpty Dumpty Institute in 1998, along with Ralph Cwerman, William Rouhana, and Michael Sonnenfeldt. The latter of whom is the nephew of former US State Department official Helmut Sonnenfeldt, who was investigated in the 1960s for sharing American secrets with Israel.
From its birth, Mark Epstein, the brother of convicted child sex offender Jeffrey Epstein, had taken on a leading role in HDI, serving in high-level positions, including as HDI's director and main financial backer, until at least 2019.
Though they've tried to scrub him from their public databases, Mark Epstein was listed on the Humpty Dumpty Institute's website until as recently as December of 2020.
While serving as Biden's Ambassador to Malta, Constance Milstein remains listed on the same Humpty Dumpty Institute website she formerly shared with Mark Epstein, and still appears on the active board of directors webpage, by the title of Board Chairman Emeritus.
As previously reported by National File, the Humpty Dumpty Institute is closely tied to the Chinese Communist Party and its People's Liberation Army, through its partnership with the Taihe Institute "think tank." Headquartered in Beijing, the Taihe Institute is led by high-level CCP members and PLA leadership. Members of the two groups, including current HDI board chairman Dr. Al Khalafalla, have even celebrated Chinese Communist revolutionary and mass murderer Mao Zedong, in a militaristic ceremony.
Apparently being himself no stranger to Joe Biden, Dr. Khalafalla attended Biden's installation as America's 46th President in January 2021, while national guard troops stood watch around the perimeter, to keep unticketed and unjabbed Americans out.
From HDI's founding by Milstein and others, it has sought to penetrate global policy-making circles and play an active role in global affairs. HDI has hosted dozens of UN-ordained Congressional Staff Delegations to the United Nations, where its members rub elbows with global decision-makers and promote HDI as a critical liaison between Congress, the UN, and the powerful around the world.
HDI has long listed members of its Congressional Advisory Board on the organization's website, and it has included the likes of anti-Trump House Intel Committee Chair Adam Schiff and J6 Committee ringleader Benny Thompson.
No stranger to uni-party politics, HDI has also counted Republicans among its ranks, including embattled ex-Trump Chief of Staff Mark Meadows.
During his time with the Bush Administration, Richard Grenell also worked closely with Milstein's HDI, appearing as a speaker at several Congressional Staff Delegations and in photographs of "high-level" HDI meetings with UN officials and Congressional staffers.
HDI's founders have boasted of countless additional meetings at the UN and around the globe, meeting with officials representing the United States, Communist China, Israel, and the UN as a body. The organization is featured numerous times in the United Nations web archives. In one photo, captured in 2003, all four of HDI's founding members, including Milstein, are photographed with UN Secretary-General Kofi Annan.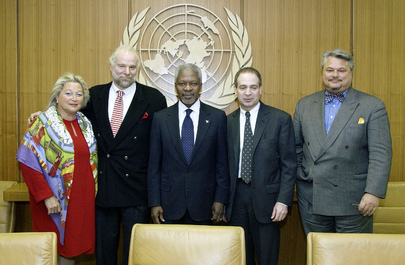 In addition to being a co-founder of the pro-CCP Humpty Dumpty Institute, Constance Milstein has spent decades as a major Democrat donor, funding the political ambitions of Joe Biden and Hillary Clinton to the tune of millions of dollars in combined contributions.
The daughter of uber-rich 20th century New York City developer Seymour Milstein, Constance Milstein donated to Joe Biden as far back as the year 2000 and, more recently, contributed a whopping $725,000 to the Biden Victory Fund, the "officially authorized" fundraising arm of Joe Biden for President. That came in addition to a pair of $2,800 donations directly to his Biden for President campaign.
In 2013, she even donated to the political coffers of Joe Biden's late son Beau. At the time, he was the Attorney General of Delaware and was reportedly preparing to make a run for Governor.
Milstein has at least twice been the recipient of well-publicized "surprise visits" from Joe Biden, both of which occurred when he was the sitting Vice President of the United States. In 2012, as documented by The Hill, Biden showed up to a gala at her Georgetown, DC home for Obama senior advisor David Axelrod's charity, Citizens United for Research in Epilepsy (CURE). Further documenting her deep connections to well-to-do Democrats, at the time, Milstein was serving as an Axelrod CURE board member.
In 2018, Milstein touted on Twitter another "surprise visit" she received from Joe Biden, this time accompanied by Barack Obama – whose political career she also helped bankroll – as they were photographed in her DC-based Dog Tag Bakery, which is incorporated as a non-profit.
In her 2018 post to Twitter, Milstein thanked Obama and Biden for visiting the bakery and "taking some time to chat with our Fellows."
Thank you to @BarackObama and @JoeBiden for visiting @DogTagBakery and taking some time to chat with our Fellows today! #BakingADifference https://t.co/tEg8AVGKUG

— Constance J. Milstein (@Connie_Milstein) July 30, 2018
When Biden nominated Constance Milstein to be the US Ambassador to Malta in 2021, her prospective appointment was celebrated by Jewish Insider, which touted HDI somewhat abstractly as a group that "engages congressional leaders and the UN on global issues." The article failed to mention HDI's ties to the CCP and its relations to anti-American Israeli espionage.
The article also made no mention of HDI being led by Mark Epstein, the brother of Jeffrey, or of the additional links of HDI's leaders to convicted sex trafficker and Epstein "madame" Ghislaine Maxwell.
Just weeks ago, on August 6th, Milstein's nomination as Biden's Ambassador to Malta was approved by the US Senate by a vote of 56-35. Among the Republicans who voted in favor of Milstein's nomination were Utah Senator Mitt Romney and Alaska Senator Lisa Murkowski. Both of them rank among the few Republicans to have benefitted from Milstein's multi-million dollar political donorship.
In a statement made to the US Senate as they deliberated on her Ambassadorship, Milstein thanked her husband, Kuwaiti-Canadian national and purported businessman, Saïd Abu-Kaud. Abu-Kaud, who appears to be roughly half the age of 76-year-old Milstein, worked on the ground with the United Nations during the UN-supported invasion of Iraq and has held a number of UN positions in New York and Kuwait as well.
According to his LinkedIn profile, Abu-Kaud is the "Principal" of Sai Associates Ltd, though corporate documents indicate that the firm was dissolved earlier this year.
On LinkedIn, Abu-Kaud claims that the Sai Associates firm deals in "international trade and development," though little more details are available. The purported profiles of more than 30 Sai Associates "employees" appear to be ghost accounts, with no profile picture and no available name listed.