Last Updated on September 8, 2022
Breanna Morello, who identifies herself on Twitter as a former employee of the Fox Business channel, revealed that she had to quit the "conservative" Fox media empire because she refused to take the experimental Coronavirus injection. In addition, a former employee of "conservative" corporation Cumulus Media stated that he was fired from Ben Shapiro's syndicator because he did not take the injection. As NATIONAL FILE reported, Sean Hannity and Fox News tried to coerce President Donald Trump into conceding the election during 2020 election overtime.
"My name is Breanna Morello and I quit my role as a Fox producer because they complied with the NYC vaccine mandate, threatened to put me on unpaid leave for not getting the COVID vaccine, and took HHS money. Their talent LIES about what happens behind the scenes but I won't," Breanna Morello recently stated on Twitter. Morello added, "It's a disgrace. They regurgitate approve talking points. The only one loyal is Tucker and Maria B."
Doc Washburn, a former host for the establishment Cumulus Media network that syndicates Ben Shapiro and Dan Bongino's shows, stated: "I can relate. I did talk radio for Cumulus, beat Sean Hannity in the ratings six quarters in a row, filled in for Mark Levin eleven times, but none of that mattered. I was fired for not complying with Cumulus' vaccine mandate."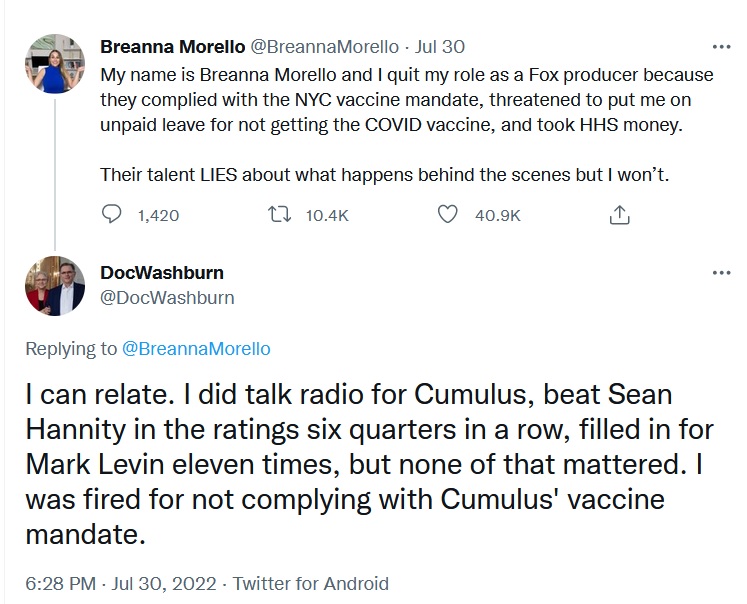 NATIONAL FILE reported in August 2021: Cumulus Media has mandated the Coronavirus vaccine for all of its employees. Cumulus Media owns the Westwood One radio network, which syndicates radio shows hosted by neoconservative pundits Ben Shapiro and Dan Bongino, Daily Wire employee Michael Knowles, and conservative talk radio host Mark Levin. Meanwhile Fox News, another platform for neoconservative messaging, has required employees to report their own vaccination status to a corporate database.
"All employees, except for those few who are already designated permanent remote like our traffic organization, must be fully vaccinated by our grand reopening date" of October 11 stated Cumulus Media CEO and president Mary Berner in a companywide video address, which reportedly sparked a rumored rebellion among staff and speculations that Cumulus plans to downsize vaccine refusers. "There will be no exceptions unless it's mandated by law. If you are someone who has not made that choice, it is for your own protection," Berner stated. Cumulus had more than 4,000 employees and more than 3,000 full-time employees at the end of 2019. As NATIONAL FILE reported, Ben Shapiro made a case for mandatory vaccines on his show on March 18. Shapiro has promoted the Coronavirus vaccine to his followers and Shapiro has claimed that he got the vaccine along with his wife and parents.
Ben mandatory vaccinations Shapiro

— Luke Rudkowski (@Lukewearechange) March 18, 2021
An article on Radio and Television Business Report states: "Could that have changed on Wednesday, with a potential rebellion in at least one market possible from the mandate from the corporate office? There is also chatter that the vaccination mandate is also a way for Cumulus to further trim its employee roster as it continues to seek ways to deleverage."