Last Updated on February 17, 2022
Antifa is protesting the opening of a Chick-fil-A in Grand Chute, Wisconsin, and social media posts reveal they are threatening to throw bricks at the new restaurant.
Yesterday was the opening of the first ever Chick-fil-A in northern Wisconsin. Located in Grand Chute, a suburb of Appleton colloquially known as the Fox Valley, the anticipation had been building up for months.
Over 100 people camped out overnight, and when the doors opened at 6:30 am, more than 200 people were waiting in line.
As the day continued, the line was consistently going out the door, and the drive-thru was wrapped around the neighboring gas station and bike store. Unsurprisingly, the opening was a huge success.
READ MORE: CALIFORNIA: 'Why Don't We Murder More White People' Film Aired By Arts Center
Despite all of this, not everyone seemed thrilled to eat more chicken. Starting at 4:00 p.m., an Antifa-planned protest began. The majority of them appeared to be baby boomers.
They were waving Antifa pride flags, and handing out papers listing the supposed "hate groups" Chick-fil-A supports.
There appeared to only be around 10 of them at any given time, and the hundreds of actual customers seemed to ignore them for the most part.
While it appeared to be a mostly peaceful protest, there was a rather unsettling post on the Fox Antifa Facebook page, in which the admin, "Commander Red", made threats to throw bricks at the windows of the new restaurant.
This post was liked over 120 times, and shared by around 20 other local Antifa pages and members.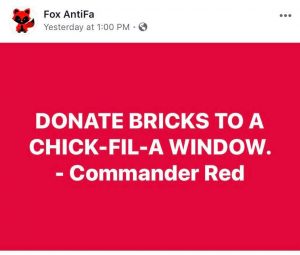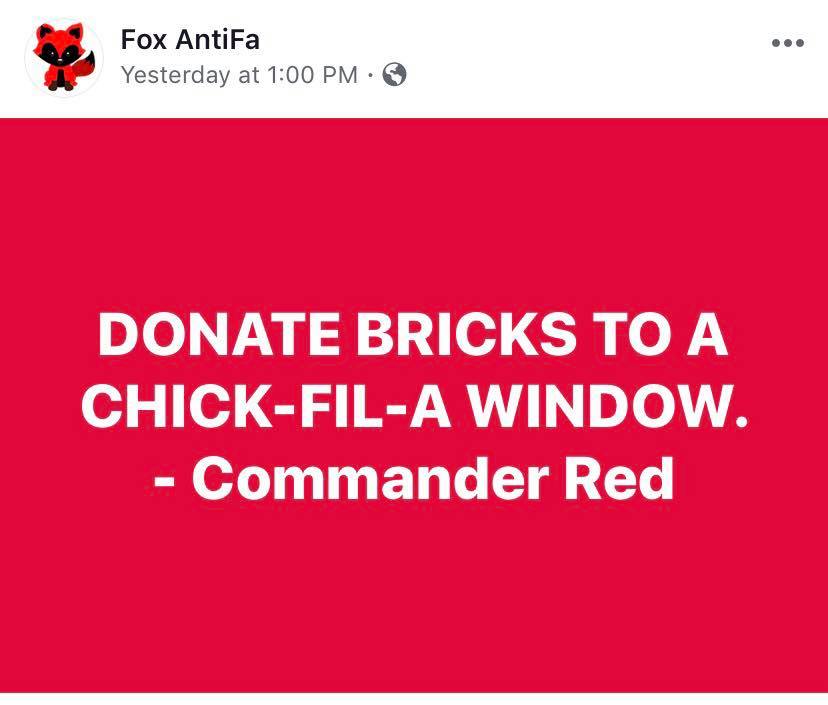 It would appear Fox Antifa is the same group that planned out the protests, at least according to an earlier post that was made shortly before the protests began: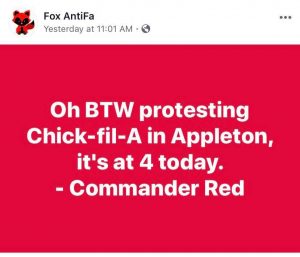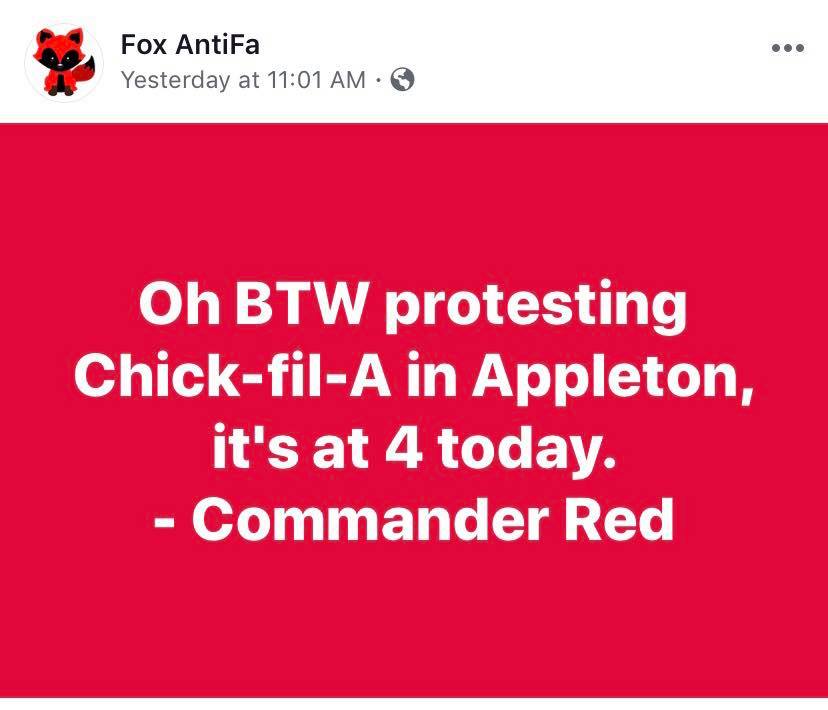 It is unknown whether or not Chick-fil-A was aware of the threats. There was a small police presence, but it was due to the amount of customers expected at the opening event, not Antifa.
READ MORE: VIDEO: Antifa Brought Concrete Slabs to 'End Domestic Terrorism' Rally
It is also unknown if Antifa will continue to protest and make threats. Considering how poor the turnout was in comparison to all the hungry customers, it is unlikely the protest will continue for more than a week.