Last Updated on August 30, 2019
Facebook has banned the Trump-supporting page, "Right Stuff", for no apparent reason with no warnings. The page had previously had their posts throttled and were labelled as "clickbait".
Corey Pepple, admin of Right Stuff, exclusively told National File what had happened. "We had a little over 500K fans and it was removed without warning or explanation," Pepple said.
"Inititally, we exclusively posted content from Mad World News, but traffic got killed at the end of 2017," he continued. Pepple explained that this reduction forced them to move away from more political posts, and created the website TapHaps.com.
"At the time the page was removed on Tuesday, we were posting 3 political opinion pieces and 11 articles from TapHaps," Pepple said.
The banning of the Right Stuff was swift, and wasn't seen coming. However, the page had been hit with so-called "clickbait penalties", in the past. The following photo shows what happens to the reach of a page with those penalties attached.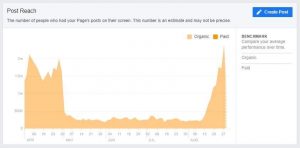 The effect of the penalty can clearly be seen in the huge dip in the graph. If Facebook's automated system determines two posts to be clickbait within a two week period, the page has their reach cut down by 90%. Pepple explained that the climb seen in the graph was when the penalty was removed, but that none of these were active when the page was banned:
The page had no active penalties… but they were previously nailing me with the "clickbait" penalties until I pointed out larger outlets with similar or worse titles… [Facebook] keep dodging my questions on the matter… I can't help but wonder if our page vanishing is somehow connected. But I'm getting no answers, and it's been 3 days.
This is not the first time that Facebook has removed pages for seemingly no reason, or targeted those who support the President. Just this week, The Red Elephants' Facebook page was taken down, after what its owner called a "mass-flagging" campaign against them.
They also took down a comment for expressing support of President Trump in his trade war against the Chinese Communists, and shut down ads by the "Women for Trump" campaign for the crime of targeting women.
All of these actions are not surprising, given that Facebook has admitted that they censor conservatives, and have no plan to stop doing so. These unjustified bannings are likely to continue in the future.
The National File reached out to Facebook for comment, but has yet to respond. This story will be updated if they do so.