Marxist LGBT radicals in Toronto claimed ownership of other people's children as they marched against parental rights and for the mass LGBT indoctrination of kids, shouting "Whose kids? Our kids!" as they counter-demonstrated groups of parents who've taken to the streets nationwide to march in defense of their children's innocence.
Canadians all over the country have poured into the streets to hold coordinated marches on behalf of the family unit and the rights of children and their parents, as they stand up against government-sponsored indoctrination into LGBTism which, like in America but to an even greater extent, has engulfed Canadian schools and the everyday lives of kids.
The pro-family marches have been hashtagged on social media as "#1MillionMarch4Children" and have been met by radical left-wing counter-demonstrators, as well as with derision from Canadian politicians, who have made it abundantly clear that they stand on the side of child groomers and LGBT radicals who openly endorse communism.
Watch the video footage below: 
Toronto Marxists are not being subtle:

"Whose schools? Our schools! Whose kids? Our kids!" pic.twitter.com/Ao27M7NWbI

— Citizen Free Press (@CitizenFreePres) September 20, 2023
As mentioned, Canadian politicians have jumped into the ongoing marches on the side of LGBT radicals who are openly campaigning to castrate other people's children.
In Ottawa, the nation's capital, left-wing Mayor Mark Sutcliffe posted to X as the marches got underway so that he could "condemn" the parents and place himself firmly in the camp of LGBT Marxists.
"I stand with Ottawa's 2SLGBTQIA+ community," Sutcliffe wrote, using Canada's official elongated abbreviation for LGBTism, which includes numerous other letters, including a plus sign which, among other things, is widely known to provide a tip of the hat to pedophiles, who are often described as the "silent P" of the LGBT movement.
"Please know that you are valued and are always welcome here," wrote Sutcliffe to the "2SLGBTQIA+ community".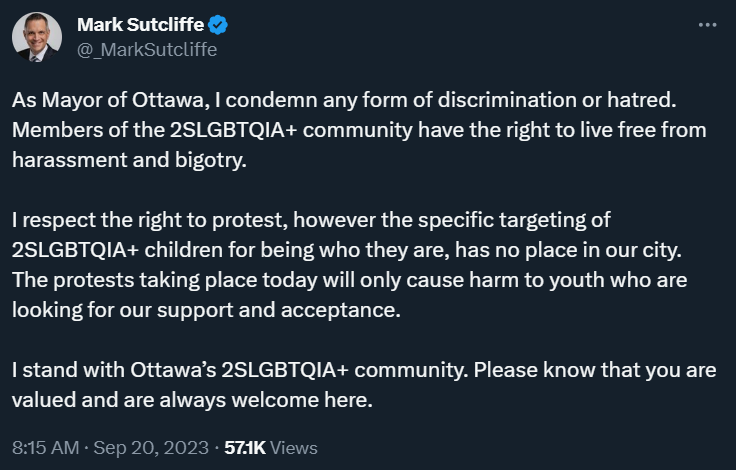 Also in Ottawa, and just outside the office of Canadian Prime Minister Justin Trudeau, left-wing politician Jagmeet Singh, who is widely known for donning Sikh religious headgear during Canadian government proceedings, joined in with the counter-demonstrators standing against parental rights.
Taking on more the form of left-wing enforcers than of legitimate counter-demonstrators, Singh's group had formed what's been described as a "defensive picket line around Justin Trudeau's office," for the apparent purpose of stopping Canadian parents from appealing directly to their Prime Minister in protest form.
Watch Singh join pro-groomer demonstrators below: 
Jagmeet Singh has joined a defensive picket line around Justin Trudeau's office. The parents are completely peaceful, obviously, but they can't risk Trudeau looking out the window and seeing angry faces. pic.twitter.com/BwOVRW47WK

— Keean Bexte (@TheRealKeean) September 20, 2023