Last Updated on April 5, 2023
Chinese-born Canadian politician Kristyn Wong-Tam, a member of Ontario's Provincial Parliament, has introduced legislation supported by a group of leftists that criminalizes "offensive remarks" about drag queen story hours and other gay grooming events targeting children.
Under the proposed legislation from Kristyn Wong-Tam being considered in Ontario's Provincial Parliament, anyone opposing drag queen events, like the drag queen story hours that are regularly targeting young children and even infants, would be turned into a criminal and could face hate crime charges should they protest or utter any "homophobic," "offensive remarks" within 100 meters of designated drag zones. The legislation would also create an "advisory committee" of "2SLGBTQI+ community members" who will advise the provincial government on how to silence their critics.
Canada, under Prime Minister Justin Trudeau of the World Economic Forum, has already begun cracking down on pro-child, pro-family critics of drag queen story hour and similar events, arresting Christians when drag queens have performed for children at taxpayer-funded libraries and in public spaces. They've also allowed Antifa militants, marketing themselves as drag queen story hour security forces, to attack pro-child demonstrators.
Disturbingly, in the promotional photograph that Wong-Tam attached to a tweet announcing the pro-groomer, anti-speech legislation, a young child stands beside her, surrounded by drag queens.
Wong-Tam, for her part, uses "they/them" pronouns and made her genderless lesbianism a centerpiece of her campaign for Ontario's Provincial Parliament as a member of the left-wing New Democratic Party.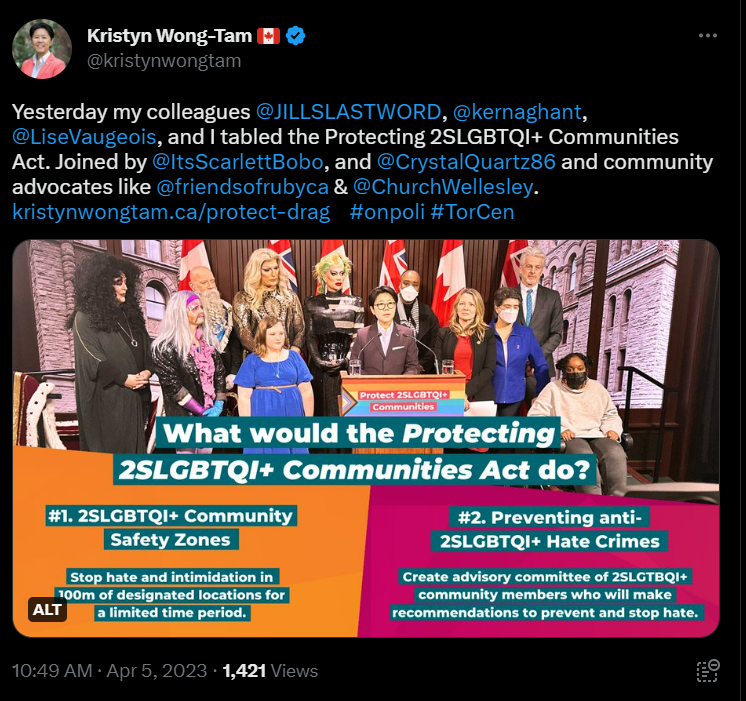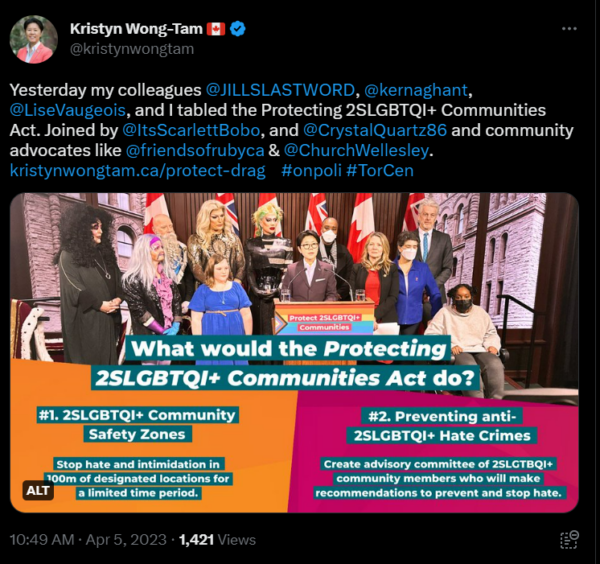 In the tweet thread that spun out of her announcement, Wong-Tam claimed that "2SLGBTQI+ communities are seeing rising hate" as they openly target small children, and that such communities "need leadership and new LEGISLATION" to silence the Canadian citizens who are standing up to their open child grooming.
"Threats against drag artists specifically are hurting small businesses, workers, and young 2SLGBTQI+ people," Wong-Tam claimed.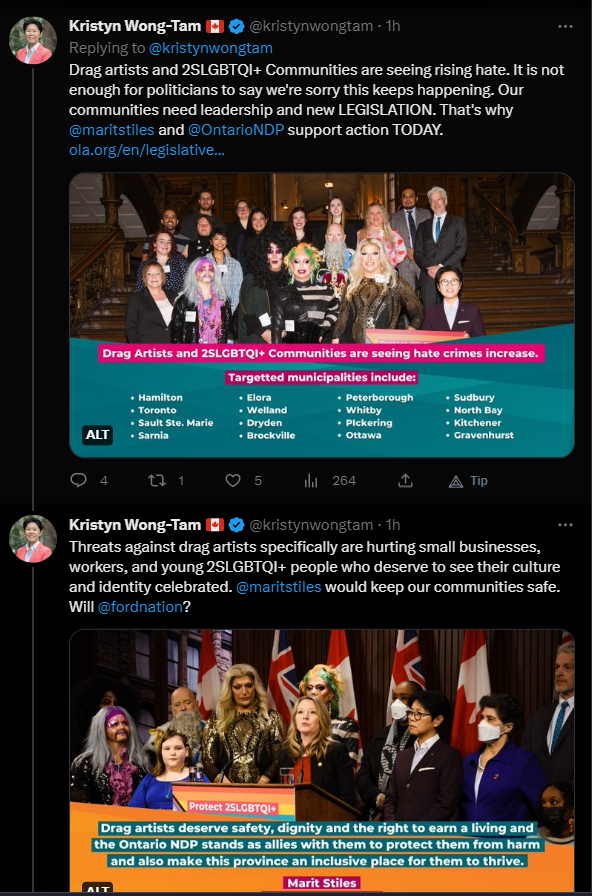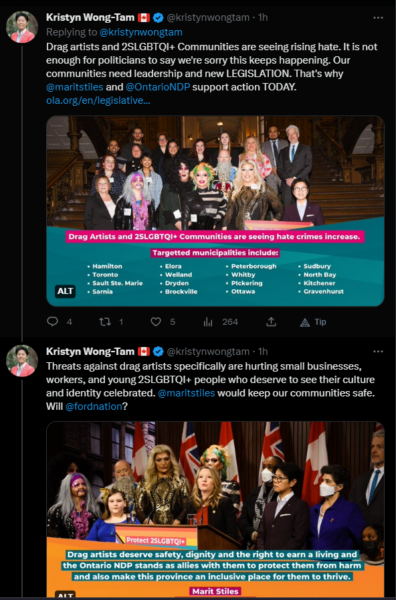 Wong-Tam went on to quote two of the drag queens surrounding the young child at her legislative announcement, who she apparently gave the microphone so that they could personally call for the governmental silencing of concerned parents.
"A world without trans people has never existed. A world without drag has never existed. And it never will," claimed a drag queen who calls himself "Scarlett Bobo."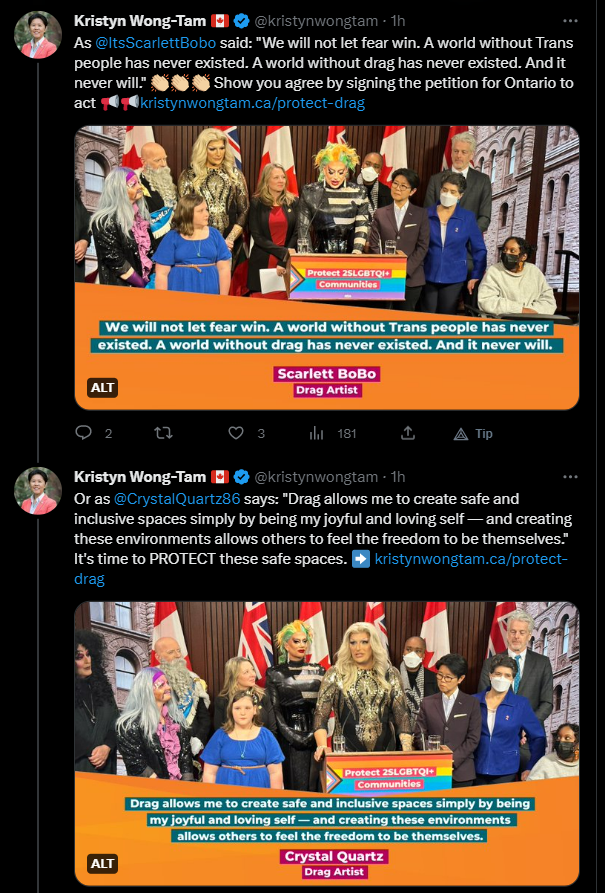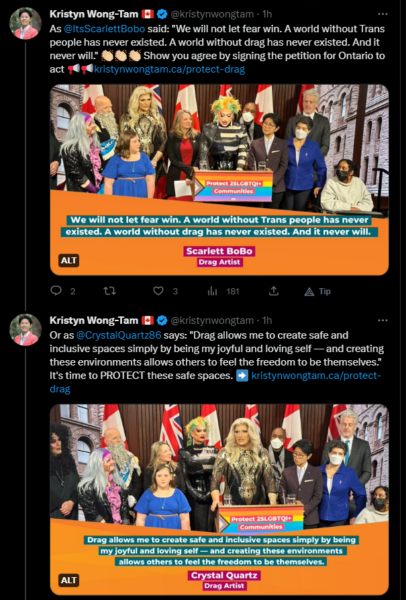 Perhaps most disturbingly, in the final tweet of the thread, Kristyn Wong-Tam included a quote implying that drag queens know what's best for other people's children more than their actual parents do and, that without drag queen story hour, parents won't be able to "talk to their kids about gender."
"Drag shows make a difference," the tweet reads. "They show that joyful life is possible for trans people. They give parents an opening to talk to their kids about gender. We need to protect these shows so it's safe for kids to attend."