Last Updated on September 20, 2023
Reuters is reporting on corruption allegations against Ukraine president Volodymyr Zelensky's administration, stemming from an alleged pay-to-play scheme involving construction projects in the United States' wartorn vassal state. NATIONAL FILE recently published groundbreaking interviews with former Zelensky administration officials, reporting on alleged money laundering in Zelensky's "big construction" program and allegations that Zelensky abuses cocaine and steals U.S. taxpayer money. The NATIONAL FILE report was shared by Congressman Paul Gosar and was featured on One America News, The Stew Peters Show and elsewhere.
Reuters reports that "In his years as the chief executive of one of Ukraine's biggest construction firms, Oleh Maiboroda kept rolls of dollar bills in a safe behind his desk. The money, Maiboroda told Reuters, was intended to bribe public officials to approve building projects. The task of handing over the cash, he said, was entrusted to a lawyer named Oleh Tatarov, now a senior adviser to Ukraine's president Volodymyr Zelenskiy."
As Zelensky prepares to arrive in Washington, D.C. on Thursday, America is wondering just how much more of our money is going to be spent on the globalists' failing war against Russia. NATIONAL FILE senior reporter Patrick Howley recently explained the Zelensky corruption scandals on One America News:
NATIONAL FILE reported: Former National Bank of Ukraine chairman Kyrylo Shevchenko conducted an exclusive interview with NATIONAL FILE to assert his innocence in Ukraine president Volodymyr Zelensky's criminal case against him.
Shevchenko fled Ukraine and resettled in Austria after he says that Zelensky tried to imprison him on a false embezzlement charge for trying to stop Zelensky's corruption. Shevchenko now fears for his life as a result of his opposition to Zelensky.
A different former Zelensky administration official conducted an interview with NATIONAL FILE in which the ex-official accuses former boss Zelensky of rampant corruption and theft from American taxpayers.
According to the former Zelensky administration official: Zelensky is a heavy cocaine user who launders money and uses the war with Russia to cover up his money laundering; Zelensky steals American money intended for the Ukrainian people and puts it into his own "personal accounts;" Zelensky suppresses free speech in Ukraine and jails and kills dissidents, Zelensky's regime destroys or sells its own weapons funded by the West; and Zelensky accepted money from Russia during the war while surrounding himself with insiders who have tight relationships with Vladimir Putin's Russia.
While Zelensky and his cronies get rich fighting a war that they are evidently not trying to actually win, Vladimir Putin and his ally China gleefully watch the United States of America further bankrupt itself by plunging many billions of taxpayer dollars into a potential World War 3.
Vladimir Putin did not actually want President Donald Trump to win the presidency, contrary to the false narrative of "Russia-Gate."
To the contrary, Putin wanted a weak globalist corrupt Democrat such as Joe Biden to blunder America into an unwinnable war against Russia, allowing Putin to play the long game and win in the end.

California Republican U.S. Senate candidate James Bradley reviewed information from multiple former Zelensky administration officials and Bradley plans to use these revelations in his campaign if he is pitted in the general election against Democrat Adam Schiff. Schiff is a bellicose supporter of Zelensky and Ukraine.
James Bradley told NATIONAL FILE:
"During the Biden Administration's blunder of leaving U.S. citizens behind in Afghanistan, I received several calls from my Ukrainian community to assist in helping save their family and friends like my team did in Afghanistan. From the beginning of the current "conflict" between Putin and Zelensky, something seemed off with the mainstream media narrative. Fast forward to today with the billions of our tax dollars being sent to Zelensky. I worked to help many people who were caught in this proxy war. The information they shared is what will be discussed in this article along with the articles to follow on NATIONAL FILE."
Former National Bank of Ukraine chairman Kyrylo Shevchenko is in exile from Ukraine, wanted on an embezzlement charge allegedly stemming from a pre-Zelensky job. Shevchenko maintains his innocence. Shevchenko parted ways with the Zelensky administration because he did not want to further impoverish the Ukrainian people by printing more money on Zelensky's orders and causing more inflation. Shevchenko told NATIONAL FILE: "As I announced my resignation, I was fully aware of my responsibility for Ukraine's financial stability and reputation in the days leading up to a landmark meeting of the IMF Executive Board scheduled for 7 October, and so I decided to cite only one reason for resigning my post – my deteriorating health. I decided not to talk about the almost two years of political pressure, which had intensified on the eve of my resignation, and seriously aggravated my health problems. I was not a convenient NBU (National Bank of Ukraine) Governor. Finding out about the suspicion notice I have been served was a surprise. I have learned about it from the media: while staying abroad where I went for medical treatment. I officially declare that the "revealed facts" announced by the law enforcement officers are the result of premature conclusions made on the basis of hasty and unproven judgments. I am ready to answer for each of my signatures! Every deal concluded by Ukrgasbank under my leadership was 100% market-based. During more than 28 years of my professional activity, I have never betrayed my conscience and dignity. When I headed Ukrgasbank, my team and I managed to take this bank to a completely new level."
NATIONAL FILE Senior Reporter Patrick Howley spoke to former National Bank of Ukraine Chairman Kyrylo Shevchenko: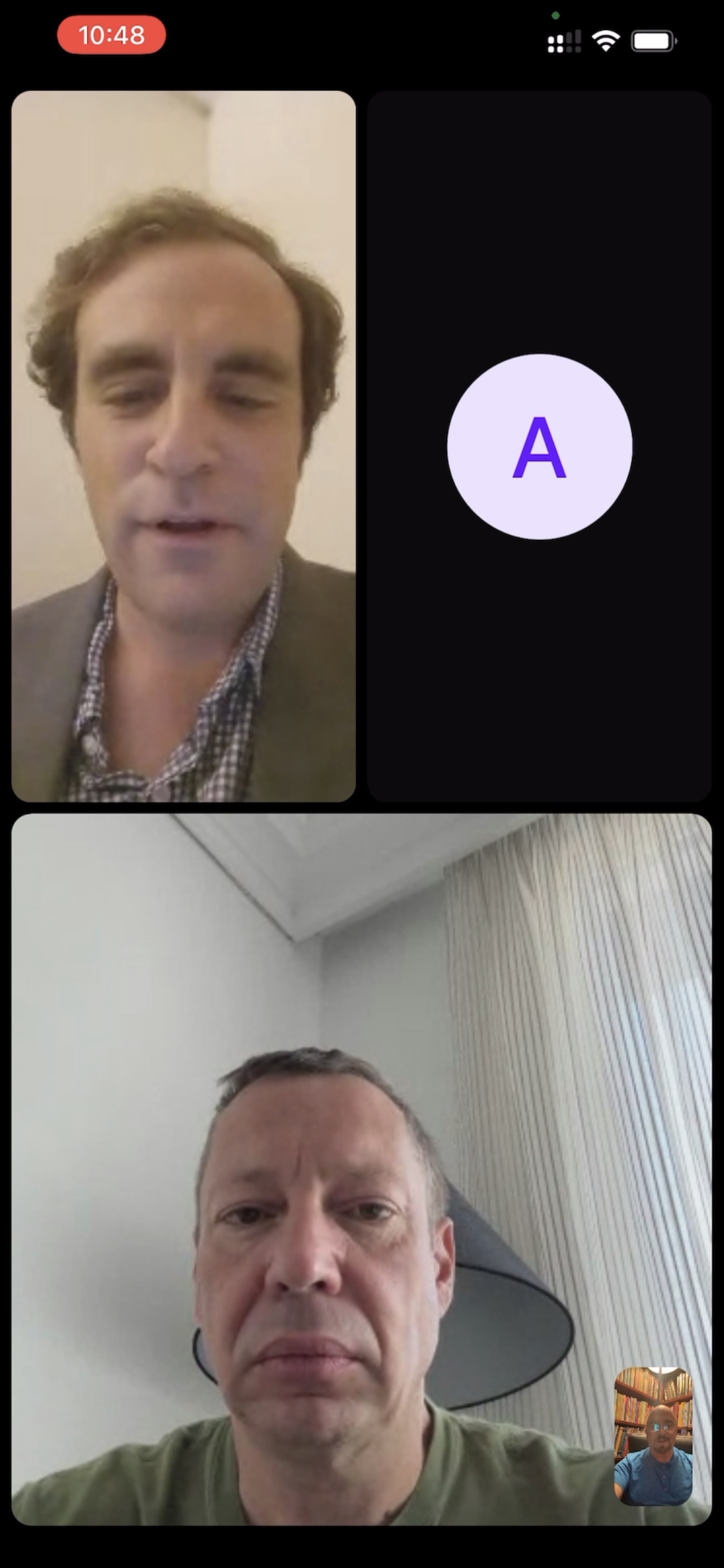 Regarding Zelensky's attempted prosecution of him, Shevchenko said: "I consider it an act of political persecution and settling old scores that this case that stayed buried for 3.5 years and saw no investigation during this period has been dug up now. However, this case has periodically been used in attacks that aimed to tarnish my reputation. In this way, they tried — but to no effect — to sway me to decisions that I consider harmful to the financial stability of the state and a threat to the institutional independence of the NBU. There are other facts proving that this persecution is merely political. The media widely agreed on the my  principled position not to finance enforcement programs through monetary issues, defending the principles of corporate governance in state banks, independence and ability to tell the truth. I have always worked for the good of the country. And in the most difficult times, I proved my professionalism, commitment to teamwork, and patriotism. I will continue to stand by these principles. Glory to Ukraine!"
Shevchenko said that he fears for his life if he speaks out against Zelensky, according to a message that Shevchenko exchanged with NATIONAL FILE: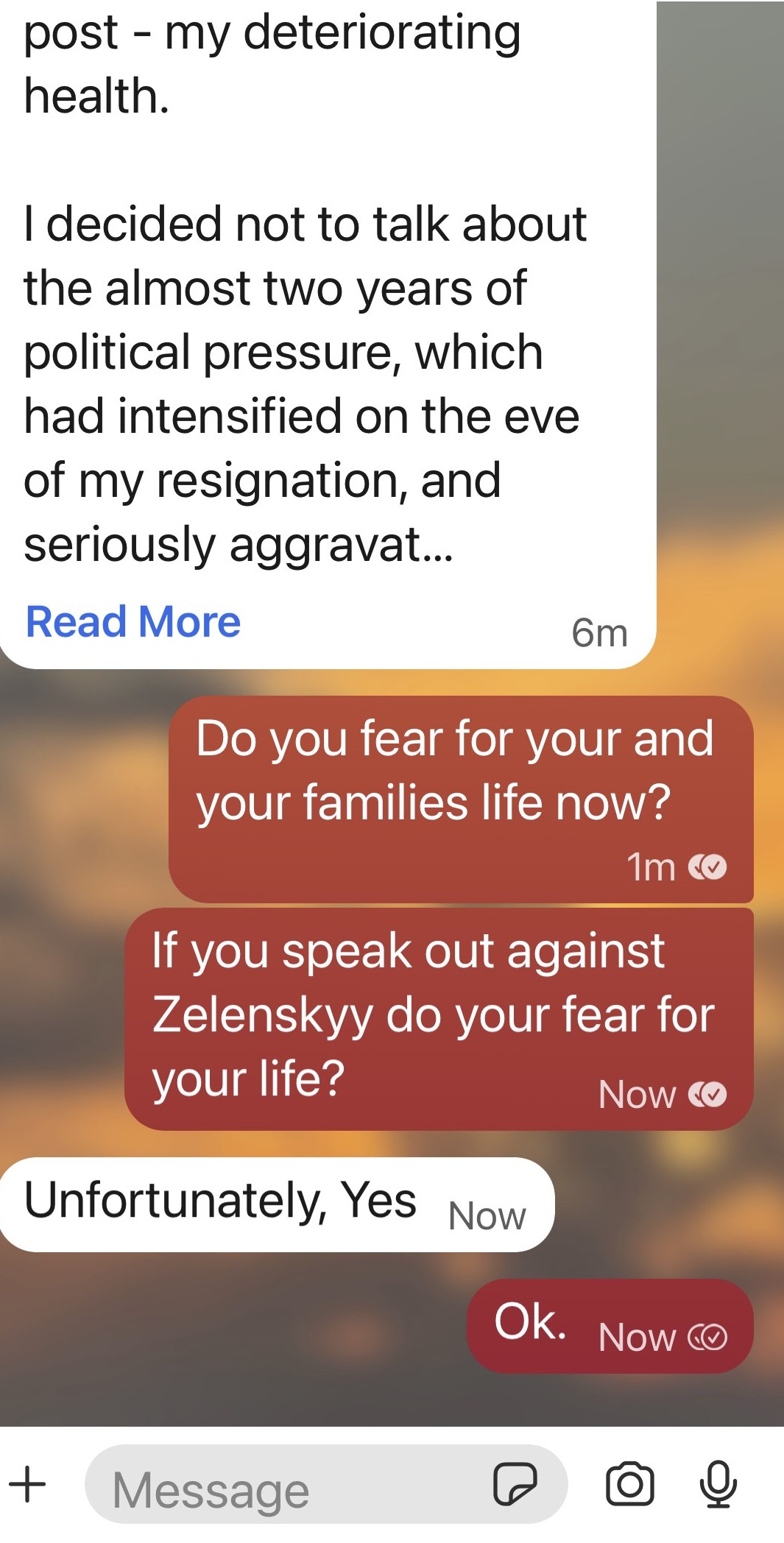 NATIONAL FILE made contact with a different former Zelensky administration official, and the ex-official told us the dirty details of Zelensky's corrupt Ukrainian regime. NATIONAL FILE has met with and interviewed the former Zelensky administration official and verified the ex-Zelensky official's identity with formal documentation. NATIONAL FILE has more information forthcoming on the real story about the war in Ukraine. Here is NATIONAL FILE's shocking interview with the other former Zelensky administration official that we spoke to:
Zelensky runs an authoritarian police state with no free speech and he imprisons and kills dissidents, according to a former Zelensky administration official
A former Zelensky administration official told NATIONAL FILE: "Corruption and terror are the two words that most vividly characterize modern Ukraine. Under Zelensky, Ukraine has turned into a huge concentration camp…No one can feel safe in Ukraine. In addition to the external threat from Russia, there is no less, if not a greater threat from Zelensky himself and his entourage.
In Ukraine, any criticism of Zelensky is unacceptable. Being a vindictive and revengeful person, Zelensky opens criminal cases even for the most innocuous statements in social networks and throws people in prison. But more often than not, people disappear without a trace. To do this, Zelensky uses criminals and law enforcement agents. The ex-head of the Security Service of Ukraine (SBU) Valentyn Nalyvaichenko admitted in an interview with the Economist that Ukraine has had a special unit dedicated to killing oppositionists since 2015 because the government decided that it is not enough to imprison collaborators. Indeed – why would Ukraine waste time on a trial when an undesirable person can be killed?
There is only ONE television channel in Ukraine, and all media and the Internet are under strict control. The situation with freedom of speech and human rights in Ukraine is much worse than in North Korea. More precisely, neither freedom of speech nor human rights exist in Ukraine after Zelensky came to power.
According to official statistics, after Zelensky came to power, the number of open criminal cases increased eight times! The most popular criminal cases in Ukraine are treason against the motherland (Article 111 of the Criminal Code of Ukraine) and embezzlement (Article 191 part 5 of the Criminal Code of Ukraine). If a person is in Ukraine, they are sent to prison under the article for treason against the motherland. If Zelensky's opponent managed to go abroad, an article for embezzlement is brought against him, so that the hands of Interpol can arrest the person abroad and bring him to a Ukrainian prison, where people disappear without a trace. There is no justice in Ukraine, it is ridiculous to hope for a fair and legal court decision in Ukraine."
Zelensky launders money and blames Russia, according to a former Zelensky administration official

A former Zelensky administration official told NATIONAL FILE: "Zelensky's favorite corrupt business project was "big construction." The essence of it is that huge sums of money were directed to this project, and the money itself was literally rolled into asphalt. The money intended for road repair was actually directed not to the construction of new roads, but to cosmetic repairs of already repaired roads. Under the guise of road repair, money was laundered, and with the outbreak of hostilities it became even easier to launder money. On paper the roads were repaired, but in fact there was no repair. To all questions: "Where are the repaired and built facilities?" the answer was the same: "Russia destroyed them". And if the questioner expressed doubts and accused Zelensky's government of lying, he was immediately written up as an agent of the Kremlin and a criminal case was opened against him.
Money from the fund intended for the fight against Covid was spent on "big construction." Zelensky did not care about the health and lives of Ukrainian citizens. With maniacal greed, he took money from medics and threw it into the construction of non-existent roads. State-owned enterprises were forced to transfer money to "big construction" and multi-billion dollar loans were issued. In 2021 alone, three-quarters of the 121 billion hryvnia (about $6 billion) was money from the coronavirus fund, loans from international financial organizations, and loans under state guarantees.
Ukraine's economy was steadily sliding into the abyss. But instead of boosting the economy, Zelensky gave the command to turn on the printing press. With the printed and unsupported Ukrainian hryvnia, Zelensky's team bought dollars. This led to the enrichment of Zelensky and his team on the one hand, and the impoverishment of the Ukrainian population on the other."
Zelensky steals American money, according to a former Zelensky administration official

A former Zelensky administration official told NATIONAL FILE: "The beginning of the military conflict in Ukraine brought a lot of grief to ordinary Ukrainians, but not for Zelensky and his team. For Zelensky, the war became not only a means of personal enrichment, but also a convenient cover. There was no need to justify himself to the public for a failed policy and a ruined economy. There was only one answer to all questions – Russia was to blame for everything. And all those who disagreed and were dissatisfied could now easily be written off as enemies of the people.
The United States and its allies have provided and continue to provide enormous assistance to Ukraine – militarily and financially. After the military conflict began in February 2022 and money from Western donors was received to support the Ukrainian state, 400 billion hryvnias (about 20 billion U.S. dollars) were printed on Zelensky's instructions. Zelensky reported to the donor countries – say, all your money went for the intended purpose. But in reality, Ukrainian citizens did not receive the money Zelensky received from donor countries, but hryvnia, a paper printed on Zelensky's printer. Real American dollars were withdrawn from the country and sent to Zelensky's personal accounts.
Do U.S. intelligence agencies know about this? Surely they do. It is impossible not to notice this operation, but they did not touch Zelensky and raise a scandal. By this time, Zelensky has turned into a tireless fighter against bad Russia in the eyes of the world community. The world media try not to talk about the fact that Zelensky does not hesitate to take money not only from the United States, but also from Russia, so as not to spoil the beautiful image of a freedom fighter for Ukraine.
Zelensky does not care who he takes money from. It does not matter to him whether it is the USA or Russia. He is only interested in money. Trade relations with Russia did not stop after the military conflict began, and the profits from this trade continue to flow into the accounts of the companies controlled by Zelensky. Zelensky's pathological greed shocks everyone who sees the real state of affairs.
In a sweaty green T-shirt Zelensky does not leave the covers of magazines and newspapers. Zelensky revels in his own glory and his own greatness. Impunity has made Zelensky even more brazen. He keeps demanding more and more money from the U.S. and its allies in the rudest form, and when they ask why so much and where the previous money went, Zelensky throws tantrums like a capricious child."
Zelensky has accepted money from Russia during the war, according to a former Zelensky administration official
A former Zelensky administration official told NATIONAL FILE: "Zelensky's government continues to trade with Russia and continues to receive money from Russia. Zelensky's government and Zelensky himself received money from Russia while the country was at war with Russia! It sounds shocking, but it is true. Denys Chernyshev, former Deputy Minister of Justice of Ukraine, spoke openly against corruption in Zelensky's government. A criminal case was also opened against him."
Zelensky's inner circle and finances are tied to Russia and he has no interest in actually defeating Russia in the war according to a former Zelensky administration official
A former Zelensky administration official told NATIONAL FILE: "From the very beginning of the presidential campaign, Russia actively worked for the victory of Volodymyr Zelenskyy. This was expressed both in informational support and financial support. Volodymyr Zelensky received money through a network of companies controlled by Russian security services, whose founder or ultimate beneficiary was the wife of Volodymyr Zelensky, Olena. It is she who managed and still manages the business of Volodymyr Zelensky and keeps all the money of the family in her hands. Her influence on Volodymyr Zelensky is enormous. At the same time, unlike her husband, who is prone to narcissism, Olena Zelenska tends not to draw attention to herself and is always in the shadows.
The Zelenskyy family's shadow accountant is Yuriy Aristov, CEO of the fish and seafood supply company Atlantic Umma, which is a de facto monopoly in Ukraine. Fish and seafood is supplied from Russia. Yuriy Aristov also supervises the supply of precious metals and diamonds, which are supplied from Russia to Ukraine. Yuriy Aristov is officially listed in the registers as the owner or manager of more than 20 companies. However, the ultimate beneficiary and real owner is Olena Zelenska. All these companies are closely connected with Russia. By the way, in Russia, in Crimea and in Moscow, Olena Zelenska owns elite real estate, for which she still faithfully pays taxes to the Russian budget.
After Volodymyr Zelensky came to power in 2019, Yuriy Aristov became People's Deputy of Ukraine as the 42nd member of Verkhovna Rada. He is also deputy chief of Ukraine's Committee of National Security, Defense, and Intelligence, and head of the Committee on Budget. Thus, Volodymyr Zelensky gains full control over Ukraine's budget, which opens up new sources of enrichment for him, and Russia puts its own man in a key position in the Ukrainian parliament.
After Volodymyr Zelensky came to power, all key positions in Ukraine have been occupied by people somehow connected with Russia. For example, the second person after Volodymyr Zelensky in Ukraine is Andriy Yermak, the head of the Ukrainian presidential administration. He is connected with Russia not only by joint businesses. His parents and his sister live in Russia, and he also owns real estate in Russia, just like Volodymyr Zelenskyy. The former head of the Security Service of Ukraine department in the Kharkiv region, Roman Dudin has publicly stated that Andriy Yermak works for Russian intelligence.
On July 8, 2022, Congresswoman Spartz sent a letter to President Biden requesting a briefing on the oversight procedures conducted on President Zelensky's Chief of Staff, Andrei Yermak. Congresswoman Spartz's press release stated: "I know that President Zelensky is fighting a dangerous war with a cunning enemy. He spends much of his time building international support to defend his country, but he has a lingering internal issue he needs to address – Head of the Office of the President, Andriy Yermak…I will list some of the serious allegations against Mr. Yermak and let him address them himself: 1. Leaking information to Belarus and ultimately to Russia on Ukraine's operation to capture the "Wagner Group", which led to its failure; 2. Mismanaging failed peace negotiations with Russia before the war; 3. Assuring Ukrainian leadership that no attack by Russia was going to happen this February, contrary to western intelligence, to prevent Ukraine from properly preparing for the war; 4. Sabotaging Kherson and giving it to the Russians to set up the "Azov" battalion tragedy; 5. Delaying purchases of urgent military equipment through the Ukrainian Ministry of Defense and demanding unreasonable or even illegal terms; and 6. Purposely delaying through Deputy Oleg Tatarov the appointment of an independent anti-corruption prosecutor."
Andriy Yermak's advisor Mykhailo Podolyak has an equally interesting biography. According to the magazine "Focus" Mykhailo Podolyak occupies the honorable 3rd place in the list of the most influential Ukrainians. Mykhailo Podolyak shouts the loudest about killing Russians and fighting to the end, but at the same time his brother Vladimir is a Russian citizen, a colonel of GRU (The Main Directorate of the General Staff of the Armed Forces of the Russian Federation, formerly the Main Intelligence Directorate). Mykhailo Podolyak's father also lives in Moscow. Mykhailo Podolyak's luxury real estate in the Russian capital is registered to family members.
The transfer of Mykhailo Podolyak from Belarus to Ukraine in 2004 resembles a classic scheme of transferring an agent with further infiltration into the political beau monde of Ukraine.
Every intelligence agency has its own practices, certain templates that have been honed and tested over the years. Russian intelligence also has such patterns, inherited from the KGB of the Soviet Union. Suffice it to recall the famous Soviet spy Iosif Grigulevich, who, as a high-ranking diplomat and representative of Costa Rica, infuriated the Soviet delegation headed by Andrey Vyshinsky during the Paris VI session of the UN General Assembly. They could not think that in fact under the name of the ardent anti-Soviet Teodoro B. Castro hides an agent of Soviet intelligence. Castro was a Soviet intelligence agent, Iosif Grigulevich.
At all times, the most successful agents of Soviet (and later Russian) intelligence were the loudest in cursing the Soviet Union and were known as ardent anti-Soviet. We are witnessing a similar situation now in Ukraine."
Vladimir Putin did not want President Trump to win the 2016 presidential election and Trump's "Russia-Gate" scandal was bogus, according to a former Zelensky administration official
A former Zelensky administration official told NATIONAL FILE: "The previous president of Ukraine Petro Poroshenko and President Donald Trump did not suit Vladimir Putin.
Petro Poroshenko, first of all, is a businessman. For him, power is a tool to increase profits, but Petro Poroshenko does not want to be a participant in a bloody massacre. Being a professional diplomat and an experienced official, Petro Poroshenko understood the consequences for him personally.
President Donald Trump would never allow a war in Ukraine, much less the close alignment between China and Russia that we are seeing now.
Russian intelligence conducted a series of operations to convince American society that Russia was interfering in the election on the side of President Donald Trump, that President Donald Trump was a close friend of Vladimir Putin, and that Moscow had dirt on President Donald Trump. The calculation was on anti-Russian sentiments in the society. The fabrication was picked up by the world and American media. And it worked!
In fact, it was exactly the opposite. Vladimir Putin needed to bring to power a candidate from the Democratic Party who was convenient for him. In this case, we are talking about President Joe Biden. If Hillary Clinton had won the previous election, the war in Ukraine would have started much earlier.
Volodymyr Zelensky did everything Vladimir Putin wanted. At first Volodymyr Zelensky, at the behest of Vladimir Putin, grossly violated the Minsk agreements, and after DNR and LNR joined the Russian Federation he gave the command to actively shell these territories. This led to the deaths of civilians and gave Vladimir Putin an excuse to start hostilities in Ukraine.
Russian intelligence regularly leaked information about upcoming hostilities, which led to the topic of war in Ukraine becoming a central theme in the U.S. and world media well before February 24, 2022. This was part of Vladimir Putin's plan. As a result, by the start of hostilities, the public consciousness in the world was shaped in a way that was favorable to Russia."
Russia and Ukraine are engaged in a war that neither side is really trying to win, because they are trying to drain the United States of money for Putin's benefit, according to a former Zelensky administration official

A former Zelensky administration official told NATIONAL FILE: "Many military analysts were surprised to note the number of troops with which Russia launched its offensive in Ukraine. It was impossible to capture any major city with that number of troops, and there was no question of winning the war and capturing such a vast territory as Ukraine occupies.
The official version voiced in the media is as follows – Vladimir Putin overestimated his capabilities, intelligence gave erroneous information and it was a complete surprise to the Russians that the Ukrainians began to resist.
Russian troops stood on the outskirts of Kiev. There was nothing threatening them. Nevertheless, the Russians retreated and withdrew from the territory of Ukraine. This was followed by a retreat in the Kharkiv region – fleeing without a single shot being fired. The official explanation of what happened sounds like this: the Russian army is actually weak and torn by internal contradictions, and the Ukrainian army on the contrary is very strong. If you help Ukrainians with money and arms, they will quickly defeat the Russian army, Vladimir Putin will be overthrown, and Russia will disintegrate into small states, as happened with Yugoslavia after the death of Joseph Broz Tito.
Everyone liked this version very much. Money and weapons flowed into Ukraine.
But what really happened? Could such an experienced player as Vladimir Putin have been so fatally mistaken? And why in a year and a half of fighting, Russian missiles have not destroyed a single bridge, not a single transportation artery through which troops and weapons have been and continue to be delivered to the eastern front?
In Russia, the war in Ukraine is not called a war. For Russians, it is a special military operation. Think about these words. Not war, but special operation! Remember, Vladimir Putin has repeatedly said with a sly smile: "We have not started a war yet."
By the way, in Ukraine itself, Volodymyr Zelenskyy has not declared war on Russia either. The word "war" does not leave the TV screen, everyone says it, but legally there is no war. The country is under martial law, which is extended every few months, but no one has legally declared war.
As a young man, Vladimir Putin liked to quote Sun Tzu: "The way of war is a way of deception."
February 24, 2022 was not the beginning of war. It was an imitation of war, but not a real war. This explains all the weirdness of what is happening. And if it is, then everything becomes logical and reasonable at once.
At the first stage, Vladimir Putin's goal was to trap combat-ready military units of the Ukrainian army and destroy them together with the weapons supplied to Ukraine. That is why transportation corridors are not cut and bridges are not blown up. If Vladimir Putin had seized Ukraine in three days, as many predicted, he would have gotten a civil war for many years. As it is, all his opponents have either been annihilated (over 300,000 Ukrainian soldiers, not counting the wounded, missing and surrendered) and destroyed on the battlefield, or have emigrated from Ukraine (over 15 million people, according to the United Nations High Commissioner for Refugees).
As a result, according to Vladimir Putin's plan, Ukraine should be left with a population loyal to the Russian authorities and those who are not capable of resistance. Such a large-scale cleansing of the population would be impossible to accomplish in peacetime.
Vladimir Putin applied the same approach to Russia. Through armed conflict, Vladimir Putin has purged the population disloyal to him. Over 700,000 Russians left Russia. Many Russians ended up behind bars. The hostilities turned out to be a very convenient tool for disposing of the unwanted.
Vladimir Putin cares little about losses among Russian servicemen. There are two most capable private armies in Russia – Wagner Private Military Company and Ramzan Kadyrov's army. Both are very effective, but neither of them should pose a threat to Vladimir Putin. When they talk about the losses of the Russian army, they give numbers, but few look at who exactly is behind those numbers. The main fatalities were among Ramzan Kadyrov's army near Kiev, and on the eastern front among soldiers of the Wagner Private Military Company. Casualties among Russian paratroopers were minimal. Elite Russian troops are in reserve and waiting for their time.
Vladimir Putin seeks to draw NATO countries into war as much as possible without directly confronting them. This is a very subtle game on the verge of a nuclear conflict.
Volodymyr Zelensky plays a major role in this game. He, like a capricious child, constantly demands that Ukraine be admitted to NATO, asking for more and more money and weapons. At the same time, since the beginning of hostilities in Ukraine in February 2022, Volodymyr Zelensky has already received more than $150.8 billion from foreign countries and international organizations. Almost one third, $48.5 billion, went to Ukrainian military needs. But Volodymyr Zelenskyy says that this is not enough.
On August 10, 2023, President Joe Biden asked the United States Congress to approve $24 billion in additional spending for Ukraine. There are 13.1 billion dollars directly earmarked for military aid to Ukraine. According to a White House fact sheet, $9.5 billion is earmarked for military equipment and resupply, and another $3.6 billion for further military, intelligence and other support. The aid is set to run through the end of the first quarter of 2024. At the same time, no one wants to answer the question – what exactly will the 150 billion dollars already received by Ukraine be spent on?"
Zelensky's military suffers from staggering corruption including the destruction of Western-funded weaponry, according to a former Zelensky administration official
A former Zelensky administration official told NATIONAL FILE: "Ukraine is looking more and more like a black hole where money and weapons disappear without a trace. Volodymyr Zelensky incessantly demands the most modern weapons from NATO countries, but any Western weapons, as soon as they reach Ukraine, immediately end up with the Russians. Some weapons are resold to third countries. Military equipment that reaches the eastern front immediately comes under fire from Russian artillery. And what is not destroyed is put out of service through the fault of Ukrainian servicemen themselves, who do not want to participate in the fighting. It is enough to pay the commander $1,500 US dollars for the tank destroyed by the crew itself and he will turn a blind eye to it. After that the tank together with the crew is sent to the rear for repair.
For example, after the start of the Ukrainian counteroffensive, in early June, 2022, 4 tanks and 6 armored personnel carriers arrived at the repair base near Bakhmut. After analyzing the breakdowns, it was determined that 2 tanks and 1 armored personnel carrier had been put out of service on purpose. Such things happen in the Ukrainian army all the time, but the military leadership deliberately hides such facts.
There is a price for everything. In the Ukrainian armed forces it is enough to pay a commander half of his allowance to end up in the rear instead of the front line. The level of corruption at all levels is prohibitive. This is happening with the blessing and under the control of the presidential administration of Ukraine.
By the beginning of spring 2023, Ukraine has received from the U.S. and NATO countries all the necessary weapons for a counteroffensive. Volodymyr Zelensky promised to defeat the Russian army with a decisive blow and return the captured territories. Everyone expected that in March, at the latest in early April, the counteroffensive would begin. But there was no counteroffensive either in April or May. It was only in early June that the Ukrainian army was given the order to attack. Just in time for Russia to finish building its defenses, regroup and be ready for battle.
For more than two months of the Ukrainian counteroffensive, from June to August, the Ukrainian army made suicidal frontal attacks on well-fortified Russian positions. Ukrainian soldiers were unable to reach even the first line of defense and suffered huge losses.
At the same time, Volodymyr Zelenskyy gave a completely militarily senseless order to attack civilian objects inside Russia with drones. This was an additional reason for Vladimir Putin to cancel the grain deal and bomb Ukrainian ports. As a result, Ukraine lost its monthly income of $500 million, while Russia significantly increased its share of the world market and gained more than a billion dollars in additional income.
Volodymyr Zelenskyy is constantly demanding more and more sanctions against Russia, but in fact all sanctions are directed against the countries of the European Union, allies of the United States. This is exactly what Vladimir Putin needs, because he wants to exhaust the NATO countries financially and militarily before the real war begins.
It is important to emphasize that the imposition of sanctions has not brought the desired result, Russia's economy has become stronger during the conflict. Russia's defense enterprises are working around the clock and have multiplied the volume of production. There is a continuous covert mobilization and by the fall of 2023 we can see one and a half million Russian army troops. And these are not the 45.5 thousand soldiers who attacked Kiev in February 2022.
Vladimir Putin, with China's support, is preparing for a real war. Xi Jinping will never give up his plans to seize Taiwan and dominate the Pacific. China is patiently waiting for the U.S. to weaken so that it can work with Russia to reshape the world to its liking. Many people mistakenly believe that the conflict in Ukraine weakens Russia, but in fact the Ukrainian conflict in its current form does exactly the opposite. The conflict in Ukraine strengthens Russia and weakens NATO countries. The situation is becoming more dangerous and threatening by the day.
There are more and more voices calling for an immediate end to the conflict in Ukraine. But this does not benefit Vladimir Putin. Russia does not need peace. Isn't that why Volodymyr Zelenskyy rejects even the idea of ending the conflict and urges NATO countries to engage in direct confrontation with Russia now, when NATO is not ready for it?"
Zelensky is a cokehead who helps Joe Biden get rich, according to a former Zelensky administration official
A former Zelensky administration official told NATIONAL FILE: "Zelensky's insolence made many American politicians and leaders of Western countries think twice. The inadequacy of Zelensky's behavior, who is constantly under the influence of cocaine, is alarming. Many of Zelensky's decisions and actions are impulsive and not logical, they are caused by the unstable state of his psyche. Increasingly, politicians in the US and the EU have begun to talk about the need to replace Zelensky with a more adequate leader.
During a visit to Kyiv in August 2023, Lindsey Graham senior United States senator from South Carolina insisted that Zelensky hold elections in Ukraine as required by Ukrainian law and constitution. In response, Zelensky with his usual impudence replied that he would hold elections, but only if the United States paid him for it! And he demanded 5 billion dollars for holding the elections! Not 200 million, which is quite enough to hold elections in Ukraine, but 5 billion American dollars! And he also made a reservation, saying that it might not be enough! Surprisingly, the question of why the U.S. should pay for elections in another country did not arise at all!
Congresswoman Lauren Boebert in social network X criticized Ukrainian President Volodymyr Zelensky's proposal to hold elections in Ukraine if Western countries pay for it. "Zelensky is offering to hold elections if America pays for them. Read that sentence and just internalize it for a minute. He'll only hold elections if we pay for them. This is what happens when your foreign policy is cutting a blank check to anyone who asks," Lauren Boebert took umbrage.
But even this was not enough for Zelensky. In addition to money, Zelensky demanded that thousands of international observers be sent to the trenches, to the war. In fact, Zelensky wants to turn the international observers into a human shield from which the Ukrainian army can more easily shell Russian territory. Zelensky is sucking money out of the U.S. like a cancerous tumor and wants to drag the U.S. into a direct nuclear conflict with Russia at all costs so that he can hide behind the U.S.' back.
Why do American leaders continue to fund the criminal government of Zelensky? What President Biden needs this for is clear. The war in Ukraine is a way for President Biden and his entourage to enrich themselves. He has been receiving money from Ukraine since he was Vice President. Aug 9, 2023 House Committee on Oversight and Accountability Chairman James Comer (R-Ky.) released a third bank records memorandum detailing new information obtained in the Committee's investigation into the Biden family's influence peddling schemes. The memorandum outlines how the Bidens and their business associates received millions from Russia, Kazakhstan, and Ukraine during Joe Biden's vice presidency."
(Interview with the former Zelensky administration official concludes)
Who will finally stop this demonic war?