Last Updated on June 9, 2023
Muslim Canadians are fighting back against the radical LGBT agenda that's vehemently supported by Justin Trudeau and his WEF-backed government and video footage has emerged from a recent anti-groomer protest in which Muslim children are seen stomping on gay and trans pride flags, as LGBT militants and avowed communist counter-demonstrators rage.
Much like in the United States, the radical Canadian left is forcefully moving to push the LGBT agenda on young children, through the education system and virtually all other walks of life. This June, as "pride month" has faced unprecedented pushback, Christians, Muslims, and others have joined forces to protect the innocence of childhood from the LGBT lobby.
In video footage that's quickly gone viral, young Muslim children are seen stomping on a pile of gay and trans pride flags as a diverse crowd of anti-groomer demonstrators cheers them on, many donning hats that read "Save Canada".
Watch The Video Footage In The Tweets Below: 
Muslim kids stomp pro-pedophile pride flags at a Canadian protest. WHAT A SIGHT TO SEE! pic.twitter.com/NVE5S80xBr

— Frankie Stockes – Reporter (@stockes76) June 9, 2023
FIGHT BACK!pic.twitter.com/y6ByQnip0c

— National File (@NationalFile) June 9, 2023
The protest action in Canada comes as left-wing politicians move to defend grooming and "drag queen story hour" events down the barrel of a gun.
As National File recently reported, a Chinese-born Canadian politician who refers to herself as a "they/them" is pushing legislation in Ontario's Provincial Parliament to charge anti-grooming demonstrators with hate crimes. Also under the legislation, proposed by Kristyn Wong-Tam, the provincial government would create an "advisory board" made up of "2SLGBTQI+ community members" to advise the government on how to best implement their militantly pro-pedophile agenda.
Disturbingly, when Wong-Tam announced the proposed legislation, she was flanked by a young child and surrounded by costumed drag queens.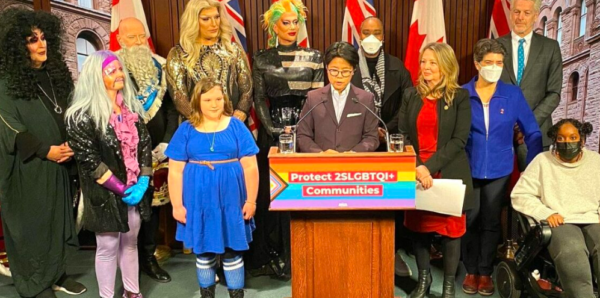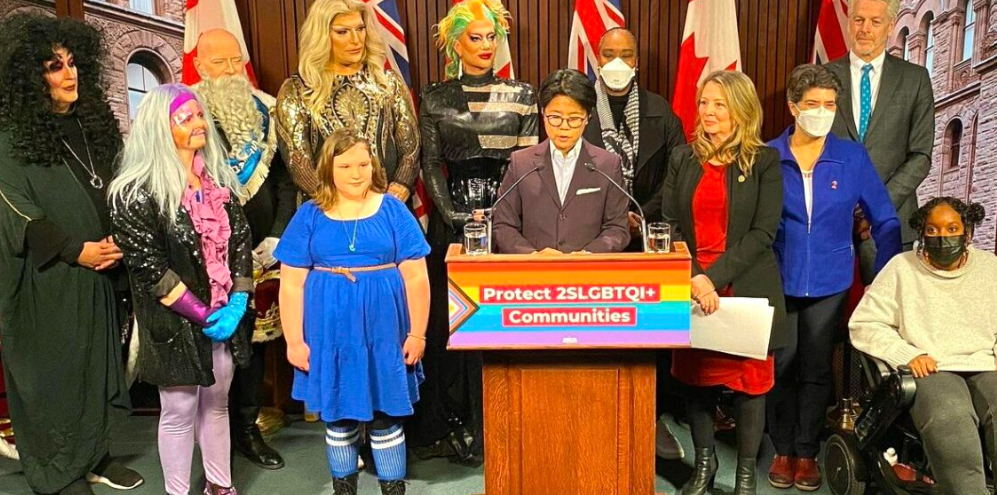 Much like in Canada, the United States is experiencing a groundswell of pushback against the government-sanctioned, militant LGBT agenda that's targeting children.
Retail giant Target, long notorious for it's aggressive LGBT marketing, is facing a massive boycott that's reportedly thrown the corporation into financial chaos and has forced it to walk back some of its groomer marketing gimmicks.
The same can be said in the world of sports, as baseball players and fans on both sides of the US-Canada border have fiercely pushed back against Major League Baseball's sudden embrace of LGBT militancy.