The US Department of Education has kicked off the month of June by wishing a "Happy Pride Month" to the millions of American children enrolled in public schools all over the nation.
"Everyone in the school community should feel valued for who they are & free to be their authentic self," the US Department of Education wrote in a "#PrideMonth" tweet, before directly and publicly writing to underage children on the topics of homosexuality, transgenderism, and the slew of other sexual deviancies represented by the "LGBTQI+" acronym.
"Our message to LGBTQI+ students, teachers, and staff as we begin #PrideMonth: ED has got your back," the tweet went on, above an image of multi-racial hands holding various pro-gay items.
One hand in the Department of Education's photo is holding a megaphone, complete with gay pride flag-colored waves coming out of it, apparently to represent LGBT propaganda being loudly spoken.
A set of hands adjacent to the megaphone makes a heart shape around a rainbow flag-filled heart graphic. While one hand holds a transgender flag and another sticks two fingers and a thumb into the air, wearing what appear to be rainbow-colored silly bands, which are popular with elementary and middle school-age kids.
In addition to posting the graphic wishing children a "Happy Pride Month", the Biden Administration's US Department of Education, which has aggressively pushed LGBTism and race radicalism on American students of all ages, changed its Twitter profile picture to reflect its celebration of LGBT "pride month", a month-long corporate-sponsored event that has taken over the month of June since 2020 and that millions of American consider to be a direct mockery of Christianity.
In its new profile picture, the US Department of Education utilized the so-called "progress pride flag", which in addition to sporting the rainbow pattern of the gay pride flag, contains a design that promotes transgenderism and another for the radically Marxist Black Lives Matter movement, which has bizarrely attempted to merge black racial strife with homosexuality and transgenderism.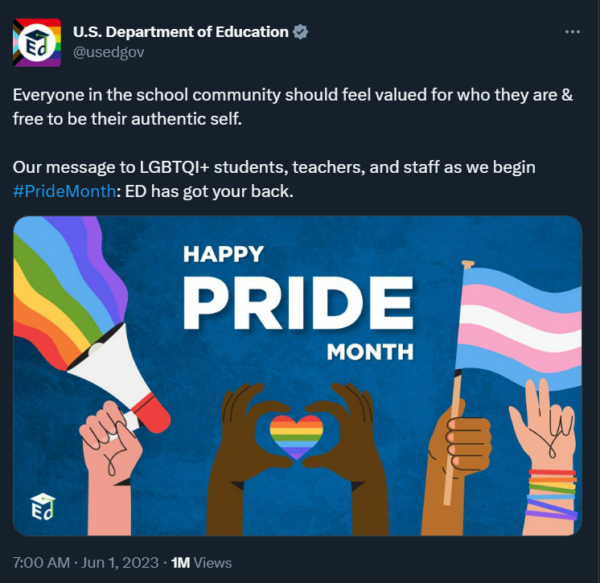 Much like the federal Department of Education, numerous school districts all over the United States have embraced homosexuality and transgenderism, prompting unprecedented rape sprees and parental outrage as trans madness is officially enabled and children are indoctrinated, their parents deliberately iced out of the education process.
As reported by National File, in Loudoun County, Virginia, radical transgender bathroom policies led directly to the serial rape of female students by a "gender-fluid" male who donned a skirt.
In an effort to protect their pro-trans agenda, the Loudoun County School Board moved to cover up the rapes and even had a victim's father arrested for asking questions.
Eventually, pro-trans Superintendent Scott Ziegler was fired from his post and then indicted by a Grand Jury for the cover-up, though several involved parties remain active on the Loudoun County School Board and, with the help of other local government officials and politicos, have been making documented efforts to advance the Biden DOE-backed trans agenda and takedown parents who are opposed to their plans.
All over the country, children as young as preschool, kindergarten, and first grade have been targeted by the Biden DOE-backed LGBT grooming movement in public schools, with the attacks increasing in aggression and frequency.