Last Updated on October 7, 2022
A 5-year-old child who attends a public elementary school in Chesterfield County, Virginia was sent home from kindergarten with a copy of "I'm Not A Girl," a pro-trans book about a little girl proclaiming boyhood. National File spoke exclusively with the child's father, who revealed that the book is being marketed directly to kids and that the school doesn't require children, no matter how young, to receive parental consent before checking out sexually-explicit content.
Speaking exclusively with National File, the child's father, who will remain nameless for reasons of personal and family security, revealed that his 5-year-old child obtained a copy of "I'm Not A Girl" from the Moseley Elementary School library after it was marketed to students directly as part of a promotional book display.
When he contacted the school looking for answers, the father was told that the book is available to any and all students to check out. If parents wish to stop their children from obtaining such books, then they must write the school a letter, expressly banning their kid from doing so.
"You would think this is common sense not to have sexual things around our children," the child's father told National File. "We have to protect them from things that they don't and can't understand yet. This topic is one of them."
"As a parent, a book about being transgender or non-binary isn't an age-appropriate topic," the father went on in telling National File. "I'm sure this can be very relevant for a lot of people, but it is not age appropriate for my kindergarten child."
National File has independently confirmed that copies of the pro-trans book "I'm Not A Girl" are available to children at Chesterfield County's Moseley Elementary School library, which lists the book in its publicly-accessible online catalog.
According to the library's website, "I'm Not A Girl" carries an "everybody" designation. Along with the father's statements to National File, this confirms that students of all ages can check the book out, regardless of their parent's feelings on the matter.
The library website includes a preview summary of the book, which touts the story of childhood transgenderism as one of "courage," in which a little girl named Hannah is finally able to "show the world who HE really is." 
"Nobody seems to understand that Hannah is not a girl," reads the school's book summary.
"His parents ask why he won't wear all the clothes they pick out. His friend thinks he must be a tomboy. His teacher insists he should be proud to be a girl," the summary goes on. 
"But a birthday wish, a new word, and a stroke of courage might be just what Hannah needs to finally show the world who he really is." 
On the book's cover, a cartoon drawing of a little girl is seen enviously staring through a barber shop window at a little boy as he gets his hair cut.
Further information about the book is made available by MacMillan Publishers, which touts "I'm Not A Girl" as an "empowering" and "true story" about a little girl "who is determined to be HIMSELF."
According to MacMillan's webpage advertising the book, "I'm Not A Girl" was named to 2021's "Rainbow Book List," a collection of pro-trans and pro-gay books marketed to children "from birth to age 18."
In large part, the book has been promoted in schools because it was co-authored by a 12-year-old "transgender boy" who was born a girl before receiving gender reassignment surgery at an extremely young age.
This alone, the Chesterfield County father told National File, indicates that the book should be reserved for readers much older than 5.
"We speak with our children about a lot of topics," he said. "But conversations like this, I just feel should be had at a later age, not elementary school."
"The book was written by a 12-year-old, which is at least middle school age," the father said. "And even then, they are still young."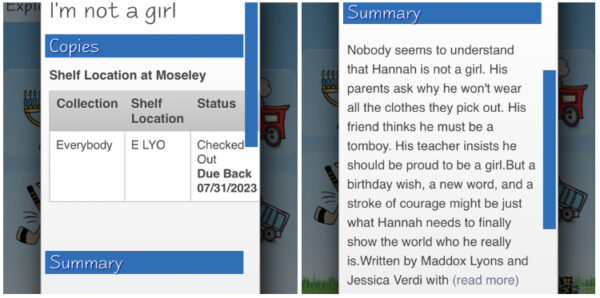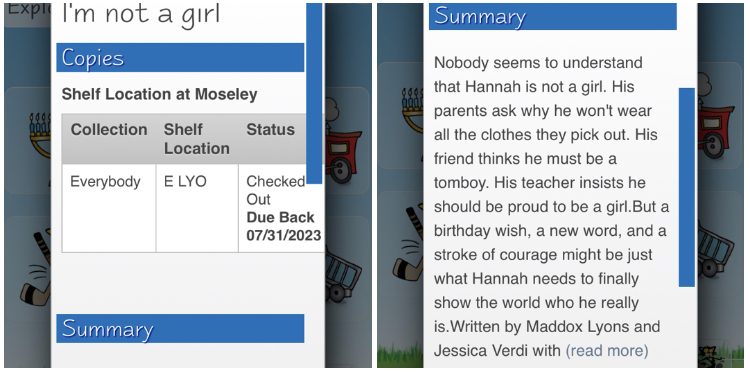 "I'm Not A Girl" isn't the only pro-trans or pro-LGBT book being peddled to small children in Moseley Elementary School. A quick look at the school's library website reveals that there are shelves chocked full of sexually-charged material hiding in plain sight.
Another book available on the Moseley Elementary School library website is "Two Grooms On A Cake: The Story Of America's First Gay Wedding." Like "I'm Not A Girl," the book is categorized as being available to "everybody." 
The author "tells the tale in easy-to-understand language, sweet as the frosting on the cake…As beautiful as it is informative about this little-known battle in the fight for equality," the library's glowing book summary of "Two Grooms On A Cake" reads. 
The book offers "affectionate illustrations with vintage 1970s' colors and vibes," the summary goes on to say.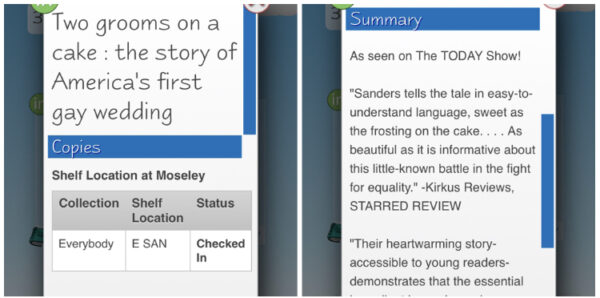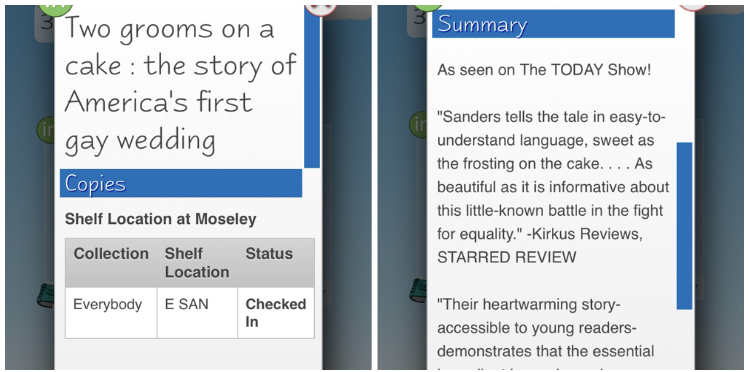 The promotion of the LGBT lobby's far-left agenda in Chesterfield County Public School libraries goes as far back as at least 2004.
That year, Style Weekly reported on the "heroism" of a Chesterfield County high school librarian who was leading her school's Gay Straight Alliance. The teacher-led student group wasn't just promoting homosexuality, Style Weekly reported, but "taking on White people." 
A suburb of Richmond, Chesterfield County, which was once a GOP stronghold, has taken a sharp turn towards the left in recent years. That's largely thanks to an influx of ex-Richmonders and blue-state transplants who have seemingly forgotten why they moved in the first place.
Chesterfield has also been among the Richmond area's top destinations for third-world migrants, helping to accelerate its drift toward the political left. The county's rapid political and demographic shift has drawn comparisons to Northern Virginia's notorious Loudoun County, where native-born Americans are approaching minority status and far-left Democrats have a stranglehold over local government, including the school system.
Late last month, when what were portrayed as pro-trans "student-led walkouts" were staged across Virginia, Chesterfield County Democrat State Senator Ghazala Hashmi was caught by National File playing a central role in organizing the "astroturf" demonstrations.
Along with Hashmi, failed Democrat State Senate candidate Amanda Pohl has publicly touted her role in organizing the walkouts at the middle school level so that children as young as 11 could demand that their schools – not their parents – have the final say over their documented "gender identity."
The information used in this report was gathered with the assistance of Virginians for Children First – a non-profit group at the forefront of giving children a quality, apolitical education.