Last Updated on October 3, 2022
Democrat politicians and public school teachers were behind organizing efforts of the supposedly student-led walkouts to end parental rights in Virginia last week, confirming the suspicions of many who quickly labeled the walkouts "astroturf" at best.
The September 27th walkouts were staged in protest of Governor Glenn Youngkin's gender and pronoun policy guidance to the Virginia Department of Education, barring schools from changing kids' names and pronouns without parental knowledge and consent. Under far-left grooming policies observed in a number of blue school districts, public schools can use the name and pronoun changes to carry out the "social transitioning" of a child while keeping their parents totally in the dark.
Far from the student-led, grassroots effort that corporate media have hailed them as, Democrat politicians, operatives, and public school teachers played an active role in staging the demonstrations.
In Chesterfield County, failed Democrat candidate Amanda L. Pohl, who made inserting LGBT ideology into schools a centerpiece of her campaign, boasted in a Facebook group that she helped her child – who she refers to by the pronouns of "them and their" – plan a walkout at a local middle school.
Pohl says she was aided in planning the walkout by Democrat State Senator Ghazala Hashmi, who Pohl says will be playing a central role in taking on pro-parent, pro-family policies in Richmond.
"In the planning phase, we met with Virginia Senator Ghazala Hashmi," Pohl wrote in her Facebook post announcing that she was "incredibly proud" of the "courage" shown by walkout participants.
Hashmi, Pohl says, "expressed her willingness to meet with parents and students to hear your concerns about the proposed anti-trans policies."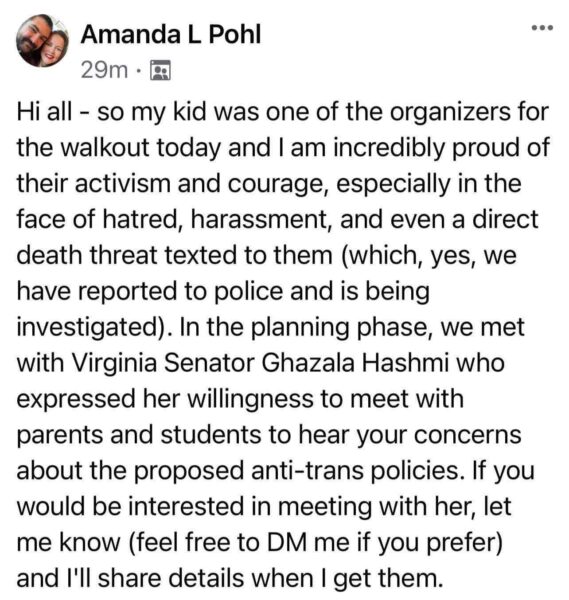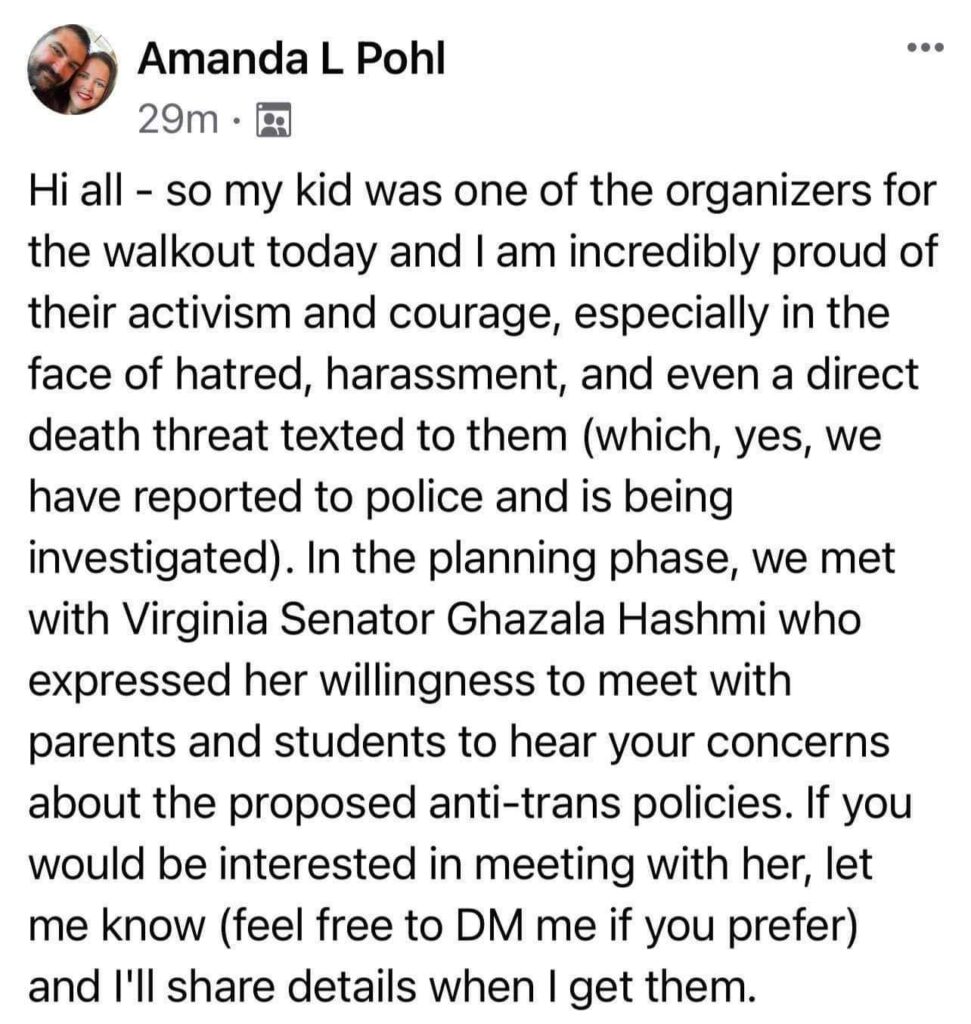 In a social media post of her own, Hashmi wrote to Twitter that she'd been invited to "observe" a "student-led walkout" at Chesterfield County's Midlothian Middle School. Being that it's a middle school, the children Hashmi was helping to explore alternative sexualities and change their gender identities would range in age from roughly 11 to 13 years old.
In addition to helping to plan the Midlothian walkout, State Senator Hashmi posted a video message ahead of the walkouts, accusing the Youngkin Administration of "putting prejudice in front of progress."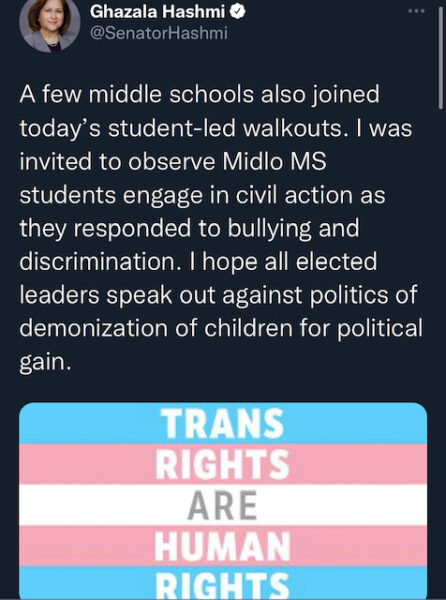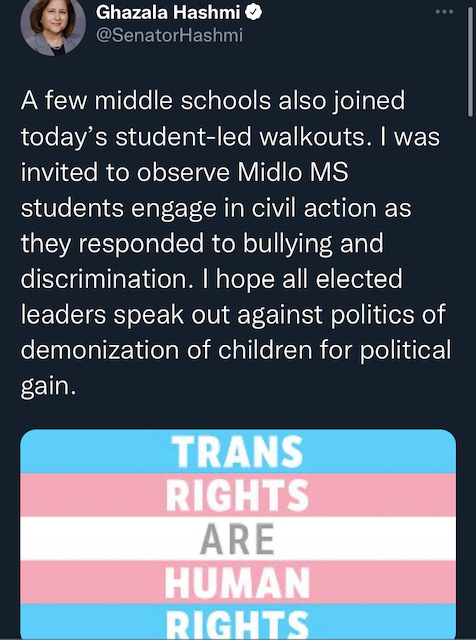 At deep-blue Fairfax County's West Potomac High School, a public school teacher named "Ms. Borghard" made an online post to a student message board ahead of the walkouts, accusing the Board of Education of "discriminating" against the "LGBTQIA+ community" and instructing students to "come to show your support!"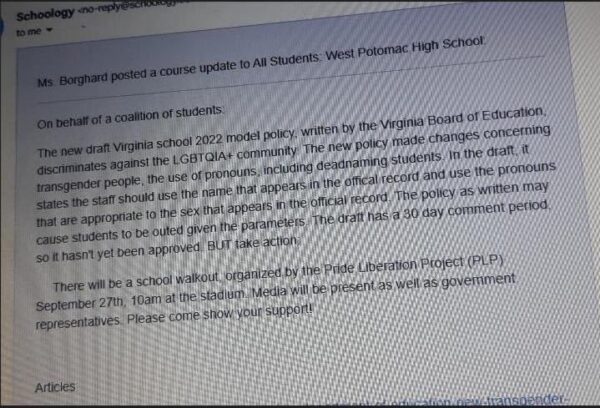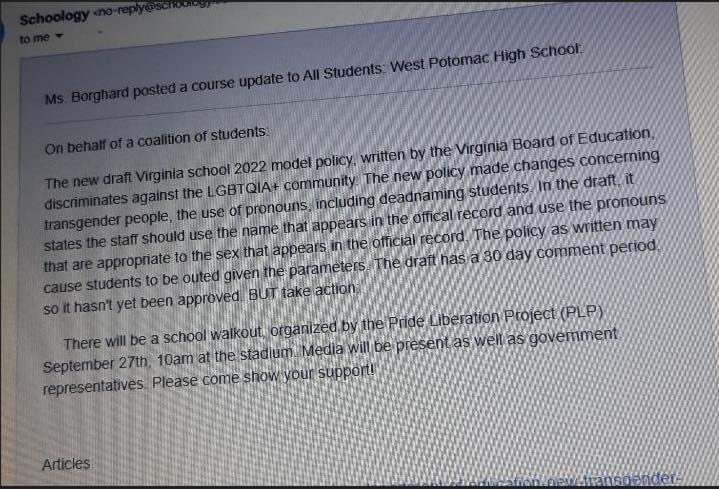 In addition to receiving the assistance of Democrat politicians and public school teachers, the walkouts were publicly sponsored by the "Pride Liberation Project." A far-left LGBT lobby group, the PLP, as it is called, also dabbles in anti-White, Black Lives Matter racism and fantasizes about the destruction of Israel.
According to the public agenda of the Pride Liberation Project, the group, which is led by adults including former employees of Fairfax County Public Schools, seeks to "rehome" kids deemed gay and transgender if public school officials decide their parents aren't supportive enough. The group raises money through ActBlue and admits that they pay for teenagers to run away from home.
@PrideLiberation Project, leading student walk outs in Virginia over trans students and schools keeping secrets from parents, also promotes and engages members' antisemitic views, calling for the destruction of Israel 🇮🇱 https://t.co/BR6Alg60fb

— NOVA Campaigns (@NoVA_Campaigns) October 2, 2022