Last Updated on October 13, 2022
North Carolina's Charlotte-Mecklenburg Public School district is training middle schoolers on how to have gay sex, recommending they read "This Book is Gay," which teaches young boys how to "get off" with other guys in graphic detail.
Local mom Christy Wade exposed the sexually graphic book, that directly trains kids on how to have gay sex, at this week's meeting of the Charlotte-Mecklenburg School Board, which is dominated by left-wing Democrats. After they initially tried to obstruct her speaking time, Wade let loose, reading straight from the pages of "This Book is Gay," and leaving many a jaw resting on the floor.
"'This Book is Gay' by Juno Dawson was found in a 7th-grade classroom at Collinswood Middle School. It was also on the ELA recommended reading list for 7th graders at Jay M Robinson," Christy Wade said, before reading aloud from a chapter titled "The Ins and Outs of Gay Sex."
"Perhaps the most important skill you will master as a gay or bi man is a timeless classic, the hand job," reads the book. "The good news is, you can practice it on yourself."
"Something they don't teach you in school is that in order to be able to cum at all, you or your partner may need to finish off with a handy. A lot of people find it hard to cum through other kinds of sex," the perverted book goes on before it launches into extremely graphic descriptions of exactly how to give another guy a hand job.
"A good handy is all about the wrist action. Rub the head of his cock back and forth with your hand. Try different speeds and pressures until he responds positively. A bad handy is grasping a penis and shaking it like a ketchup bottle."
"Rubbing two peens together," the book goes on, "feels awesome!"
As the disgusted mom read aloud from the book, adults in the audience could be seen covering their ears, so as to not be subjected to its contents.
Unfortunately, the Charlotte-Mecklenburg School Board has no problem with kids being exposed to the gay sex training manual. Not only have they recommended the book to kids and defended a teacher for stocking it in their classroom, but they tried to silence Wade and didn't even offer a response.
In fact, they cut her off well before she'd been speaking for the allowed 2-minute period.
"It's no wonder that 92% of CMS graduating seniors aren't college or career ready when you're instructing them on how to give blowjobs and handies instead of how to add or subtract," Wade said, as she was interrupted by the board.
"Any teacher putting material like this on his or her bookshelf is either a bad teacher or a pedophile who grooms children," she went on.
"We will vote you out on November 8th!" Wade vowed, as a gavel could be heard clanging from the school board's bench and the crowd burst into thunderous applause.
Watch the video and hear the book's disturbing content for yourself below:
🚨 Graphic content

Mom reads from "This Book Is Gay" found in a 7th grade classroom and on recommended reading list for 7th graders in @CharMeckSchools.

"We will vote you out on November 8th. You are not leaders." pic.twitter.com/S4zpso1glj

— Moms for Liberty (@Moms4Liberty) October 13, 2022
National File spoke with Charlotte-Mecklenburg Schools mom Christy Wade, and obtained a copy of the 7th-grade reading list that was provided to students at Jay M Robinson Middle School.
In a blatantly obvious attempt to subvert parents, the school removed the requirement that kids get a parental signature before reading "This Book is Gay" and other explicit or divisive titles as part of their reading list assignments. Under the new rules, an email will suffice, leaving no way to actually verify whether parents consent to their kids reading the gay training manual or not.
On the school's reading list, "This Book is Gay" is recommended in writing for kids as young as 13 years old.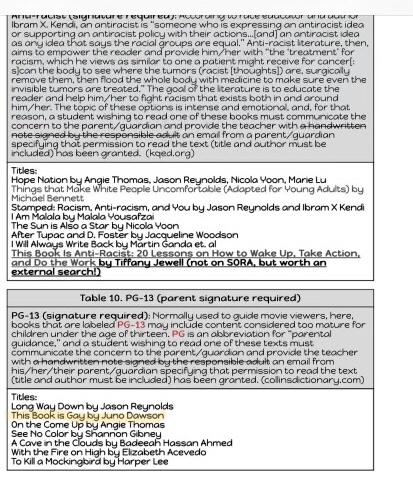 In an email to concerned a parent at Collinswood Middle School, Charlotte-Mecklenburg Superintendent Hugh Hattabaugh defended the teacher who stocked "This Book is Gay" in their classroom, claiming that it was brought in as part of their personal collection not to be accessed by students – even though it was.
The school's principal, Carolyn Rodd, went even further, defending the book as being critical to staff development and supporting a "safe and inclusive environment."
The disturbing situation in North Carolina compares to another story National File has recently covered in the neighboring state of Virginia. There, a 5-year-old Kindergarten student was sent home with a copy of the pro-trans book "I'm Not A Girl," which was being promoted by her school library.