Last Updated on October 1, 2022
A United States Air Force combat veteran who served in Operation Enduring Freedom has told National File that he served in Afghanistan with J.R. Majewski, directly refuting a prior Associated Press story that wrongly claimed that Majewski falsified his service record. The veteran who served alongside Majewski also provided military documents that confirm his service in Afghanistan, as well as his extensive service in other military theaters around the globe. National File has examined these records thoroughly.
The direct refutation by Majewski's fellow Afghan War veteran came in an exclusive interview with National File following a Majewski campaign press availability with Majewski's fellow retired serviceman earlier in the week. 

The veteran who served with Majewski told National File that he saw Majewski in Afghanistan "too many times to count."
The AP's claim against Majewski hinges on incomplete information obtained from the Department of Defense that indicated Majewski was deployed to Qatar and did not mention his service in Afghanistan.
It is very difficult to prove that someone did not do something in the military, according to many military sources.
That did not stop the AP from extrapolating a claim that Majewski was never in Afghanistan and the claim that Majewski lied from the paperwork.
This new information obtained by National File shreds the AP's thinly-sourced story accusing Trump-endorsed US House candidate J.R. Majewski of faking his Afghan War service. This calls into question the thoroughness of the initial story, which now appears to have been published without basis.
The reporters credited with writing the story, James LaPorta and Brian Slodysko admitted themselves to basing their claim on incomplete information.
This reporter reached out to both Slodysko and LaPorta to make sure they had more information that would complete the AP's report on Majewski's record of service. Despite having received more complete information, James LaPorta told National File that he stands by his baseless story, which now appears to have been proven utterly false.
Trump-endorsed J.R. Majewski is taking on 20-term Democrat incumbent Marcy Kaptur for Ohio's 9th District seat in Congress. As a direct result of the AP's story, Kevin McCarthy's NRCC pulled their support of Majewski's campaign.
During his War on Terror service, Majewski was part of a "mobile unit" tasked with flying military cargo into Afghanistan.
As his fellow veteran explained, while Majewski's duty assignment was in Qatar, the nature of his service took him all over the Middle East region. That included numerous flights into Afghanistan where, in 2002, the US military was in the early stages of ground operations. Units like Majewski's were tasked with flying in much-needed men, ammunition, and supplies as American forces established their presence.
The incomplete military records obtained by the AP, and even full DD-214 documents, Majewski's fellow veteran explained, do not detail the individual missions and tasks a servicemember carried out as part of their duty assignments.
In addition to the verification of Majewski's service in Afghanistan obtained through his fellow war veteran, National File has examined a 2002 paystub issued by the US Air Force to Majewski during his deployment. Included in the paystub is "Imminent Danger Pay," a special pay rate awarded to US military personnel when they serve in conflict areas that put their lives at risk.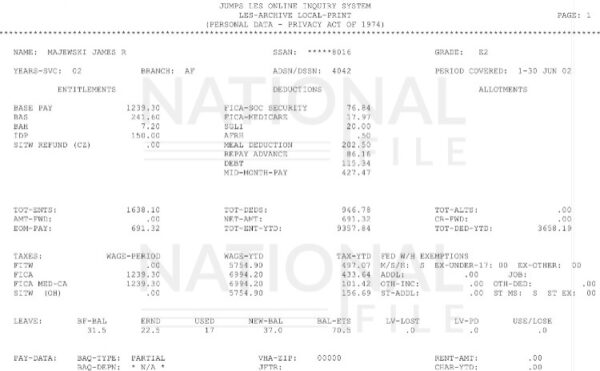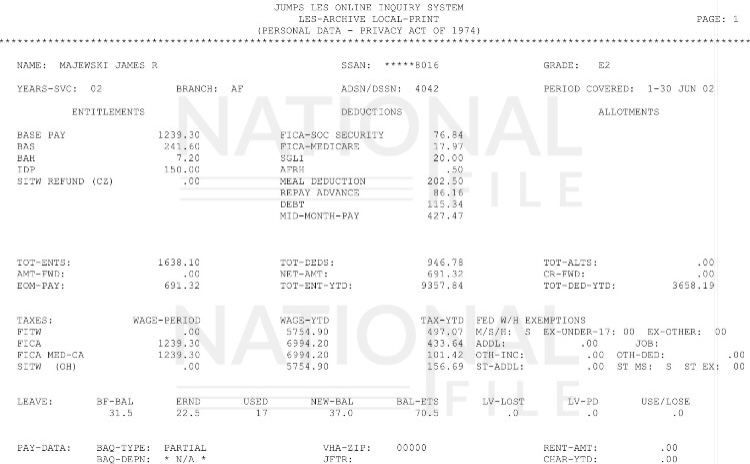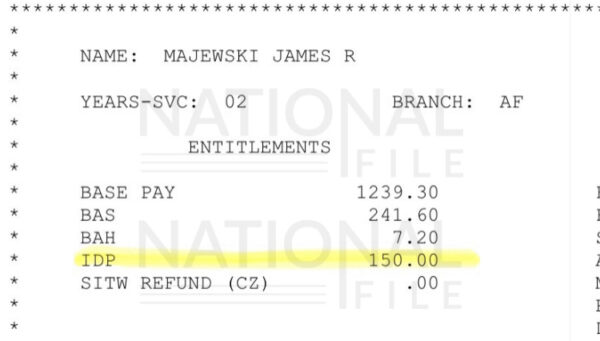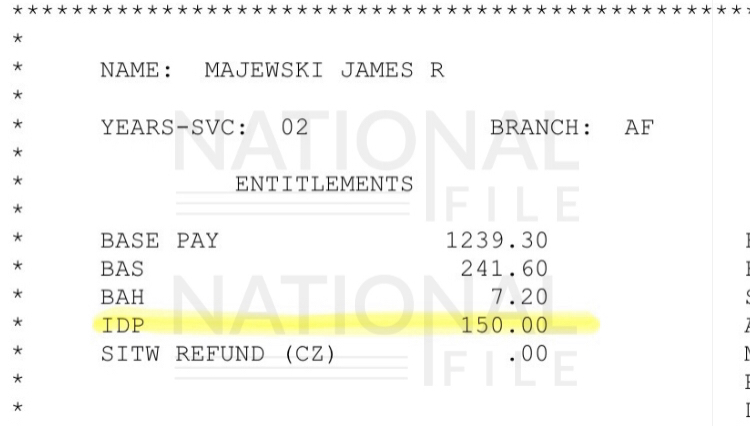 National File has reached out to the AP numerous times, by phone and email, in regards to the baseless hit on Majewski.
Lauren Easton, the Vice President of AP Corporate Communications, insists that "the AP stands by its story."
National File asked the AP if it is their official position that World War 2 and Vietnam War veterans who served offshore or flew in and out of their respective war zone on supply missions are not actual veterans, but has received no answer to this question. 
In the AP's hit on Majewski, the "verification of service" information they cite from the Air Force is dated July 2022, but their story wasn't published until September 22nd. Interestingly enough, after sitting on the partial information for nearly two months, the AP published their hit on Majewski just in time to coincide with the release of 2022's military absentee ballots.
The story also came as Democrats and left-wing media publications began to publicly worry about  Marcy Kaptur's re-election prospects. A 20-term incumbent, Kaptur is facing the toughest re-election battle of her DC career. 
Almost immediately after the AP released their hit piece on Majewski, Kaptur turned it into a campaign attack ad, paying to boost the story on search engine results.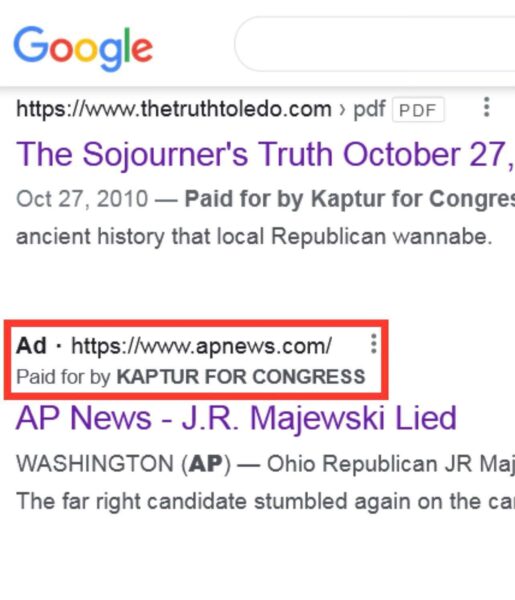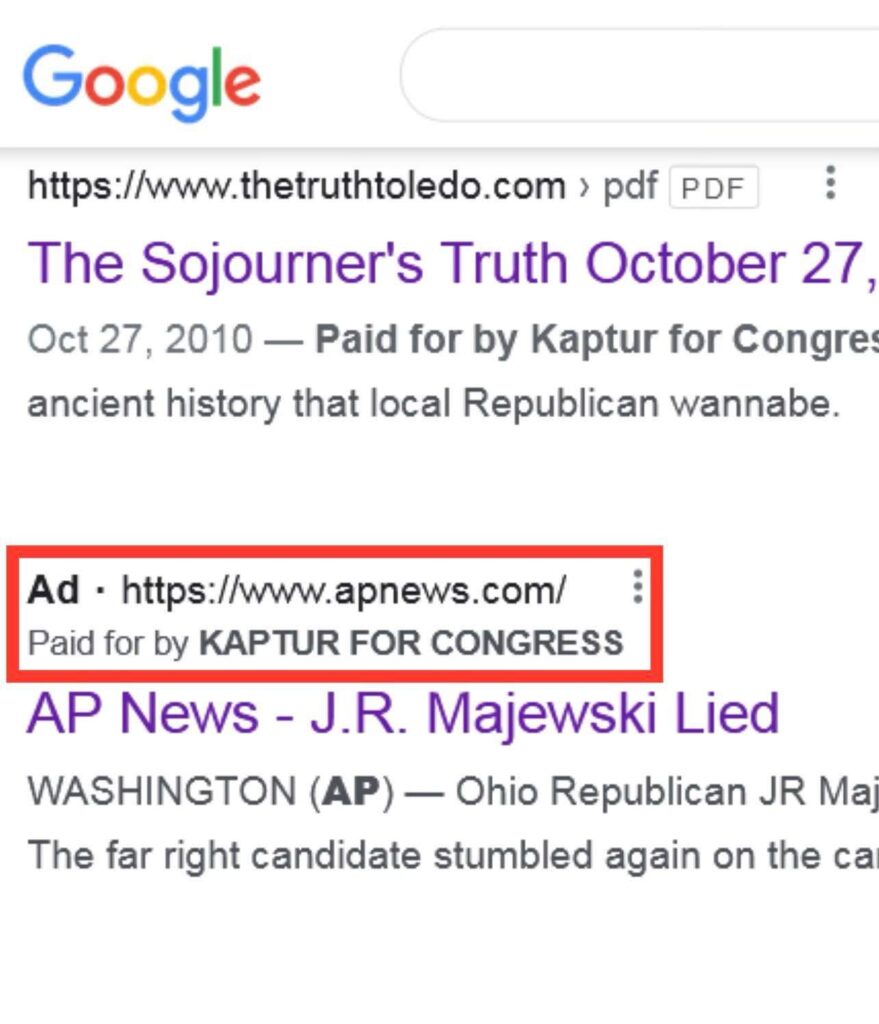 The AP's baseless story on Majewski doesn't mark the first time Marcy Kaptur has benefited from a vicious media campaign. In 2010, as Tea Party candidate Rich Iott presented a serious threat to her incumbency, Kaptur and the corporate press pushed another fake news story, accusing Iott of being a Nazi while using pictures of him at a World War 2 re-enactment as "proof."
Kaptur and the press's attacks against Iott were successful in leading then-House GOP Leader Eric Cantor to publicly "repudiate" him and pull support for his campaign.
Much like Eric Cantor in 2010, House GOP Leader Kevin McCarthy pulled his support for J.R. Majewski's campaign after the AP broke their story attacking his military service. With no evidence backing up the AP's story, McCarthy's NRCC pulled a whopping $1 million in advertisement reservations from Majewski's campaign, waiving a white flag to Democrat Marcy Kaptur.
McCarthy's actions against Majewski have drawn the intense ire of conservatives around the country, who have seen the GOP Leader oppose America First candidates in numerous House races this election cycle.
That's fueled speculation that McCarthy has entered into a power-sharing agreement with Nancy Pelosi and House Democrats to limit conservative gains in the 2022 midterms and protect vulnerable establishment Democrats. This, in an effort to avoid a conservative House GOP majority blocking him from becoming Speaker in the next Congress.