Last Updated on October 1, 2022
Police in Quincy, Massachusetts have issued an arrest warrant for Rakeima Norris, 29, after she assisted her daughter in a brutal assault on a white teenage girl. Norris allegedly held the white girl down by her hair so that a black teen could repeatedly curb stomp her while she was down.
TB Daily News first reported on the brutal assault, in which Norris held down a white teen while her own teenage daughter proceeded to stomp on the girl's head repeatedly. "Get this b**ch," Norris can be heard on a video from her point of view.
When the two teens initially clinched up, the white teen threw Norris' daughter on the ground and ended up on top. At that point, another black teen jumped in and began to punch the white girl in the head repeatedly. "You dumb white h*e," the black teen can be heard saying.
Norris, 29, intervened in the fight herself at one point. According to another angle of the incident, Norris can be seen holding the teen's hair while multiple people proceed to kick and punch the white teen in the head. "Hit this b**ch," Norris can be heard saying.
Both angles of the vicious assault were shared by TB Daily News. \
And one more angle pic.twitter.com/wlMnRC206v

— AidanKearneyTB (@DoctorTurtleboy) September 29, 2022
On Friday, the Quincy Police Department announced that an arrest warrant had been issued for Morris.
"This morning, Quincy District Court issued a warrant for the suspect's arrest. Attempts have been made to locate the adult, but have been unsuccessful. We will continue our efforts until she is apprehended," wrote the Quincy Police Department in a statement through Facebook.
The department added that court action will likely be taken against the juveniles who participated in the beating. "We have removed all links to the video on our public social media pages, as the victim is a juvenile," Quincy PD said.
Norris is currently wanted on charges of Assault and Battery, Assault and Battery with a Deadly Weapon, and Reckless Endangerment of a Child.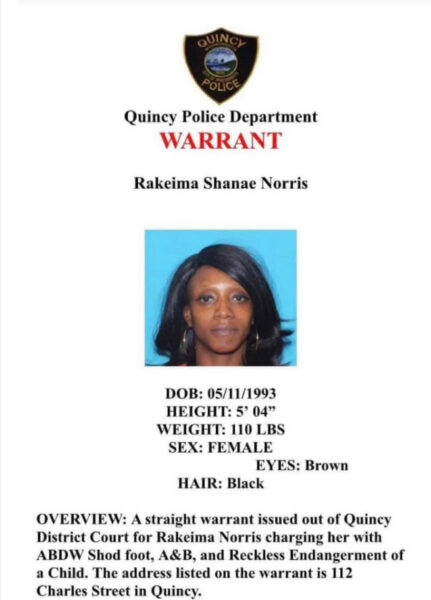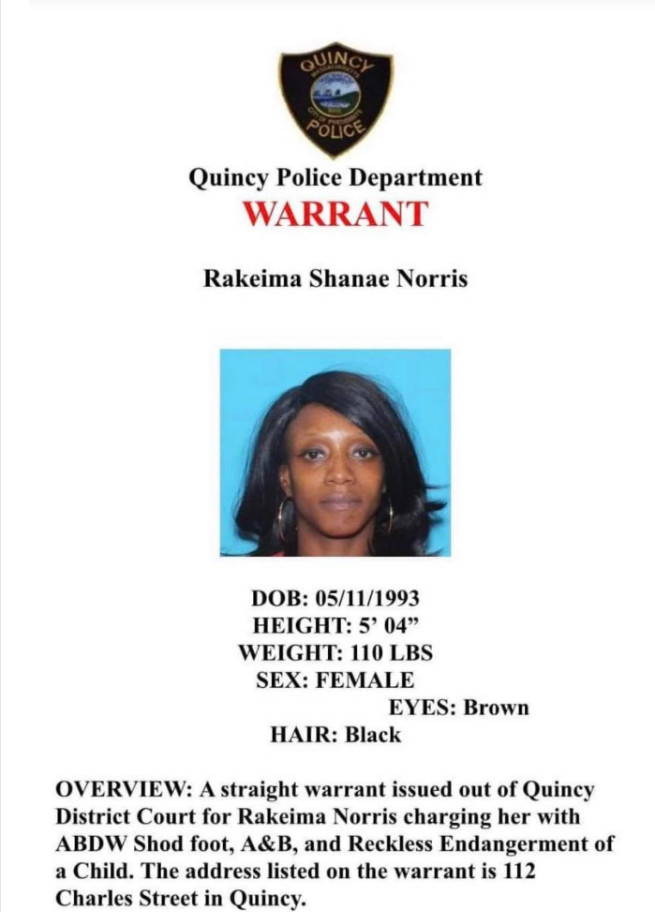 TB Daily News later reported that Norris filmed her daughter assaulting another white teen who did not hit back.
The victim's mother told TB Daily News that her daughter had been a victim of constant bullying from Norris' daughter since May 2021, which forced her to withdrawal from the district.
"About three weeks ago I went to QPD because her daughter has been bullying my child since May of 2021. In June her daughter assaulted my child (three blows to the head). I pulled her out of Quincy public schools because they just do not care about how bad the bullying gets," the girl's mother told TB Daily News.
"My daughter now suffers from PTSD and social anxiety. Three weeks ago Neveah fought that girl behind BMMS and several hours later my phone is being blown up with all these threats. How they are going to murder my child and bury her down at the beach and I told the mother and aunt to stop harassing me or it will become a police matter and they didn't care," she continued.
The victim's mother also alleges that Quincy PD did not intervene after she provided them with the threatening messages, as well as evidence of the assaults. "I went to QPD and they shunned me away because of my area code. I feared for her safety, and all QPD did was tell me to go to Rockland Police. This fight could have been all prevented if they just listened to me."
TB Daily News shared text messages reportedly sent by Norris to the bullying victims' mother. In dozens of unanswered text messages allegedly sent by Norris, she made a number of violent threats, mocked the bullying victim for expressing suicidal tendencies, and called the woman a litany of anti-white racial slurs. The woman threatened to contact police, but Norris continued with her tirades.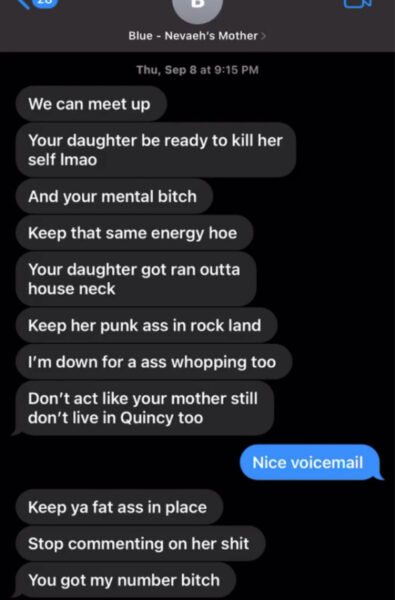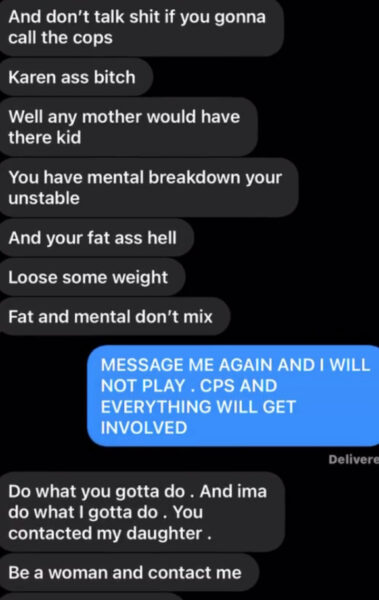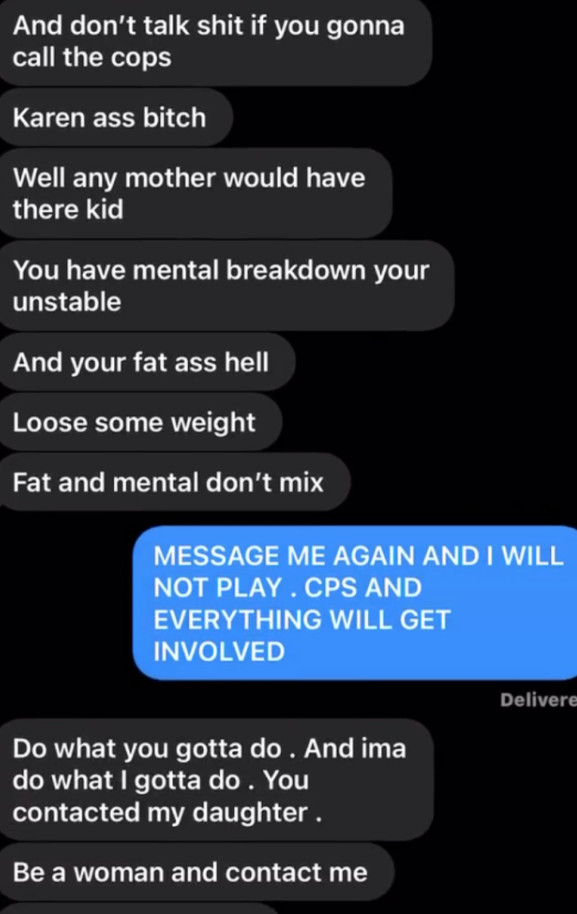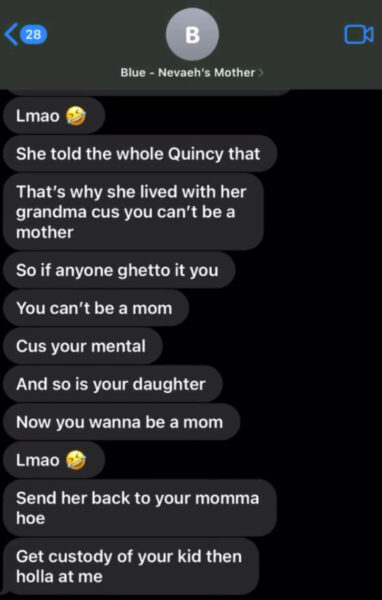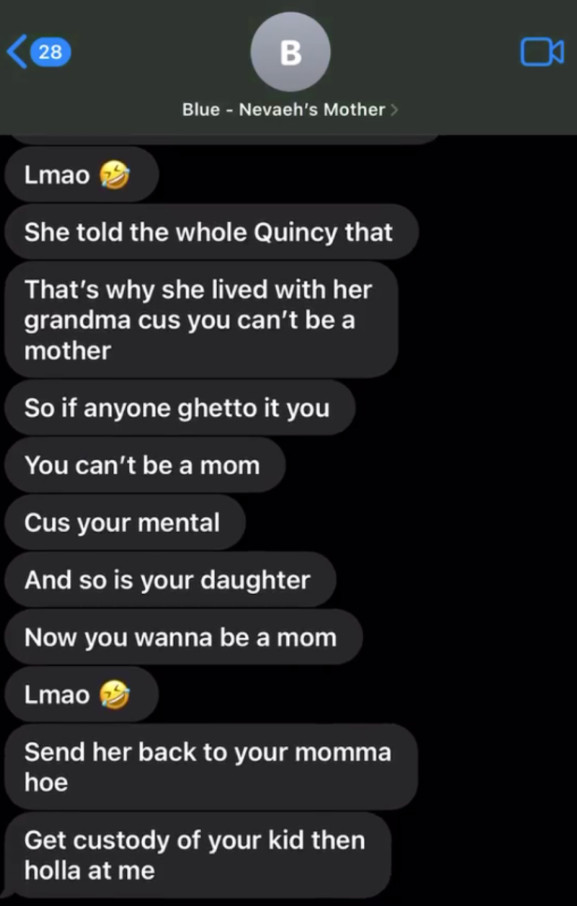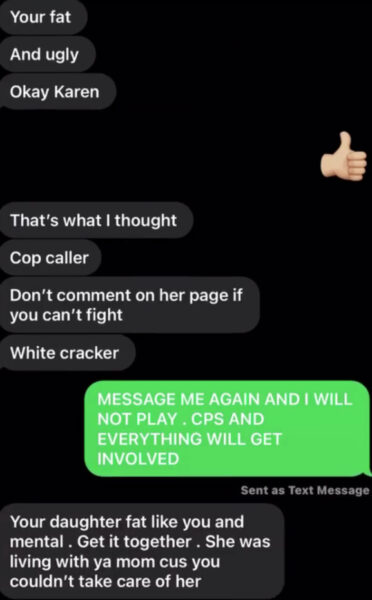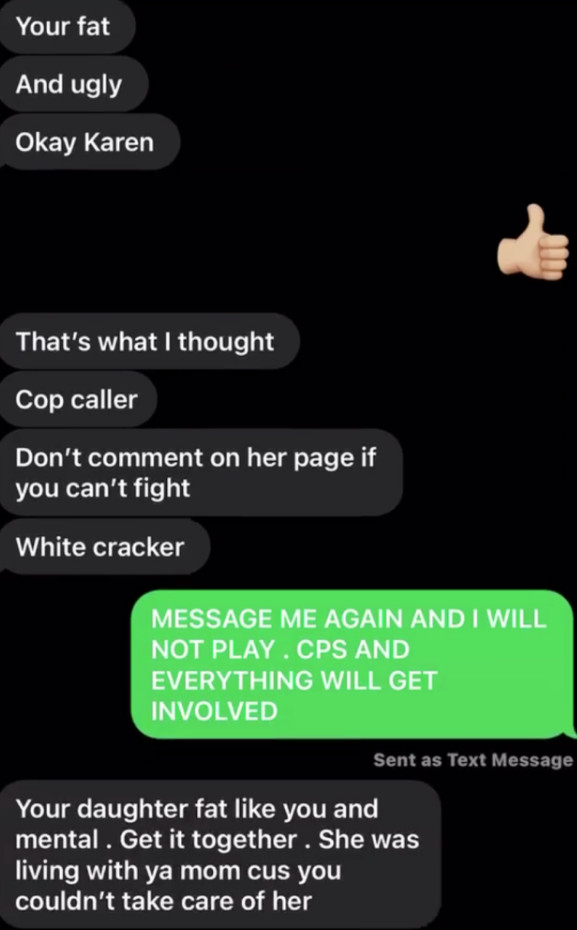 Quincy Police have refused to answer whether Norris could be facing hate crime charges due to her repeated usage of anti-white language and slurs, saying that more information can not be disclosed at this time, as the case involves juveniles.