Last Updated on November 11, 2021
In a December 2018 text message exchange between Hunter Biden and his lover Hallie, the widowed wife of his late brother Beau Biden, Hunter describes feeling "very alone" in dealing with issues regarding his ex wife and children, the suspicious deaths of rich business partners, the arrest of foreign high-profile clients in Communist China, and his suspected involvement in business dealings in Russia "with Vladimir Putin directly."
National File has obtained over 800 pages of text messages sent or received by Hunter Biden in 2018 and 2019. The text messages were retrieved from the infamous laptop abandoned by Hunter Biden at a Delaware computer store that was eventually delivered to the New York Post. In this article and in future coverage of the Hunter Biden text messages, National File has preserved typos and other original language from the text messages to preserve authenticity. National File has retracted and will retract sensitive information as necessary.
On December 14, 2018, Hunter Biden described feeling distraught about a multitude of concerning issues during a text exchange with his then-lover Hallie Biden, the widow of Hunter's deceased brother brother Beau Biden. In the messages, Hunter complained about "feeling alone" in dealing with his financial troubles in regards to paying for what he described as "an enormous alimony," including costs for his children and his own personal expenses.
At 7:00 a.m. Hallie texted Hunter "I can't stand you right now but god I miss your touch and your face," to which Hunter responded "Why hallow are you so mad Hallie." Two hours later at 9:13 a.m., Hallie said "Because you should be doing everything in your power to be sober before anything else. If you are not able to do it on your own then you need to go away. You still want to do it your way – which isn't working – time and life are passing by."
At 10:31 a.m., Hunter responded with a large paragraph outlining his concerns with his business dealings in Russia, Communist China, Vladimir Putin "directly," his client, the "chief of intelligence" of Communist China, and how his father Joe Biden was running for President of the United States.
Hunter Biden wrote:
You're right Hallie and I find myself (because I've chosen to alienate all my friends and family and employees and you and the kids and my kids etc…) very alone in dealing with rebuilding an income that can support an enormous alimony and my kids costs and myself, dealing with the aftermath of the abduction and likely assassination (that's what the NYT's suspects) of my business partner the richest man in the world, the arrest and conviction of my client the chief of intelligence of the people's republic of China by the US government, the retaliation of the Chinese in the ouster and arrest of the US suspected CIA operatives inside China, my suspected involvement in brokering a deal with Vladimir Putin directly for the largest sale of oil gas assets inside Russia to China, a tax bill that Eric left hanging over my business and

And Dads running for president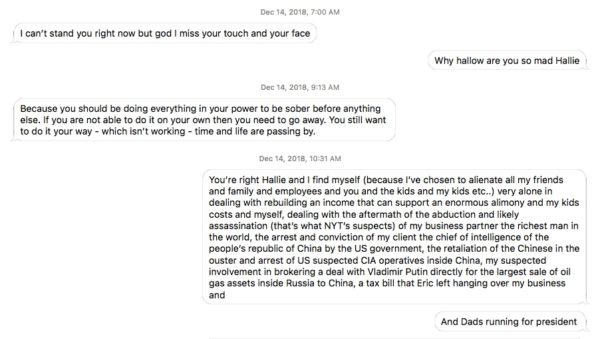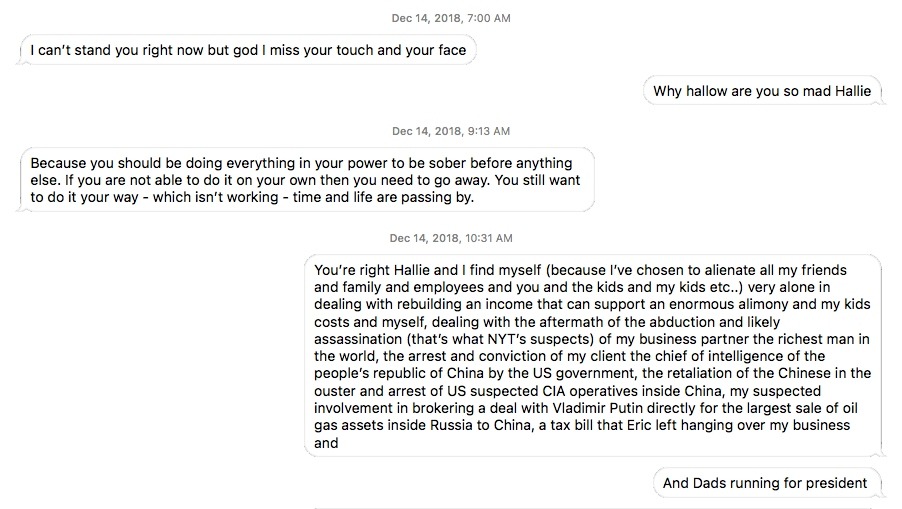 Hunter added that he was upset with Hallie, her children, the Biden family, and his friends for losing respect for him. "And finally your conclusion that you your kids the family my friends have lost all respect for me and therefor owe me nothing until I can prove to them that I'm sober and deserving of respect trust or common courtesy," he wrote.
Hallie explained to Hunter that if he focused on being sober that his life will get better and become more manageable, noting that his last few months being "partially" sober had resulted in his life still being "chaotic."
"If you focus on sobriety – full focused sobriety, everything else will fall into place in your life. It will all become manageable as they say. You have spent months partially working on sobriety and the result is that life is still chaotic and you still aren't completely sober. It's not about proving you are sober, but living sober," Hallie wrote.
"Hallie I really do love you but you're really so insanely arrogant and unwilling to see that my client," wrote Hunter, appearing to not finish the rest of his message.
"Arrogant?" Hallie asked. "You have been in Boston over a month. If you are not 100% sober, then you need to recognize that you need inpatient hunter," she wrote a few hours later. Hunter did not respond until the following day.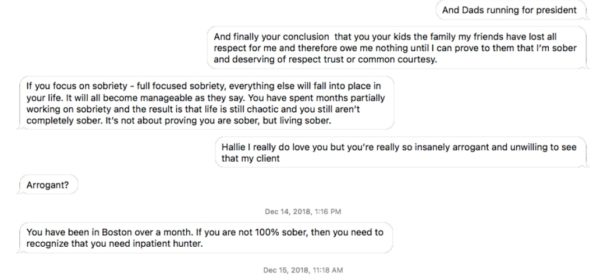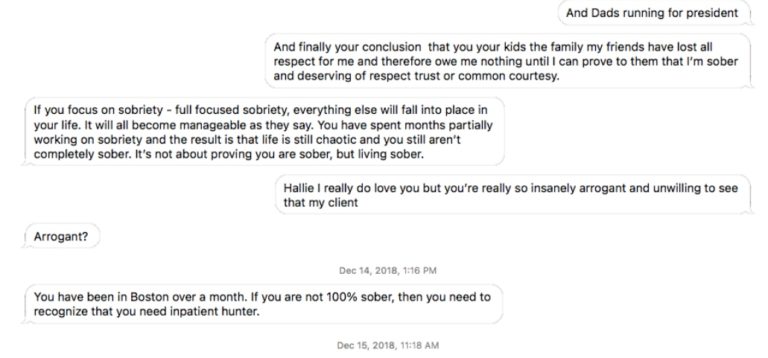 In October 2020, The Sun released a report detailing what appears to be Hunter Biden echoing similar concerns about the apparent Chinese spy chief and missing wealthy business partner.
"I have another New York Times reporter calling about my representation of Patrick Ho – the f**king spy chief of China who started the company that my partner, who is worth $323 billion, founded and is now missing," he reportedly said on the audio recording. Last year, the New York Post reported that "The missing business partner Biden allegedly references appears to be Ye Jianming, founder of CEFC China Energy," and added"The company is in hot water over several allegations about the Biden family stemming from information found on his laptop."
National File previously uncovered an erratic text message exchange between Joe Biden and Hunter Biden on February 24, 2019, which revealed that Hunter told his father that if he did not run for President of the United States in 2020, then Hunter would "never have a chance at redemption" from his self-described reputation as "a f**ked up addict that cant be" trusted.
National File has over 800 pages of previously unreleased Hunter Biden text messages and intends to publish more in the coming days. National File confirmed the authenticity of the text messages using multiple methods and with assistance from the Marco Polo research group.