Last Updated on November 11, 2021
In a text exchange from with former psychiatrist Keith Ablow, Hunter Biden seemed to acknowledge that his father, Joe, had dementia.
National File has obtained over 800 pages of text messages sent or received by Hunter Biden in 2018 and 2019. The text messages were retrieved from the infamous laptop abandoned by Hunter Biden at a Delaware computer store that was eventually delivered to the New York Post. In this article and in future coverage of the Hunter Biden text messages, National File has preserved typos and other original language from the text messages to preserve authenticity. National File has retracted and will retract sensitive information as necessary.
On the afternoon of January 2nd, 2019, Hunter Biden continued a text exchange with his psychiatrist, Keith Ablow, where they started discussing a potential presidential run from Hunter's father, Joe. Having discussed other Democratic hopefuls, Ablow declared that Joe was the "only answer" for the country.
After Hunter joked about a reporter's previous declaration that Joe was "nothing more than the empty vessel" for the ideas of others, Ablow responded with a quote of his own. (READ MORE: TEXTS: Hunter Biden Described Business Deals With Russia And China, Including With 'Vladimir Putin' And CCP's 'Chief Of Intelligence')
"'Any man who can triumph over dementia is a giant. Think what he could do for our nation's needed recovery.' Dr Keith Ablow," he texted, talking about himself in the third person, and referencing the possibility that the older Biden had dementia, a claim that Ablow himself made in 2012.
"I did not evaluate Joe Biden, but if someone said to me, we want you to do what's really required to know what happened there, you have to put dementia on the differential diagnosis," the then Fox News contributor declared, following what conservatives termed a "bizarre" appearance from Joe Biden at the Vice Presidential debate against Paul Ryan.
Rather than disagreeing with Ablow, Hunter seemed to acknowledge that his father had dementia, saying that Ablow was "such an asshole" but that the quote made him "laugh out loud." Continuing to satirize himself and his previous public discussion, Ablow then added that "'perhaps he can help us remember all we intended to be as a people, since he can now remember his address.'" Hunter declared that Joe doesn't need to know where he lives because "that's the only thing the secret service get right at least 75% of the tine."


The topic of Joe's potential dementia came up a month later in a more serious text exchange between Hunter and Ablow on the evening of February 6th 2019. Hunter discussed with Ablow an idea for a podcast that never came to fruition, to be entitled "The Hurt Makes It Beautiful," where the guests would be "notable people that talk about the traumas they have endured in there lives." Hunter was keen to transform the podcast into a book, and then an HBO TV series.
While Hunter suggested that Joe should be the first guest, Ablow was concerned. "Does he recall details tho, with the dementia and all?" Ablow asked, in what reads as more genuine concern than the previous joking around from the January text exchange.
"Not much these days but since it's all fake news anyway I don't see the problem," Hunter replied. It is unclear as to whether Hunter was simply leaning into the rumors of the older Biden having dementia, or telling the truth.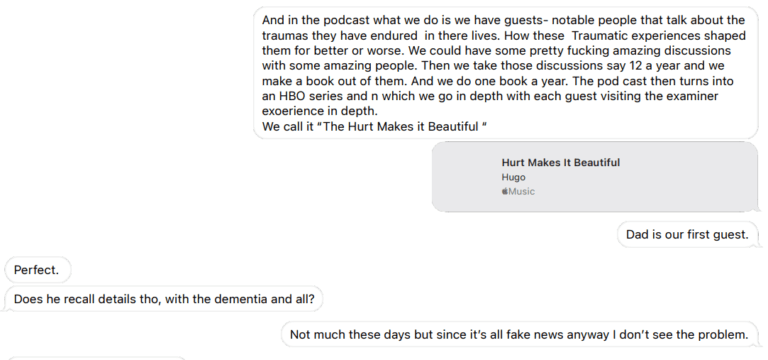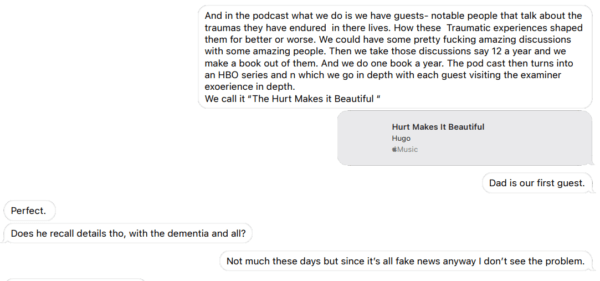 Ablow later lost his license to practice medicine in May of 2019 after it was claimed he allegedly used his position as a psychiatrist to manipulate female patients. According to the New York Times' reporting in 2019, "Dr. Ablow's license was suspended in Massachusetts after an investigation determined that his continued practice was a threat to the 'health, safety and welfare' of the public."
National File previously uncovered an erratic text message exchange between Joe Biden and Hunter Biden on February 24, 2019, which revealed that Hunter told his father that if he did not run for President of the United States in 2020, then Hunter would "never have a chance at redemption" from his self-described reputation as "a f**ked up addict that cant be" trusted.
National File has over 800 pages of previously unreleased Hunter Biden text messages and intends to publish more in the coming days. National File confirmed the authenticity of the text messages using multiple methods and with assistance from the Marco Polo research group.