Texas GOP Congressman Troy Nehls galavanted around the world with the CCP-tied Humpty Dumpty Institute, a globalist influence operation that's deeply embedded itself in the US Congres and reports to the Taihe Institute, a tool of the Chinese Communist Party's People's Liberation Army that's been compared to the CCP's own Council on Foreign Relations. According to HDI documents, it's been long directed by Mark Epstein, the brother of dead international pedophile Jeffrey Epstein.
Congressman Troy Nehls was part of a Humpty Dumpty Institute-sponsored Congressional delegation to Ukraine in August of 2021, where members of Congress met with high-ranking members of Ukraine's government, including President Volodymyr Zelensky, as reported in a standard disclosure form submitted by Nehls to the House Committee on Ethics.
Nehls, like other members of Congress, has repeatedly refused to take questions on his ties to the Humpty Dumpty Institute when contacted by National File.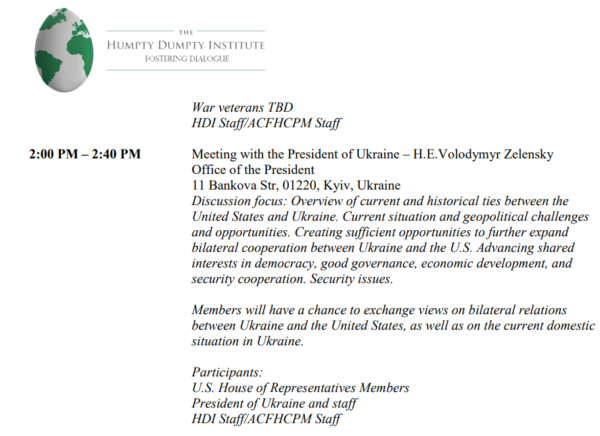 In addition to being sponsored by the CCP influence operation, Nehls' trip to Ukraine was sponsored by a Moldovan orphanage operator named Sam Alaverdov. 
Alaverdov's New York-based "charity," ACFHPUM, short for the "American Charity Fund for Helping the Children of Pridnestrovie (Transnistria) and Moldova" sponsored the trip to Ukraine and refused to provide National File with their legally required non-profit Form 990s, requesting, in writing $30,000 to hand them over. 
The trip to Ukraine was part of a wider pattern of the Humpty Dumpty Institute associating with and visiting orphanages in third-world or war-torn countries from which children are known to routinely be trafficked.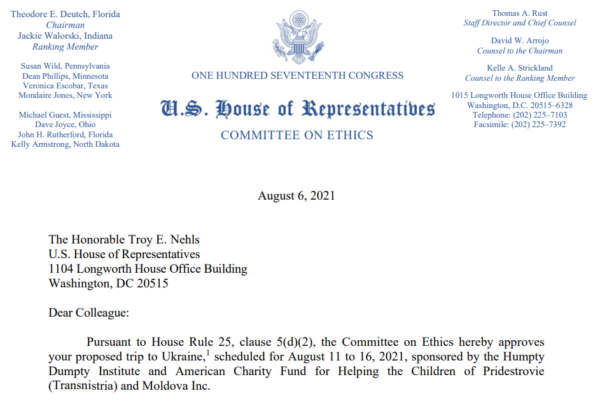 And Ukraine isn't the only corrupt, authoritarian ex-Soviet Bloc state that Troy Nehls has visited with the Humpty Dumpty Institute.
In October of 2021, [Rep. Don Bacon] and other GOP Reps., including Troy Nehls (R-TX), Doug Lamborn (R-CO), and August Pfluger (R-TX), traveled to Uzbekistan on a Humpty Dumpty Institute-sponsored trip. According to an HDI webpage memorializing the event, the topics of discussion centered around creating new American investments in Uzbekistan.

The trip included an HDI-brokered meeting with Uzbekistani President Shavkat Mirziyoyev, an ex-Soviet, and an ardent supporter of Communist China, as well as other high-ranking Uzbek government officials.

Much like his close CCP allies, President Mirziyoyev has been flagged by human rights activists for running a brutal system of slavery, where children are forced to pick cotton under the threat of receiving the death penalty.

Vladimir Norov, Uzbekistan's Minister of Foreign Affairs, is a member of the CCP-PLA-run Taihe Institute's Executive Council.
Nehls' Ukraine and Uzbekistan trip mate Rep. Barry Moore defended his relationship with the CCP and Taihe-tied Humpty Dumpty Institute when questioned at the United States Capitol by National File.
Watch Barry Moore Defend HDI in the Video Below: 
Part 2.

This guy Barry Moore LOVES defending his DIRECT connections to the CCP-Tied HDI and Taihe Institute!

No WONDER he loves voting YEA on China Kevin McCarthy for #SpeakeroftheHouse. pic.twitter.com/VfJE2d9Sqg

— National File (@NationalFile) January 6, 2023
Shady Ties…
In addition to its close relationship with the Chinese Communist Party, the Humpty Dumpty Institute has long-standing ties, dating back to its founding, to Israeli intelligence. 
This fact becomes all the more interesting when it's considered that Troy Nehls has a relationship with rumored Israeli Intelligence operatives Matthew Tyrmand and Jonny Daniels, the latter of whom is a high-level HDI advisor.
While Nehls portrays himself as an America First Congressman, he used the events of January 6th, in which Patriot demonstrator and Air Force veteran Ashli Babbitt was shot and killed, to promote himself on Twitter, even posting what appears to be a staged photograph of himself while the demonstrations were ongoing.
In the photograph, Nehls is seen standing "shoulder to shoulder" with Capitol Police officers as they pointed guns through a barricaded door at the face of a J6 demonstrator.
"I was proud to stand shoulder to shoulder with Capitol police barricading [the] entrance to our sacred House chamber," Nehls wrote in a tweet that included the photograph, which was posted online in the midst of the J6 demonstrations.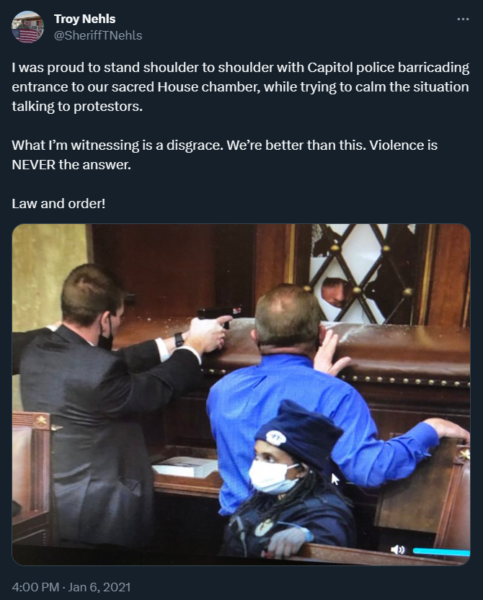 Learn More About the Humpty Dumpty Institute and its CCP/PLA Overlords' Twisted Web Below: