Last Updated on November 23, 2021
Joseph Merante, the executive director Mark Epstein's Humpty Dumpty Institute, worked closely with the Vatican during early 2000's prior to his ascension at HDI, placing him at the Vatican City around the time Jeffrey Epstein reportedly met Pope John Paul II in Rome.
A new report by The Sun showcased a photograph the publication obtained purportedly showing a meeting between elite sex trafficker Jeffrey Epstein, his alleged madam Ghislaine Maxwell, and Pope John Paul II that is "believed to have been taken in 2003," thus seemingly confirming the existence of Epstein-Vatican relations around that time.
According to The Sun, "They are understood to have flown to Rome by private jet for the blessing by John Paul II almost two decades ago. A source told The Sun On Sunday: 'Pictures like this show just how powerful Epstein's connections were and his ability to open almost any door,'" and "'He managed to manipulate his way into royal palaces, the White House and the Vatican, all with Maxwell by his side.'"
THE POPE, THE PAEDO & THE PIMP | The Sun

Beaming Jeffrey Epstein and Ghislaine Maxwell blessed by the Pope – showing their all-powerful connectionshttps://t.co/gpT0Zg3h4P#Epstein#Maxwell pic.twitter.com/IZkaCB44Iu

— Frank Ho (@Holavista) November 22, 2021
There is no record of Epstein landing in Rome during that year, but according to his flight logs, Epstein was in New York on May 12, then somehow took a flight on his "Lolita Express" luxury airplane departing from Rome to Madrid on May 20, and was back in New York on May 21 in 2003.
Jeffrey is not the only Epstein with connections to the Vatican City
As National File reported earlier this month, Jeffrey Epstein's brother Mark Epstein once directed and was listed as a financier for an organization known as the Humpty Dumpty Institute, which has managed to stay largely out of the news despite its ties to the United Nations, U.S. State Department, several members of Congress, and the Chinese Communist Party.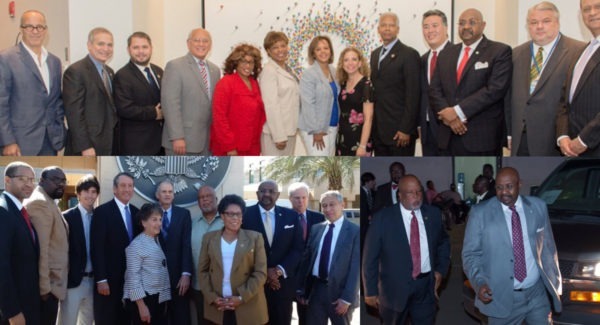 HDI Executive Director Joseph Merante previously worked closely with the Vatican via his role at the U.S. Department of State in the early 2000s, which places him at the Vatican City only one year before his future colleague's brother Jeffrey reportedly met the Pope.
According to his biography on the HDI website, Merante was a career Foreign Service Officer with the U.S. Department of State and  previously served as the Deputy Chief of Mission at the U.S. Embassy to the Vatican.


The U.S. State Department website confirms that Merante was working in the position as early as September 2000. In the department's September 2000 issue of State Magazine, Merante is clearly pictured alongside Embassy officers "overlooking the palace of Septimius Severus before attending the Pope's annual address to the diplomatic corps." The Pope at the time was John Paul II.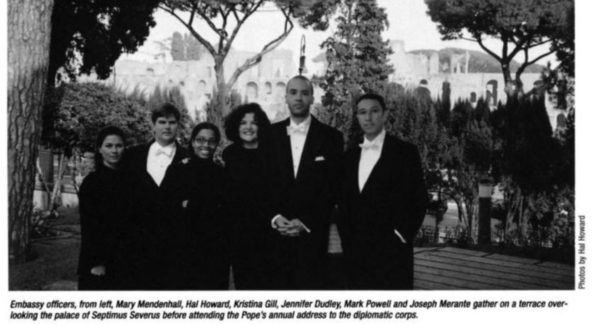 During that year, the U.S Ambassador to the Holy See was Corinne "Lindy" C. Boggs, who is listed just above Deputy Chief of Mission Merante on the State Department webpage.
Wikileaks documentation indicates that from 2000 to 2001, Merante served as the Chargé D'Affaires (CDA) to the U.S. Embassy to the Holy See, and would serve as the CDA on occasion in the following year 2002.
The CDA can be described as an otherwise subordinate diplomat who substitutes for an absent ambassador or minister when the current is not present or available. As CDA, Merante would have been working primarily with the highest level officials of the Vatican hierarchy until the new Ambassador was sworn in.
In one document published by Wikileaks, showing communications by Merante from 2001, he discussed an invitation he received by the then-Bosnian Presidency, who was then seeking a meeting with the Vatican. Further items published by Wikileaks document Merante's tenure that year as CDA, including his work on relations with China, Embassy activity reports, and other Vatican-related matters.
The new Ambassador, James Nicholson, served from August 2001 until 2005. Wikileaks documents still refer to Merante as Chargé in 2002.
Trump's former Chief of Staff was involved with Mark Epstein's HDI
Radio host Stew Peters recently sounded the alarm over National File's groundbreaking report on former Trump Chief of Staff Mark Meadows' ties to Mark Epstein's HDI over the organization's deep involvement with deep state globalist democrats, transhumanist technocrats, and the Chinese Communist Party-affiliated Taihe Institute, calling it a "threat to US national security."
Merante, in his capacity as top-level HDI leadership, has been documented attending Taihe Institute events in Beijing on several occasions. At the annual "Taihe Civilizations Forums," transhumanism, a so-called "science" of altering the human race through genetic engineering and artificial intelligence, appears to be a subject of discussion at the events.
In 2018, the Taihe Institute released a bizarre transhumanist promotional video for the 2018 Taihe Civilizations Forum, raising questions such as questions such as "What kind of individual rights can we grant to human-like robots in the future?," "Will artificial intelligence replace human labor?," "Will human thought be captured in the future?," "What does it mean to be human in the future?," and "Can I live forever?"
Merante was listed as a speaker for the 2018 Taihe Civilizations Forum, and was photographed the following year in 2019, speaking before a screen featuring what appears to be a human-like robot.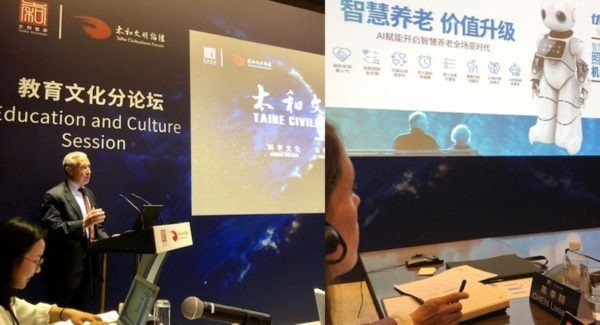 Also photographed at the 2019 Beijing event was Thorsten Jelinek, the Associate Director for the World Economic Forum (WEF) headed by Klaus Schwab. As National File noted in previous reporting, the WEF is best known for leading the effort into a global dystopian mega-corporate future it calls the "Great Reset."
As National File previously reported, the WEF's "Great Reset" plan involves a collaboration between national governments and international bodies to "reset capitalism" with an integrated transnational technocratic welfare/surveillance state by the year 2030. The World Economic Forum is best known for its annual Davos Summit, where thousands of members of the world's corporate and political elite meet under extreme hi-tech security to discuss global collaboration.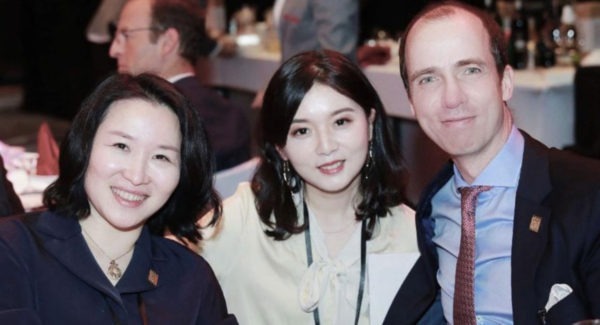 Jelinek, photographed alongside Epstein and Merante earlier in this report, also appears to traffic in transhumanist beliefs. In February, Jelinek tweeted a bizarre statement in which he said "It is not #5G, #IOT, #ArtificialIntelligence but human behavior that perpetuates the current downward spiral of history," adding that in order to "change #technology we must change humanity."
In the tweet, Jelinek included a strange photo of a digitized human face with what appears to be a circuit board or a microchip where the brain would otherwise be located.
Prior to his untimely and controversial death, Jeffrey Epstein had been known to be a staunch supporter and proponent of transhumanism. As the New York Times reported in July 2019, Epstein had hoped to "seed" the human race with his DNA, and would often screen women that he considered prime specimens to birth his multitude of children to "strengthen the human gene pool."
The pedophile's wealth attracted many high-profile scientists, who sought to have him finance their experiments. From NYT:
"They included the Nobel Prize-winning physicist Murray Gell-Mann, who discovered the quark; the theoretical physicist and best-selling author Stephen Hawking; the paleontologist and evolutionary biologist Stephen Jay Gould; Oliver Sacks, the neurologist and best-selling author; George M. Church, a molecular engineer who has worked to identify genes that could be altered to create superior humans; and the M.I.T. theoretical physicist Frank Wilczek, a Nobel laureate."
Epstein was willing to fund bizarre scientific endeavors, and had once bragged about bankrolling a project that aimed to identify "a mysterious particle that might trigger the feeling that someone is watching you." The sex-trafficking financier further involved himself in population control and eugenics, criticizing efforts at reducing starvation and providing healthcare to the poor over his concerns with overpopulation.
Epstein's transhumanist belief in cryonics prompted the sexual predators desire to have his head and penis frozen so that he could be brought back to life in the future. A charity established by Epstein gave $20,000 to the World Transhumanist Association, which now operates under the name Humanity Plus, in 2011.