Last Updated on September 18, 2020
Democrat presidential candidate Joe Biden came out in favor of fracking Friday in an apparent bid to boost his prospects with working-class voters in the state of Pennsylvania. Biden will not have to fear leftist environmentalist protest votes against him there for the Green Party because the Pennsylvania Supreme Court removed the Green Party presidential candidate from the ballot Thursday.
The Hill reported: "The court ruled in a 5-2 decision that the Green Party did not follow proper procedure for getting on the ballot, overturning a Republican judge's decision in a lower court ruling. The Green Party earlier this year swapped out Elizabeth Faye Scroggin for Howie Hawkins as its presidential candidate. But the high court ruled that it failed to properly get Scroggin on the ballot, so "subsequent efforts to substitute Hawkins were a nullity." It ruled a similar substitution effort to get Angela Walker on the ballot as the party's vice presidential nominee was invalid."
The AP reported: "The state Supreme Court, which has a 5-2 Democratic majority, granted the Democratic Party's request to order a three-day extension of Pennsylvania's Election Day deadline to count mailed-in ballots. And it ruled that the Green Party's candidate for president did not strictly follow procedures for getting on the ballot in November and cannot appear on it. Ballots that are eligible to be counted must be postmarked by the time polls close and be received by county election boards at 5 p.m. on Nov. 6, three days after the Nov. 3 election. Republicans have opposed changing that deadline. Most states make Election Day the deadline, but 18 states — about half of which backed President Donald Trump in the 2016 election — have a post-Election Day deadline. The court's ruling also authorized the use of satellite election offices and drop boxes by counties."
The Philadelphia Inquirer reports: "Early voting is coming to neighborhoods across Philadelphia. "City elections officials are set to approve a plan next week to open 15 satellite elections offices — 14 are in public schools, one is in the Liacouras Center at Temple University — where voters can request, receive, fill out, and submit a mail ballot in one stop. People can also visit the offices to register to vote, request a mail ballot to take home and submit later, or to drop off a completed mail ballot. Those 15 temporary satellite offices are in addition to the two permanent elections offices, one in City Hall and one on Columbus Boulevard at Spring Garden Street."
Leftist riots in Philadelphia and an associated curfew led to the cancellation of a Mail-In Voting "Dropoff" event Sunday night, marking an official disruption to the mail-in voting process for the Pennsylvania Democrat primary underway. The Philadelphia City Commissioners, which are overseeing the city's election process, are running what they call a "Votes Wagon" to travel the city collecting mail-in votes from people, but a Wagon event was cancelled Sunday night. Meanwhile, the Commissioners emptied the Vote By Mail drop-off box outside City Hall — which was recently moved from one location on the premises to another due to safety concerns — as the Commissioners fled City Hall Sunday. The Commissioners brag that the state is seeing 13 times as many mail ballot requests as in 2016. These concerning irregularities come on the heels of a former Philadelphia Election Judge's conviction for accepting bribes to inflate vote counts in the city in the past, and the United States Postal Service acknowledging a Coronavirus-caused "slowdown" in Vote By Mail services in Pennsylvania's Montgomery County, which is promoting Vote By Mail drop-off sites as an alternative. Meanwhile, some of the Philadelphia mail-in voting drop-off sites are literally located at City Councilmembers' offices, including two Democrats and one Republican.
VOTES WAGON CANCELLED
ANNOUNCEMENT: Out of an abundance of caution and to follow the City's 6:00 PM curfew order, we are cancelling the mobile ballot drop off location at the Fishtown Crossing Shopping Center, which was scheduled for 5-7PM. Please spread the word, and stay safe. pic.twitter.com/7nuKiksH9g

— Philadelphia City Commissioners (@PhillyVotes) May 31, 2020
https://twitter.com/Commish_Schmidt/status/1267182156054499330
THE COMMISSIONERS' STAFF FLED CITY HALL
Our staff has left City Hall for the day and will be working to prepare for the primary from other offices. The ballot dropbox was emptied before they left.

— Philadelphia City Commissioners (@PhillyVotes) May 31, 2020
THE BALLOT DROP BOX WAS RECENTLY MOVED DUE TO 'SAFETY CONCERNS'
The City Hall drop box has been relocated. It is now on the William McKinley statue side of the south entrance. This needed to occur for traffic safety concerns at the S Broad St intersection. If you are driving, please park in a marked parking spot. Thank you. pic.twitter.com/8A7LCAwKfP

— Philadelphia City Commissioners (@PhillyVotes) May 29, 2020
THE BALLOT DROP BOX OUTSIDE CITY HALL WAS RECENTLY ANNOUNCED
Drop your mail-in ballot in this mailbox at the south entrance of City Hall in Philadelphia. pic.twitter.com/v0xdQ8uhTv

— Nike Otim (@NikeOtim) May 28, 2020
THE BALLOT DROP BOX WAS ALSO ANNOUNCED IN SPANISH
Acaba de instalarse en el Ayuntamiento, situado entre la estatua de Catto y la entrada sur, un buzón de boletas por correo y en ausencia. A pesar de que nuestras oficinas están cerradas al público, puede devolvernos su boleta por correo o dejándolo aquí. pic.twitter.com/1XgV6QoRc3

— Philadelphia City Commissioners (@PhillyVotes) May 23, 2020
A SECOND DROP BOX WAS INSTALLED OUTSIDE CITY HALL
The City Commissioners have added a second 24-hour mail-in ballot drop box at our Board of Elections Office at Delaware and Spring Garden. It is accessible until 8PM on Election Day. Reminder: Individual voters may only drop off their own ballot. #PhillyVotes https://t.co/8FYG1RIILv

— Commissioner Al Schmidt (@Commish_Schmidt) May 29, 2020
BALLOT DROP OFF CENTERS LOCATED AT LAWMAKERS' OFFICES, INCLUDING COUNCILPERSON BOBBY HENON (DEMOCRAT), COUNCILPERSON CINDY BASS (DEMOCRAT), AND COUNCILPERSON BRIAN O'NEILL (REPUBLICAN)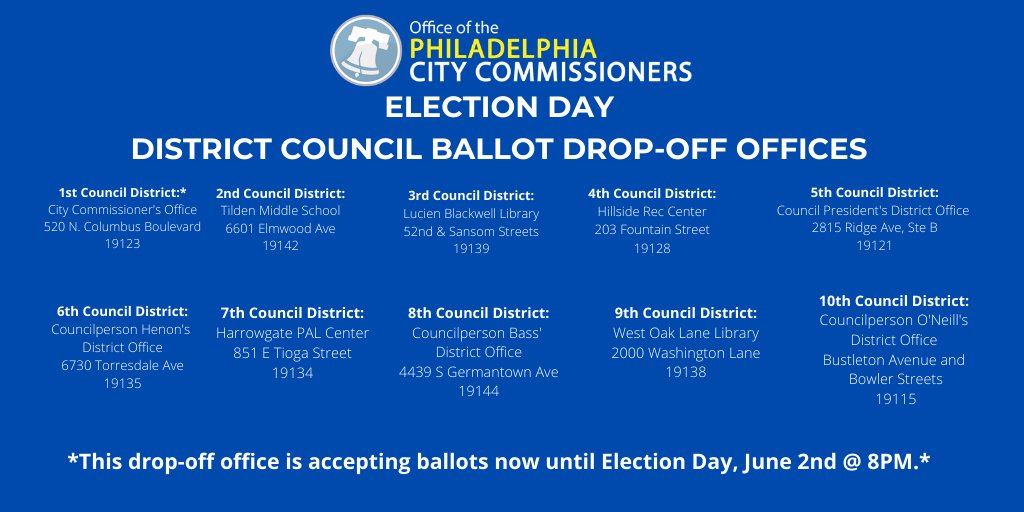 THESE WERE THE PEOPLE AT A RECENT PHILLY CITY COMMISSIONERS VIRTUAL MEETING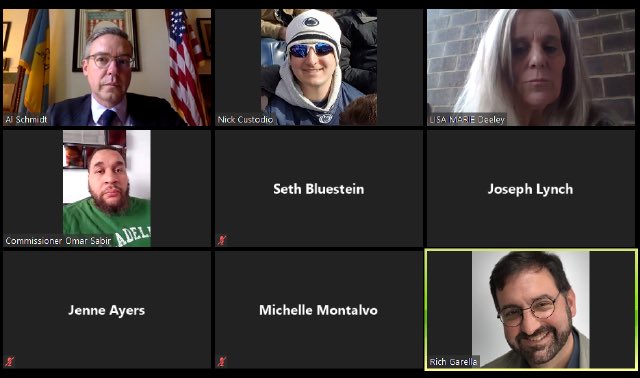 REGULAR MAIL GETS MIXED UP IN THE VOTE BY MAIL SYSTEM
Dear the Future Mr. and Mrs. Rosenfeld, it looks like one of your wedding responses got caught with a bunch of returned ballots and ended up in our office. Don't worry we put it back in the mail so it is on its way. pic.twitter.com/tvqPiaRi2i

— Philadelphia City Commissioners (@PhillyVotes) May 24, 2020
"GARY" IS A PRINTER THAT PRINTS BALLOTS
Philadelphia: Meet Gary, one of our 6 printers which has been producing ballots. Gary has been with the department since 3/17 and has produced over 38k ballots, gone through 28 toners cartridges, 2 transfer belts, a fuser, and a set of rollers. pic.twitter.com/f7cyzpPVLO

— Philadelphia City Commissioners (@PhillyVotes) May 28, 2020
THE CITY COMMISSIONERS REALLY WANTS TO SEND OUT A LOT OF ABSENTEE BALLOTS AND 'TURN PA BLUE' IS PROMOTING THE BALLOT DROP SITES
While we've still got a long way to go, it was critical that we met this important performance milestone before the application deadline arrives tomorrow. https://t.co/Sd9miJDomP

— Commissioner Al Schmidt (@Commish_Schmidt) May 26, 2020
PA voters: didn't get to mail in your ballot? Drop it off at one of your county's designated locations. Find out where they are at https://t.co/52CF79OLrU.

Please share! pic.twitter.com/gOTWMPSuHd

— Turn PA Blue (@LetsTurnPABlue) May 30, 2020
PHILADELPHIA A TRAVELLING VOTE-COLLECTING SHOW OF SORTS WITH THEIR "VOTES WAGON"
We've seen a terrific response from voters so far at our first stop in West Philly! #PhillyVotes pic.twitter.com/RzUNcTjS5I

— Commissioner Al Schmidt (@Commish_Schmidt) May 30, 2020
CONFIRMED: ELECTION FRAUD HAPPENED IN PHILADELPHIA
Oh hey, former Philadelphia Judge of Elections took bribes to increase vote totalshttps://t.co/NY9GFGeVQd

— Patrick Howley (@HowleyReporter) May 26, 2020
HERE IS AN EXAMPLE OF A BALLOT DROP BOX FROM MULTNOMAH COUNTY IN OREGON