Last Updated on October 25, 2023
GOP Speaker of the House nominee Mike Johnson (LA-4) is heavily funded by the pharmaceutical industry, including Louisiana's largest government-linked COVID jab distributor. He's also been heavily funded by the military-industrial complex, taking campaign cash infusions from the likes of L3Harris, Lockheed Martin, Raytheon, and more.
The GOP nominated Rep. Mike Johnson to be the next Speaker of the House in a closed-door conference vote after several previous attempts to elect Reps. Steve Scalise, Jim Jordan, and Tom Emmer failed to come to fruition. Johnson, a lesser-known member of Congress who burst onto the national scene literally overnight thanks to his Tuesday evening nomination, is receiving wide-ranging support within the GOP, which many believe to be an indication that he's answering to the uni-party establishment while sending America First counter-signals to gain additional support.
An examination of Johnson's political benefactors reveals concerns about uni-party links to be extremely valid, as Johnson's top campaign donor is Morris & Dickson, a Louisiana-based pharmaceutical corporation. What's more, is that Morris & Dickson was the State of Louisiana's "exclusive COVID vaccine distributor", partnering with the government to dish out the experimental jabs that hold the distinction of being the deadliest "vaccine" in human history.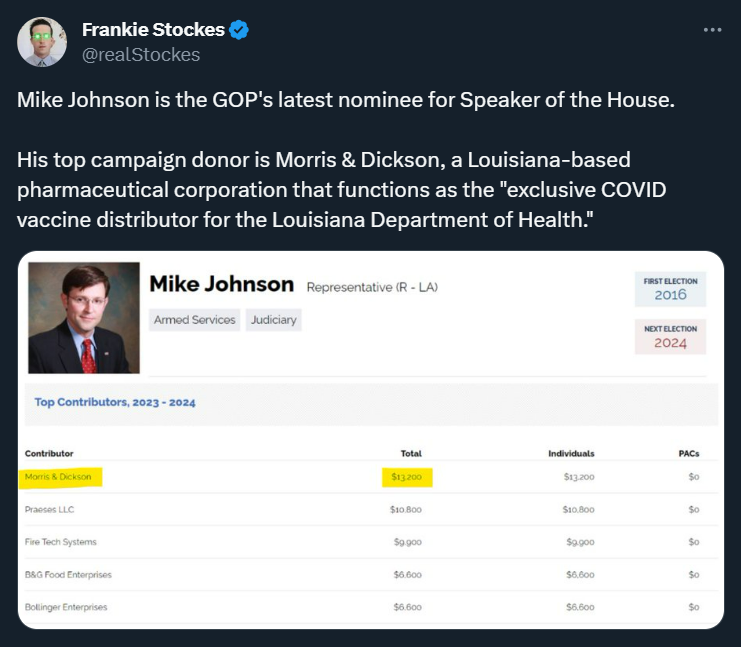 In addition to his pharmaceutical benefactors at Morris & Dickson, Mike Johnson is backed by the pro-trans, pro-jab, for-profit health insurance corporation of Humana, fellow insurance giant Blue Cross Blue Shield, open borders retailer Wal-Mart, and the notorious Koch Brothers.
He's also bringing in donations from the Paramount Global PAC, the political arm of CBS, Nickelodeon, and numerous other left-wing entertainment networkers that regularly broadcast sexualized content to children.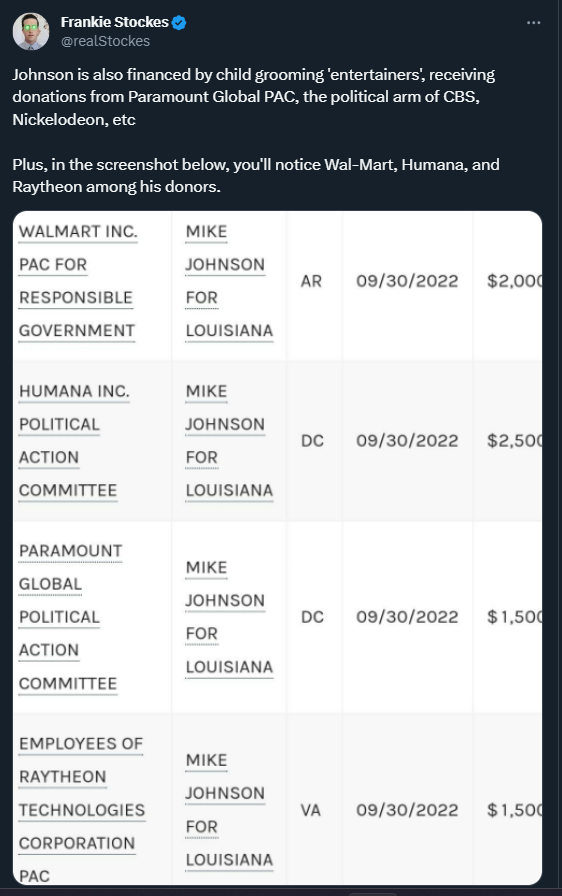 Taking Johnson's ties to the uni-party even deeper, the Louisiana Congressman is also backed by numerous corporations within the Military Industrial Complex, including Raytheon, as seen in the screenshot above, and others, like L3Harris, Lockheed Martin, General Dynamics, and Boeing.
On top of Rep. Johnson's military-industrial complex donations is the backing of AIPAC, the American Israeli Political Action Committee, a staunch supporter of American intervention in the Middle East as well as a vocal backer of the Ukrainian war effort.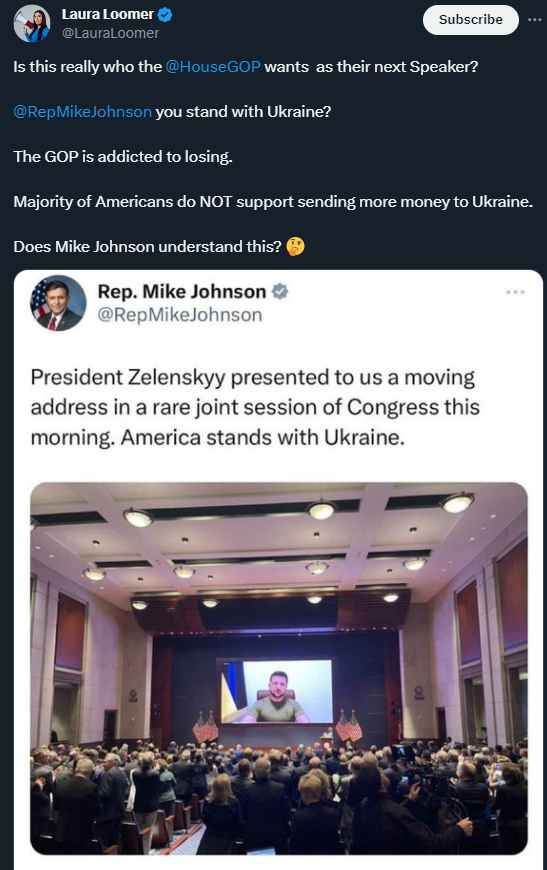 Learn more about Mike Johnson's donors HERE
Republicans are set to hold a vote on Johnson's potential speakership on Wednesday afternoon. Stay with National File for updates as they become available.