Last Updated on October 25, 2023
GOP Speaker of the House nominee Mike Johnson (LA-4) is financed by the military-industrial complex war machine that's drained America of its blood and treasure around the world, raking in donations from L3Harris, Lockheed Martin, Raytheon, and others. He's also expressed support for Volodymyr Zelensky and the Ukrainian war effort, praising Zelensky's address to a Joint Session of Congress and vowing that "America stands with Ukraine."
The House GOP is expected to hold a vote to make Louisiana Rep. Mike Johnson the next Speaker of the House on Wednesday afternoon, after the vacating of Kevin McCarthy's speakership, a move that Johnson voted against, and after the party failed to make a speaker of Reps. Steve Scalise, Jim Jordan, or Tom Emmer. Though Johnson is being marketed to the general public as a conservative option for speaker, in reality, he's backed by the uni-party's military-industrial complex.
According to campaign finance reports, screenshots of which are viewable below, Johnson has received donations from, among others, major out-of-state war machine contractors like L3Harris, Lockheed Martin, Raytheon, Northrop Grumman, Boeing, and the Institute of Makers of Explosives.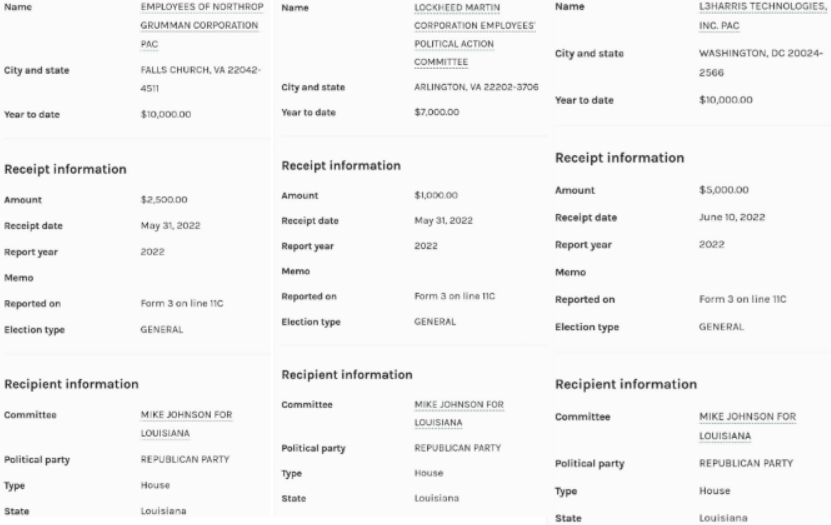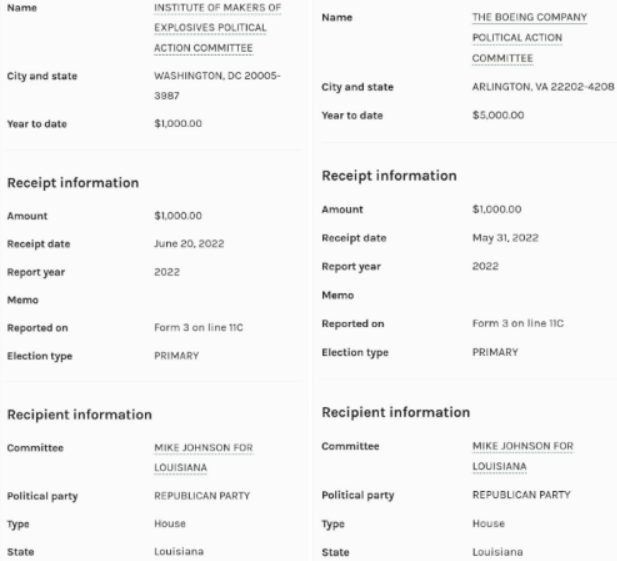 Taking his connections to the war machine even further, after a Joint Session of Congress in which Ukrainian President Volodymyr Zelensky addressed American legislators, Johnson described Zelensky's speech as "moving" and rattled his saber as he vowed that "America stands with Ukraine" in the face of its war with nuclear-armed Russia.
Johnson's record on Ukraine has been mixed, but the corporate press has seized upon a handful of pro-America votes to describe him as a "Ukraine skeptic", in what appears to be an attempt to endear Johnson to the GOP's America First base and help install a military-industrial complex backed politician as Speaker of the House.
"Is this really who the @HouseGOP wants as their next Speaker?" journalist Laura Loomer asked in an X post exposing Johnson's Ukraine support.
"@RepMikeJohnson you stand with Ukraine?"
"The GOP is addicted to losing," Loomer wrote.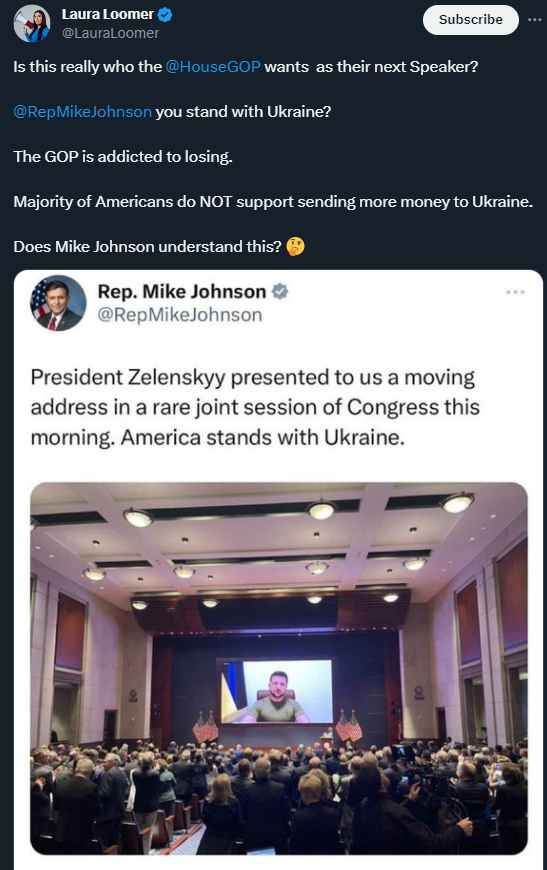 In addition to his funding from the military-industrial complex war machine, Rep. Mike Johnson has been heavily funded by the pharmaceutical industry.
Among his pharmaceutical sponsors is Morris & Dickson, a Louisiana-based corporation that served as that state's exclusive government partner in distributing deadly COVID jabs to Louisiana residents.
Republicans are set to hold a vote on Johnson's potential speakership on Wednesday afternoon. Stay with National File for updates as they become available.