Last Updated on March 6, 2023
NBC News journalist Keir Simmons has been added to Ukraine's CIA-backed "kill list" after he reported the truth about Crimea, the contested region that seceded from Ukraine to join Russia in 2014, voting in favor of a secession referendum by more than 95%. That action kicked off the first phase of the Russo-Ukrainian War. Now, in 2023, the Ukrainians say that they will not stop fighting until they've invaded Crimea and control it once more, albeit, against the population's will.
Keir Simmons of NBC News issued a recent report from the ground in Crimea, interviewing residents first-hand and asking for their opinions on the ongoing Russo-Ukrainian War, and the political tensions at the center of it. According to Simmons, everyone he interviewed was pro-Russia. As a result, Simmons has been added to Ukraine's CIA-backed "kill list," joining American citizen Jackson Hinkle and Pink Floyd lead man plus anti-war activist Roger Waters as those who've been declared top enemies of Ukraine for not buying into their war and promoting the continued supply of NATO financial and military aid.
On the Ukrainian "kill list" profile assigned to Keir Simmons, which appears on a website with a Langley, VA address, corresponding with the location of the CIA's headquarters, the British national and NBC News journalist is accused of "violating Ukraine's sovereignty," producing Russian propaganda, and the "attempted legalization of the occupation."
While Ukraine and its supporters deny that the list is in fact a kill list, multiple people who have been listed on the very same website have been murdered. Among them, is Darya Dugina, the daughter of Russian nationalist author and philosopher Aleksandr Dugin, a close ally of Russian President Vladimir Putin.
View the entire kill list for yourself HERE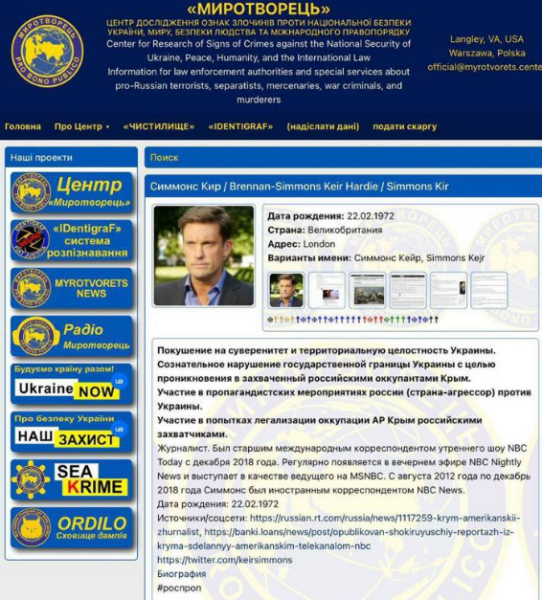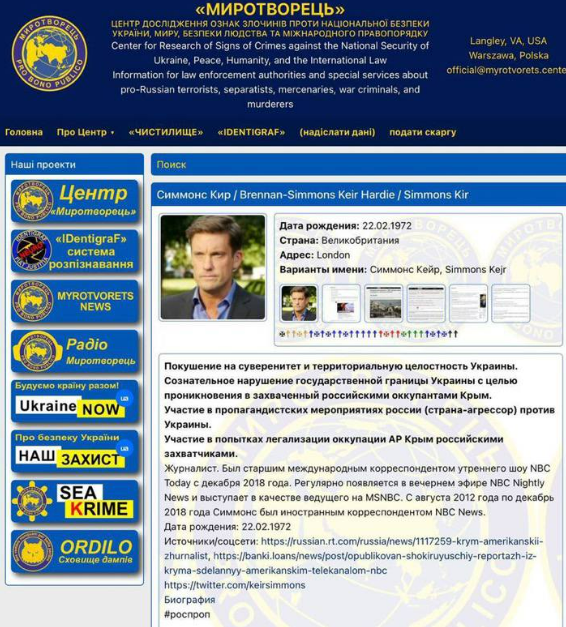 The NBC News segment that apparently got Simmons added to Ukraine's "kill list" is available for viewing below, and blows the NATO and corporate media-sponsored narrative about the Russian "invasion" and "occupation" of separatist regions of Ukraine out of the water.
Not only did Crimeans tell Simmons that they view themselves as Russians and back the Putin government, but they told the NBC News reporter that they are prepared to fight the Ukrainians, should they attempt an invasion of Crimea, something that Ukrainian President Zelensky says must happen before he lays down his Western-funded arms.
"Every one of them told us that they are Russian and that if President Zelensky thinks his Ukrainian forces can come here, they will fight them," Simmons reported from the pro-Russia separatist region of Crimea, where every resident he interviewed made their pro-Russia, anti-Zelensky position very clear.
"Zelensky will not get Crimea back, because we have our commander-in-chief, Putin," one man on the street told Simmons and NBC News, echoing the sentiments of his fellow Crimeans.
Watch the Simmons' NBC News interview segment from Crimea:
NBC News journalist Keir Simmons recently went to Crimea and reported that most Crimeans are pro-Russia. Now, Ukraine has put him on its hit list website for reporting this fact.

What does the U.S. government think about Ukraine adding an NBC journalist to its hit lists? pic.twitter.com/IsaD4ocMKX

— kanekoa.substack.com (@KanekoaTheGreat) March 1, 2023