Last Updated on March 2, 2023
American citizen Jackson Hinkle, the host of the independent news broadcast The Dive, has been added to Ukraine's "kill list," which is published on a website based in Langley, Virginia, where the CIA is headquartered. Hinkle is a staunch anti-war activist and has repeatedly stated that he refuses to support the Nazis in Ukraine, considering his American forebearers fought to destroy the Nazi Reich of Germany during World War 2.
Jackson Hinkle, the American host of The Dive, a news program that has broken through the globalist media noise to bring true stories about the ongoing Russo-Ukrainian conflict to its viewers, has been added to a Ukrainian enemies list that has been dubbed Ukraine's "kill list" by human rights activists and others. The list has the apparent backing of the CIA, as the website it's housed on lists Langley, Virginia, the location of the CIA's headquarters, as its address.
"I've been added to the Ukrainian Government's kill list," Hinkle wrote in a tweet, going on the explain that others the Ukrainians have listed on the very same website have been murdered. Among them, is Darya Dugina, the daughter of Russian nationalist author and philosopher Aleksandr Dugin, a close ally of Russian President Vladimir Putin.
Dugina was murdered in a car bombing outside of Moscow after attending an annual festival for families and art enthusiasts. The attack was so obviously a Ukrainian act of terror and targeted assassination against the child of a Putin associate, that even the US government blamed Ukraine for the bombing.
"This kill list is maintained by the Ukrainian Ministry of Interior, which lists an address in Langley, Virginia, has an IP in Brussels, and which has marked off murdered targets, such as Darya Dugina, as 'liquidated,'" Hinkle explained in his tweet.
Others listed on the Ukrainian "kill list" include leading figures of the Russian Orthodox Church, Russian and separatist politicians, and military men. The "kill list" also includes Roger Waters, the lead singer of Pink Floyd and a staunch anti-war activist.


According to an English language version of the Ukrainian "kill list" page dedicated to Jackson Hinkle, he has been placed on the list for publishing "anti-Ukrainian propaganda" and for spreading "Kremlin propaganda for profit," apparently by way of his truth-telling news program.
He's also being accused of "justification and informational support of the open attack of fascist Russia on Ukraine," again, because of his coverage of the Russo-Ukrainian conflict.
The "kill list" profile dedicated to Hinkel features multiple photographs of him, as well as screenshots of various web pages pertaining to Hinkle and his work.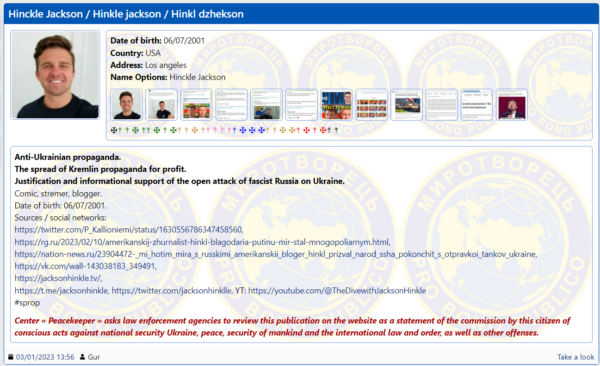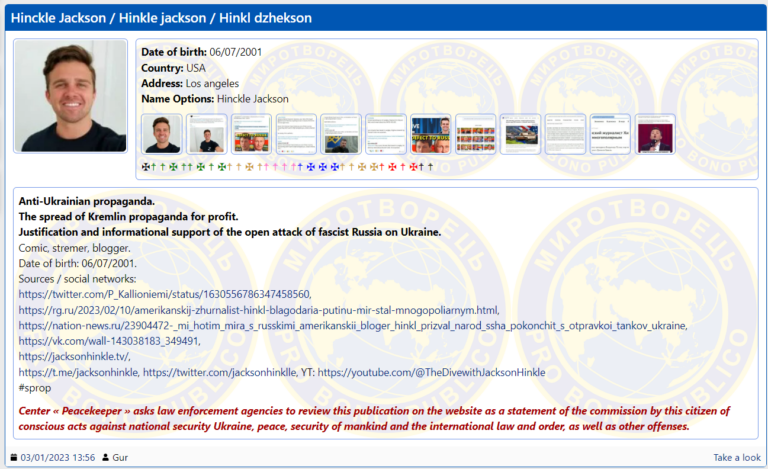 As previously reported by National File, the Russo-Ukrainian conflict has grown legs and spread around the world, as NATO and its associated NGOs and corporations wage a war of their own on those who refuse to toe the line and advocate for a massive war with Russia.
Much like the Ukrainian government and its CIA-backed "kill list," a Ukrainian law firm is using Stasi tactics to "cleanse" Western Europe of suspected Russians, soliciting tips on those who aren't pro-Ukraine enough, so that they can then report them to their respective governments.
The law firm has even dehumanized Russians and their alleged supporters by merging the words "Russian" and "fascist" into a new term, "rashist."
As National File reported:
T&M, a "boutique" Ukrainian law firm with ties to globalist NGOs, has launched a Stasi-like program to root Russians, or those they claim to be Russians, out of Western European nations far away from their Lviv, Ukraine office.

Under the program, the name of which has been crudely translated to English under the title "Give in charge rashist," Europeans who believe their neighbors or internet enemies have ties to Russia can turn them into the Ukrainian law firm, which will then launch an online investigation and turn their findings into whatever governing body has the authority to expel the "rashist" from Western Europe.