GOP establishment leader Kevin McCarthy is on the ropes in his uni-party-sponsored fight to become the next Speaker of the House, after the "red wave" election promised by GOP leadership presented itself as a little pink trickle. That was thanks to McCarthy's use of corrupt FTX money to attack conservatives and protect establishment politicians in the 2022 midterms, as exposed by National File in a mega-viral report.
Facing a challenge for the gavel from Freedom Caucus Rep. Andy Biggs, public opposition to Kevin McCarthy's leadership campaign is growing by the day. The corporate media outlets that coronated him as "Speaker-elect" just weeks ago are now changing their stories in real-time, as they try to "memory-hole" their false reporting on McCarthy's latest speakership bid, which conservative legislators say has been doomed from the very start.
According to statements from Rep. Biggs, at least 20 GOP Reps. say they won't vote for McCarthy, and others are rumored to be open to parting ways with the establishment leader as well.
If those numbers hold up until the leadership vote on January 3rd, it will be an impossibility for McCarthy to get to the 218 votes he needs to become Speaker of the House, without significant Democrat support.
One notable outlier, Georgia Rep. Marjorie Taylor Greene, still insists on voting for McCarthy, and is being blasted by conservatives for falsely claiming that if McCarthy isn't elected, Liz Cheney will become Speaker of the House.
On November 15th, following a closed-door, preliminary GOP leadership vote, CNN reported that McCarthy had beaten a "far-right challenger" to "lead the House GOP," omitting the fact that McCarthy had failed to secure the necessary 218 votes, despite reporting the 188-31 margin in the headline itself.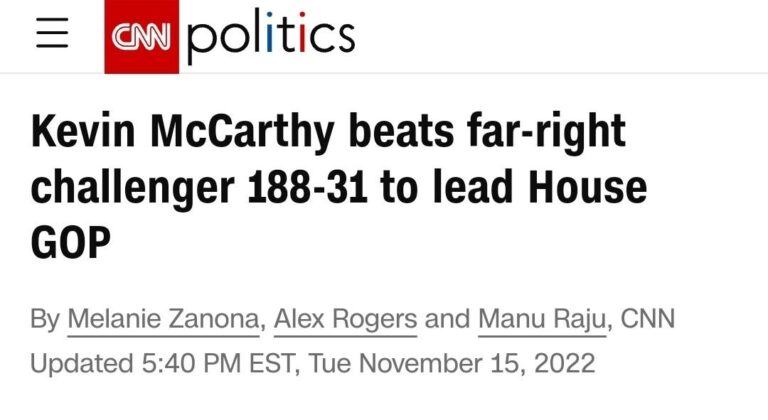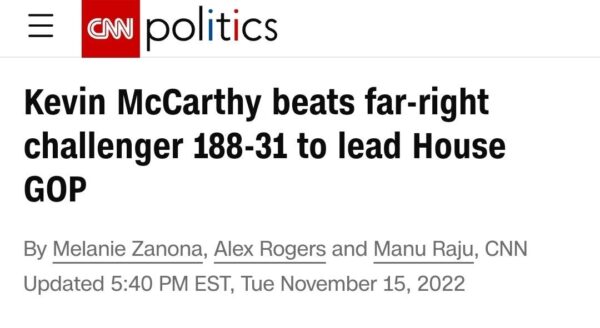 Now, just over two weeks later, CNN is changing their tune, reporting that "GOP tension" is building over the "House speaker race," as McCarthy and his "critics" prepare for a "floor fight."


At NPR, similar trickery has been used to re-invent the stories they published weeks ago, as resistance to McCarthy swells.
"House Republicans nominate Kevin McCarthy to serve as Speaker of the House," the taxpayer-funded news agency reported on November 15th.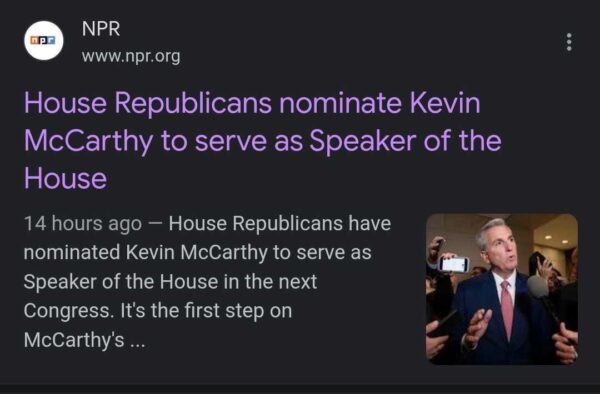 Now, the headline reads quite differently, reporting that McCarthy "faces significant conservative resistance" to his speakership bid.