Last Updated on November 30, 2022
Georgia Congresswoman Marjorie Taylor Greene is "disavowing" Nick Fuentes for "racism and antisemitism" at the behest of GOP establishment leader Kevin McCarthy, as her own intern, foreign national Milo Yiannopoulos, boasts online about using the N-word.
GOP Rep. Marjorie Taylor Greene (MTG) is staunchly supporting establishment leader Kevin McCarthy to be the next Speaker of the House, despite his refusal to impeach Joe Biden and his longtime role in the political establishment MTG claims to oppose. She's so cozied up to McCarthy, that she disavowed America First broadcaster, Nick Fuentes, after McCarthy told her to, accusing him of racism and antisemitism while her own intern and close personal associate, Milo Yiannopoulos, posts online about not being able to get through a day without using the "N-word."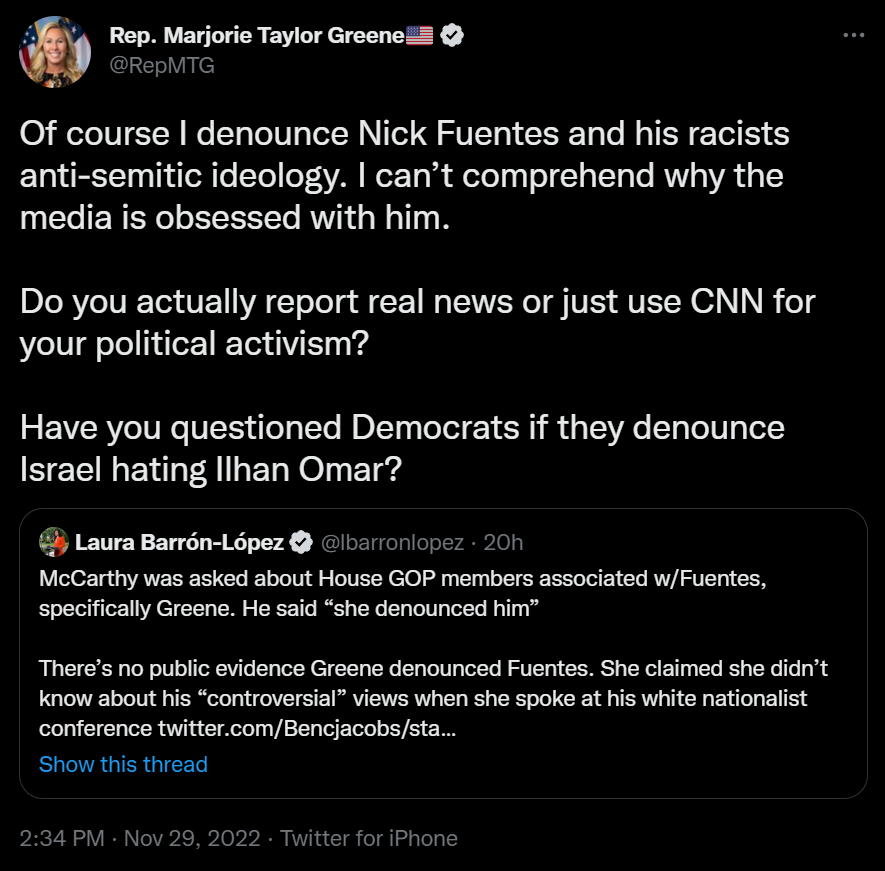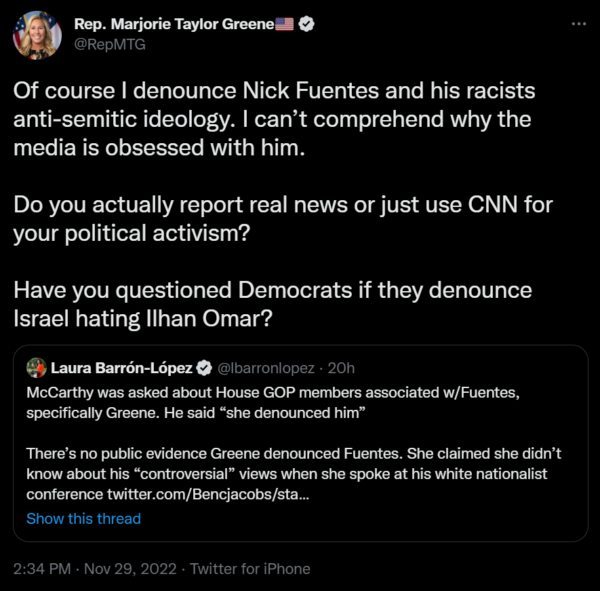 "No N-word November has begun," Milo posted to Telegram on November 1st. "I've already failed, but don't let that stop you," his post continued.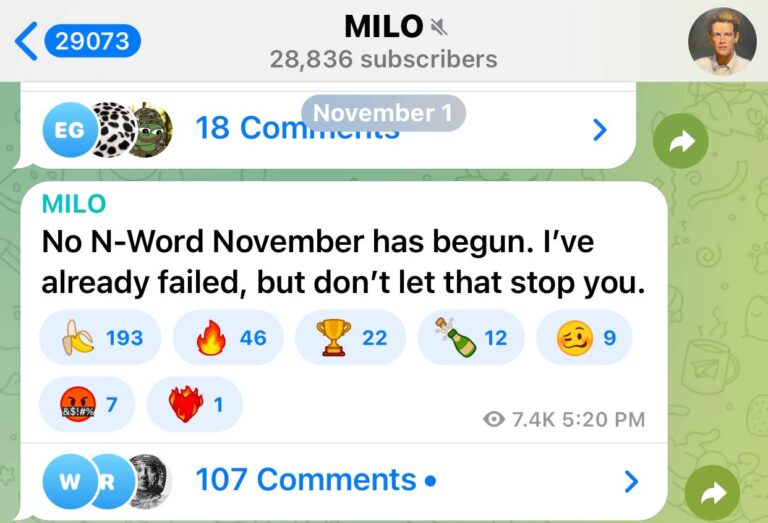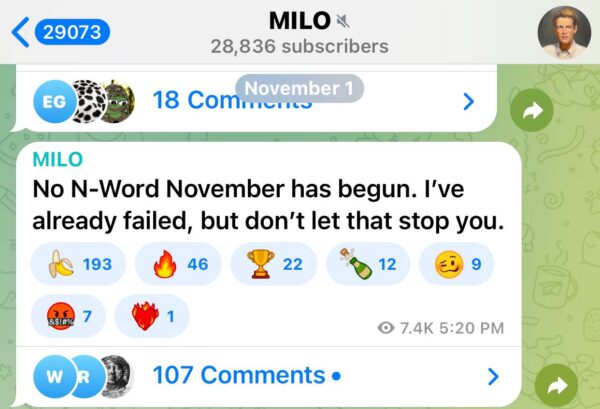 Milo's "N-word" post to Telegram came just one day after he spent Halloween with Georgia Congresswoman Marjorie Taylor Greene in her Georgia home district, something the foreign national and MTG intern boasted about in another post to Telegram.
Despite his status as a foreign national, Yiannopoulos has been hired as MTG's intern, and their close relationship has raised serious questions after Milo took part in the Ye-Fuentes-President Trump dinner that has turned into a PR nightmare for Trump. He also says he's managing Ye's presidential campaign.
A former homosexual, in the days following the dinner with Ye, past web posts authored by Milo have revealed that the MTG intern and foreign national lamented Ye as "pathetic," and accused him of being gay himself, before teaming up with him.
All of this has led to speculation that MTG helped organize the dinner on behalf of McCarthy and the establishment, to make President Trump look bad, and to ensure that the 45th President himself isn't elected Speaker of the House, over Kevin McCarthy.
Others are asking why, if Nick Fuentes is a such a racist that he requires a public disavowing by MTG, that her close intern Milo would be associating with him in the first place, if not as part of an anti-Trump, pro-McCarthy publicity stunt.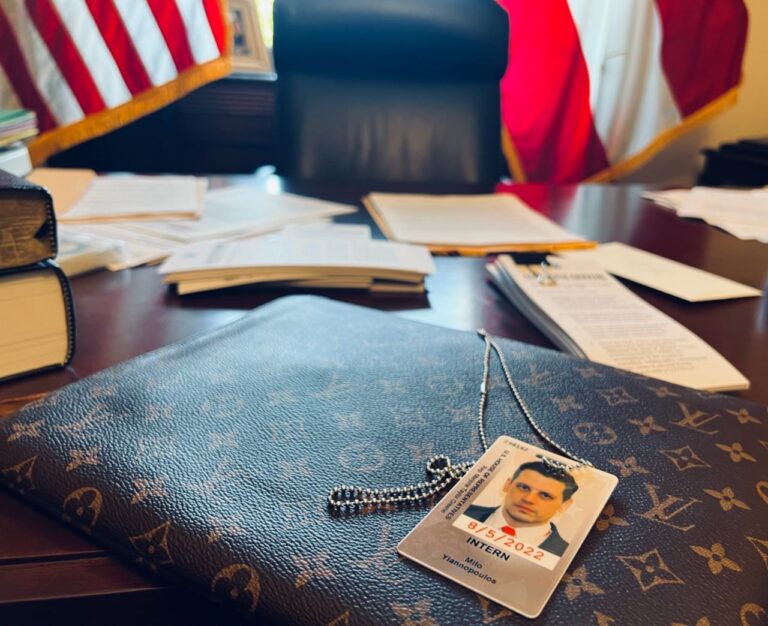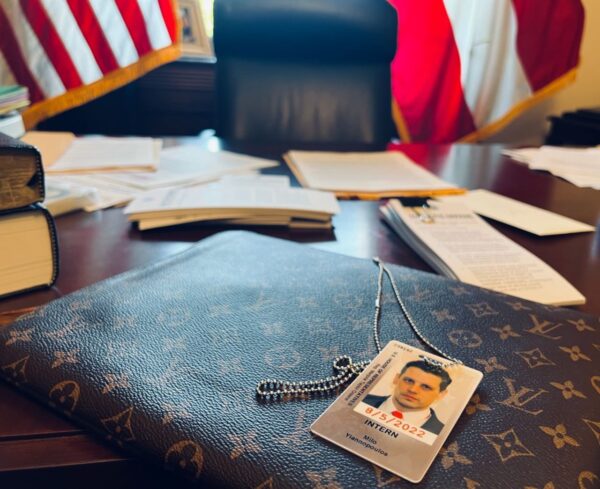 A Freedom Caucus memo, exclusively published by National File, laid out plans to make President Trump the next speaker, as well as the America First legislative agenda that should be followed in the case of a Trump speakership.
At current count, McCarthy, despite claiming to be the "Speaker-elect," doesn't have the votes required to take the gavel, and Freedom Caucus Rep. Andy Biggs, who has launched a challenge to McCarthy, says there are at least 20 votes firmly against the establishment leader, who says he will keep Nancy Pelosi's House rules and ensure that Joe Biden isn't brought up for impeachment.
Not only is there a feasible background story for as to why McCarthy and MTG would be lining up to screw over President Trump, but there is precedent.
In more screenshots obtained by National File via America First conservative Laura Loomer, MTG intern and associate Milo boasts in messages of how he and MTG plotted to keep Loomer out of Congress, even if it meant working with Democrats to do so.
"I will be making sure she gets nowhere near the Capitol," Milo wrote in one of the messages.
"Let's just say there is a coalition left and right making sure she never gets anywhere near Washington," the foreigner went on, boasting about collaborating with the left to keep an American citizen out of her own government.
Interestingly enough, although MTG claimed she was going to endorse Loomer, a staunch McCarthy opponent, as a candidate for Congress, she never followed through. This compares to her recent disavowing of Nick Fuentes, who she previously supported before McCarthy told her not to.
View MTG intern Milo's messages, plotting to keep America First candidate Laura Loomer out of Congress, below: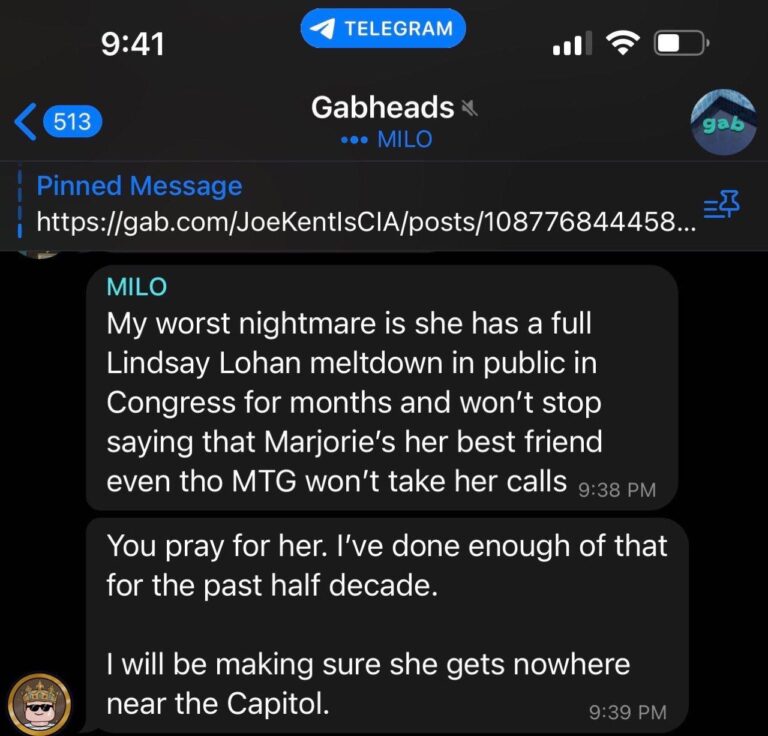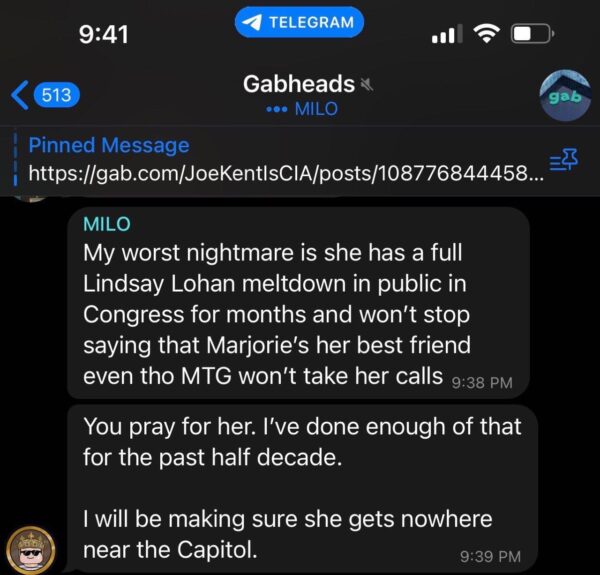 When Loomer took on incumbent Rep. Dan Webster for the GOP nomination in Florida's 11th District, MTG ally Kevin McCarthy directly meddled in the GOP Primary process.
As has become par for the course in such elections, when Loomer held the lead, vote-counting stopped for more than 30 minutes, before suddenly concluding with Webster being declared the winner, thanks to a mail-in ballot infusion.
Loomer's race was one of numerous across the country in 2022, in which Kevin McCarthy and his Congressional Leadership Fund political machine used millions of dollars worth of corrupt FTX money to target America First campaigns for destruction, and safeguard the establishment's stranglehold on Washington.