Last Updated on November 30, 2022
The Republican Liberty Caucus has officially endorsed Arizona Rep. Andy Biggs for Speaker of the House, adding more opposition to Kevin McCarthy's long-term quest for the gavel. In their endorsement of Biggs, the Republican Liberty Caucus highlighted the GOP's election failures, which were directly fueled by McCarthy's use of corrupt FTX campaign money to stifle the MAGA movement and protect the uni-party establishment through the 2022 midterms.
"With House Republicans underperforming under Kevin McCarthy's leadership, it's time for the Republican Party to chart a new direction," the endorsement of Rep. Andy Biggs by the Republican Liberty Caucus reads, before mentioning how the "red wave" promised by McCarthy and others failed to materialize, leaving the GOP with a razor-thin House majority.
"Americans are tired of the same old corrupt establishment in DC," the endorsement goes on. "Swamp politicians are destroying the American Dream with disastrous big government policies passed in the name of bipartisanship."
"Unlike McCarthy, Congressman Andy Biggs has an unwavering record of defending liberty. He has shown total commitment to the principles the Republican Party is supposed to stand for: individual rights, limited government, and free markets. This is why the Republican Liberty Caucus is endorsing Andy Biggs for House Speaker."
Read the Full Endorsement Below: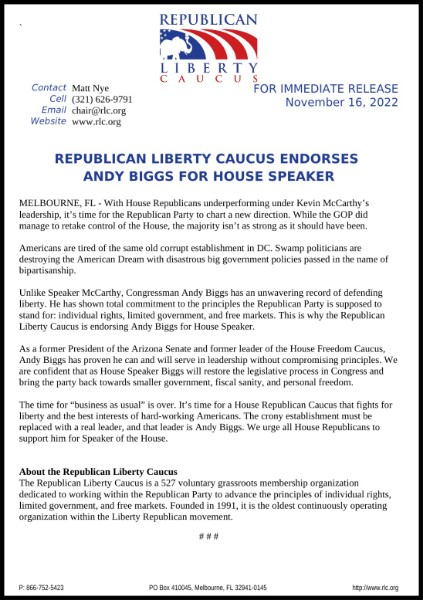 The Liberty Caucus endorsement of Rep. Andy Biggs, a pro-Trump Freedom Caucus member, comes as opposition to Kevin McCarthy's speaker ambitions continues to grow, both among the American People, and their elected representatives.
Biggs says that he knows of at least 20 House members who are prepared to vote "no" to McCarthy becoming speaker, and fellow Freedom Caucus Reps., like Bob Good, of Virginia, have been outspoken in their opposition to McCarthy.
In recent weeks, thanks to the cutting-edge reporting of National File, the American people have learned of Kevin McCarthy's financial ties to the corrupt FTX crypto exchange, and how he used their money to sabotage America First campaigns, handing election wins over to Democrats rather than lose his establishment stranglehold on the GOP.
Despite his ties to the Ukrainian-linked Ponzi Scheme, Georgia Rep. Marjorie Taylor Greene is campaigning for McCarthy, even as her fellow Freedom Caucus member, Andy Biggs, takes him on head-to-head.
MTG's support of McCarthy comes after she spent years fundraising on the claim that she would impeach Joe Biden, something that McCarthy already says is never going to happen.
In addition to other rumors surrounding the pair's relationship, reportedly, McCarthy has promised to restore MTG's committee assignments should he become speaker with her support.