Last Updated on December 7, 2021
Former Trump White House Chief of Staff Mark Meadows will no longer be voluntarily appearing for a deposition before the January 6 Committee, with his lawyer citing the commission's lack of respect for Executive Privilege as the reason. This comes after he distanced himself from the mysterious CCP-linked Humpty Dumpty Institute.
Mark Meadows, former Chief of Staff to 45th President Donald Trump, has reversed his course and is no longer going to voluntarily subject himself to deposition by the partisan January 6 Committee, according to his lawyer George J. Terwilliger II.
"We agreed to provide thousands of pages of responsive documents and Mr. Meadows was willing to appear voluntarily, not under compulsion of the Select Committee's subpoena to him, for a deposition to answer questions about non-privileged matters. Now actions by the Select Committee have made such an appearance untenable," Meadows' lawyer wrote in a letter to the commission.
"In short, we now have every indication from the information supplied to us last Friday – upon which Mr. Meadows could expect to be questioned – that the Select Committee has no intention of respecting boundaries concerning Executive Privilege," Terwilliger added.
"As a result of careful and deliberate consideration of these factors, we now must decline the opportunity to appear voluntarily for a deposition."
National File previously reported that Meadows had initially agreed to "cooperate" with the January 6 Committee, in contrast to the hard approach by Steve Bannon, who had recently been charged with two counts of contempt of Congress, despite citing executive privilege, for refusing to testify and turn over documents to the likes of Reps. Liz Cheney, Adam Kinzinger, Bennie Thompson, and Adam Schiff.
Meadows' initial cooperation came on the heels of public speculation over his role in advising a mysterious nonprofit organization known as the Humpty Dumpty Institute, a Democrat and Chinese military-linked think tank once headed by Mark Epstein.
However, Meadows has since denied any further involvement with the organization following his freshman term in Congress, and explained that he was unaware of any organizational activity pertaining to Communist China during his time as a HDI Congressional Advisory Board member.
In fact, the current Chairman of the January 6 Committee, Rep. Thompson, has been deeply involved with the HDI going as far back as 2013, and remains listed as a member of their Congressional Advisory Board to this day. Rep. Thompson is frequently photographed with HDI leadership and has even attended dinners with former HDI Director and financier Mark Epstein at his residence.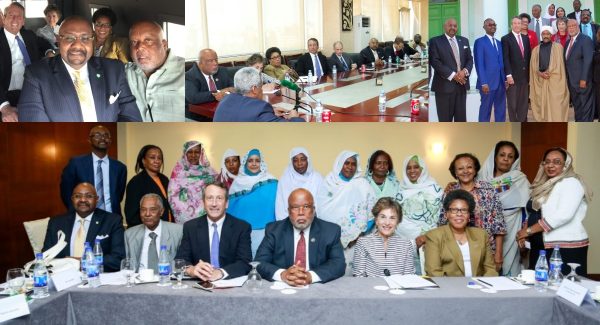 In other words, while the HDI had dozens of Congressional Democrats advising their organization, including January 6 Committee member Rep. Adam Schiff, HDI leadership would travel to Beijing for four consecutive years starting in 2017 to actively participate in annual "Taihe Civilizations Forums," hosted by their Beijing-headquartered partner; the Taihe Institute.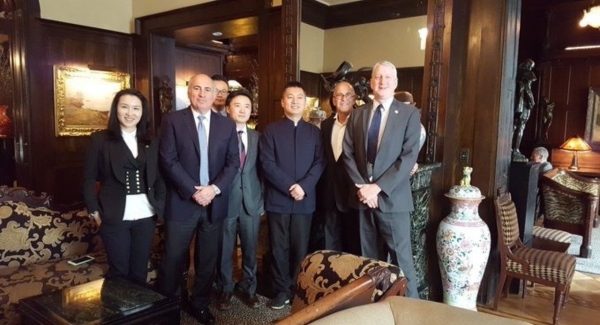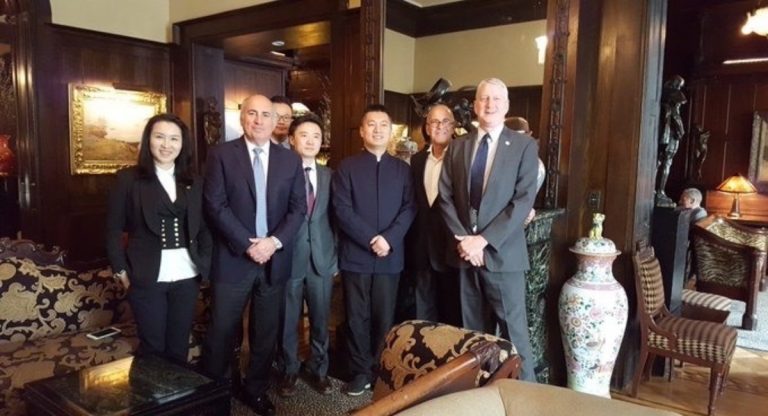 The Taihe Institute is headed by several members of the Communist Chinese Party, including an alarming number individuals that held significant positions in the Chinese military. The Taihe Institute also claims to have "research centers" in the United States.
Some Taihe Institute Senior Fellows include the following:
Former Chinese People's Liberation Army (PLA) Commissar and Major General Lei Zhitian, Former CPPCC National Committee member Gu Boping, former World Military and China Army Editor-in-Chief Chen Hu, World Economic Forum (WEF) Associate Director Thorsten Jelinek, PLA Air Force (PLAAF) Group Captain Wang Haili, Graduate School at National Defence University of People's Liberation Army Associate Dean Quan Yong, China Research Society of Sun Tzu's Art of War Executive Director Xue Guoan, 12th CPPCC National Committee member Yu Hongjun, Former Xinhua North America Regional Bureau Director Zeng Hu, Perfect World Group Founder and Chairman Chi Yufeng, and Cyberspace Administration of China Vice Director (CAC) Peng Bo.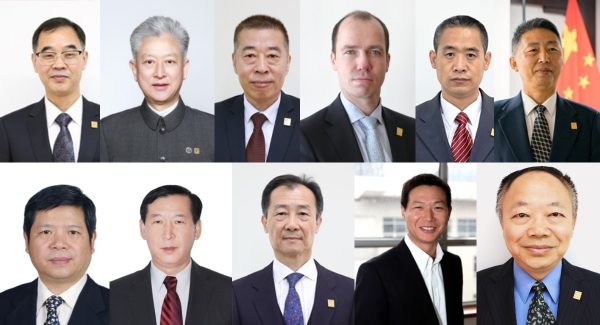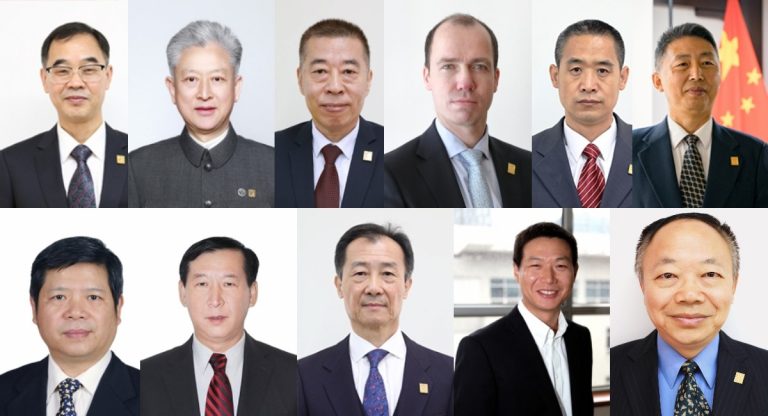 Here is a video posted originally to HDI Chairman Dr. Al Khalafalla's Twitter account on May 4, 2017 depicting a Chinese military-style ceremony before a statue of Mao Zedong. The HDI Chairman had appeared to describe, in a separate now-deleted post, the location of the event as taking place "in front of the house where Leader Mao [Zedong] was born in Shaoshan, Hunan Province, accompanied by Chinese State Councilor Zhang, Chinese businessman Michael Shi, and Mayor of Shushan. The invitation to visit China was thanked [sic] by Councilor Zhang after our Institute [HDI] arranged for him to visit US Congress."
HDI Director Joseph Merante and former HDI Director (now Taihe Institute Fellow) Ruby 'Yuyun' Wang are also featured in the ceremonious video. Standing front and center, in between Merante and Al Khalafalla, is Taihe Institute Chairman Binge Ping.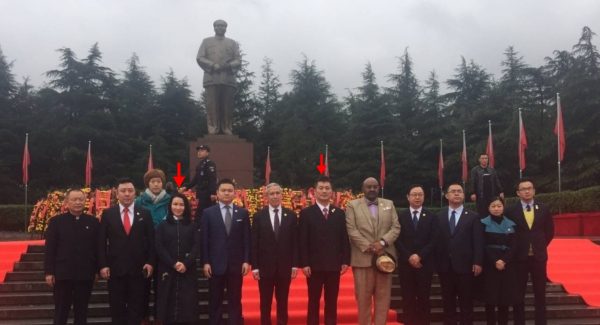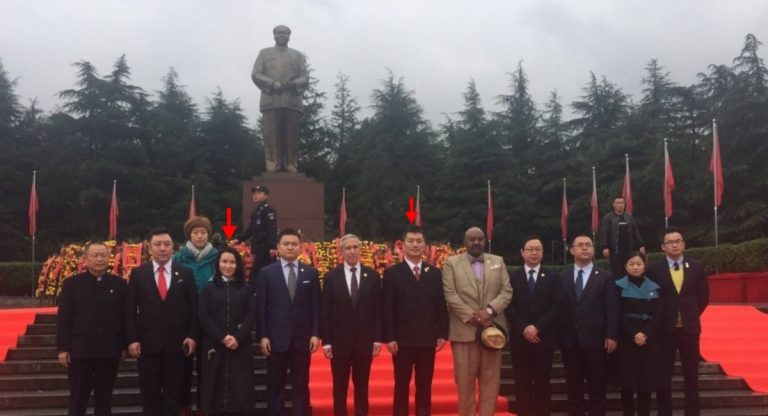 The relationship between the HDI and Congressional Democrats like January 6 Committee Reps. Schiff and Thompson can be easily observed through the organization's website. However, the ties between the Chinese military-linked Taihe Institute and Congressional Democrats are more direct when you examine progressive Reps. like Debbie Wasserman Schultz and Hank Johnson.
Take this photo from Al Khalafalla's Twitter account posted in December 2019 with the translated caption, "A meeting of the [HDI] with members of Congress, and then a lunch that included the ambassadors of the Security council at the United Nations building."
What do HDI's Congressional Democrats know about the Chinese military-linked Taihe Institute?
At the head of the table sits the Chinese military-linked Taihe Institute Chairman Binge Ping. To his right, sits former HDI Director Ruby Wang, who now serves as a Fellow of the Taihe Institute. Among them include other Democratic Representatives and current HDI Congressional Advisory Board members, including Johnson and Wasserman Schultz, along with HDI Chairman Al Khalafalla and HDI Executive Director Joseph Merante.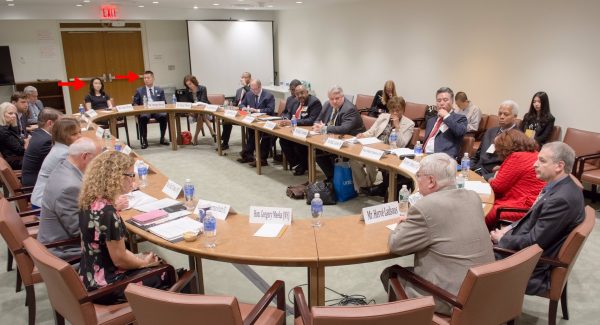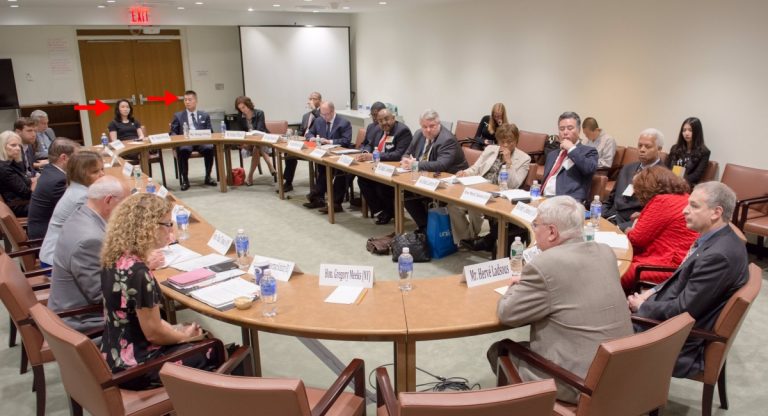 While Meadows seemingly severed ties with Mark Epstein's suspicious Chinese-linked organization and is now appearing to push back against Congressional establishment tyrants, it raises questions as to why all of these HDI-tied Congressional Democrats are continuing to advise a group that publicly immortalizes Chinese dictators by ceremoniously placing decorative flower baskets before grandiose Mao Zedong statutes, marching along side CCP officials and Chinese military members on the very soil belonging to our nation's greatest adversary.