Last Updated on December 2, 2021
Mark Meadows, the former Chief of Staff to President Donald Trump, is "cooperating" with the partisan January 6 Commission as his role with Mark Epstein's Humpty Dumpty Institute makes its way into public view.
President Donald Trump's former Chief of Staff Mark Meadows is reportedly "cooperating" with the partisan January 6 Commission by "providing records and agreeing to appear for an initial interview" in order to avoid being hit with a criminal contempt referral.
Meadows' response to the commission widely differs the approach of Steve Bannon, who was recently charged with two counts of contempt of Congress, despite citing executive privilege, for refusing to testify and turn over documents to the likes of Reps. Liz Cheney, Adam Kinzinger, Bennie Thompson, and Adam Schiff.
This comes as questions regarding his role with Mark Epstein's CCP-affiliated Humpty Dumpty Institute continue to emerge following a discussion with radio host Stew Peters, who pressed Meadows over his role as a member of the HDI Congressional Advisory Board.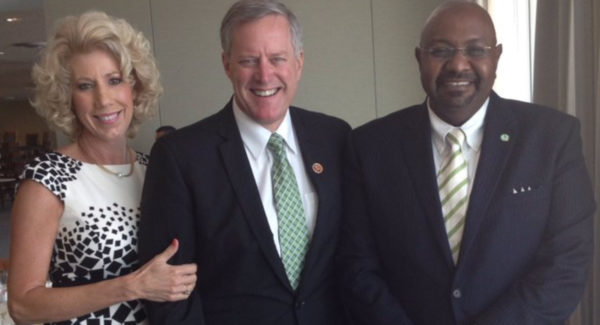 Meadows was listed as the sole Republican on the HDI Congressional Advisory Board in 2018 alongside 28 Democrats, including two that currently sit on the January 6 Commission – Democrat Reps. Thompson and Schiff.
"Mr. Meadows has been engaging with the Select Committee through his attorney," Thompson, who chairs the establishment commission, said in a statement. "He has produced records to the committee and will soon appear for an initial deposition. The Select Committee expects all witnesses, including Mr. Meadows, to provide all information requested and that the Select Committee is lawfully entitled to receive. The Committee will continue to assess his degree of compliance with our subpoena after the deposition."
Thompson added that Meadows sent "probably 6,000 emails" to the commission, and that they are "in the process of going through it."
Thompson, who is listed a member of the 2021 HDI Congressional Advisory Board, appears to be heavily involved with the HDI, and also appears to have a close relationship with the organization's current chairman, Dr. Al Khalafalla. The two have been photographed together on several occasions.
In November 2015, Rep. Thompson and Al Khalafalla were repeatedly photographed – cozy car selfies included – during an HDI/Congressional trip to Sudan in partnership with the American Global Institute. During the trip, the group "met with representatives of Sudan's Women's Civil Society. This meeting started with the discussion on women's role in fighting sex trafficking and forced labor which remained major issues in Sudan and within the region."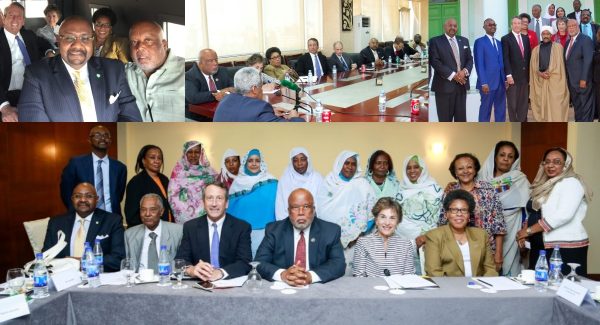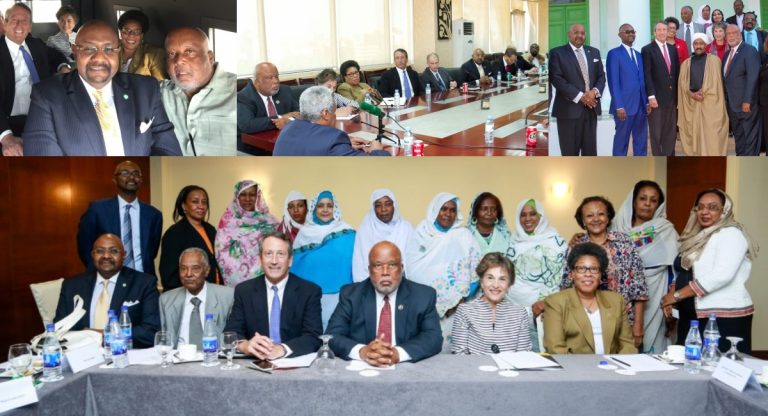 On December 3-4, 2015, the HDI Chairman and Rep. Thompson met during the organization's 50th Congressional Delegation to the United Nations Headquarters, where the "House Congressional Progressive Caucus (CPC), seven Members and several staff participated in a series of meetings and briefings with senior U.N. officials."
The delegation arrived in New York on the night of December 3 was received by the brother of deceased pedophile Jeffrey Epstein, HDI Director and financier Mark Epstein, "for a working dinner at his residence."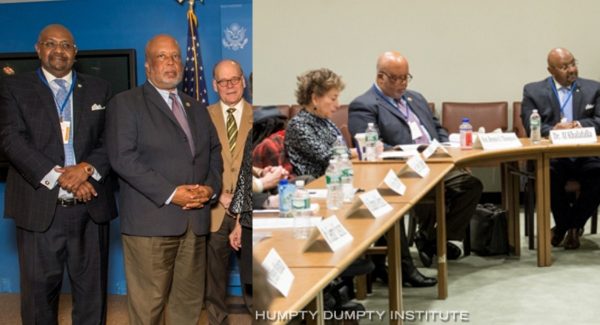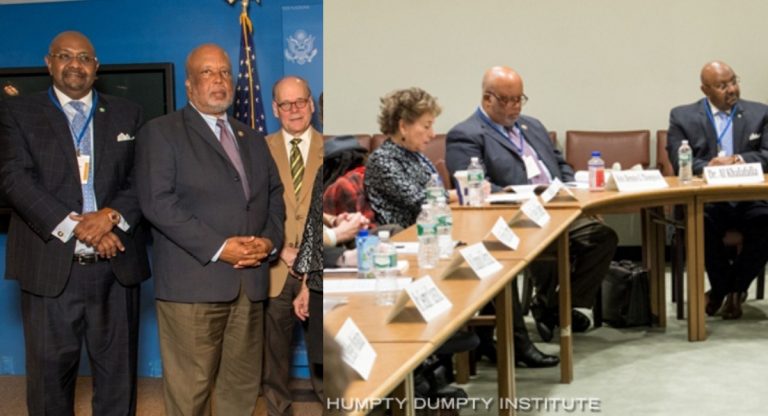 Rep. Thompson appears to have been involved with Epstein's HDI since as early as 2013 and remains so to this day. In 2020 the HDI celebrated the reelection of their members, including Reps. Thomson and Schiff.
"HDI has an active bipartisan Congressional Advisory Board (CAB).  Members of the CAB and their staffs advise HDI on program priorities. We are proud that all HDI CAB members seeking reelection won and will serve in the 117th Congress.  We wish our CAB Members the sincerest of congratulations," the HDI said in a statement. (MORE: Read the original National File exclusive on Mark Meadows and the Humpty Dumpty Institute)
When Rep. Thompson was made the Chairman of the Homeland Security Congressional Committee, the HDI issued another celebratory statement. "On December 3, 2020 House Speaker Nancy Pelosi (D-CA) announced those Members who has been chosen by the Democratic Caucus to Chair House Committees in the 117th Congress. Six members of HDI's 33-member bipartisan Congressional Advisory Board (CAB) were announced as Chairs.  HDI sincerely congratulates and is proud to have these Members as part of the CAB," wrote the HDI.
In fact, HDI celebrated Reps. Meadows, Schiff, and Thompson in January 2019 for "remaining or assuming the position of Head of Caucus," with a note by HDI Chairman Al Khalafalla stating that it is truly an honor that these illustrious individuals choose to work with HDI and advise the organization on important domestic and international programs."
During that year, the HDI travelled to Beijing, China to participate in the 2019 Taihe Civilizations Forum, hosted by the CCP, PLA, and WEF-tied Taihe Institute, a bizarre annual event they had participated in on multiple occasions, and would continue to attend in 2020. (READ MORE: The Taihe Institute claims to have "research centers" operating in the United States)
According to Meadows' lawyer George Terwilliger, an understanding between the two parties has been reached regarding how information can be exchanged moving forward, adding that the former Trump Chief and the January 6 Committee "are open to engaging on a certain set of topics as they work out how to deal with information the committee is seeking that could fall under executive privilege," reports say.