Last Updated on May 4, 2023
National File has learned that  Tim Griffin, a GOP establishment candidate for Delegate in Virginia's 53rd District, has been widely and credibly accused of sexual harassment and assault, is reported to have engaged in multiple extra-marital affairs, and even harassed a young rape victim when he was a prosecutor supposedly tasked with securing justice in her case. The allegations don't end there, with a pattern of sexual impropriety following Tim Griffin all over the Commonwealth of Virginia over a span of nearly a decade.
National File can report these revelations exclusively after having conducted countless hours of interviews with sources in possession of first-person knowledge of the accusations and events leading to Griffin's serially leaving positions of employment with Commonwealth Attorney's offices in southern Virginia. 
The brewing Griffin scandal threatens to embroil both Amherst Commonwealth Attorney Lyle Carver and Bedford Commonwealth Attorney Wes Nance, since multiple of our sources confirmed that they have personal, first-hand experience with the Commonwealth Attorneys being presented with what most would call clear cut evidence of Griffin's sexual misconduct.
Multiple sources who spoke with National File have even thrown the flag on Griffin's behavior personally, and have been stymied at every turn by what appears to be a coordinated effort to close ranks to protect Griffin.
In addition, National File has obtained audio confirmation that knowledge of Griffin's potential legal problems are widely known by the political and legal community in Amherst and Bedford Counties. 
In a phone call with a campaign staffer who is supporting Griffin's opponent, a Lynchburg attorney and politico confirmed that he was aware of Tim Griffin's "past" and "all the sexual stuff." 
The politico, Rick Boyer, a Lynchburg litigator admitted to the staffer that he was in fact aware of Griffin's potential criminal sexual liability. 
Asked by phone whether Rick Boyer knew about all of the accusations against Griffin, including the allegation that he had sex with a minor female under eighteen years of age, the answer was a resounding "Yes."
"Rick Boyer understood very well the allegations of sexual impropriety that had been leveled at Tim Griffin. In my opinion, Boyer knows everything about the evidence against Tim Griffin, because everyone in these political circles knows about it. It's the worst kept secret around here. That's why Boyer didn't bat an eyelash when I mentioned Griffin's past sexual stuff. Everybody knows it," said the staffer, named Ginger Burg who spoke with National File.
The reason Boyer was quite likely aware of the serious allegations against Griffin is the unplanned "intervention" carried out for Griffin which took place in the Commonwealth Attorney's office, multiple sources confirmed.
Boyer's explanations don't seem to help his case, either.
The subtext of Boyer's response clearly indicates that he's alright with Griffin winning in the general if he happens to get through the primary election process.
Boyer runs a boutique litigation law firm out of the nearby locality of Lynchburg calling itself "Integrity Law Lynchburg."
The verdict is out on whether Boyer's firm will retain the name "integrity" on his shingle.
You can listen to Boyer's audio admitting he knows about Griffin's scandal here, or in the tweet below.
EXCLUSIVE: Commonwealth Atty Lyle Carver Hosted Unplanned Sex-Addiction 'Intervention' for Tim Griffin After Text Message Evidence of Serial Sexual Abuse Surfaced, Multiple Sources Sayhttps://t.co/TkwyXiz6s4

There's a rape scandal and cover-up brewing in Virginia, according… pic.twitter.com/FYwaklRpU4

— National File (@NationalFile) May 4, 2023
In what could more accurately be described as a stand-off, several people close to Tim Griffin approached him with the explicit sexual evidence proving his multiple affairs, one of which even reportedly involved an underage intern who worked only temporarily at the office, the sources told National File.
The confrontation, every one of our sources told us, did not remain a secret for very long.
In the late summer of 2015, an impromptu intervention for Griffin was planned after text messages surfaced and were passed around among several of Griffin's acquaintances, according to multiple conversations with National File
The intervention, which according to sources, began with a confrontational tone, and ended with Griffin sobbing and admitting to all of the extra-marital affairs, took place in front of Lyle Carver, Griffin's boss, and Amherst County's Commonwealth Attorney – the equivalent of a District Attorney in other states. 
The confrontational intervention focused around reports of Tim Griffin's serial sexual dalliances with young women, some of whom were minors when the affairs took place, according to sources. Griffin even admitted the affairs, according to multiple witnesses. 
In text messages obtained by National File, one of those present at the Carver intervention expressed surprise that none of the victims had come forward yet. This witness even confirmed having seen the text message evidence proving that the affairs and sexual advances and explicit communications took place. 
"I believe you are correct about Tim's cyclical behavior. It's been a while since I saw the screen shots, but I did see them. Have none of the abused been willing to come forward as first hand accounts?" the text message reads. 
This particular witness to the "intervention" clearly indicated in text messages that she reviewed the screenshots in evidence during the confrontation at Lyle Carver's Commonwealth Attorney's office, according to text messages obtained by National File. 
The witness further corroborates that the women were abused by Griffin. 
The witness seems to indicate surprise that none of the abused women have come forward.
This situation highlights the dichotomy between women who work in Republican politics and those who work in Democrat politics. 
The "believe all women" mantra clearly never extended to the world of GOP politics, given that women who are desirous of maintaining marriages and raising children with minimal trauma are less inclined to have a knock-down, drag-out fight over the sexual improprieties of their men. 
The case of Matt Schlapp offers the clearest example of this phenomenon.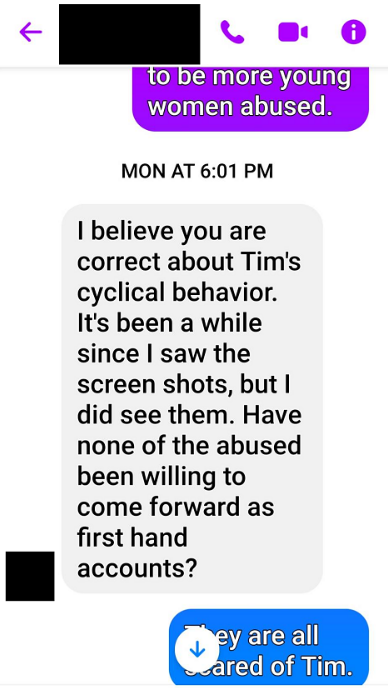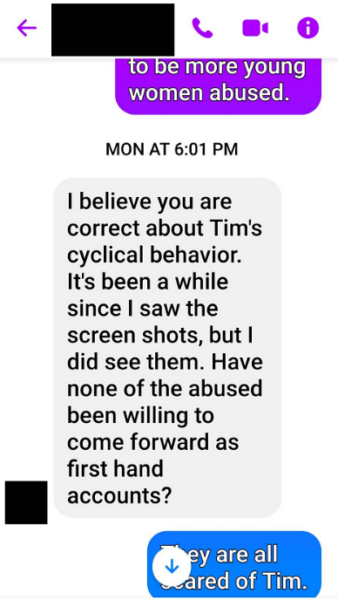 One National File source, who has known Tim Griffin since he was in college, and who has direct, first-hand knowledge of all of the particulars surrounding Griffin's admissions to serial sexual involvement outside of marriage, spoke to National File on the condition of anonymity for fear of retribution by Mr. Griffin, who is an attorney.
Griffin regularly threatens his associates with legal action and in some cases, even violence, at least four sources have told National File. 
The source who has known Griffin since college told National File in a wide-ranging phone call that Tim Griffin stands credibly accused of having groomed and preyed on an underage intern while he was employed under Lyle Carver at the Amherst County Commonwealth Attorney's office in 2015. 
National File tried several times to contact Mr. Lyle Carver, who was Tim Griffin's boss at the Commonwealth Attorney's office in Amherst back in 2015, when the inappropriate sexual relationship was first uncovered, according to our sources.

Lyle Carver has so far refused to deny that he was present at a late-summer intervention that turned confrontational that multiple sources tell National File took place in a public fashion inside the offices of the Commonwealth Attorney's building in Amherst. 
Carver, who was appointed to the position of Commonwealth Attorney in March of 2015, had only been in office a short time when the confrontation between Griffin and others who wanted to hold him accountable for his behavior took place in the Commonwealth Attorney's offices. 
Mr. Griffin further engaged in the conveyance of pornographic material to the female minor for the purpose of soliciting future sexual encounters, multiple sources have told National File.
According to Virginia Commonwealth statutes, the criminal legal penalties for sexting with a minor are very serious. 
Sexting can be prosecuted as child pornography, which is a felony that can result in years in prison and having your name on the sex offender registry for life. 
According to Code of Virginia §§ 18.2-374.1 and 18.2-374.1:1, an individual possessing such images on their cell phones, sharing them via cell phone, or creating them using their cell phones, may be found guilty of a felony. 
Griffin allegedly told the underage minor female intern by text message that he wanted to see her naked and have sex with her on his desk. Griffin, who was married at the time, also told the underage intern that he was planning to leave his wife for her, National File has been told. 
Multiple sources, who will remain nameless for fear of retribution, have confirmed to National File that Tim Griffin engaged in a consensual sexual relationship with the 17-year-old girl – a criminally illegal act, which is considered a form of rape under Virginia law. 
According to the law, someone 18 years of age or older having sex with someone age 15, 16, or 17, is a class one misdemeanor and punishable with up to one year in jail and a $2,500 fine.
Under Virginia criminal code, Griffin could still be criminally liable for having sex with a minor, as the statute of limitations on sexual abuse doesn't expire until 20 years after the cause of action accrues. A cause of action may "accrue" when a minor turns 18 (see Virginia statute § 8.01-249(6)).
Upon learning of the explicit messages, multiple individuals confronted Mr. Griffin at the Amherst County Commonwealth Attorney's office, prompting Griffin to beg them for mercy, sources reported to National File.  
As a result of the confrontation, Tim Griffin reportedly admitted to 11 different affairs, though as many as 14 are alleged to have been admitted to by one source.
Griffin also admitted to having an inappropriate relationship with the aforementioned 17-year-old intern, as well as to having sex in his taxpayer-funded office with multiple young women, our sources have told us. 
Multiple sources have confirmed to National File that the entire confrontation took place in front of Amherst County Commonwealth Attorney Lyle Carver and his then-wife.
As a result of the allegations, Griffin was pushed out of the Commonwealth Attorney's office in Amherst County but Lyle Carver allowed Griffin to stay on board, retaining his taxpayer-funded salary and benefits package, until he secured gainful employment in the neighboring County of Bedford, with that county's own Commonwealth Attorney's office.
Griffin's sexual harassment and unwanted advances toward young women didn't end there though – far from it. 
Vulnerable Prey: The Targeting of a Rape Victim
In 2014, Tim Griffin, then employed as a prosecutor in the Amherst County Commonwealth Attorney's office, was involved in the investigation into the rape of a young woman, who Griffin allegedly proceeded to harass, using the prosecution of her accused assailant as a pretext to text and call her. 
Throughout the investigation, Mr. Griffin, who was in possession of a photograph of the young victim, called her and texted her repeatedly, one source, who has known Tim Griffin since he was in college, and who spoke to National File on the condition of anonymity, told National File. 
Griffin even told the rape victim how attractive he thought she was, and even appealed to her to give him a call back on a personal level, our sources told us. 
The timelines in the prosecution of the rape case and our sources' version of events surrounding Griffin's ties to it are consistent with one another. 
The young lady's rapist was convicted in 2015, as documented in a local media report. The same report, which appeared in the Amherst News & Advance, quotes Tim Griffin as the case's prosecuting attorney. 
More Trouble for Tim
While Griffin was working for Wes Nance, Commonwealth Attorney in Bedford County, more allegations of sexual misconduct came pouring in against Griffin, prompting him to be placed on unpaid leave in 2016, so that the allegations could be investigated, according to multiple sources who fear retaliation by Griffin, who agreed to speak on the condition of anonymity. 
Griffin was allegedly up to his old activities, sending women pictures of his genitals, along with explicit text messages and requests for nude photos, including nude photos of other women.
During his unpaid leave, Griffin's work cell phone was confiscated, and its contents were scoured, which caused much consternation for Tim in his personal life, according to multiple sources, since Griffin would no longer be receiving a paycheck from the Commonwealth. 
Griffin has since left the Bedford County Commonwealth Attorney's office. Commonwealth Attorney Wes Nance is still supporting Griffin's campaign for Delegate, despite his issues with brazen sexual impropriety. 
Griffin's pattern of sexual misbehavior has even followed him to Virginia's capital city of Richmond, where he hopes to be working as a Delegate after November's state-level elections. 
Taking The Show to Richmond
In 2022, a young female in Richmond says that she was contacted by Tim Griffin and that the conversation quickly turned into unwanted sexual advances, according to a political contemporary of Tim Griffin's who served with Griffin in Virginia GOP politics. 
Reportedly refusing to take "no" for an answer, Griffin allegedly took to stalking and threatening the young woman, as well as other girls who work in or near the capitol, who firmly reported that they don't want Tim Griffin coming to work as a Delegate in Richmond. 
The young women say that Griffin is a "monster" who calls them "mother fucking cunts" and threatens to "slit their throats" should they come forward against him, according to a source familiar with the situation. 
National File reached out to Tim Griffin for comment. His mailbox was full, but we left a voicemail requesting comment.
Efforts to reach Commonwealth Attorneys Lyle Carver and Wes Nance were unsuccessful.
National File did manage to speak with an employee of Carver's about Griffin's budding scandal. Spencer Drake, an erstwhile employee of the Amherst County Commonwealth Attorney's office, refused to speak on the record about his support for Tim Griffin.
Asked about his legal work with a non-barred attorney named Cynthia Dunbar, Spencer Drake hung up the phone.
Lynchburg attorney Rick Boyer responded to National File's requests for comment with a veiled threat of legal action on behalf of Tim Griffin.