Last Updated on March 25, 2023
Self-proclaimed election hawk and GOP candidate for Delegate in Virginia's 53rd District, Tim Griffin, appears blatantly ineligible to run for office under Virginia state law and apparently committed voter fraud after court documents and audio recordings confirmed that he'd spent years voting from a phony address belonging to an Airbnb while living a nomadic and "essentially homeless" life in multiple states and jurisdictions.
Court documents, court audio, and voter registration applications paint a very different picture of Tim Griffin's life and whereabouts than the one he's painted for the people of Bedford County, Virginia, where he currently sits as the local GOP Chair, and to the people of the wider 53rd House District, where he's running for Delegate in this year's state-level elections.
Though Griffin publicly claims to be an election hawk attorney who spends his time-fighting voter fraud, public records show that he is ineligible to run for Delegate under the very election laws he claims to support, and has cast multiple votes from an address that's not his own.
According to voter registration forms obtained by National File through a Freedom of Information Act request made to the Bedford County, Virginia Registrar, Griffin was registered to vote from a Bedford County address on Elkridge, Drive in the community of Forest, from at least February 2020 to March 2023.
The address belongs to an Airbnb, where Griffin admits he only stayed for a period of six to eight months, with no lease, moving out in July 2020.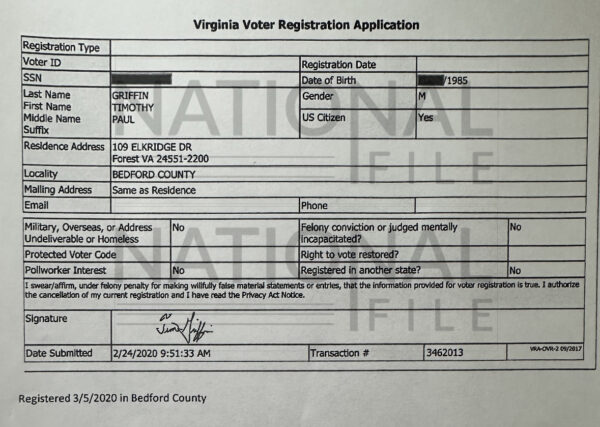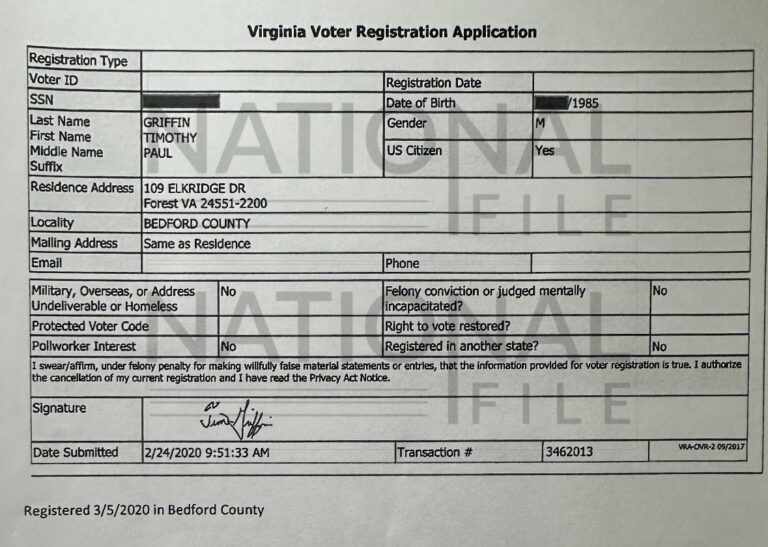 After initially registering to vote from the Elkridge Drive address on March 3, 2020, Griffin renewed his voter registration for the same location on December 19, 2020, months after he later admitted in court that he had vacated the Airbnb.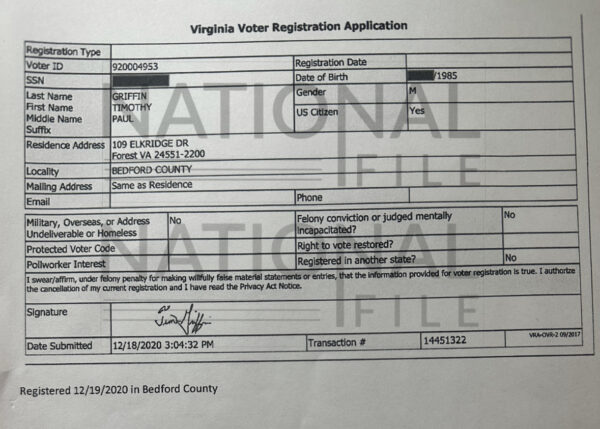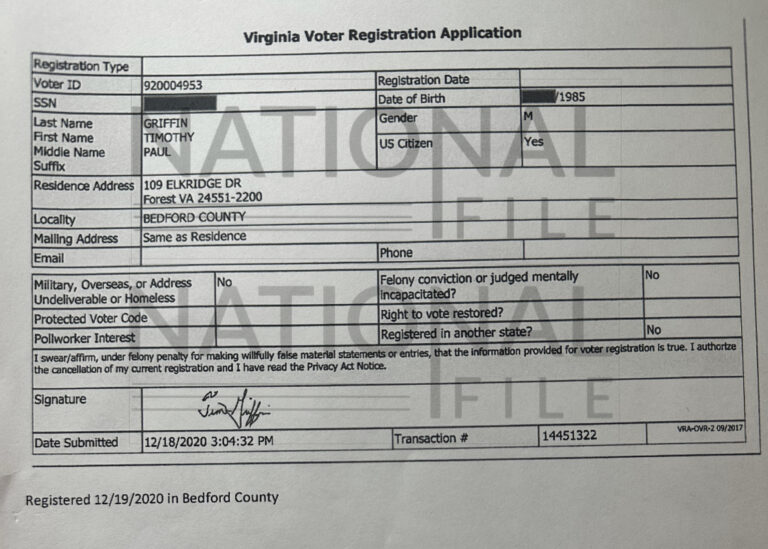 Griffin voted from this address through multiple election cycles, despite, as previously mentioned, admitting in court proceedings that he left the Airbnb in July 2020.
Tim Griffin finally changed his voter registration to another Forest address, this one on North Woodfin Court, on March 2nd, 2023, as his campaign for Delegate was underway and he apparently realized the need to tie up loose ends, like voting from phony addresses.
When National File met with the Bedford County Registrar to receive this information, it was relayed that Griffin came into the Registrar's office in March 2023 claiming that he'd previously changed his address about a month prior, but no such record was found. As a result, Griffin was required to file a new Virginia Voter Registration Application, reflecting his new purported address which, according to him in court audio, belongs to someone else's garage.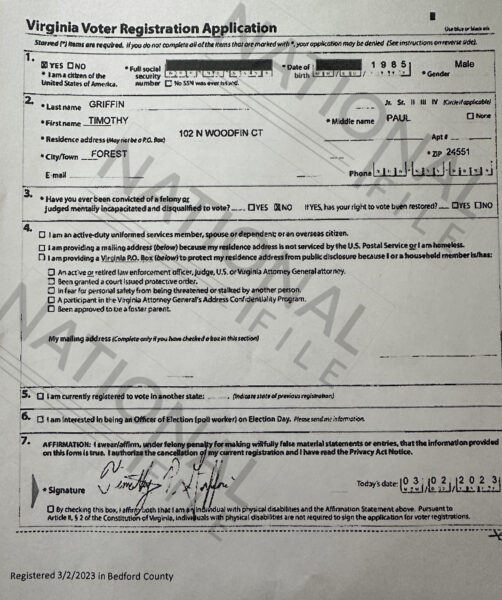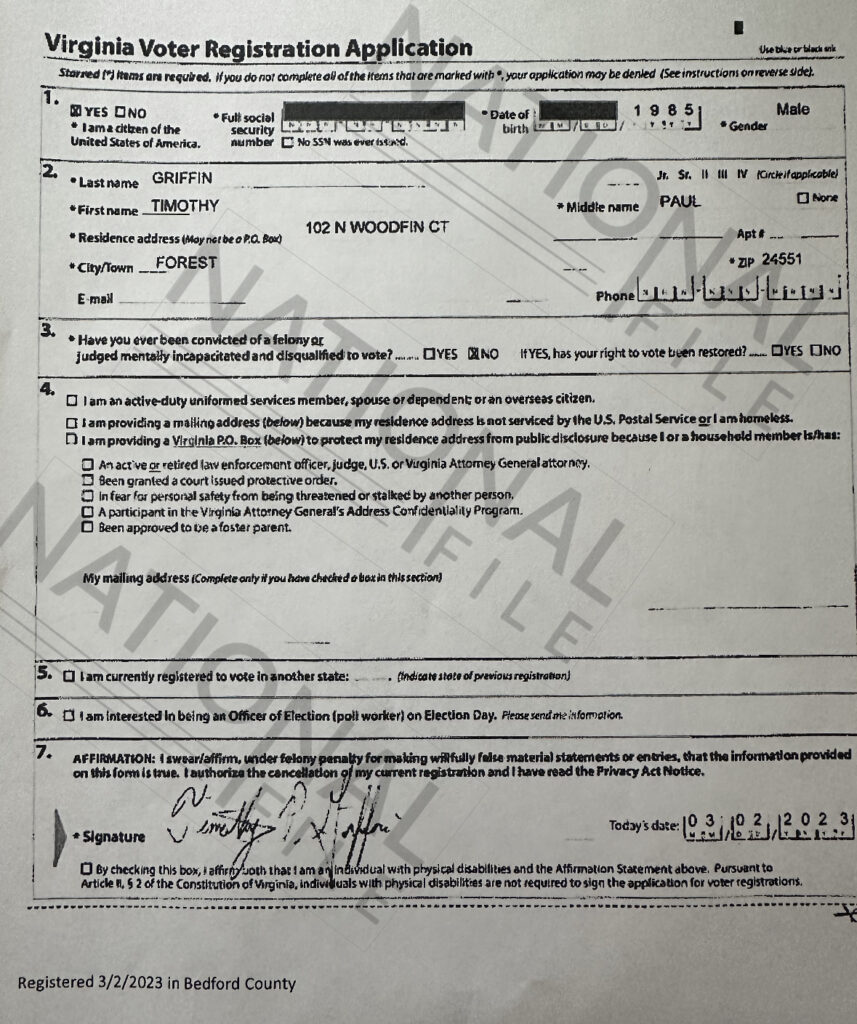 When questioned by National File as to the legality of Tim Griffin's registered voting address and the validity of his campaign for office, Griffin's campaign manager, Tanner Bonovitch, ominously warned National File to "be careful" about reporting information from "anonymous sources" before refusing to exchange contact information and fleeing in his vehicle.
Unfortunately for Tim and Tanner, no anonymous sources were used in the research and writing of this article. In fact, all of the information contained within it comes from official sources, like the Bedford County Registrar, and the Lynchburg Circuit Court judge who not only labeled Griffin "essentially homeless," but warned that by explaining his living situation in court as part of divorce and custody proceedings, he could open himself up to criminal charges related to election fraud.
Under Virginia law, Griffin appears to be completely ineligible to even seek the office of Delegate, due to the aforementioned address issues and the court-admitted nomadic lifestyle that saw him be arrested in Maryland, work in Michigan, and file his own court paperwork from the DC suburbs.
According to the Code of Virginia:
"In order to qualify as a candidate for any office of the Commonwealth, or of its governmental units, a person must be qualified to vote for and hold that office. In order to hold any office of the Commonwealth or its governmental units, elective by the people, the candidate must have been a resident of the Commonwealth for one year preceding his election and be qualified to vote for that office."
Under Virginia law, because Tim Griffin is seeking a seat that spans multiple jurisdictions and is a direct part of the state government, decisions regarding his eligibility for office must be made by the state's Board of Elections, not by local election authorities.
Griffin claims that because he was receiving mail at the Airbnb he vacated in July 2020 while living and working out of state, he is a true-blue resident of Bedford County and eligible to seek office, despite not physically living at the address for multiple years and not changing his address to its current location until just a few weeks ago.
But the question that remains, and must be answered by the Virginia Board of Elections is this:
Does merely receiving mail at a "home address" belonging to another person's Airbnb, while living, working, and being arrested in other states and jurisdictions, satisfy the residency requirements to allow Tim Griffin to seek elective office in the Commonwealth of Virginia?