Last Updated on March 17, 2023
GOP candidate for the Virginia House of Delegates, Tim Griffin was described by a Lynchburg Circuit Court judge as "essentially homeless" when his attorney struggled to explain where Griffin actually lives, causing the judge to question whether or not he even lives in Virginia and warn that Griffin could be committing voter fraud, among other crimes.
Tim Griffin, whose running for the GOP nomination to the Virginia House of Delegates in the 53rd District, which includes portions of Bedford, Amherst, and Nelson Counties, was called out by a Lynchburg Circuit Court Judge for being "essentially homeless" when his attorney appeared in the court on his behalf in 2021, as part of a custody matter.
Even Griffin's own attorney was unsure where he lives when pressed by the judge, describing him as a nomad who couch surfs or goes camping when he needs a place to sleep. His attorney explained that Griffin had been working in Michigan, DC, and Northern Virginia, and was returning to the area to attend political functions.
"I think that he stays at colleagues' houses, or he stays at friends' houses, or rents a hotel, or I think sometimes he goes camping," Griffin's attorney told the judge in a courtroom exchange that's been preserved by audio recordings.
"Well, that's…that's essentially being homeless," the judge replied.
"He does not have any physical [address] – where does he keep his clothes?" asked the judge. "Does he take his whole wardrobe and everything with him?" he went on, before threatening to haul Griffin into court and "put him under oath" to get to the bottom of his apparent homelessness situation.
Despite Griffin currently serving as the Chairman of the Bedford County Republicans and running for state office, the Bedford County address under which he's voted absentee in 3 general elections and 1 primary since 2020, including that year's Presidential Election and the 2022 midterms, belongs to an AirBnB where he hasn't stayed since July 2020, according to the testimony of the homeowner himself. This is despite Griffin marketing himself in his Delegate campaign as an anti-fraud, election integrity lawyer.
Additionally, Griffin is listed at the AirBnB address in his Virginia Bar registration.
This is all in spite of Griffin himself confirming, in notarized court documents (which were notarized in Northern Virginia's Arlington County), that he doesn't live at the address in question and hasn't since July 31st, 2020. In the same document, Griffin contradicts the court testimony of the home's owner, who said he only stayed at the address for around 8 months, claiming that he lived there for nearly three years.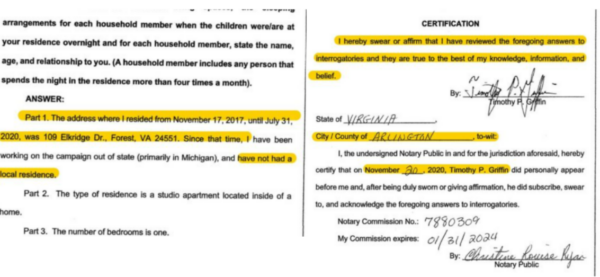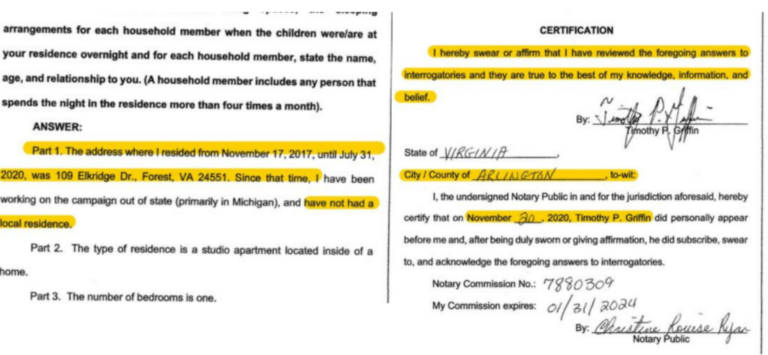 As part of the same recorded court proceeding regarding Griffin's address issues and essential homelessness, the judge expressed his concern that the situation could put Griffin in legal jeopardy and told his attorney that he'd "advise him of his 5th Amendment privilege" before putting him under oath.
"I think that there are some other legal issues at play here with the state bar, and voting matters, and – and I probably need to advise him of his 5th Amendment privilege if I'm going to put him under oath to answer those questions," the judge said.
Listen to the audio of Tim Griffin's 2021 court proceeding HERE
In a subsequent court hearing, which was held in January 2023, Tim Griffin admitted to the judge that he no longer lives at the address listed on his voter and bar registrations, the address from which he's voted in numerous elections.
After asking the judge if he could retrieve his cell phone to look up his current address, Griffin told the court that he is now "living in a garage like a 40-year-old man should."
Listen to the audio of Tim Griffin's 2023 court proceeding HERE
Stick with National File as the investigation into Tim Griffin continues, and more information regarding his apparent voter fraud and other schemes comes to the forefront.