Last Updated on March 17, 2023
As a prosecutor, current Florida governor Ron DeSantis repeatedly cut plea deals to give lenient sentences to defendants convicted of child pornography crimes, according to records obtained by NATIONAL FILE.
In one case, the deal DeSantis cut with the child porn aficionado cut the perpetrator's sentence from thirty years down to six year.

In another plea deal DeSantis cut with a sailor facing a child pornography charge, the service member ultimately only received a 6-month prison sentence rather than a maximum 10-year sentence.

At least two of the child porn consumers DeSantis cut deals with were members of the U.S. Navy.
In 2007, Gregory Baker was charged for allegedly possessing a thumb drive with child porn on it.
According to a court document: "visual depictions involved the use of minors engaging in sexually explicit conduct and which visual depictions were of such conduct." In June 2008, DeSantis became the assistant U.S. attorney on the Baker case.
DeSantis did not oppose Baker's attempt to modify the conditions of his release pertaining to curfew and travel. In October 2008, DeSantis submitted a "downward departure" motion that created a "one level reduction in the Defendant's total offense level," and Baker ended up getting sentenced to only one year and one day in prison.
DeSantis signed the motion, which stated: "The defendant's guilty plea permitted the government to avoid preparing for trial and permitted the government and the Court to allocate resources efficiently."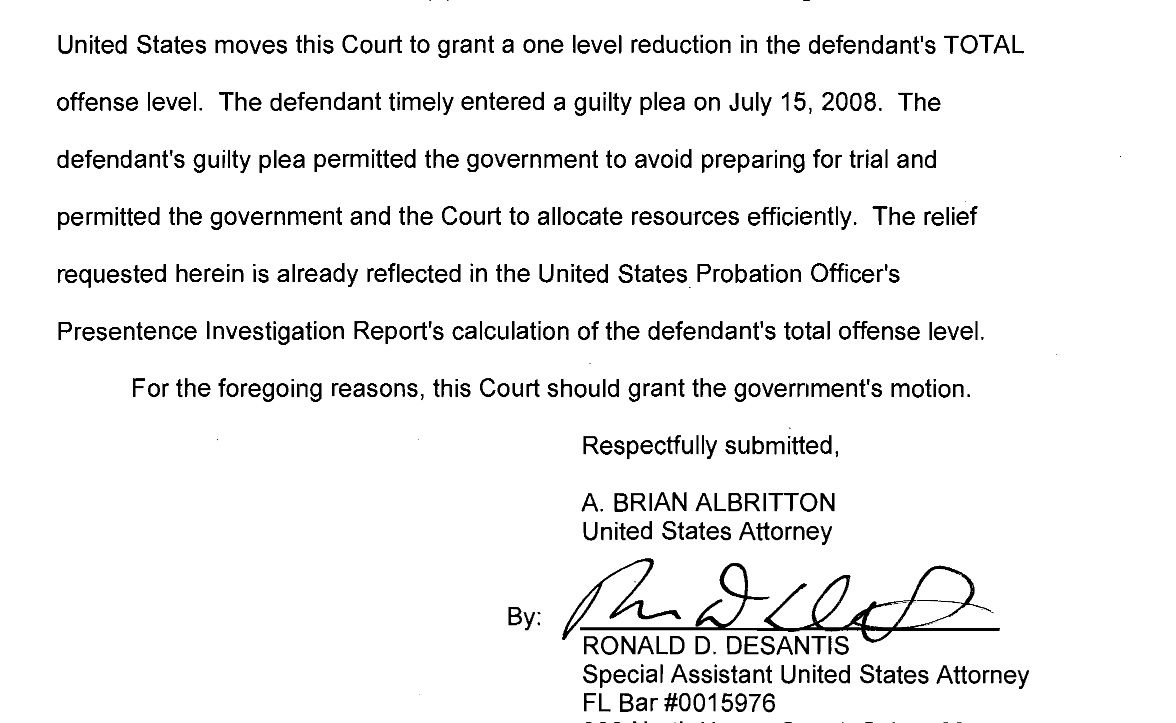 In 2008, prosecutor Ron DeSantis made a plea deal with U.S. sailors Matthew Orth and Chase Keefover, who received indictments for possessing or transmitting child pornography on a Navy ship. Both of the sailors were facing lengthy prison sentences, with Orth looking at 30 years behind bars and Keefover facing ten years in prison.
In September 2008, the Florida Times-Union reported that "Matthew S. Orth, a sailor on the USS Roosevelt, was ordered held without bail on charges he used a computer to transmit from the ship six images depicting minors as young as 9 engaging in sexually explicit conduct. Orth was indicted last week on one count of transporting pornography and two counts of possession. Chase E. Keefover was arraigned on one count of possessing nine images of child pornography on his laptop computer aboard the USS Halyburton."
But DeSantis cut deals for both of the sailors. DeSantis dropped one of the three charges against Orth and Orth received a prison sentence of only six years, followed by 15 years probation. Here is Ronald DeSantis' signature on the Orth plea agreement: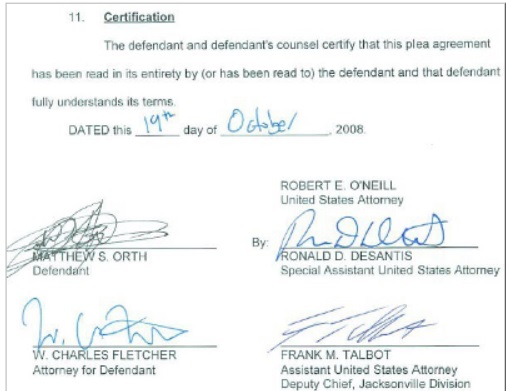 DeSantis also made a plea deal with Keefover that led to Keefover serving only six months in prison followed by six months of house arrest. Here is Ronald DeSantis' signature on the Keefover plea agreement: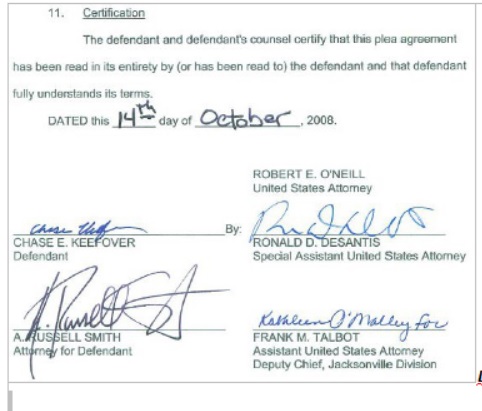 Homosexual "Republican" pundit Dave Rubin recently discussed how favorably Ron DeSantis views homosexuality during a recent podcast, posted on Twitter by Terri Green
"I'm married to a dude. We're having kids. You know what showed up at my door two days ago? We're having two babies. A package with two baby onesies from Ron DeSantis and his wife," Rubin explained.
"At this Prager U. event that I mentioned before, I introduced, said 'Governor, this is my husband David.' Big hug, smile, took a picture," Rubin continued.
"Congratulations on the kid," DeSantis told Rubin, as Rubin recounted it.
Governor Ron DeSantis sent Dave Rubin and his husband onesie's for their two babies they got through the process of surrogacy and destroying 18 embryos in the process. pic.twitter.com/mSjkvF40C5

— Terri Green (@TerriGreenUSA) March 17, 2023
Dennis Prager, Rubin's very decidedly pro-homosex mentor and friend, has also voiced his support for homosex during an interview with Dave Rubin.
"By the way, I actually believe bi-sexual is the norm," Prager proclaimed. "I'm not saying heterosexual is more normal," Prager continued.
"No, Normal is not defined by your sexual orientation," Prager opened.
Terri Green similarly called out Dave Rubin, Jordan Peterson, and Ron DeSantis for their support of the controversial procedure called IVF many homosexual couples use to try to "conceive."
Where were Christians when Dave Rubin talked to Jordan Peterson about renting wombs, discarding multiple embryos to get two perfect babies, froze milk for the babies, considered his sister as a donor?

DeSantis knew Rubin destroyed embryos to get designers babies. You say giving… https://t.co/3ArYME6PKs pic.twitter.com/7qiBTcuOQN

— Terri Green (@TerriGreenUSA) March 17, 2023