Virginia GOP candidate for Delegate in the state's 53rd House District, Tim Griffin, is on criminal probation in the neighboring state of Maryland, having pled guilty to a charge there related to the illegal touching of ponies. After failing to pay his fines or appear in court, a judge issued a warrant for Griffin's arrest, but he evaded justice for two years before being taken into custody during a traffic stop.
Tim Griffin was arrested in Worcester County, Maryland, in the area of Assateague and Chincoteague Islands in July of 2020, for illegally touching the wild ponies that the islands and the national park they make up are known for. The arrest kicked off a more than two-year-long legal saga that has left him on criminal probation for the entirety of the 2023 election season.
In what would appear to be an effort to get out in front of his probation problems, Tim Griffin has previously posted about his legal troubles on social media, completely validating their existence.
According to court documents obtained by National File, after Griffin was initially charged with illegally touching ponies, he refused to pay his fines and failed to show up to court for an October 2020 trial as ordered, prompting a Maryland judge to cite him for failure to appear.
After Griffin again failed to respond to the court, a warrant was issued for his arrest.
Two years later, on October 14th, 2022, Tim Griffin was finally apprehended by police during an Allegheny County, Maryland traffic stop, and formally arrested.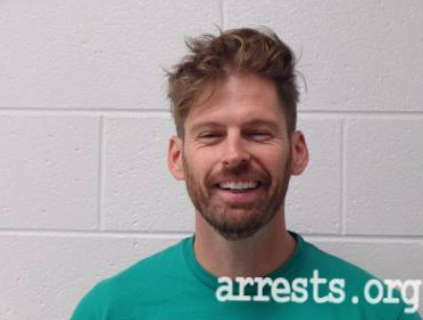 Griffin offered a brief summary of his arrest and what led up to it in a letter to the court requesting an electronic hearing and claimed in the letter that he "mistakenly believed" he'd paid his fine for illegally touching ponies two years prior, despite the multiple notices that were sent to his claimed address saying otherwise.
The address detail of Griffin's case in Maryland ties directly into previous reporting by National File, exposing Griffin, who was described as "essentially homeless" by the judge overseeing his Virginia custody case, for committing voter fraud under Virginia election law by registering to vote from phony addresses.
Griffin's electoral illegalities come despite his work as a supposed election integrity lawyer, work he cited in his letter to the court.
"Last month, I was stopped for speeding in western Maryland, and was subsequently arrested for failing to appear in 2020 on this charge of 'interfering with wildlife'," Griffin wrote in his letter. "My vehicle was left on the side of the road, I was booked, and spent the day in jail," he recounted.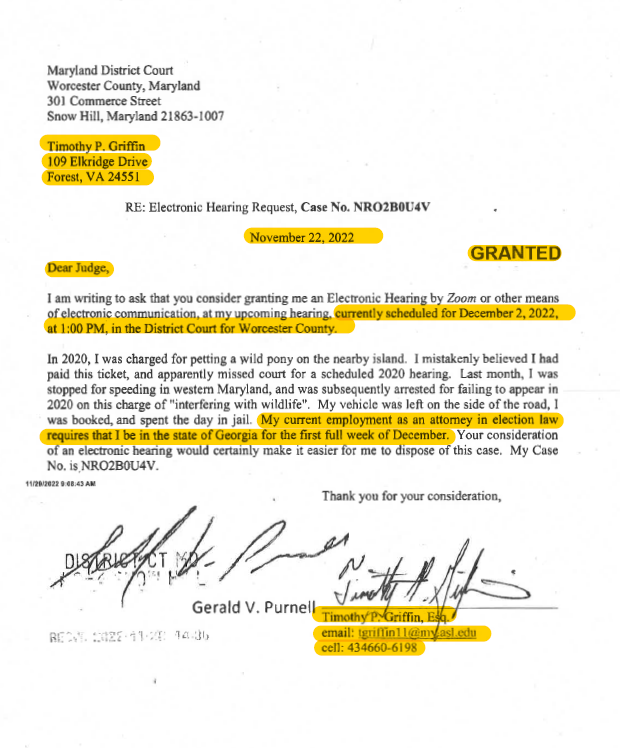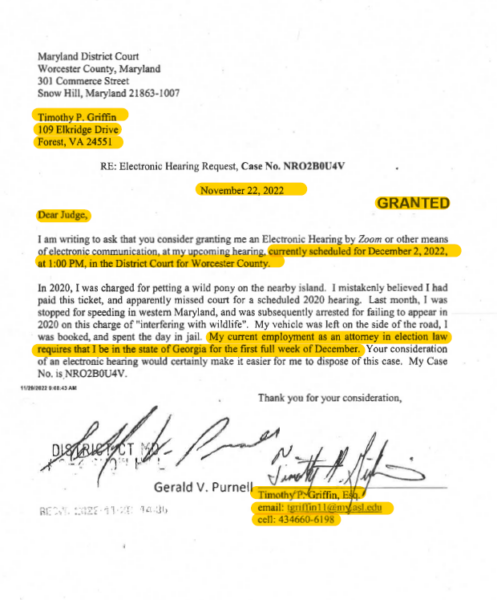 During his December 2, 2022, remote hearing, Griffin was convicted after pleading guilty by the District Court of Worcester County, Maryland on one charge of "feed, touch, tease, frighten, intentionally disturb wildlife," and was sentenced to one year of probation, "commencing Friday, December 2, 2022."
He was also ordered to pay a fine of $77.50, which according to court records, he failed to pay until January 9, 2023, prompting two notices from the court that threatened further criminal action against him, including another arrest.
As of the publishing of this article, Tim Griffin is still under probation in Worcester County, Maryland, and will be for the entirety of Virginia's 2023 election season.
Read more about Tim Griffin and his illegal touching of ponies HERE