Last Updated on January 19, 2021
Incoming vice president Kamala Harris keeps lying about her own life and background, undermining her attempt to role-play as a victim of institutional prejudice. The lies are laughable. With leftists now noticing the Biden regime's close ties to Big Finance and the Deep State, might they turn on Harris for trying so awkwardly to appropriate American black and feminist culture?
Kamala plays the "woman of color" role now in the halls of power. The media is desperate to prop it up. The press promotes an extremely Cringe photo of Kamala called "That little girl was me," depicting Harris following in the footsteps of desegregation icon Ruby Bridges. At the dystopian Democrat convention, Harris declared "There is no vaccine for racism," making it clear that she will be leading the rhetorical and policy charge against white middle class men in the Biden administration (a crusade that will definitely disenfranchise white business owners and possibly white farmers right off the bat). But she lacks credibility. She lacks soul.
"There is no vaccine for racism."

Full #DemConvention video here: https://t.co/yoGkQxBLrP

— Glory (@CDonatac) August 20, 2020
Harris' image as a "woman of color" is accurate, but the way she and the media presents it is deceptive. Harris is not a black African-American. She is half-Jamaican, descended on her father's side from a notorious white slaveowner, and half-Indian, hailing from a high-caste Brahmin family tied to the government of India. Her ancestor Hamilton Brown, for whom Brown's Town is named in Jamaica, owned many slaves and multiple plantations and even tried to get the Irish to mass-migrate to Jamaica to work as servants after the British empire banned slavery. Kamala's father was a Marxist Stanford professor, her husband Doug Emhoff is a recent partner at the powerful D.C. law firm DLA Piper, and her Uncle Gopalan is arguably India's top nuclear weapons expert. Ex-prosecutor Kamala's attempt to insert herself into the African-American experience is ham-handed at best. In this way, she recalls her puppetmaster Barack Obama, another multiracial elite who struggled to burnish his black credentials. Harris' overture to bumper-sticker feminism is also out of touch, considering the fact that she dated her way to the top professionally, romancing machine politician Willie Brown and sparking her popular nickname on the Right: "Heels Up Harris" (entertainer Montel Williams was another paramour).
Recently, Kamala was caught in an obvious lie. She claimed that she demanded "Fweedom" when she was a child attending a civil rights protest. Harris plagiarized the anecdote from Dr. Martin Luther King Jr. Did Harris really think she could get away with cribbing a tale from Dr. King, considering King's massive disproportionate influence on modern public school curricula? Every millenial in the media grew up studying King in school and having all-day seminars on MLK Day. Harris would have had a better chance of getting away with her lie if she'd said she chopped down her father's cherry tree.
Kamala also absurdly claimed that she grew up celebrating the postmodern Black Power holiday of Kwanzaa. But Kwanzaa was invented in 1966, just two years after Harris' birth in 1964. The holiday has always been celebrated by a tiny fraction of black Americans, despite public school and political class efforts to pretend otherwise.
Our Kwanzaa celebrations are one of my favorite childhood memories. The whole family would gather around across multiple generations and we'd tell stories and light the candles.

Whether you're celebrating this year with those you live with or over Zoom, happy Kwanzaa! pic.twitter.com/21bzGHZpYe

— Kamala Harris (@KamalaHarris) December 26, 2020
Kamala has long struggled to attach herself to African-Americans. Take for example her claim at the NAACP virtual convention that Tupac Shakur is her favorite living rapper. Tupac of course was murdered in 1996 on the Las Vegas Strip, as even a casual observer of pop culture could tell you. But Kamala apparently had no idea and she also failed to name an actual living rapper. Her rap cluelessness would be more forgivable if not for the fact that Harris lied about listening to Tupac Shakur and Snoop Dogg in college, when she was apparently smoking marijuana. Harris graduated from Howard University in 1986, years before Tupac and Snoop became famous rappers. Her father, meanwhile, disparaged her for invoking the stereotype of the pot-smoking Jamaican.
Then there is the matter of Jussie Smollett, the disgraced actor whose hate hoax Harris promoted to push her own flailing anti-lynching bill through the U.S. Senate. As I reported: Kamala Harris stood in solidarity with Smollett on January 15, 2018 at Los Angeles' Kingdom Day Parade where Smollett and his sister Jurnee wore shirts supporting the "Time's Up" progressive protest movement. An archived photo is unearthed here in the interest of journalism. Smollett's whopper about almost being lynched by Trump supporters was as obviously phony as Kamala's lies. Smollett pretty much blew it when he claimed the imaginary Trump supporters referred to innercity Chicago as "MAGA Country."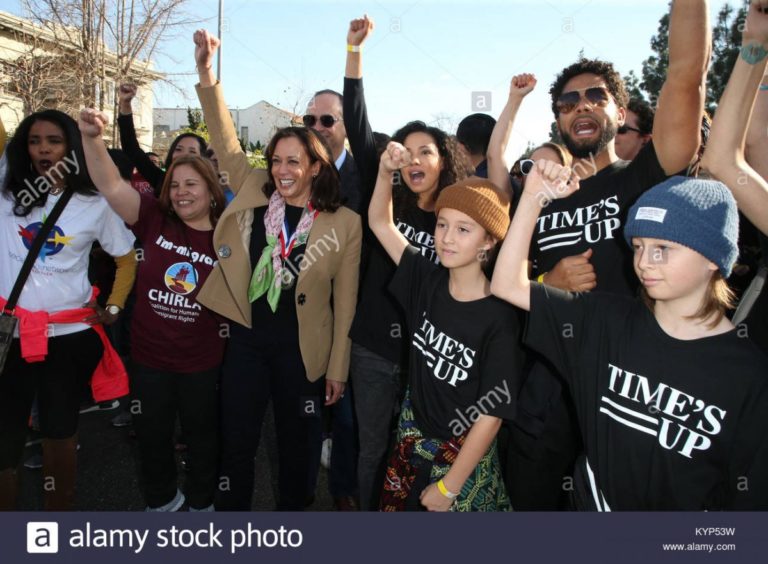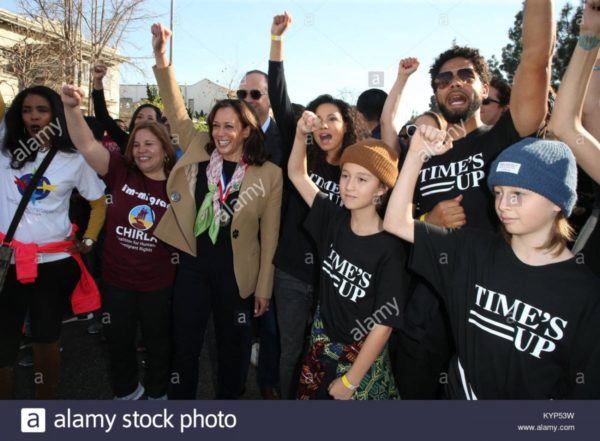 .@JussieSmollett is one of the kindest, most gentle human beings I know. I'm praying for his quick recovery.

This was an attempted modern day lynching. No one should have to fear for their life because of their sexuality or color of their skin. We must confront this hate.

— Kamala Harris (@KamalaHarris) January 29, 2019
Harris' line that "I eat no for breakfast" is now a feminist rallying cry, celebrated at a recent Ladies of Howard University virtual brunch. The line sounds as disingenuous as everything else about Kamala's facade. It's just another Girlboss character detail for her. Remember when she kept snapping back at Mike Pence during their vice presidential debate to announce that she was talking? Most people did not understand what she was trying to do, but it was clear to the savvy observer. She was trying to get some Buzzfeed-style feminist memes going (women asserting themselves against men in conversation is a staple of feminist media fan fiction).
Kamala is a walking, talking invention of the progressive imagination. But she's not smooth or polished enough to pull it off like Obama did. If Kamala keeps posting her narrative "L's" as vice president, she could lose members of the progressive base that are already doubting their votes for the Biden-Harris ticket. She either needs a new creative writer or she needs acting lessons ASAP. Just as long as her actor pal Jussie is not the teacher.
What accent is this exactly? pic.twitter.com/6icHdN5gnX

— Tom Elliott (@tomselliott) January 17, 2021