Last Updated on October 12, 2021
Geraldo Rivera, the investigative reporter-turned scandalous author-turned Fox News pundit who regularly enrages conservative viewers by sparring with pro-Trump pundits on America First policies, today claimed that the Southwest Airlines Pilots widely reported to be engaged in a "sick-out" over COVID-19 vaccines are "screwing over" the people of the United States.
"I believe that mandates exist for a reason, the Supreme Court in a 1905 decision made very clear," Rivera wrongly claimed while sparring with Jesse Watters. "These airline pilots are screwing the public, and the worst of all is not the pilots," said Rivera.
Instead, the worst culprits are Republicans celebrating the negative impacts of Biden's vaccine mandate, he declared. "The worst of all," said Rivera, "is Chip Roy." Rivera added, "This is a guy getting almost sexual pleasure from the chaos and the disruption." (READ MORE: Southwest Airlines CEO: Biden's 'Controversial' Vax Mandate 'Not Anything I Wish For', Airline 'Not Going To Fire Any Employees')
Wow. Geraldo Rivera just said the Southwest Airlines Pilots are "Screwing Over" America.

Why does Fox News continue to employ this hack?! pic.twitter.com/kGlrIVYlbB

— Brigitte Gabriel (@ACTBrigitte) October 12, 2021
National File recently unearthed Rivera's 1990s autobiography, in which he describes participating in "demeaning" group sex with woman and several men and taking his girlfriend to abort their child.
"Today, I would be filled with rescue fantasies for this creature: then, all I wanted to do was outperform my roommates. I announced I would be first up, leading the girl into my bedroom and silently marveling at the good fortune that had smiled on our home. Later that evening, when my turn came up again, I took some time to talk with her. Pat," wrote Rivera.
"It was demeaning, degrading, and dishonorable, and I was in the middle of it. Any man of conscience would have tried to talk some sense into this girl, but not me, not then… A stiff dick has no conscience." (READ MORE: 'I Have All 46 Boosters. Please Hire Me Southwest': Airline's Help Website Trolled After Flights Canceled Over Vaccine Mandate Protest)
"I met most of my young ladies at work," Rivera wrote on page 47 of his book. He adds, "Despite my saintly professional calling, I moved through women with ravenous delight. Romantically, this was a sloppy time for me – find 'em, fuck 'em, forget 'em – but I computed my divine balance sheet against my daytime heroics and still came out again."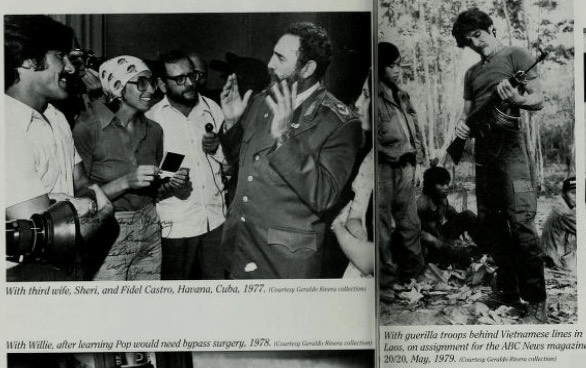 On page 46, Rivera describes taking a woman to get an abortion in 1968. "I wanted nothing to do with a wife and child; abortion was the only alternative. Trouble was, in 1968, it was also illegal. Pal Joey stepped in to bail me out. He arranged for us to use an abortionist favored by his mob cronies, a gypsy from the Bensonhurst section of Brooklyn. He helped me pay for it. There was no way I could afford the three-hundred-dollar fee on my own," wrote Rivera. "'We just aborted your son,' Sally told me on the long, quiet subway ride back to Manhattan."
At another point in the book, Rivera explains that he changed his first name from Gerald to Geraldo to impress a Puerto Rican girl, and his last name from Rivers to Rivera to impress a group of militant Puerto Rican proto-Marxists.
Rivera also admits to an affair with Margaret Trudeau, the sexually promiscuous wife of then-Canadian Prime Minister Pierre Trudeau, the father of current-Prime Minister Justin Trudeau.