Last Updated on October 27, 2022
The founder of Adidas was a World War 2 era Nazi Party member who converted his Hitler Youth sports shoe factory into a bazooka plant to make tank destroyers on behalf of Adolf Hitler, directly contributing to massive American and allied combat deaths. Ironically, Adidas is now joining other global corporations in blacklisting Ye, formerly known as Kanye West, for questioning Jewish banking and media dominance.
Adolf "Adi" Dassler was a German-born businessman and founder of Adidas, the name of which was inspired by his own. From 1918 to the end of World War 2 in 1945, Dassler, at times with his brothers, operated the Dassler Sports Shoe Factory, a forerunner to Adidas that ended up mass manufacturing sports shoes for the Hitler Youth.
After Adolf Hitler came to power in 1933, all three of the Dassler brothers joined the Nazi Party. Adi, along with his brother Rudolf who was later accused of war crimes, became a member of the National Socialist Motor Corps, a paramilitary Nazi Party organization that worked hand-in-hand with the feared SA.
While his brother Rudolf was conscripted into the Nazi German Army and suspected of having ties to the SS, Adi largely escaped military service and found work as a coach and shoemaker for the Hitler Youth, producing the forerunners to modern-day Adidas sports shoes on behalf of the Nazi Party and their children's army.
This caused a feud between the two brothers, who after the war split their business operations in two, with Adi going on to lead the modern version of Adidas and Rudolf founding Puma.
In 1943, as the Second World War reached new heights and America was engaged in a war on a massive scale with Nazi Germany, Adi Dassler worked with the Nazi regime to convert his shoe factory into a bazooka factory, where he produced the Panzerschreck.
A feared Nazi German armament modeled after captured American bazookas, the Panzerschreck was credited during the war with inflicting massive casualties on American and allied tank crews.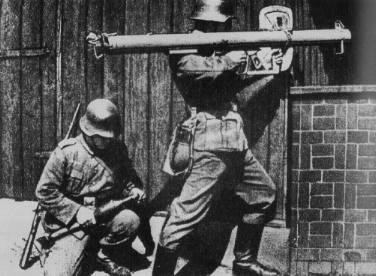 Joining their fellow corporations in blacklisting Ye, formerly known as Kanye West, Adidas in 2022 is ignoring their company's Nazi roots.
In a public statement, Adidas took aim at Ye and called the music and fashion mogul "hateful and dangerous" for his recent comments questioning the Jewish dominance of banking and media.
Seeming to prove his point, Ye has been de-banked and censored on a near-daily basis since he initially made the comments.
Adidas "does not tolerate antisemitism and any other sort of hate speech," the Nazi-born corporation claimed in their statement.
"Ye's recent comments and actions have been unacceptable, hateful, and dangerous," the statement went on, announcing that Adidas is breaking all business ties with Ye.
Perhaps most interestingly in the background of Adidas is not just that its founder was a member of the Nazi Party who produced bazookas to kill Americans, but that he has been reported in his native Europe as being of at least partial Jewish ancestry.


Overall, in recent decades, some historians have become more upfront about reporting on the numbers of Jewish and ancestrally Jewish men who fought or otherwise worked on behalf of the Nazi Party.
Billionaire global financial oligarch George Soros, himself a native-born Jewish Hungarian, has openly boasted of his years working with the Nazis in World War 2 to detain his own people during the Holocaust. Soros has even referred to his work with the Nazi Germans as "happy-making time."
Nevertheless, Soros is still hailed as a "Holocaust survivor" by adoring left-wing media outlets.