Last Updated on October 27, 2022
Adidas, a corporation whose founder rose to prominence as a Nazi Party shoemaker-turned-bazooka manufacturer during World War 2, is terminating its partnership with Ye, formerly known as Kanye West, over comments he made regarding Jews running banks and the media.
The Nazi-founded, German-based sports shoe and apparel corporation, Adidas, says it will continue selling the Ye-designed "Yeezy" shoes, despite dropping his iconic name from their branding. The announcement comes after Adidas canceled Ye over comments he made regarding Jews running banks and the media.
According to a Bloomberg report, Adidas will begin selling Yeezy designs with all traces of Ye removed in 2023.
After he spoke out multiple times against what he sees as a disproportionate Jewish dominance of entertainment and banking sectors in the U.S. and around the globe, Ye fired off multiple social media posts of a similar nature and doubled down on his beliefs in subsequent interviews.
Ye also contradicted the media's politically-charged George Floyd death narrative, citing information revealed in court that proves Floyd died of a massive drug overdose, not police murder. One of Floyd's multiple baby mama's slapped Ye with a massive $250 million lawsuit in an effort to shut down his narrative-busting speech.
Though Adidas and corporate society are throwing Ye under the bus for his speech, Jewish commentators have publicly celebrated the Jewish dominance of the entertainment and banking sectors for years.
In a 2008 column in the L.A. Times, longtime Jewish writer Joel Stein asked the question "Who runs Hollywood?" sarcastically answering "C'mon," in the title before confirming the statements Ye would make 14 years later by explaining that Jews control not only the Hollywood entertainment sector but news media, Wall Street, and the government as well.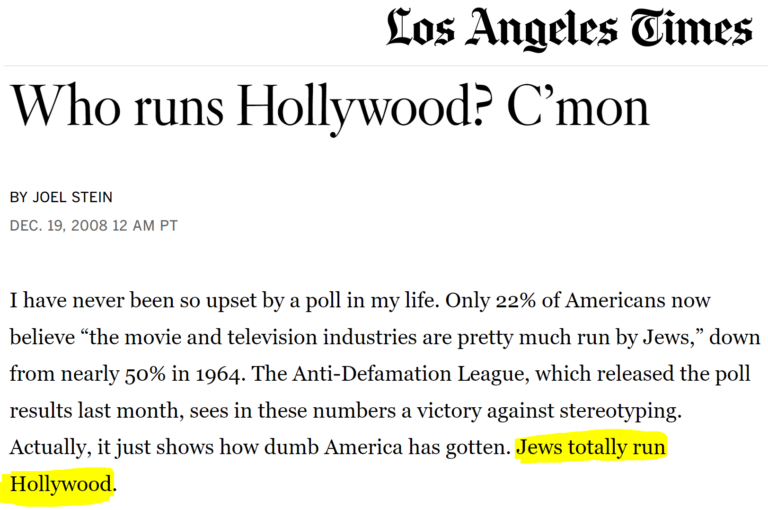 Despite the cancellation of Ye, Adidas as a company has deep Nazi roots.
Its founder and namesake, Adolf "Adi" Dassler, and his brothers, one of whom founded Puma, were members of Hitler's Nazi Party.
At the height of World War 2, Adidas founder Adi Dassler converted his Nazi shoe factory into a Nazi bazooka factory, where the Germans produced their Panzerschreck anti-tank gun, responsible for inflicting massive carnage on American and allied forces.