Last Updated on October 27, 2022
Based on a tip from True The Vote's Greg Phillips and Catherine Engelbrecht, the Los Angeles County District Attorney's Office announced the arrest of Eugene, Wu, 64, the founder and CEO of Konnech Corporation, on October 4. Wu has since been charged with conspiracy to commit a crime and embezzlement of public funds, due to the discovery that election data information was stored on servers located in China.
Prior to the arrest, Konnech published "THE TRUTH ABOUT KONNECH," a public response to the election watchdog group True The Vote's findings from their investigation of the 2020 election in Arizona. The video was published just two weeks before Yu was arrested in which they denied association with the CCP and accused TTV of racism.
Since his arrest, investigations have revealed that Yu and his companies are connected to the People's Republic of China (PRC) and The Chinese Communist Party (CCP).
"Under its $2.9 million, five-year contract with the county, Konnech was supposed to securely maintain the data and that only United States citizens and permanent residents have access to it," the press release stated. "District Attorney investigators found that in contradiction to the contract, information was stored on servers in the People's Republic of China."
Yu was arrested on October 4th and charged with misdemeanor fugitive from justice, the same day that Los Angeles County District Attorney George Gascon released his announcement. The Ingham County Sheriff's Office and the East Lansing Police Department in Michigan assisted the Los Angeles Investigative Bureau in the investigation and arrest of Yu. Los Angeles County Superior Court Judge Victoria Wilson ruled that Yu be released on a $500,000 bond and remain in LA County on house arrest with a GPS monitor.
However, on Tuesday, his bail conditions were modified and he was allowed to return home to Michigan. The LA County registrar-recorder, Dean C. Logan stated that the county would continue to use Konnech's software, despite the charges filed against Eugene Yu.
"Konnech has affirmed their compliance with the contract and at this time, no information has been provided to the Department confirming storage of data outside the United States or specific information as to what data is associated with the allegations," Logan said. "Absent confirmation and/or additional information specific to the County's data use of the application has continued with security oversight and contract monitoring to ensure against disruption to the current election."
An order of nolle presqui was entered on October 17th in Inhgam County, which means the County Prosecutor Carol A. Siemon, decided not to prosecute.
Judge George Lomeli of the Superior Court of California in the County of Los Angeles, released Yu without bond on October 13th. Yu was ordered to submit to a GPS electronic monitoring program through the pretrial services bureau and told to remain within Los Angeles County.
Before he self-extradited himself to California, he had had a pre-trial hearing. In the video of the courtroom hearing held by The Honorable Donald Allen, Jr. of the 55th District Court of Michigan in Ingham County, Yu's lawyer stated that they have been meeting with the Federal Bureau of Investigation (FBI).
"So the past month, we've been meeting with the FBI voluntarily. We had two meetings with the FBI that I have been present in. The FBI was investigating this data breach and that's what the charges stem from, this data breach. They told us it's not a criminal investigation suddenly. That they believe it was a data breach from someone outside of this company and we have been working with them and we even brought the director of IT by virtually to that meeting and he answered all of their questions. The charge in LA County as I said is embezzlement, but it doesn't have to do with money. The press release that was issued by the LA County District Attorney was that some of this data was stored on a Chinese server in violation of the contract. So I did some research yesterday on the elements of embezzlement. I just don't see how it fits those. They have access to their data, but, in those meetings with the FBI the director of IT made representations, which would be a crime if they were false, that there was no data stored in a Chinese server. Everything has been in the United States, either in Lansing, East Lansing or backed up on the Microsoft cloud. I have an affidavit which I can present this court which I have provided to Miss Matusko, verifying what I have just told you."

-Eugene Yu's attorney, Mark J. Kriger October 6th, 2022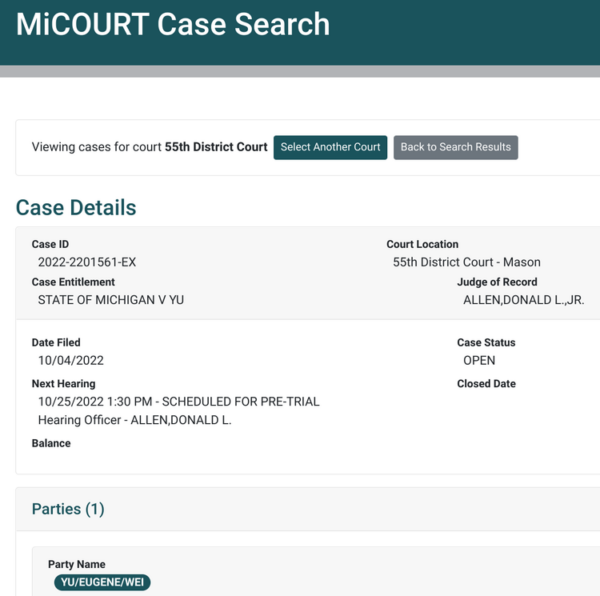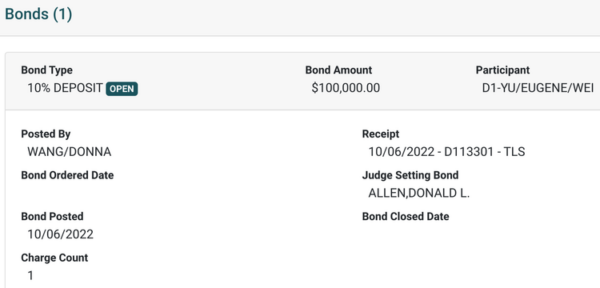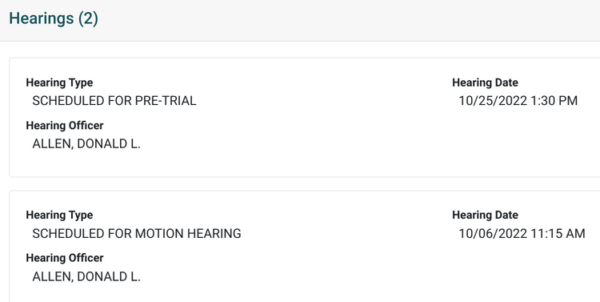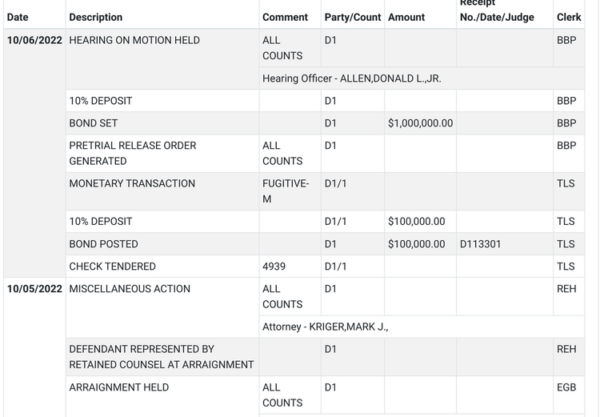 "Mr. Yu is a significant flight risk. Mr. Yu has substantial ties to the country of China. He maintains relationships with family and friends in China. He also has extensive  and significant business relationships in the country of China" Ingham County Assistant Prosecutor Nicole Matusko said. "He also has business relationships in other countries outside the United States. "
"In addition to having his luggage with him, I was notified yesterday that his cell phone was left in his residence in Meridian township," Matusko said. "He is a technologically savvy individual, so, in our view, leaving his cell phone behind when going on what he said was a 'business trip to another state,' is suspicious."
Interestingly, the record of Yu's arrest in Ingham County, Michigan, which includes his mugshot, has been removed from the Ingham County Sheriff's Office website.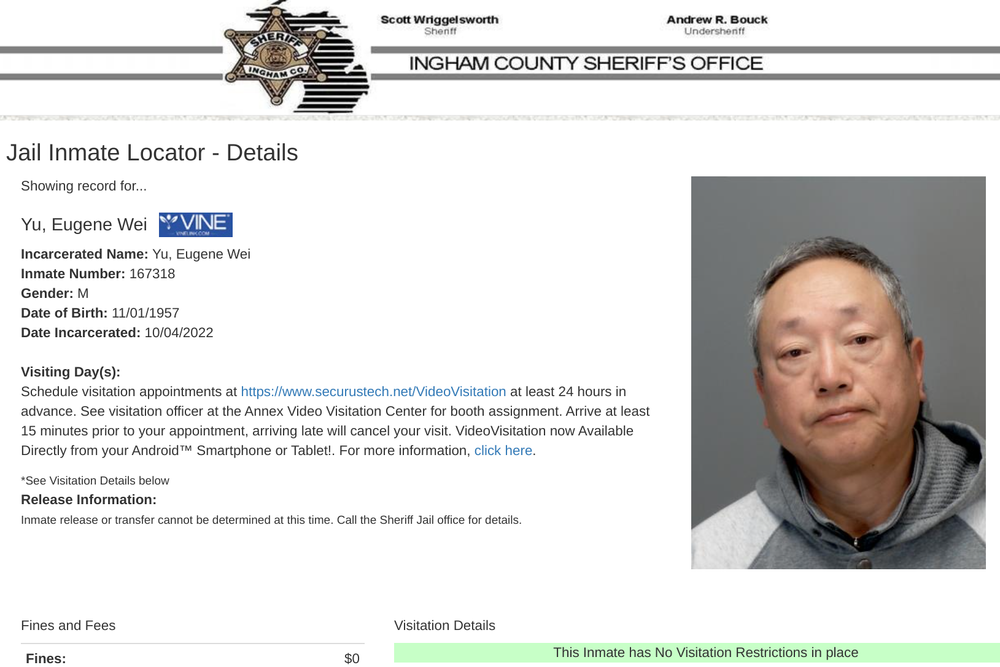 In September, Yu filed a lawsuit against election integrity group, True The Vote (TTV), and granted a restraining order against the group after they asserted to have accessed personal data of 1.8 million American election workers from a China-based server owned by Konnech.
On October 14th at 4:11 PM local time, a source called Deep Michigan Wolverine visited the offices of Konnech and found that the company's name was not listed in the lobby registry, but that its signs could be seen through the locked door window.
According to Mark J. Kriger, his attorney in Michigan, Yu was on the way to the airport to fly to Houston, Texas for an October 6th court date regarding his suing True The Vote when he was taken into custody.
Judge Kenneth M. Hoyt, who granted the restraining order to Eugene Yu against True The Vote, found the timing of the arrest of Yu unfortunate for TTV.
"On the verge of this proceeding of this hearing, suddenly the plaintiff gets arrested so he can't show up in court," Hoyt said in the October 6th hearing.
Hoyt told TTV's lawyers he did not "have any confidence" in the assertions of their clientele.
Since the announcement, the New York Times has had to issue a retraction statement to their October 3rd article called "How a Tiny Elections Company Became a Conspiracy Theory Target," written by Stuart A. Thompson, whose 'journalistic' focus is "misinformation and disinformation."
True The Vote released a statement upon hearing the news that Yu had been taken into custody. The group used  BinaryEdge, subscription-based Open Source Intelligence (OSINT) tool to track IP addresses to China.
"We began to look at where do these URLs resolve to. We found that most of them resolve to one IP address and that IP address – the URL resolved in China. In Binary Edge, you can figure out what type of database they are using, their database port, and all the different services offered by ports in this particular application living in China," Greg Phillips said. "It turn out that not only did it live there, but they left the database open."
"True the Vote is honored to have played a small role in what must have been a wide ranging and complex investigation," TTV's press release said. "Today Konnech CEO Eugene Yu was arrested based on alleged evidence of the very activities he and his organization attempted to suppress. Konnech was assisted by many reporters who unblinkingly accepted their now discredited claims as fact, and simply repeated them."
"Election integrity should not be a partisan issue, nor should media try to suppress all conversation about it in a way that benefits one party. We will continue to report evidence of threats to our election process and work with law enforcement to ensure our elections are a secure space for All American voters," TTV co-founder Engelbrecht said. 
Konnech's servers, which are used in the United States, Australia and Canada, are also physically located in China. The servers store, receive, tabulate, and transmit vote data from voting systems.
The contract between Konnech Inc. via PollChief and the County of Los Angeles was worth $2,645,000 and is dated October 13th, 2020. Konnech's PollChief is an approved U.S. Government supplier.
Los Angeles County Deputy District Attorney Eric Neff alleged that the data breach "is probably the largest data breach in United States history."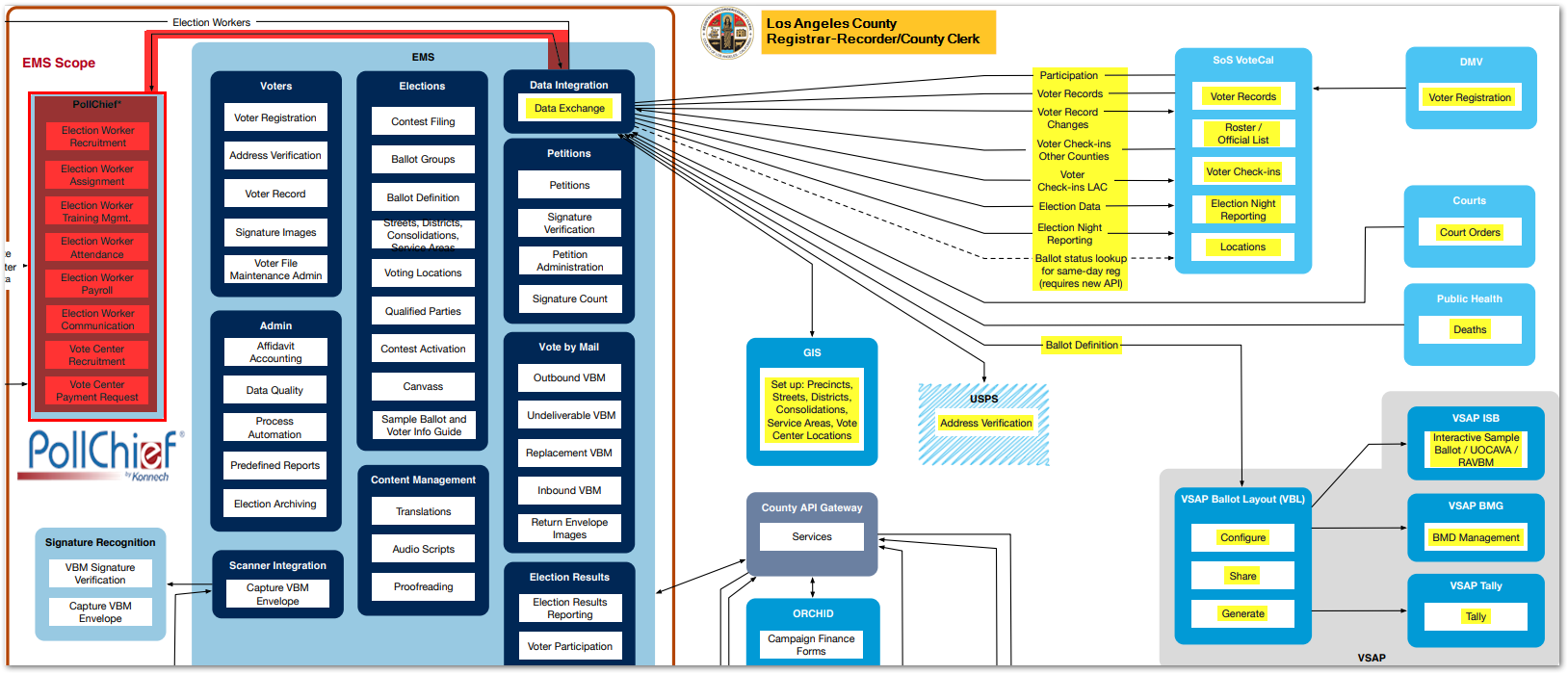 According to the Los Angeles County Registrar-Recorder/County Clerk (RR/CC), Konnech's software, PollChief, has a first order connection to the most centralized node, called Data Exchange, which connects to the county's Geographic Information System (GIS), election night results reporting, and voter records.
PollChief's software capabilities include: voter registration databases, election records management, ballot accounting, candidate nomination, campaign financial disclosure reports, among others.
Neff asserted that the reason data of minors had also been compromised was due to the fact that the US government encouraged children to participate as poll workers such that the elderly could stay home.
Investigative reporter, George Webb, went to the Superior Court in the County of Los Angeles to retrieve the paperwork for the case.
NO BAIL for Eugene Yu. pic.twitter.com/Rli6Fyub5a

— George Webb – Investigative Journalist (@RealGeorgeWebb1) October 20, 2022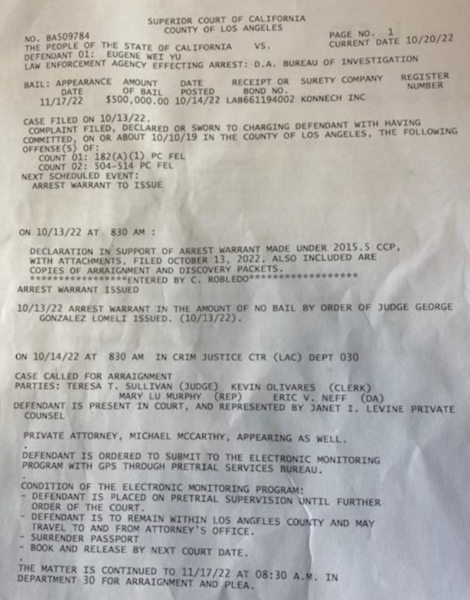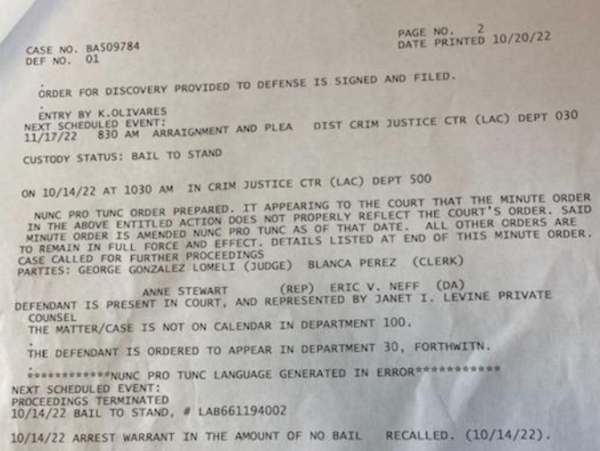 In August, Konnech project manager Luis Nabergoi, who oversaw the Los Angeles County contract, stated in a Chinese-owned messaging app that any employees who worked for Chinese contractors on PollChief software would have "super administration" access to the personal data.
Retired Central Intelligence Agency (CIA) Operations Officer, Sam Faddis, commented on the development in an article. 
"It is almost beyond belief that Konnech would have been in a position to grant such access to other entities. Yet, again it is confirmed by the criminal complaint filed against the company," Faddis said.
'An individual with super administration access to a system can do effectively anything inside that system. He or she can delete data, steal data, alter data, change programming, etc. Perhaps most importantly, that individual can cover his or her tracks, because they can potentially also access and alter all security protocols and programs," the former CIA officer wrote.
Faddis described what one veteran software developer called "the mercurial nature of software."
"Maybe the Federal Bureau of Investigation, when it is done pointing guns at anti-abortion activists or threatening home-schooling mothers, can find some time to look into this,"  Faddis added.
Some of the counties in which the election software created by Konnech is used are Los Angeles County, St. Louis County in Missouri, Alameda County in California, San Francisco County, Fairfax County in Virginia, DeKalb County in Georgia, Lake County in Illinois and Allen County in Indiana.
Fairfax County in Virginia ceased use of the election software after Yu's arrest.
DeKalb County in Georgia voted to "amend its licensing, maintenance, and support agreement with Konnech," but an initial vote to terminate the contract out right failed by a count of 2-3. The amendment resulted in the resolution that "all data ill be maintained in a DeKalb County-controlled Microsoft Azure Government tenant rather than on Konnech servers."
"We have a lot of questions about this vendor," DeKalb County Republican Chairwoman Marci McCarthy said. 
The DeKalb County Elections Board Chairwoman, Dele Lowman Smith, was dismissive of any concerns.
"It's a completely fabricated issue. It's absolutely bizarre, but it's part of the tone and tenor of what we're having to deal with leading up to the elections," Smith said.
"In light of allegations made against Konnech, the Election Board and Allen County IT professionals will move all data from Konnech's data center in Lansing, Michigan to a secure cloud tenant to continue operations for the upcoming election. Our Allen County IT professionals are in full agreement for this tenant to host this data. Allen County will closely monitor activity logs to ensure the security of the data.

-Allen County, Indiana, press release.
Who is Eugene Yu?
Eugene Yu's personal Facebook profile photo.
Newsweek, the New York Times, FOX News, the Los Angeles Times, and The Daily Mail all reported his arrest, but all aforementioned outlets incorrectly reported his age as 51. Even the independent media incorrectly reported his age as 65. Born on November 1st, 1957, Eugene Wei Yu, aka Jianwei Yu, is 64 years old. His birthday is on Tuesday.
Eugene Yu is on the Board of Advisors for Votem Corp., which is a registered manufacturer with the U.S. Election Assistance Commission (EAC).
Eugene Yu is also Facebook friends with Donald Palmer, the U.S. EAC Commissioner. 
On March 19th, 2018, Votem announced that its participation in the Sector Coordinating Council (SCC) for the Department of Homeland Security (DHS) and its Election Infrastructure Subsector. The SCC is a group effort between the DHS, the EAC, and the National Association of Secretaries of State (NASS).
"The president of this company sits on the board of another election company that is one of the founding members of the DHS' election security task force. So you want to talk about the fox in the hen house," Englebrecht said. "It's all right there.
When True The Vote brought the information to the FBI, the American Gestapo told them "the information was forwarded to their counter-intelligence operation, and a counterintelligence op was opened up in January or February of 2021."
In April 2022, Engelbrecht received a call from an FBI agent who informed her that the FBI Washington D.C. field office had shifted their investigative focus on Engelbrecht and Phillips.
"There was no more goodwill, there was no more 'let's work together,' the script had been flipped and now we were the target," Engelbrecht said. "That was a very disturbing call."
"Two women" claimed the TTV was "in the wrong for doing this" and that the D.C. field office would now "figure out how you guys broke the law to find all of this."
"Of course we didn't [break the law], Engelbrecht added. "But that was kind of their MO; they were going to try to pin something on us and today you can pick your headlines about how the FBI has done this time and again."
"The problem is they know about this and they chose to do nothing. They chose to investigate it and in the end, they chose to blame us," Phillips said. "But this is China, these are Chinese operatives in the United States. These are Chinese citizens who are programming this."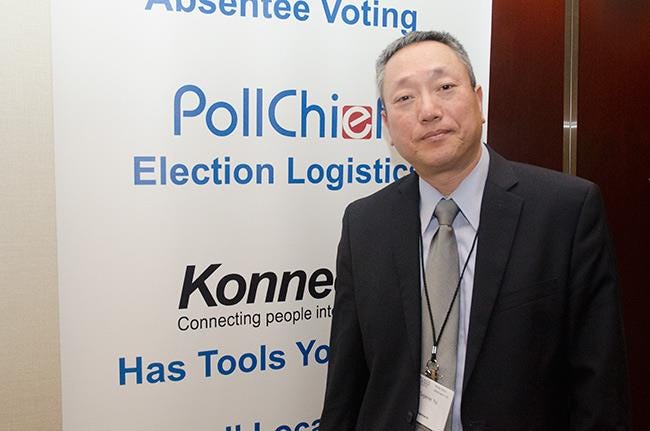 Eugene Yu at the 2014 National Association of Secretaries of State Conference. Leslie Reynolds, Executive Director at the National Association of Secretaries of State, is friends with Eugene Yu on Facebook.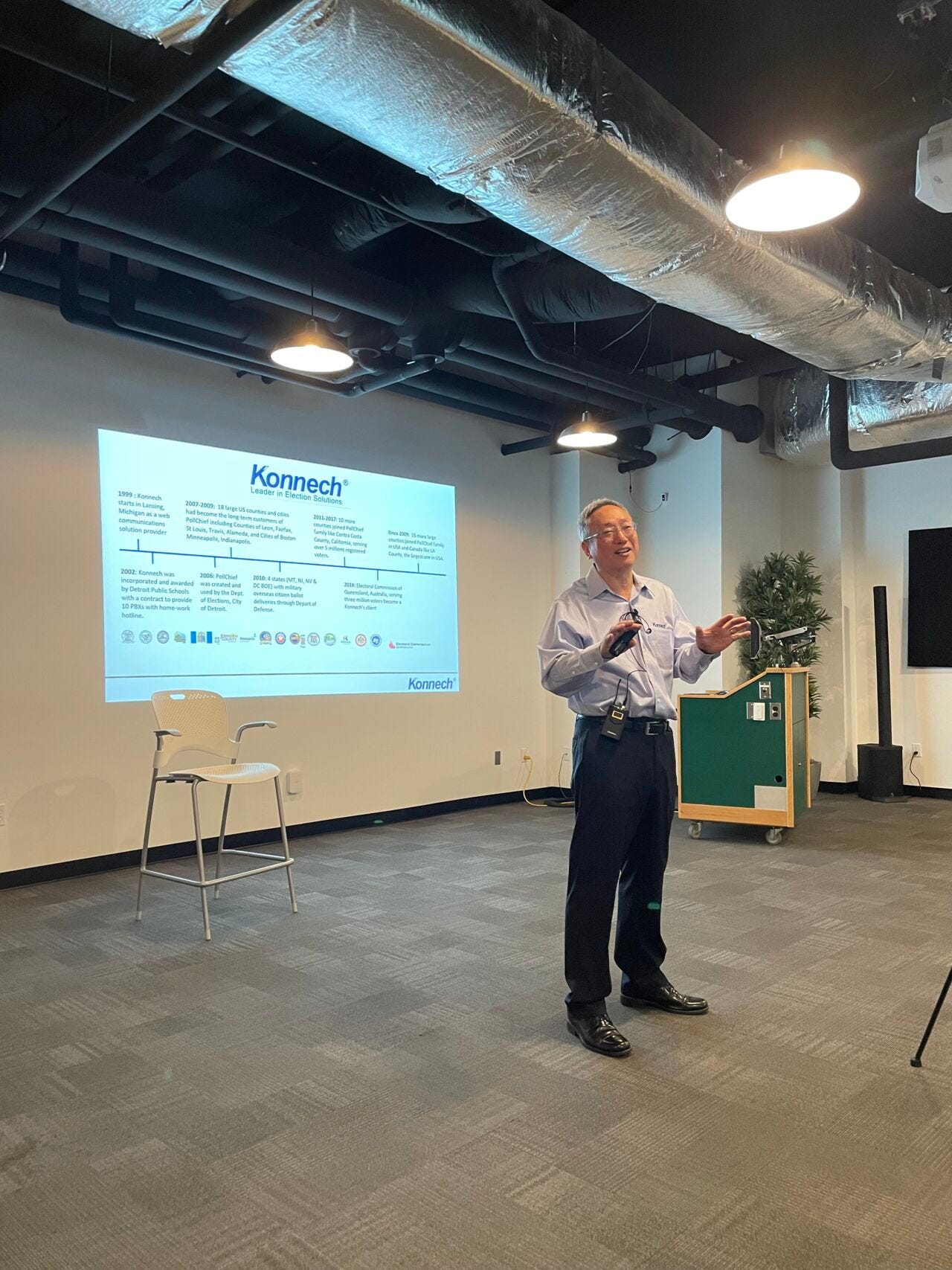 Yu spoke at the Lansing Economic Area Partnership in July 2022, an event organized by Michigan State University.
Eugene Yu was once a financial advisor for Prudential Securities Inc. in Birmingham, Michigan after his graduation from Wake Forest University in Winston-Salem, North Carolina, according to a Tuesday, October 5th, 1999 edition of the Weekly Newsletter of the Chinese Association of Greater Detroit (CAGD). 
His role as a financial advisor was touted In a 2005 issue of the Chinese-language publication Overseas Scholars by the Chinese Association for Science & Technology  (CAST).
CAST, a CCP-controlled organization of 4.3 million members led by Emperor Xi, initiated the Help Our Motherland Through Elite Intellectual Resources from Overseas (HOME) program, which works to steal intellectual property and talent from the West.
Yu's daughter, Eunice Yu, 36, is a physician at Henry Ford Health Systems and an alumna of the University of Michigan, both as an undergraduate and graduate student before her residency at Johns Hopkins. She is is married to Lucas Polcyn, 37, an attorney in Detroit who went to the University of Michigan for undergraduate school and Georgetown University for graduate school.
A 2018 article listed Eugene Yu's daughter as one of the directors of the board.
Lucas Polcyn's relative, Dylan Polcyn, is listed as an administrative assistant in Konnech's directory.
Eunice received an M.D. in Medicine form the University of Michigan Medical School and B.A. in Economics, also in Ann Arbor.
She worked as a Physician Lead on Design and Innovation at Henry Ford Health, in a Senior Staff Physician position, and a Medical Director of COVID Recovery Care.
Polycn works for Mike Duggan, the Mayor of Detroit, as Deputy Group Executive for Jobs and Economy in the Mayor's Office, a position he has held since March 2020. 
Eugene Yu and his daughter both make an appearance in a video on Konnech's YouTube channel which discussed PLocation (plocation.com). PLocation is a tool that allows voters to find their correct polling location via a swipe of one's driver license.
IPetitioner is another website and election service that is Konnech-made software used to gather petitions. The software company is a Microsoft Silver Partner and iOS developer.
Eugene Yu, 51, is the third from the right in this picture in front of the former Konnech, Inc, headquarters in East Lansing, Michigan. He was arrested on October 4th and is set to be arraigned on November 17th.
Konnech was founded in 1999 and the company was originally installing phone communications for the Michigan state government. A decade later they "got into election software," according to Konnech Director, Eric Staats. Their first client was the City of Detroit in Wayne County and Konnech now has 30-40 clients across the globe.
"Our software encompasses and delivers elections for 10 to 15% of registered voters in the United States and 20% of registered voters within Australia and we are continuing to grow and expand," Staats said on the Michigan Business Network in April 2022.
Janice Winfrey, Detroit City Clerk, made a statement on October 10th.
"Out of an abundance of caution, all proper steps are being taken – including the termination of Konnech's contract. My staff and I are confident that the 2022 election process will run smoothly," Winfrey said. 
Yu, who had been working with the FBI on a "separate investigation" was lied to, as the FBI told him it was not a criminal investigation.
Yu is Facebook friends with Paul DeGregorio, who is on the Board of Directors for SmartMatic.  DeGregorio served as commissioner of the United States Election Assistance Commission (EAC) from 2003 to 2007, a time period during which he also served as EAC chairman. He was also Director of Elections for St. Louis County, Missouri, one of the counties that makes use of Konnech's software.
Eugene Yu was the Guangzhou Economic and Technological Development Zone Project Manager from 1983 to 1985 before he graduated with honors from Wake Forest University.
According to Yu's personal Facebook page, he got married to Donna Wang, 61, on August 8th, 1985. Eugene Yu lived in China until 1986.  Donna paid his bail at both Ingham County in Michigan and in Los Angeles County. He is also friends with Janice Winfrey on Facebook, the City of Detroit Worker who recently commented on the situation.
Additionally, on the social media site he is friends with Shelley Mc Thomas, the Democratic Director at Kansas City Board of Elections (RET.), Michael B Winn, Administrator of Elections for Harris County, Kim Brace, President at Election Data Services, Bruce Sherbey, Collin County Texas Elections Administrator, and Angel Padilla, Elections Logistics Manager at Alameda County Registrar of Voters.
Jinhua Yulian Network Technology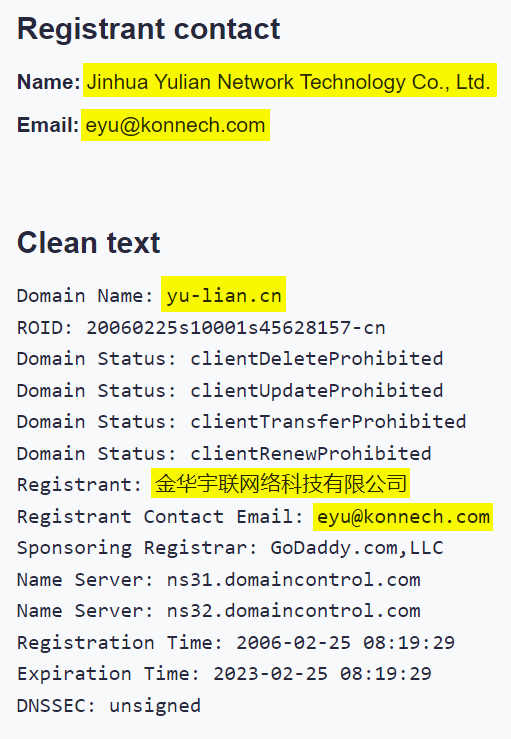 The registrant contact email for the Jinhua Yulian Network Tech website, yu-lian.cn, was submitted using Eugene Yu's email, eyu@konnech.com on February 25th, 2006.
Even the New York Times admitted that "Konnech once owned Jinhua Yulian Network Technology, a subsidiary out of China, where programmers developed and tested software."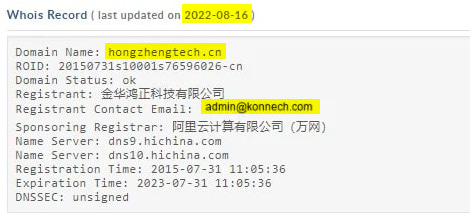 As of August 16th, 2022, admin@konnech.com was listed as the registrant contact email for the domain name, hongzhengtech.cn, the website for Hong Zheng Technology.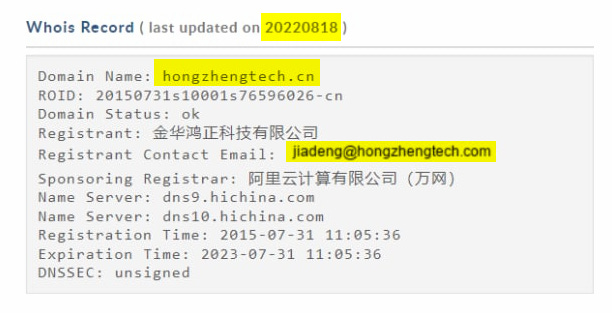 On August 19th, after the investigative journalist reported this finding, the registrant contact email was updated to show a Hong Zheng Tech email, jiadeng@hongzhengtech.com
On February 25th, 2006, Yu registered the website of his Chinese company, www.yu-lian.cn to his Michigan-based company's email address, eyu@konnech.com E Yu, for Eugene Yu.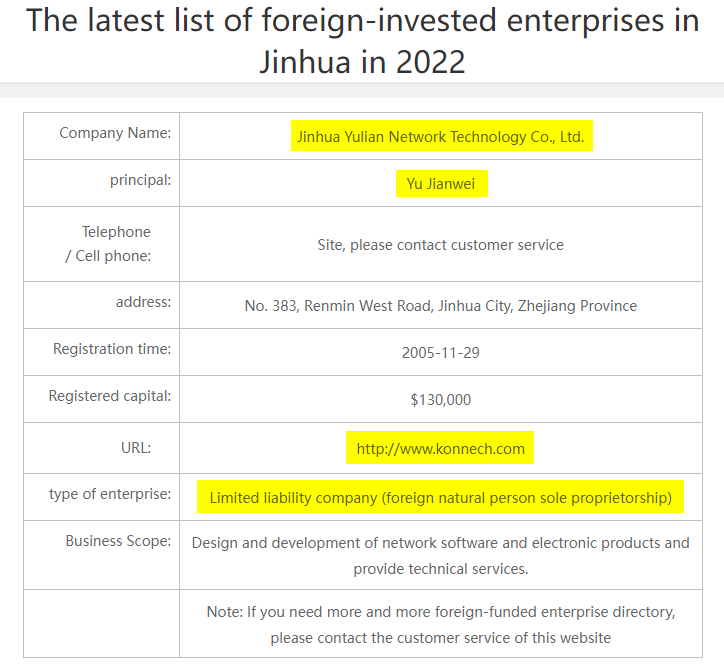 China's public records revealed that on November 29th, 2005, Jinhua Yulian Network Technology company was established in Zhejiang Province in China with $130,000 USD.
Additionally, according to the Wucheng District's local government, Jinhua Yulian Network Tech was working  on "Network election back-end server subsystem research and development."
"Jinhua Yulian Network Technology Co., Ltd., established in 2005, is the China R&D [Research and Development] subsidiary of Konnech INc., an American IT technology company," the profile said. "Konnech, Inc. was established in 2000 by two Chinese professors from Michigan State University."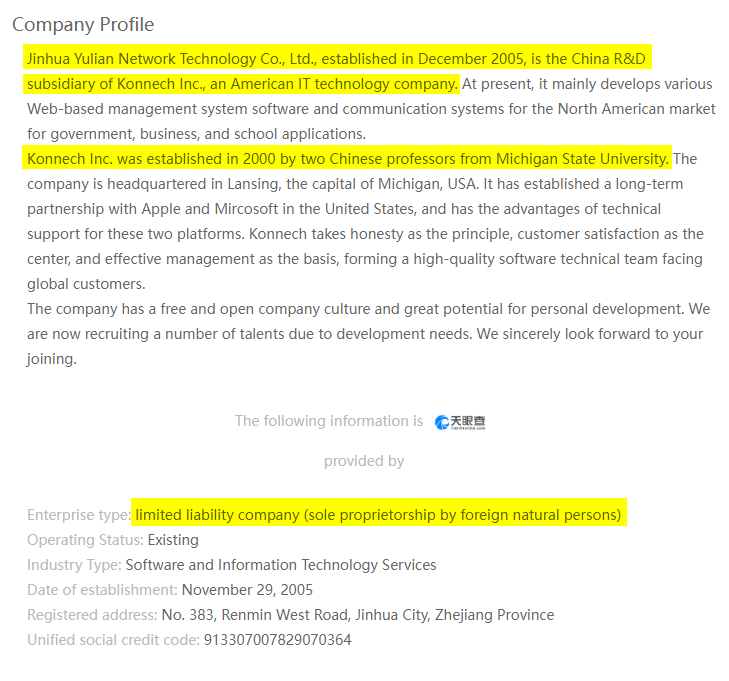 Qunazhi, an Indeed-like Chinese employment and recruitment site, stated that the company was owned by a non-Chinese citizen.
"After the 17th National Congress of the Party, with the continuous and in-depth development of political and economic reforms, various election activities will become more and more a normal state. We have a long-term senior professional team engaged in election services and management, and have internship exchange experience in overseas elections. We can provide localities, party committees at all levels people's congresses, political associations, trade unions, overseas Chinese federations, women's federations, and communion groups; villages and towns, streets, communities and units needed to elect and evaluate (to select advanced) Provide the most professional election consulting services and election activity solutions.

After a lot of practice and years of scientific and technological investment, in accordance with the principle of 'political mission first, the economic benefits of enterprises are placed behind,' our company has perfected and formed the entire set of election management theories and software tools that meet our national conditions."

We hope to take the spring breeze of political reform and provide you with election consulting services and election campaign management in accordance with China's national conditions in accordance with our democratic election activities with Chinese characteristics."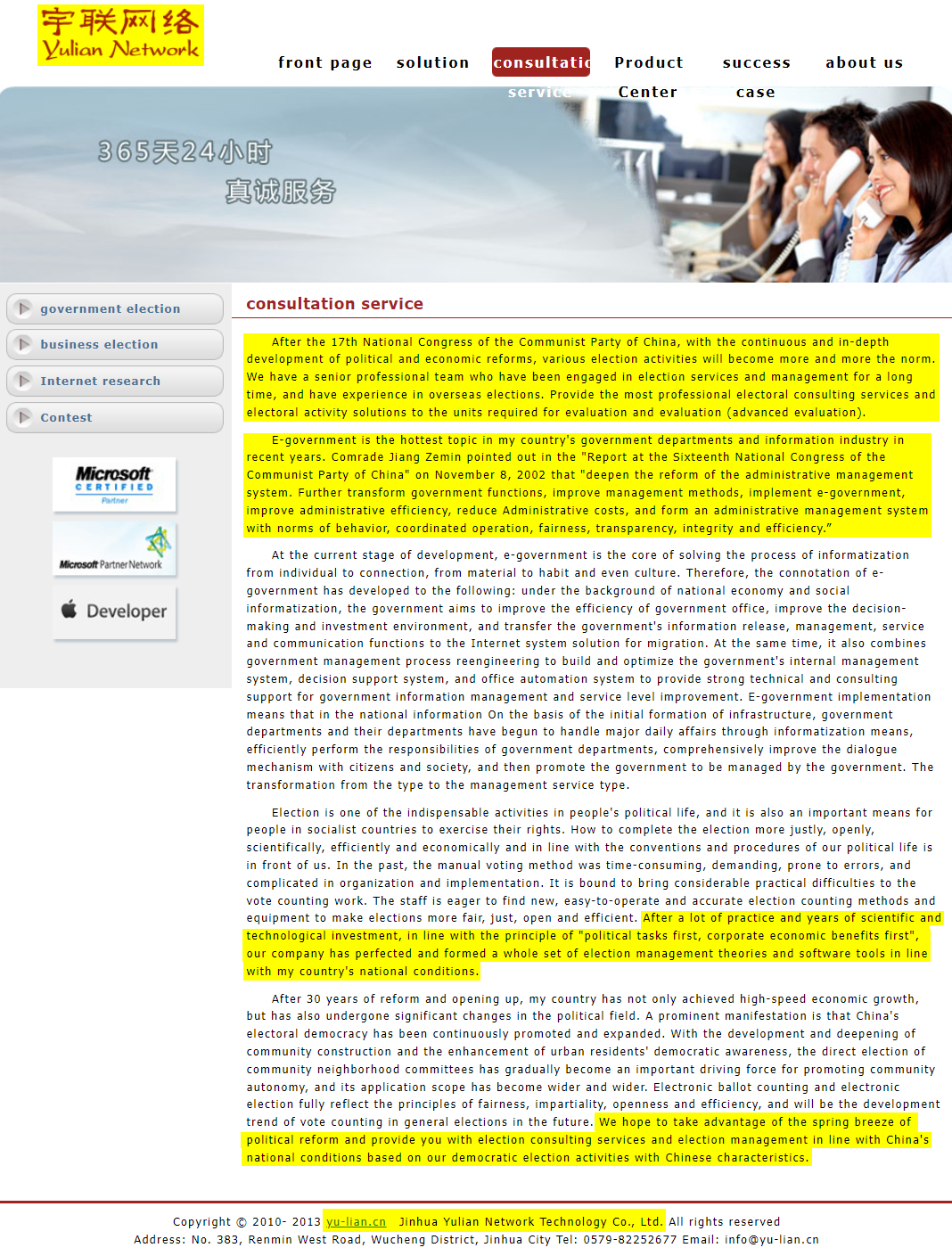 "In line with the principle of political tasks first and economic benefits of enterprises second,' our company has perfected and formed the whole set of election management theory and software tools in line with China's national conditions. We hope to ride on the spring breeze of political reform and provide you with election consulting services and election campaign management in line with China's national conditions based on our democratic election campaigns with Chinese characteristics."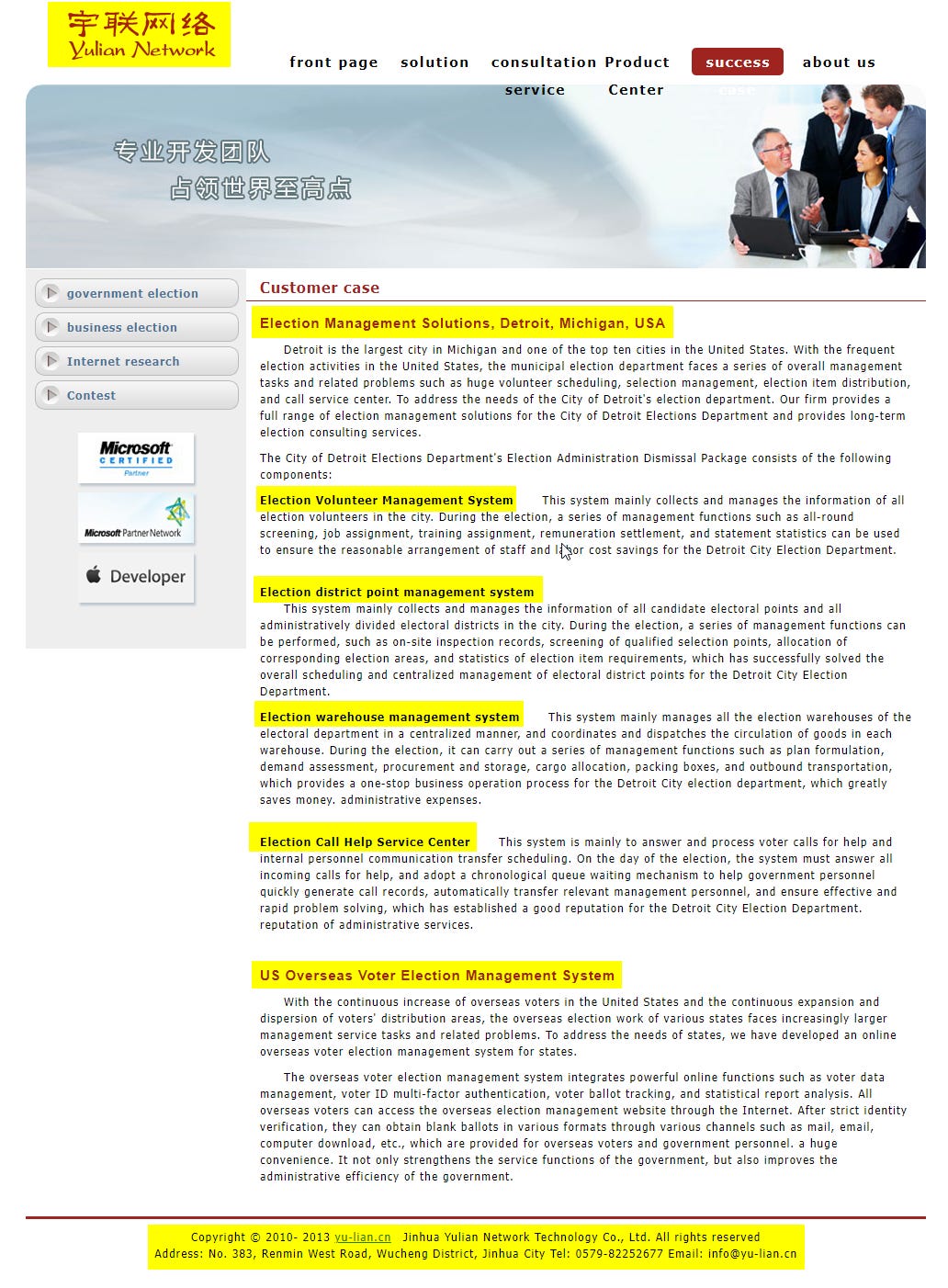 Perhaps the most noteworthy paragraph is the one titled, "US Overseas Voter Election Management System."
"With the continuous increase of overseas voters in the United States and the continued expansion and dispersion of voters' distribution areas, the overseas election work of various states faces increasingly larger management service tasks and related problems. To address the needs of states, we have developed an online overseas voter election management system for states.

"The overseas voter election management system integrates powerful online functions such as voter data management, voter ID multi-factor authentication, voter ballot tracking, and statistical report analysis."
Department of Defense (DOD) and the Overseas Citizen Absentee Voting Act (UOCAVA)
Konnech is mentioned in the Federal Voting Assistance Program (FVAP)'s 2010 Initiatives and MOVE ACT Implementation at a meeting by the House Committee on Armed Services on September 9th of that year.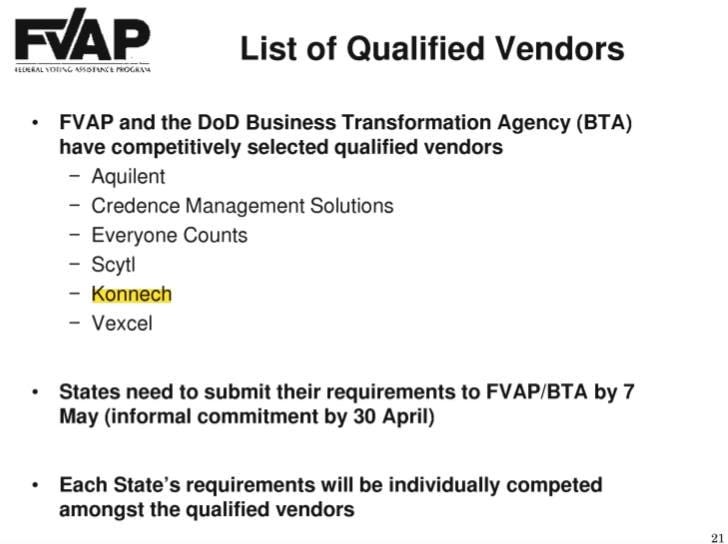 In the document, it shows that the FVAP and the Department of Defense's now-defunct Business Transformation Agency selected, in addition to Scytl, Konnech as a qualified election system vendor.
"The contractor will be Konnech, Inc. This company has successfully provided Detroit with their PollChief poll worker and poll location management modules for the past 3 years, and last year successfully provided the EVSW for New Jersey, Montana, and Nevada. We have confidence in Konnech as a technology partner.," the document said.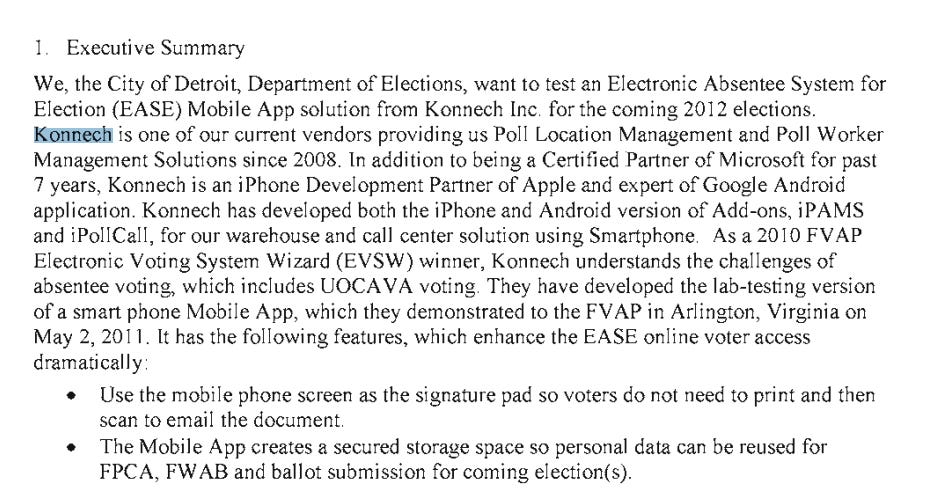 According to USASpending,gov, the Department of Defense (DOD) agreed to a blanket purchase agreement with Konnech which was pursuant to the Uniformed and Overseas Citizens Absentee Voting Act (UOCAVA).
The DoD offered $247,139 in total combined award amounts guaranteed for Fiscal Year 2011 (FY2011) as part of the FBAP Program "to assist overseas voters." According to US financial record, Konnech provided "IT and telecom-programming" and "other computer related services" to the DOD, particularly for Montana, Nevada, and New Jersey.
Federal Voting Assistance Program (FVAP)
According to the FVAP website, there is no requirement that an individual who requests a ballot prove they are a citizen of the United States.
On the FAQ section of the FVAP website, it states that "you are allowed to retain the same residence or domicile that your Service member has established, even if you have not physically been present at that address."
"What if I don't have a Social Security Number or a state-issued ID?" the FAQ reads.
"In Section 6 of the form, under 'Additional Information,' write that you do not have a Social Security Number or a state-issued ID." the FBAP website answered.
573,255 non-military ballots were tallied in 2020 compared to 387,948 in 2016, which is an increase of 185,307 or nearly 48%. This happened despite the fact that a repatriation increase and reduction in citizens living overseas, combined with COVID-era travel restrictions.
The report stated "suggests that FVAP had the report of the 573,000 non-military ballots returned but chose to report less than half of that, only 224,00 of the non-military ballots."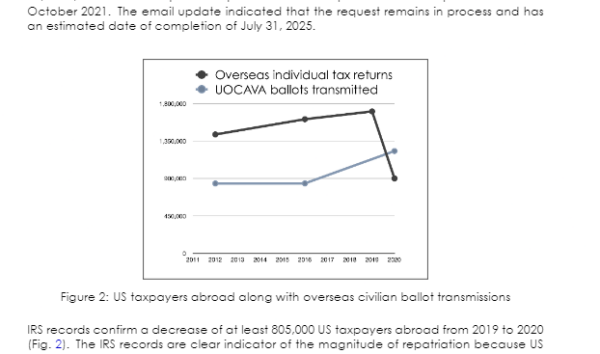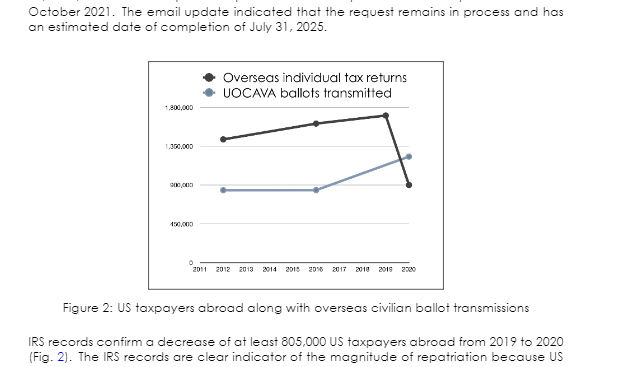 IRS filings showed that many Americans returned stateside during Fiscal Year 2020 (FY2020).
The Konnech Inc. Tool App was promoted through the City of Detroit in conjunction with the MOVE Act and the UOCAVA via the FVAP.
The Cybersecurity & Infrastructure Security Agency (CISA) and the National Institute of Standards and Technology (NIST) under the U.S. Department of Commerce published a study called "Risk Management For Electronic Ballot Delivery, Marking And Return," and concluded that there is a high risk in electronic transmission of ballots via the UOCAVA voting systems.
The concern over UOCAVA voter fraud was brought to the attention of Arizona Attorney General (AG) Mark Brnovich (R), who chose to ignore it.
A conveniently timed CISA report published on October 4th has assured the reader of election security in the US.
"As of the date of this report, the FBI and CISA have no reporting to suggest cyber activity has ever prevented a registered voter from casting a ballot, compromised the integrity of any ballots cast, or affected the accuracy of voter registration information. Any attempts tracked by FBI and CISA have remained localized and were blocked or successfully migrated with minimal or no disruption to election processes."

Joint Public Service Announcement (PSA) published by the FBI and CISA on October 4th, 2022.
The connections between Konnech, U.S. elections, and the CCP do not end there.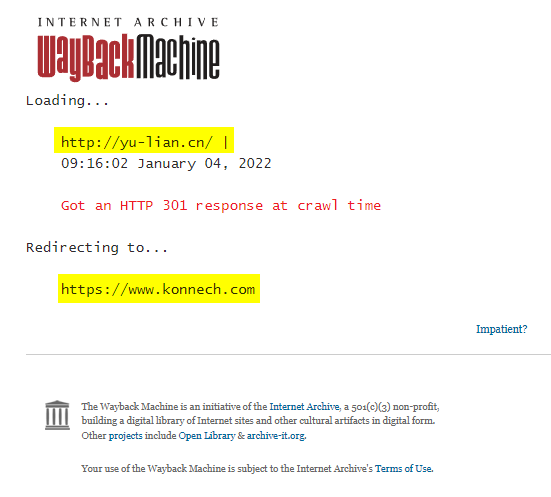 Eugene Yu had previously configured his website at yu-lian.cn to redirect to www.konnech.com.

Photo credit: Konnech
Yu even used the same picture of employees on both the website for Konnech and Yulian Network.

Photo Credit: Yulian Network
Lin Yu is listed as a Supervisor and officer under Eugene Yu at Konnech's China-based subsidiary, Jinhua Yulian Network Technology Co., Ltd. The only other name listed is Eugene Yu, who is listed as the Executive Director and General Manager.
Yu, identified in the document as a foreign national, is the principal of the company.
In a website for the Yulian Network of which Eugene Yu was the webmaster, he gave praise to the former paramount leader of China, former General Secretary of the Chinese Communist Party, Jiang Zemin.
"Comrade Jiang Zemin pointed out in the report at the 16th National Congress of the Communist Party of China on November 8th, 2002 that deepened the reform the administrative system."
The Jiang Zemin that Yu referred to in his website is the former general secretary of the CCP from 1989 to 2002, Jiang Zemin, who preceded Hu Jintao. The same Hu Jintao who was just humiliated on Saturday on an international level by Emperor Xi Jinping. Zemin also served as Chairman of the Central Military Commission from 1989 to 2004.
Jinhua Hongzheng Technology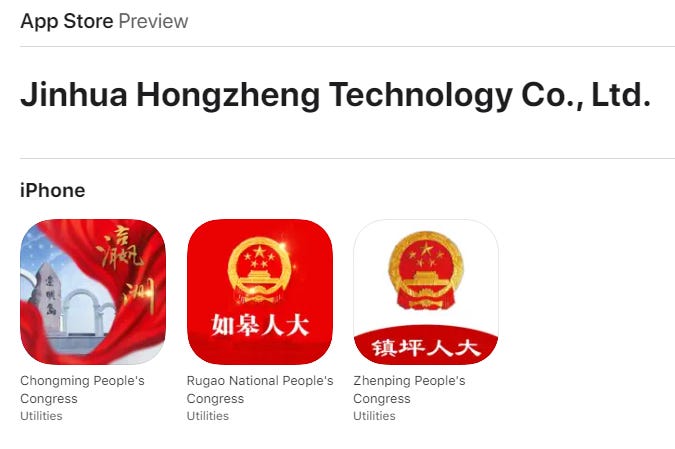 It was discovered that Eugene Yu had registered several Chinese websites with his own Konnech email address, including http://www.hongzhengtech.cn/, which belongs to Jinhua Hongzheng Technology, a primary electronic voting technology service provider for National People's Congress which has been used this year in PRC elections.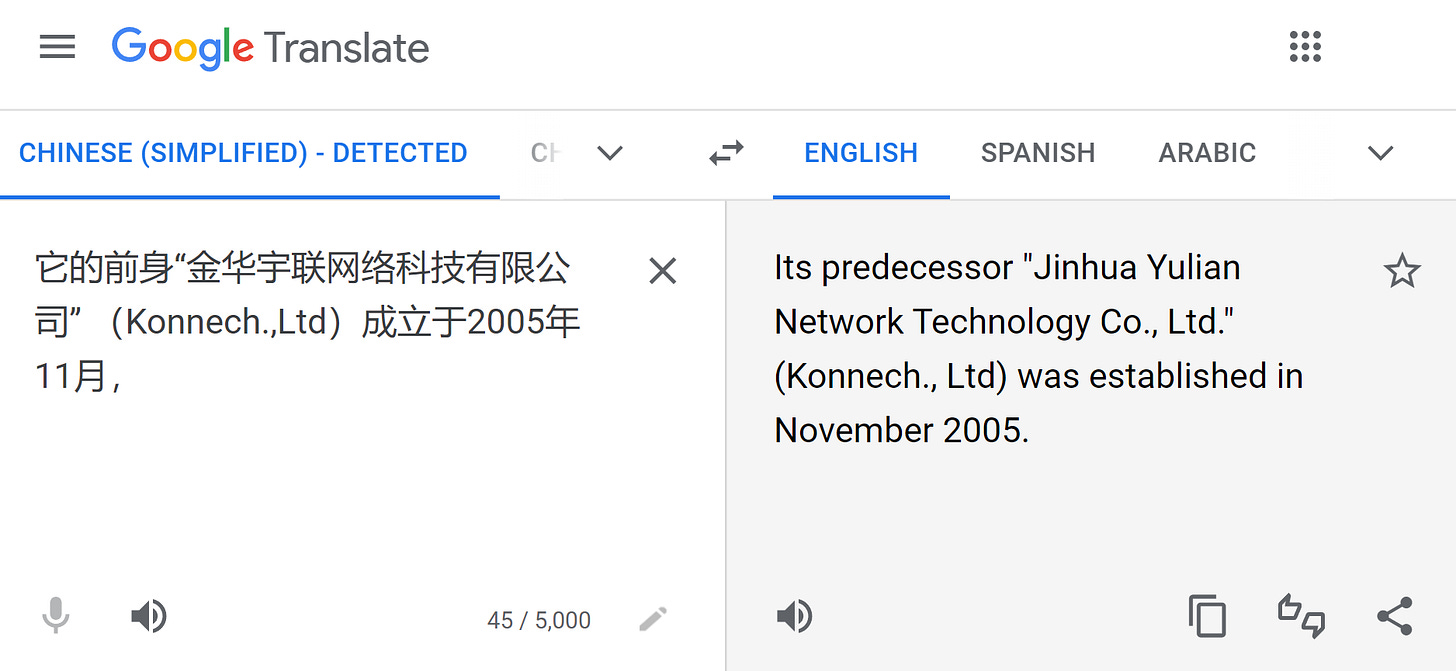 Indeed, Jinhua Hongzheng Technology admitted in an April 14th, 2016 post on Chinese social media platform, Weibo, that the company's predecessor is the "Jinhua Yulian Network Tech. Company (Konnech., Ltd), [which] was established in November 2005."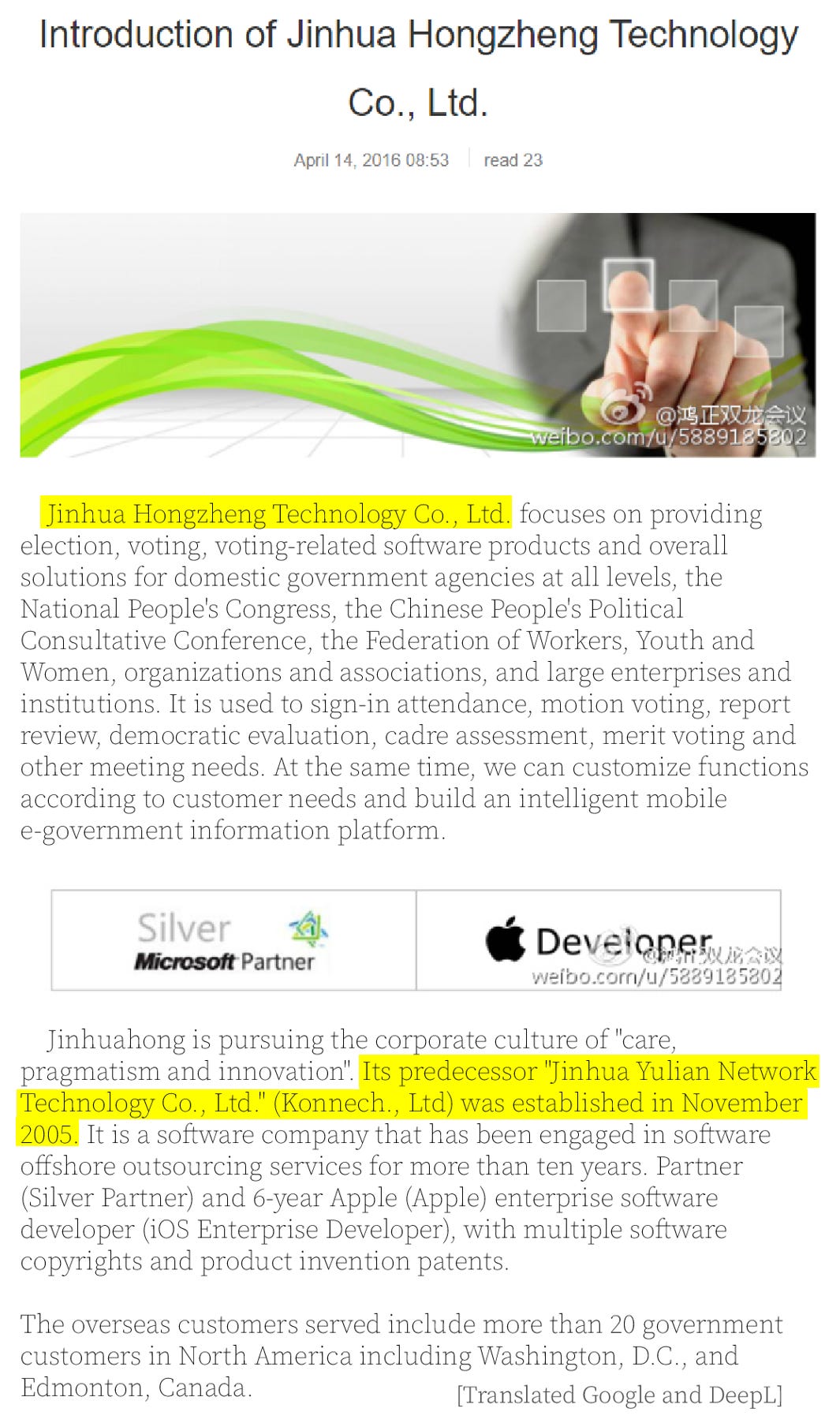 According to its own website, HongZheng Technology "provides election, voting and voting-related software" and "integrated solutions for domestic government at all levels, including the National People's Congress and the Chinese People's Political Consultative Conference."
HongZheng Tech helped to administer the Shenzhen 2022 People's Congress election in April 2022.
HongZheng Tech slogan on the homepage of their website:
"Committed to providing services for the 40,000+ National People's Congress"
Notice the hammer and scythe emblem used by the CCP.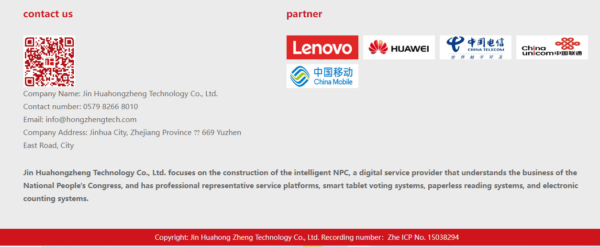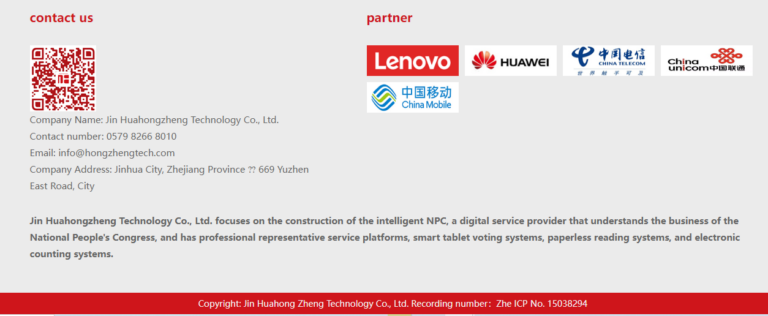 HongZheng Tech lists Lenovo, Huawei, China Telecom, China Unicom, and China Mobile as partners on its website.
In February 2020, the Eastern District of New York (EDNY) charged Huawei with conspiracy to violate the Racketeer Influenced and Corrupt Organizations Act (RICO). Among those listed in the indictment was Huawei's Chief Financial Officer (CFO) Wanzhou Meng.
Additionally, the Federal Communications Commission (FCC) listed Huawei, China Unicom, China Mobile, and China Telecom as national security threats.
An article published on December 17th, 2020 stated "Hongzheng Technology's Dualong Conference Electronic Ticketing System, Dualong Conference Voting System and Dualong Man's Grand Performance Service Platform [sic.] are the three major magic weapons of our company."
The article also revealed that the company receives input from the PRC's Ministry of Science and Technology.
"The head of the company introduced to reporters that Hongzheng Technology's has 12 years of relevant software R&D technology and service experience, which has helped to maintain industry leadership, the company continues to develop innovations, and hired Mr. Yu Jianwei, who is well-known in the field of international elections, as the company's technology and business consultant. At the same, the company hired a team of domestic cryptography doctors to continue to invest in election voting and security encryption for government information."
On October 26th, 2015, the domain 2dmeeting.cn was with the registrant email admin@konnech.com, before it was later changed to jiadeng@hongzhengtech.com. The website described their objective to provide "solutions" such as "intelligent electronic voting, electronic election ballot boxes, and evaluation and counting machines."
A software developer on GitHub that goes by the name MishiMalik has repositories for both Konnech and 5DMeeting. Her Konnech repository contains files with titles such as Ballot Tracking & Management, Election Worker Management, and Candidate & Campaign Management.
Patent Swap
Shao Guojun studied at the Suzhou University of Science and Technology before he worked at Konnech from 2006 to 2015, according to his LinkedIn.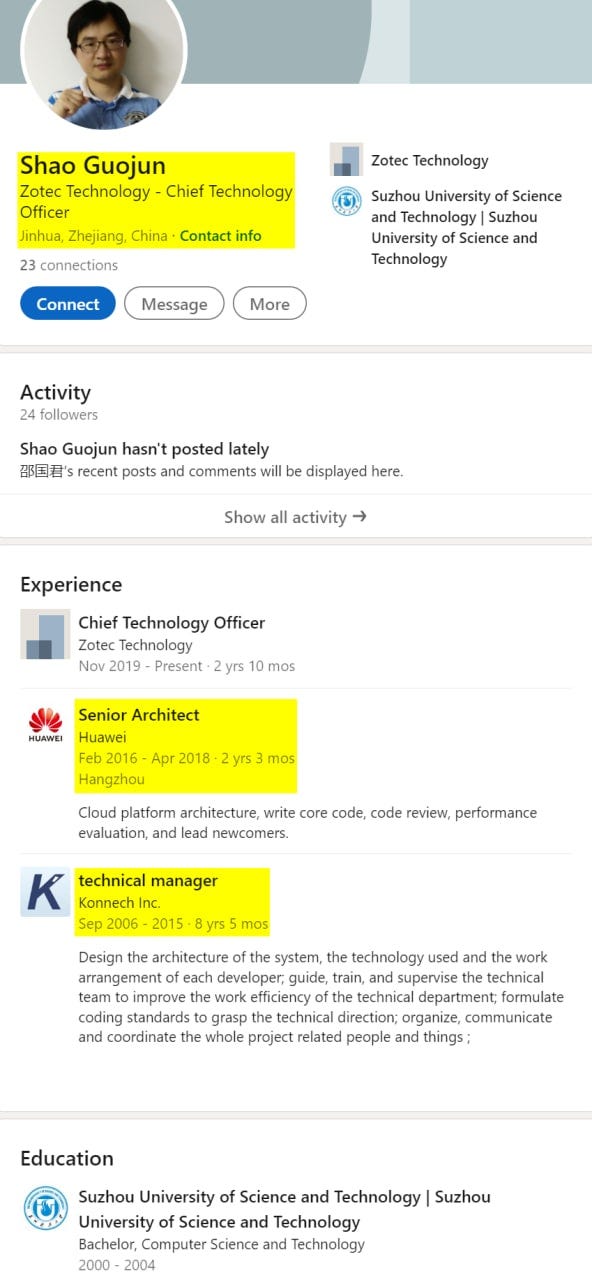 Guojun Shao also was a senior architect at Huawei from 2016 to 2018, in addition to being the Chief Technology Officer (CTO) of Konnech for eight years, from 2006 to 2015.
In April 2015, Shao and Yu established a new company called Jinhua Hongzheng Technology, and each of them held just 0.1% of the business. The legal owner is Lin Yu, who has the same last name as Eugene Yu.
A patent called "System and Data Processing Method for Network Voting of Absent Electorates" (CN104618378A) was filed by Jinhua Konnech Inc. on February 4th, 2015 with the inventors listed as Shao Guojun and Chen Wei.
Wei Chen is a Principal Research at Microsoft Research Asia, the Chair of the MSR Asia Theory Center, and an Adjunct Researcher in the Institute of Computing Technology at the Chinese Academy of Sciences. Wei Chen is also a Fellow at the Institute of Electrical and Electronic Engineers (IEEE). His mean focus of research is "social and information networks."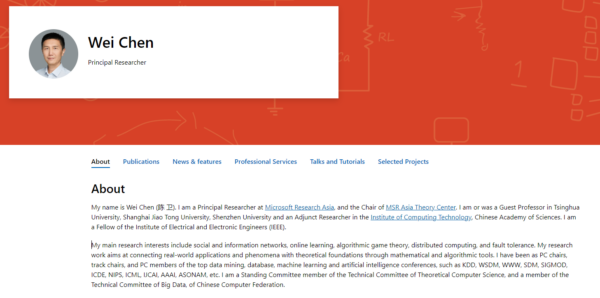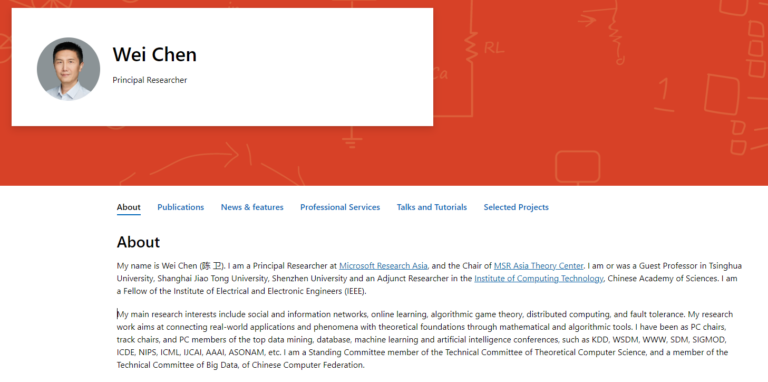 A patent called "Device And Method For Selection Of Options By Motion Gestures" (US20130104090A1) was filed by Konnech Inc. on April 18th, 2012 with the inventors listed as Eugene Yu, Jun Yu, and Guojun Shao.
Guojun partook in both the 2012 U.S. patent with Eugene Yu and the 2015 Chinese patent with Jinhua Hongzheng Tech.

In October 2015, Konnech transferred the right for its patent, called System and Data Processing Method for Network Voting of Absent Electorates," to a new company called Jinhua Hongzheng Technology Co. Ltd.
CCP Connections
Konnech IT Manager, George Giddings, worked for the company in 2007.
"[I] was in charge of the day-to-day business. Driving to Detroit to help out the clients. Increase sales and traffic. Talk to the engineers in China during the night," Giddings said about the work experience.
Konnech software engineer, Shawn Xiang, also called Wang Xiang, stated on his LinkedIn profile that he was the webmaster for the website for the Chinese Students and Schools Association (CSSA) of the University of New Mexico.  The CSSA acts a slush fund to propagate CCP ideology on college campuses.
As recently as June, Konnech was hiring IT professionals from China to send them to work in Australia, Canada, and the United States. On June 28th, 2022, Konnech_Shawn, a user on the Chinese employment and recruitment website, 1point3acres, posted a job listing with the email hr@honnech.com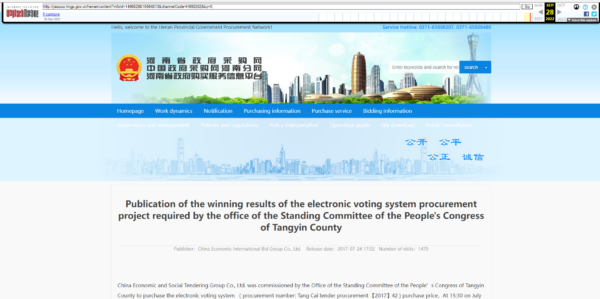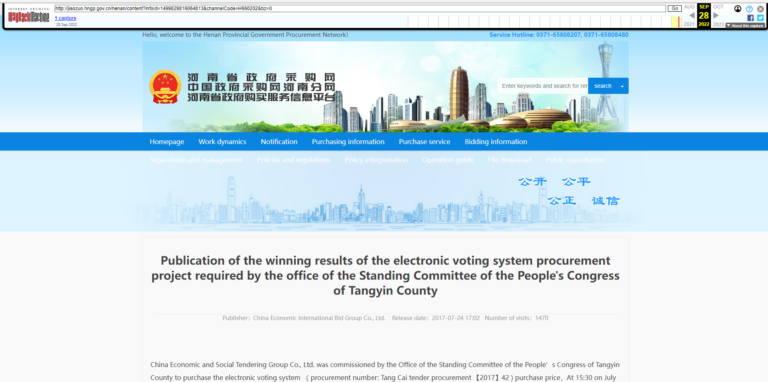 Both Yulian Network Tech. and Hongzheng Tech. have bid on Chinese government contracts.
"Candidate for the third winning bid: Jinhua Yulian Network Technology Co., Ltd. Tender quotation: 54,300.000 yuan," the government site said in a July 24th, 2017 statement.
On December 25th, 2017, Yulian Network made another bid on a Chinese government contract but lost to Hongzheng Technology.
On September 17th, 2018, Yulian Network bid for a Chinese government contract and lost yet again to Hongzheng Technology.
Prior to these bidding contests for Chinese government contracts, on July 31st, 2015, the website for Hongzheng Technology, called hongzhengtech.cn, was registered using the registrant email, admin@konnech.com.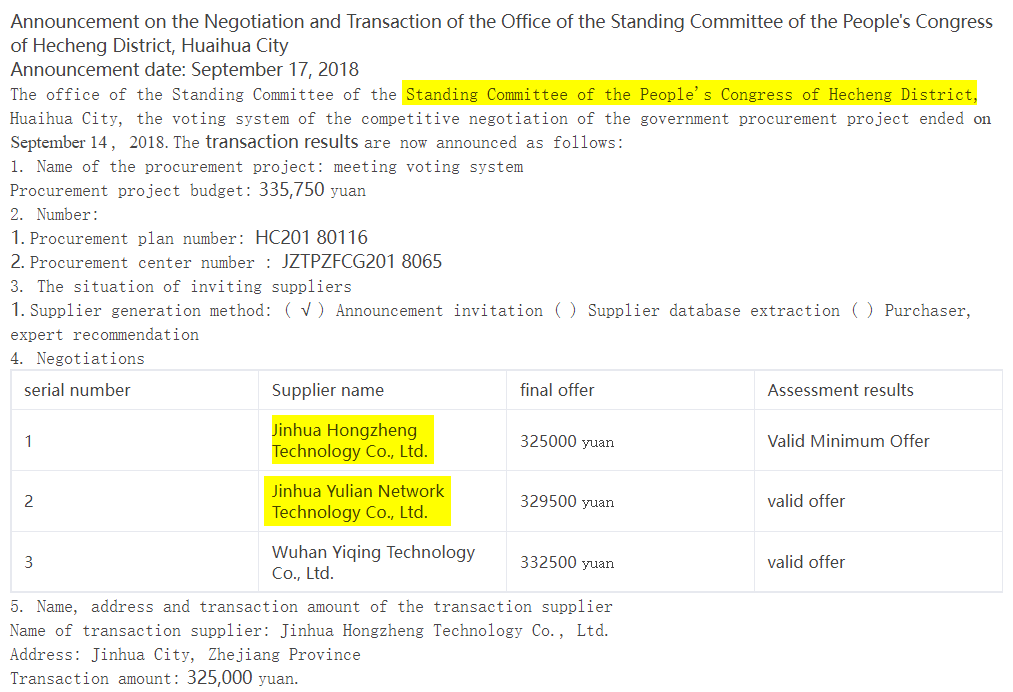 The Hecheng District government made an offer on September 17th, 2018 to Jinhua Hongzheng Tech, who beat out Yulian Network Tech.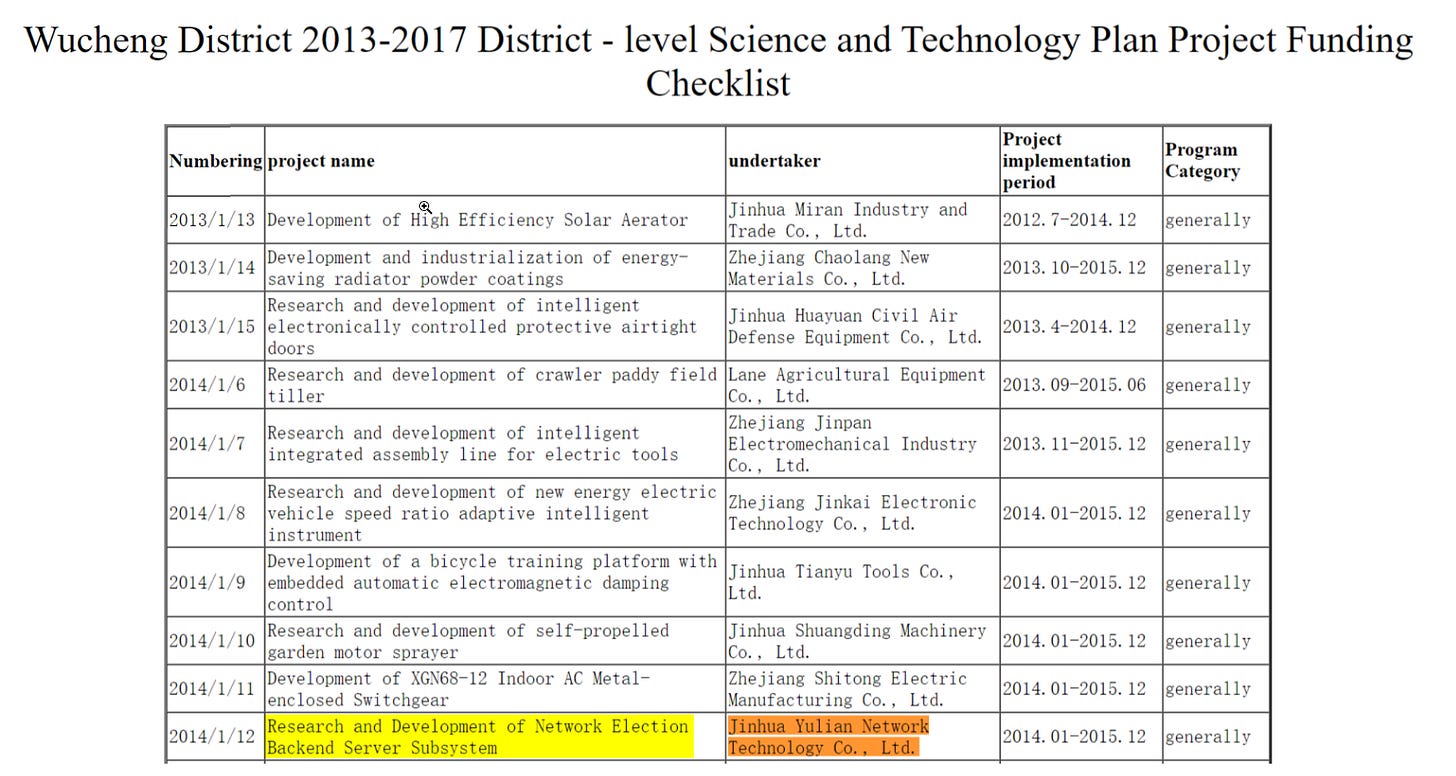 "Research and Development of Network Election Backend Server Subsystem."
In April 2012, Eugene Yu applied for a U.S. Patent for " device and method selection of options by motion gestures," along with co-inventor, Guojun Shao.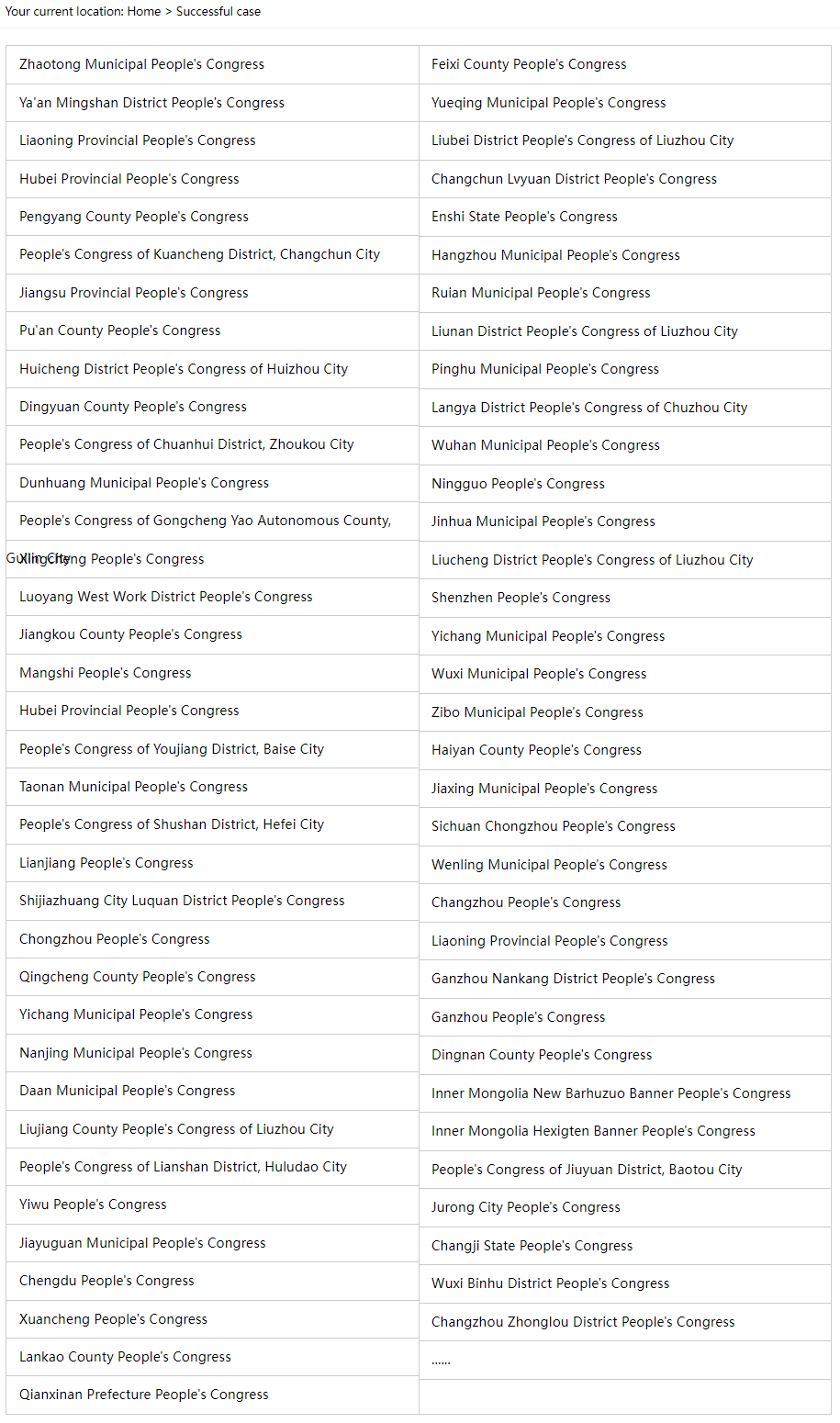 A list of some of the prefectures, counties, municipalities, and districts for which election services are provided by Hongzheng Tech.
Virginia's Prince William County Director of Election Eric Olsen told Harry The Greek of NewsOthersMiss that Konnech has servers both in East Lansing, Michigan and in Los Angeles.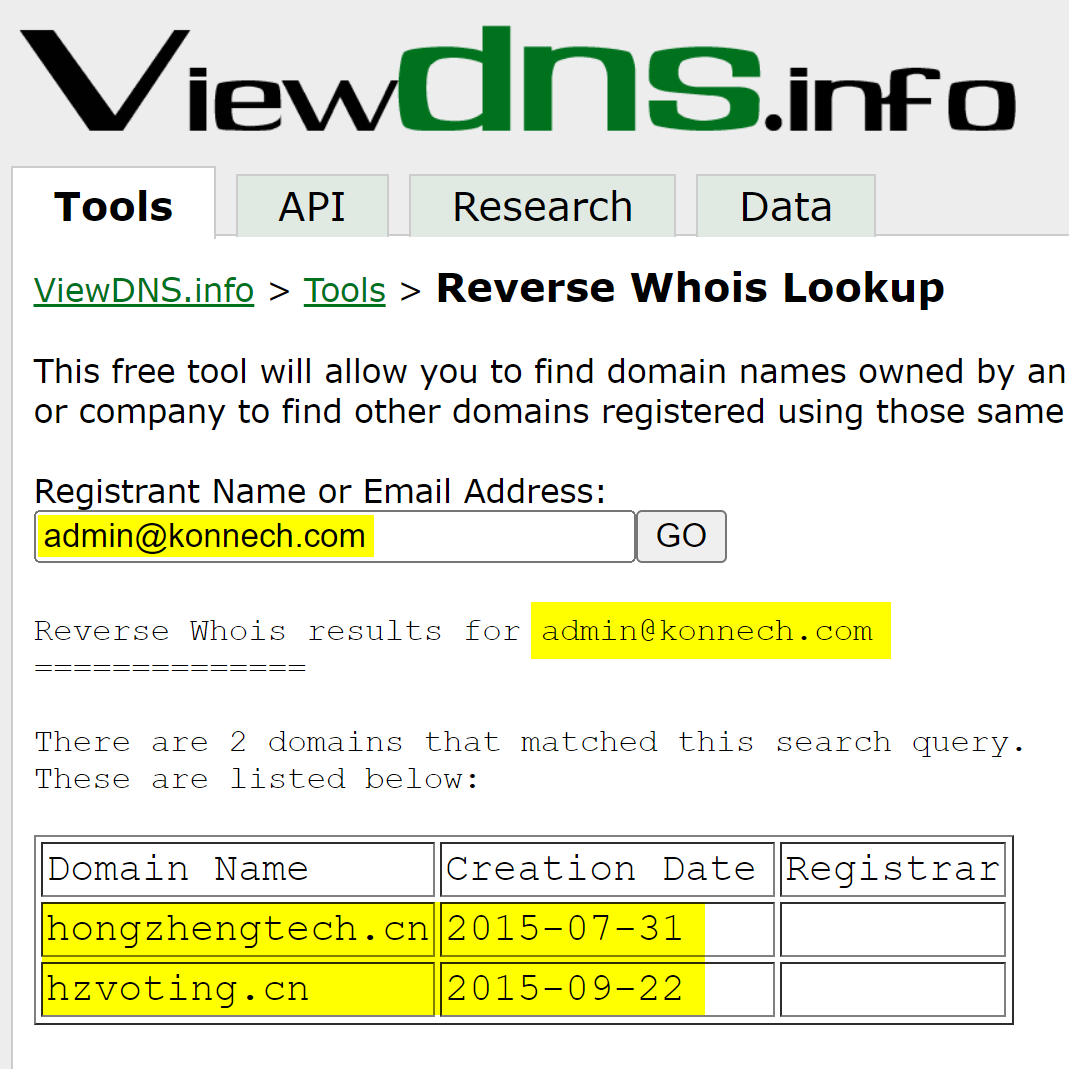 According to search results from viewans.info, admin@konnech.com was the emailed used to create two websites: HongZhengtech.cn and HZvoting.cn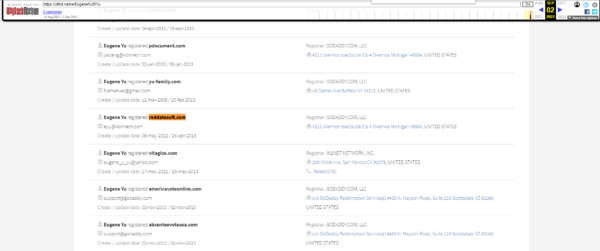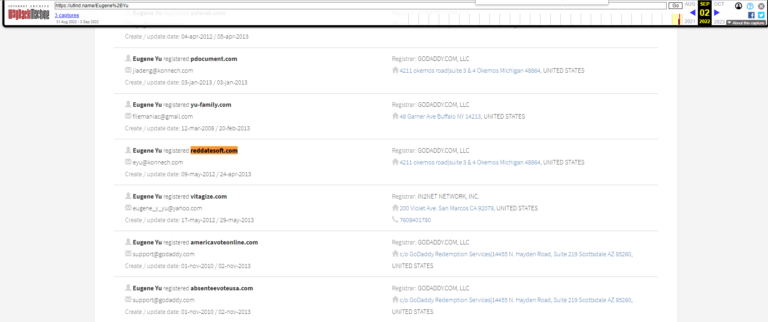 In the copyright information section at the bottom of the page of a version of Eugene Yu's website, www.yu-lian.cn, the administrative email listed is info@reddatesoft.com.
www.reddatesoft.com is a website that Eugene Yu registered using his eyu@konnech.com email address on May 9th, 2012.
This fact provides an additional connection between Konnech Inc. Yulian Network, Eugene Yu, Lionel Ni and the CCP.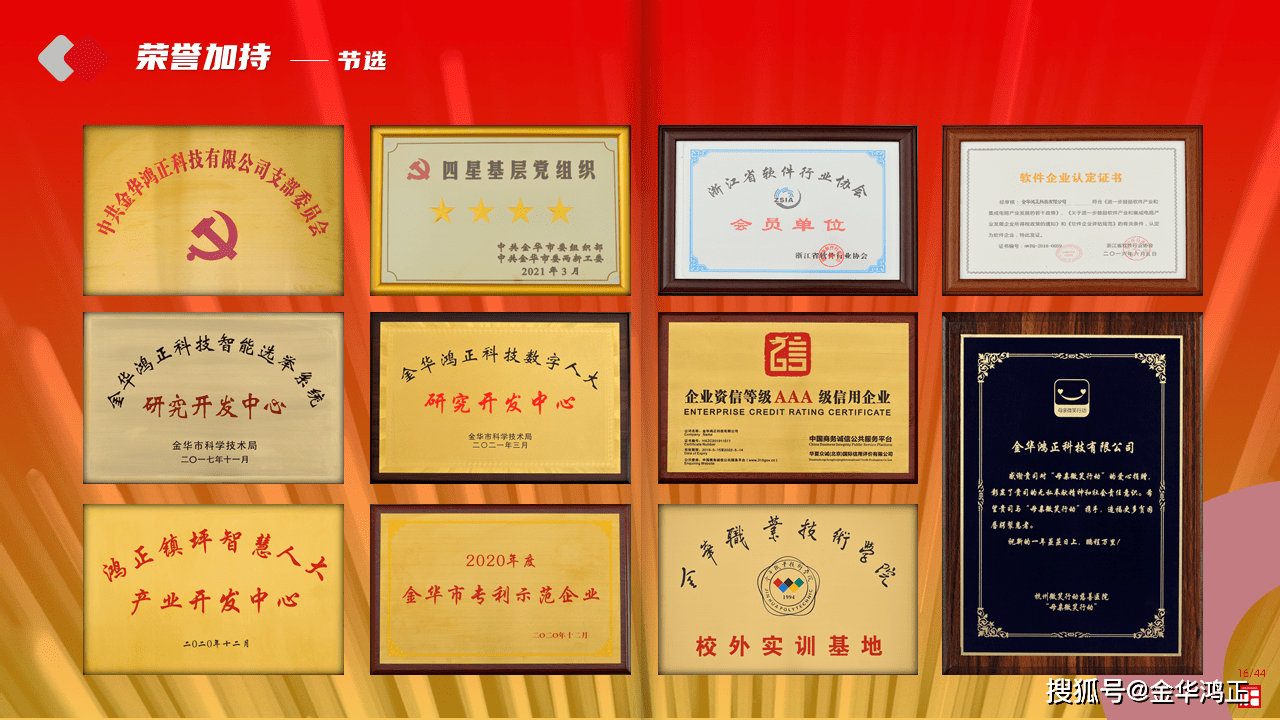 Michigan State University

A February 4th, 2016 version of PollChief's About page.

The current version of the About page on PollChief's website has changed, as it no longer mentions Michigan State University.
The MSU Faculty Senate made a vote of no confidence in Stanley by a margin of 55 to 4 on October 11th and on October 13th, MSU President Samuel Stanley Jr. resigned with the claim that he had lost confidence in the Board of Trustees.
Konnech was leasing the second floor of 325 East Grand River Avenue in East Lansing from the Michigan State University Foundation.
The company planned to move its HQ to LA but reversed its decision  after it received a taxpayer-funded performance-based investment of up to $306,000 from the Michigan Economic Development Corporation (MEDC) which was announced in December 2021.
Governor Gretchen Whitmer (D) commented on the announcement when it was made.
"Konnech's growth is great news for our state, our families, and our economy, and further underscores the competitive advantages our state has to offer growing tech businesses," Gov. Whitmer said. "Our future is bright, and thanks to companies like Konnech and partners like MEDC, LEAP, the MSU Foundation, and others, we can stay laser-focused on growing our economy and creating good jobs for Michigan residents," Gov. Whitmer said at the time.
"Our new lease within the MSU Research Park will help us to interact closely with MSU faculty and students. Through the MSU Innovation Center, Konnech is turning MSU technologies into cutting-edge products, which will greatly benefit the world. Our five-year goal is for Konnech to become a worldwide company name associated with Lansing, Michigan," Konnech Inc. President Eugene Wu said at the time.
Yu's wife, who paid his bail in both Michigan and Los Angeles, is a professor at Michigan State University's medical school.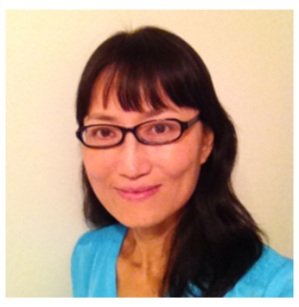 Professor Donna H. Wang, MD, FAHA, is the Director of Nanomedicine and Molecular Intervention at the Michigan State University College of Human Medicine.
She attended medical school at the Sun Yat-Sen University School of Medical Sciences in Guangzhou, China, the same place where she did her medical residency.
According to a CV from October 12th, 2004, Wang served as the Director of Investigative Medicine for MSU's Department of Medicine.
She was also part of the steering committee for NanoMSU.org, a nanotechnology project by MU that aims to "facilitate nanotechnology research" by "providing a central point of contact of off-campus inquiries."
MSU Distinguished Professor, Anil K. Jain, of the Department of Computer Science & Engineering, saw the FBI become his prime contractor in 2010 after several projects he published advanced the field of biometric fingerprint recognition technology.
Another project he completed in collaboration with West Virginia University (WVU) that pertained to "face marks" was with the Department of Justice (DOJ).
Professor Jain also collaborated with Cogent Systems on a project for the U.S. Army that dealt with Biometric Fusion and on a contactless fingerprint project for the DHS his partner was General Electric.
Cogent Systems was sold to 3M by naturalized American citizen, Ming Hsieh, who now owns a company called Fulgent Genetics, a business whose services were dropped by a sheriff in LA after he was contacted by the FBI. Fulgent Genetics Inc. and its subsidiary, Fulgent Therapeutics LLC, stated their plans to sue the sheriff in question, Los Angeles County Sheriff Alex Villanueva.
The company is also now facing a class action lawsuit by investors after investigations by the DOJ and Security and Exchange Commission (SEC).
Fulgent Genetics is a donor to the National Committee on U.S.-China Relations (NCUSCR), a corporate-backed nonprofit that attempts to act as a diplomatic attache between the two countries. Fulgent's CEO, Ming Hsieh, is on the committee's Board of Directors, along with characters like Hank Greenberg, Jack Lew, William Rhodes, and Henry Kissinger.
NCUSCR Chairman of the Board, Jack Lew, presented Ming Hsieh with an award at their annual gala in December 2021.
I Hate To Be Brief, Chief
Konnech has five registered U.S. copyrights for BestBrief, PollChief and ABVote. Konnech also owns SchoolBrief and ChineseBrief.
SchoolBrief's current clientele includes several schools across the state of Michigan. Henry Ford High School, for example, was a Detroit high school that was powered by SchoolBrief. 
BestBrief was launched at the start of 2006, which was around the same time that Konnech launched MSU's Confucius Institute-affiliated service, ChineseBrief.
The Confucius Institute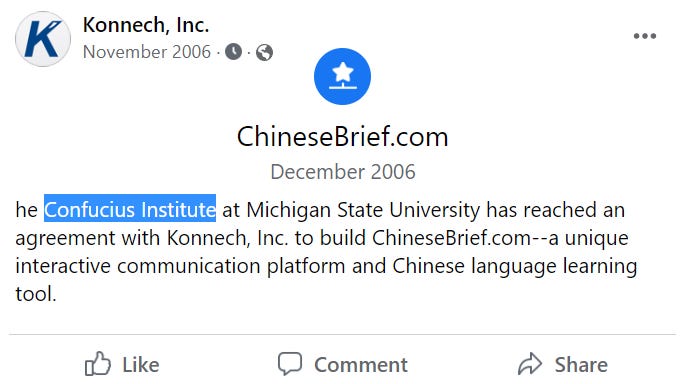 In December 2006, Konnech, Inc. posted on their Facebook page that they had launched a Chinese language learning service in conjunction with Michigan State University (MSU)
"[The] Confucius Institute at Michigan State University has reached an agreement with Konnech, Inc. to build ChineseBrief.com – a unique interactive communication platform and Chinese language learning tool."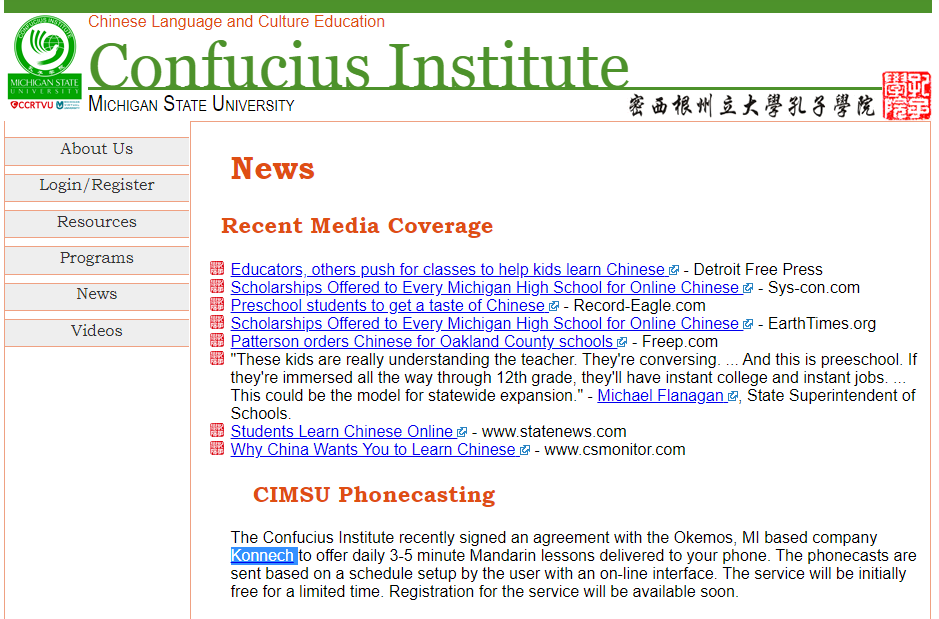 "The Confucius Institute recently signed an agreement with the Okemos, Michigan based company Konnech to offer a daily 3-5 minute Mandarin lessons delivered to your phone. The phone casts are sent based on a schedule setup to the user with an on-line interface [sic]. The service will be initially free for a limited time. Registration for the service will be available soon."
The Confucius Institute is a government-organized non-governmental organization (GONGO) that falls under the Ministry of Education of the People's Republic of China (PRC). The goal of this GONGO is to promote the language and culture of China, to facilitate cultural exchanges, and to promote Chinese-language teaching at a local level.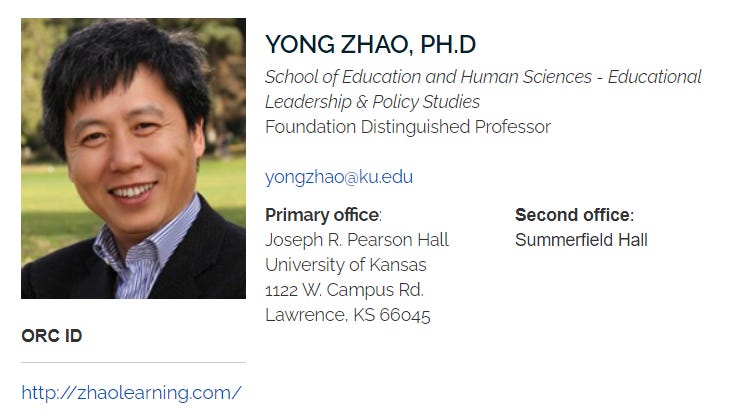 Yong Zhao was the Executive Director of the Confucius Institute and a Distinguished Professor at Michigan State University's College of Education.
Yong Zhao now works as a Foundation Distinguished Professor in the School of Education at the University of Kansas in Lawrence as a professor in Educational Leadership at the Melbourne Graduate School of Education in Australia.
The January 30th, 2004 announcement that the Hong Kong Foundation would fund the MSU's United-States China Center for Research on Educational Excellence saw a donation of $5 million by the Sun Wah Education Foundation. The president of the Sun Wah Group at the time was Jonathan Choi, who was also the economic advisor to the President of the Chinese Academy of Sciences.
Jonathan Choi is also a Council Member at multiple Chinese universities, including HKUST and the University of Macau.
The Sun Wah Group was described as a "$1.2 billion conglomerate based in Hong Kong."
The center's first director was then-Associate Professor, Yong Zhao, of the Department of Counseling, Educational Psychology and Special Education.
The Director of Technology at the Confucius Institute from 2012 to 2015 was Yongbo Chen who is listed on the Konnech directory as a Project Engineer.
Chen has a BS in Software Engineering from Yunnan University in Yunnan, China and a MA in Instructional Technology from MSU in East Lansing.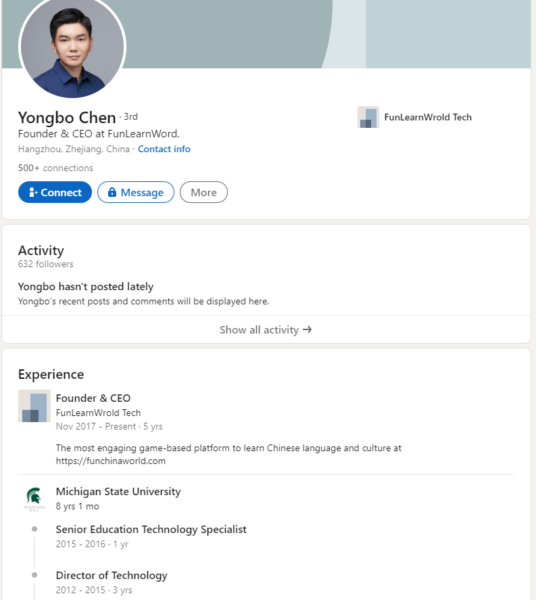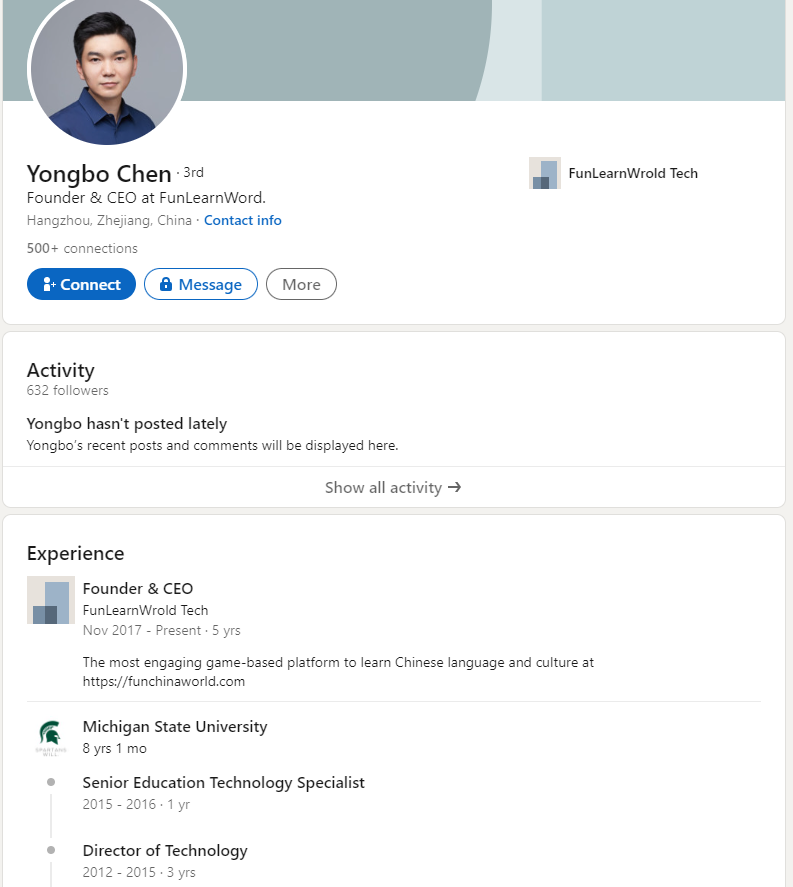 Australia
Konnech had been previously discussed in Australia, both in the media and in Parliament.
"You wouldn't believe it, but it's the truth, it's on the parliamentary record," Simpson declared. "When the Attorney-General, Shannon Fentiman, was asked about this issue on October 6th, 2022, after the arrest of Mr. Yu in the USA, she said there was no evidence of a data breach in relation to Queensland electoral data."
The Australia media outlet, In Queensland, reported in May 2020 that count reporting problems occurred on election night.
"It has emerged that the count reporting problems on election night were partly the result of a new computer system not being tested as planned because 'coding resources' were locked down in Wuhan," the article stated. 
This led to an inquiry in the Queensland Parliament on July 15th, 2020.
Yu's arrest was brought up by on October 14th by Australian politician, Ms. Fiona Simpson [Liberal National Party of Queensland-Maroochydore, Australia), a member of the Queensland Legislative Assembly.
Simpson also serves as the Shadow Minister for Finance and Better Regulation and Shadow Minister for Integrity in Government for Queensland.
"Regardless of the outcomes in the USA, my concerns are with the sovereign capability, security and procurement of the Queensland election management system, how this firm came to get a contract over local Australian suppliers and the unknown costs of the Konnech contract," Simpson said.
Simpson highlighted that Queensland Digital Transformation Agency Chief Chief Executive Officer (CEO), Chris Fechner, penned an astonishing written submission to the parliamentary committee.
"The delivery of the project was further impacted in the final development of bug-fixing stages during January and February 2020, as most of the coding resources were based in Wuhan, China, and were negatively impacted by the COVID-19 lockdown," Fechner said of the Konnech contract.
"My question is to the Premier. can the Premier explain why foreign owned company Konnech was given an important contract to produce the software to administer Queensland's election using China based coders over every Queensland coding firm?" Simpson asked.
Annastacia Palaszczuk (Australian Labor Party-Inala, Australia), the 39th Premier of Queensland did not give specific answers.
"The Attorney-General has more details about that, but I can assure every Queenslander that all of their data is kept here in Australia," Palaszczuk replied.
James Lister (Liberal National Party-Southern Downs), Michael Crandon (Liberal National Party-Coomera), and Mark Robinson (Liberal National Party-Oodgeroo) also inquired about it, both with regards to data security and CCP espionage.
The Honorable Yvette D'Ath (Australia Labor Party-Redcliffe), Leader of the House, Attorney-General of Queensland and Justice Minister, read a long screed that can be easily understood through its last paragraph. 
"Having now absolutely clarified for everyone in this chamber that all data is stored securely here in Australia and not provided to any companies offshore, including Konnech Australia does not have access to the electoral roll, I now hope and expect every elected member of this parliament to now correct any social media posts or anything else they have said that puts fears into people and undermines our electoral system in Queensland. To do anything other than that is completely irresponsible."
On Friday October 26th, 2018, an article was published by The Courier-Mail and then The West Australian, called "Hacking fears over new software management system at Queensland's Electoral Commission."
"Yu has acknowledged that he uses a team of software developers in China for his election-related projects, including the new system expected to be operational in Queensland for the March 2020 local government poll," the article said.
Yu setup Konnech Australia in Brisbane in September 2017, according to the article.
Greg Denton is described as an "energy and infrastructure specialist" who is the lone Aussie local on the board of Konnech Australia. Denton accused The Courier-Mail of attempting to inflame populist sentiments about The Middle Kingdom.
You, Me, and Ni
Lionel Ni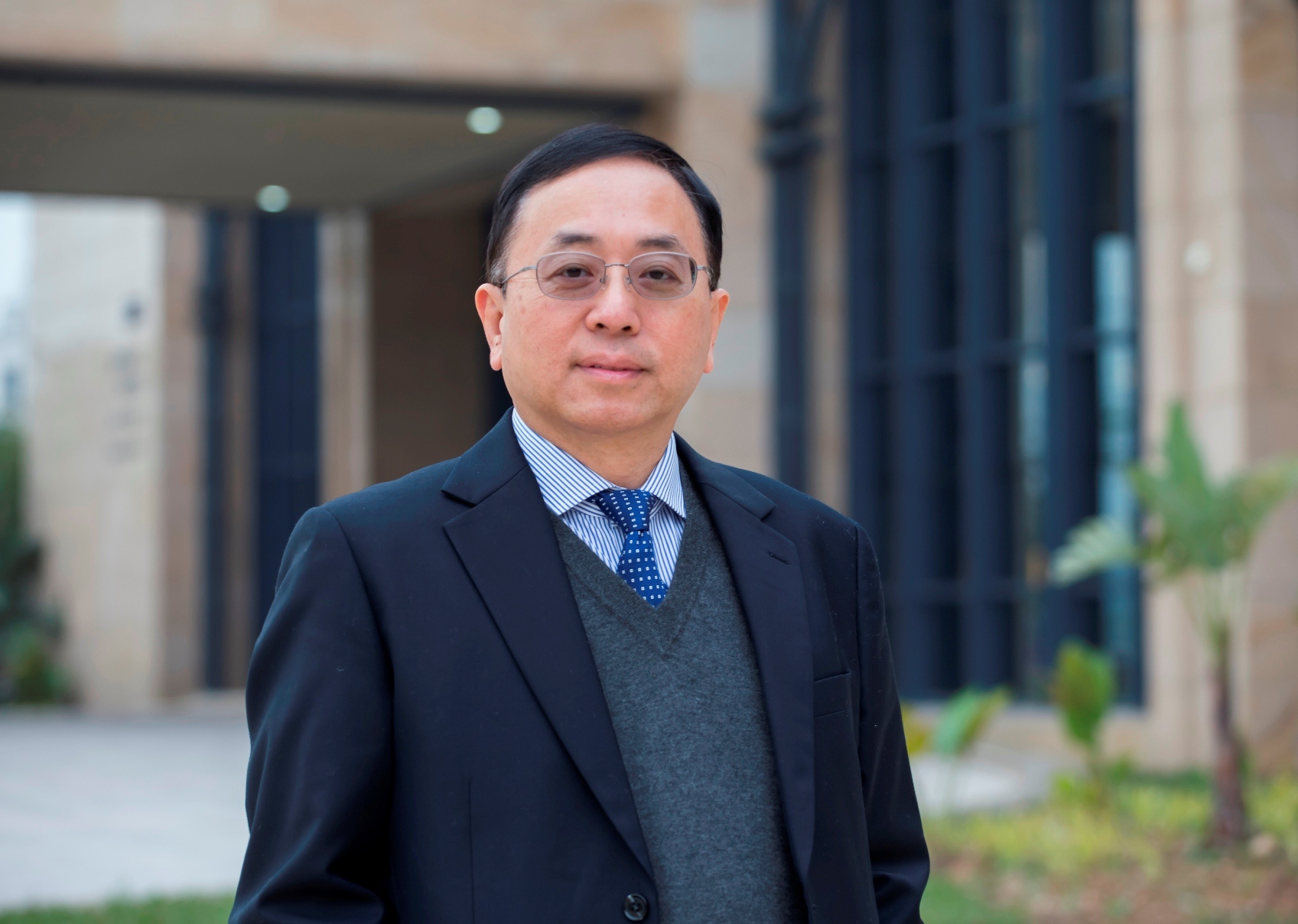 According to Google Scholars, Ni has been cited more than 40,000 times as of October 2022.
Photo Credit: University of of Macau
Lionel Ming Ni, 71, also spelled Lionel Ming Mni, was born on December 13th, 1951. Wikipedia lists Lionel Ming-shuan Ni as the Provost of the Hong Kong University of Science and Technology (HKUST), as well as the Chair Professor of Computer Science and Engineering and Chair Professor of Data Science and Analytics. Prior to that he was the Vice Rector of Academic Affairs at the University of Macau.
The Hong University of Science and Technology (HKUST) announced the appointment of Lionel Ni as the new Provost on January 8th, 2019.
However, the current 'Meet The Provost' page on the HKUST website features an Acting Provost, Professor Khaled Ben Letaief.
Lionel Ni also served as the Chief Scientist of the Ministry of Science and Technology's 973 Program.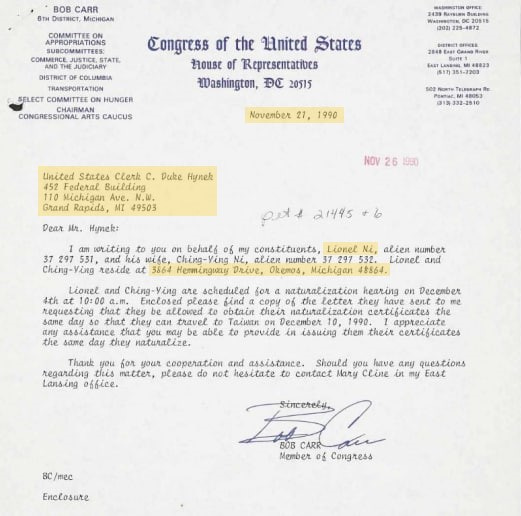 Former 8th Congressional District Representative, Bob Carr (D-MI), helped expedite the process of naturalization and citizenship for Lionel Ni.
According to his CV created during his first tenure at the University of Macao sometime after January 2015, Lionel Ni worked as an Associate Professor in the Department of Computer Science at Michigan State University in East Lansing, Michigan, from January 1981 to June 1989, when he became a full professor. Li worked as a Professor in the MSU Department of Computer Science and Engineering from July 1989 to June 2003.
Li was also a research scientist in the Division of Mathematics and Computer Science at the Argonne National Laboratory in Lemont, Illinois.
Lionel Ni is attached to an address in Coatesville, Indiana.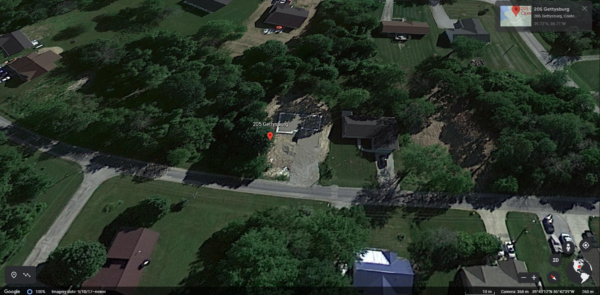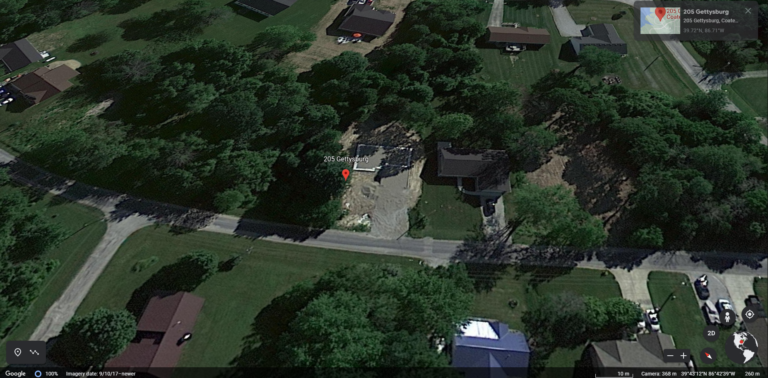 His former residence at 205 Gettysburg, Coatesville, IN, 46121 is now a vacant lot as shown on Google Earth. 
On the same CV, he is listed as the co-founder, CEO and chief consultant to CC&T Technologies, Inc, located Okemos, Michigan from April 1998 to May 2001.
Computer Communication and Telecommunication Technologies, Incorporated (CC&T, Inc.)
According to Michigan's LARA system,  CC&TT was founded by Lionel M. Ni of Okemos, Michigan and En-Wei Chai, aka Andy Chai, of Olney, Maryland.

According to their 'About' page accessed on April 6th, 2001:
"CC&T develops, manufactures, markets, and sells hardware and software centering on Internet technology. The Company was founded with the mission to develop advanced technology to provide high quality, feature-rich and cost-effective equipment for convergence of data and voice communications. The Company's current objective is to continuously improve and enhance its hardware and software products and to expand its customer base and number of POPs (points of presence)."
Of the products listed on CC&T's website is the EMIP-1 Internet Emulator, a type of WAN emulator.
A WAN emulator, also called a network emulator, is a "test tool used to emulate the bandwidth, delay, loss, and other conditions" of a network in order to troubleshoot and optimize its performance.
In the world of Google Chromebooks and cloud-based storage, this is significant. Applications work well on Local Area Networks (LANs) when there is sufficient bandwidth and little to no latency/packet loss. But if you run them over a WAN, they can be stopped.
"EMIP allows application developers and evaluators to observe the application performance in a controlled network environment. Users can configure network behavior, such as maximum network bandwidth, drop rate and pattern and delay value and pattern," the product description read. "This product is being used by the Chinese Government laboratory to evaluate different VoIP products."
As far back as when the webpage was accessed, April 14th, 2001, the People's Republic of China (PRC) and the Chinese Communist Party (CCP) had used the EMIP-1 created by CC&T.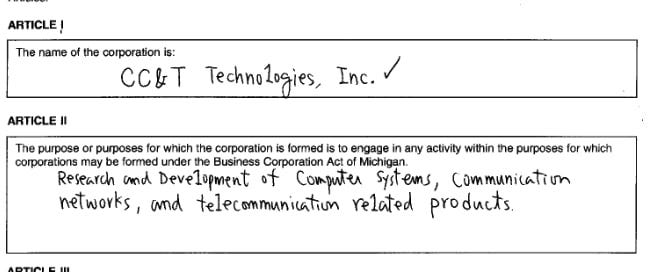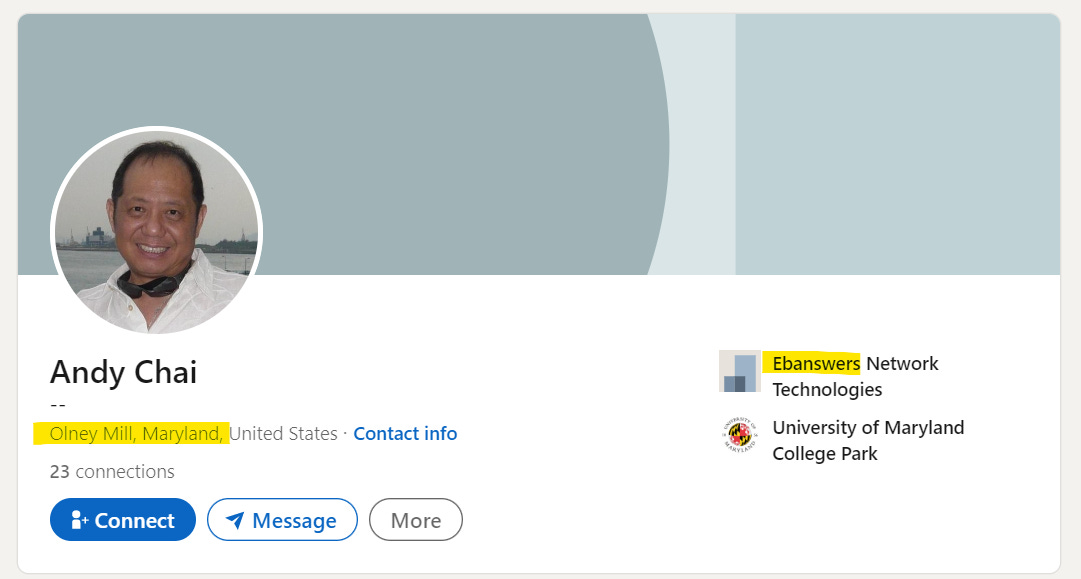 Andy Chai aka En-Wei Chai, has two LinkedIn profiles.
Enwei W. Chai, aka Andy Chai, 70, of Olney Mill, Maryland, worked as a Senior Engineer at CC&T from September 1, 2015 to January 26, 2022. Chai has a B.S. in Electrical & Electronic Engineering from the University of Maryland College Park.
Chai is a registered agent of CC&T Technologies for the business, Candid Color Systems, Inc., located in Gaithersburg, Maryland.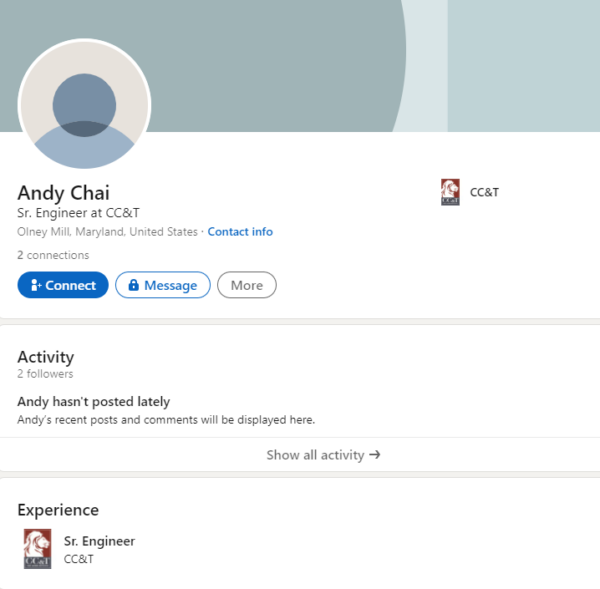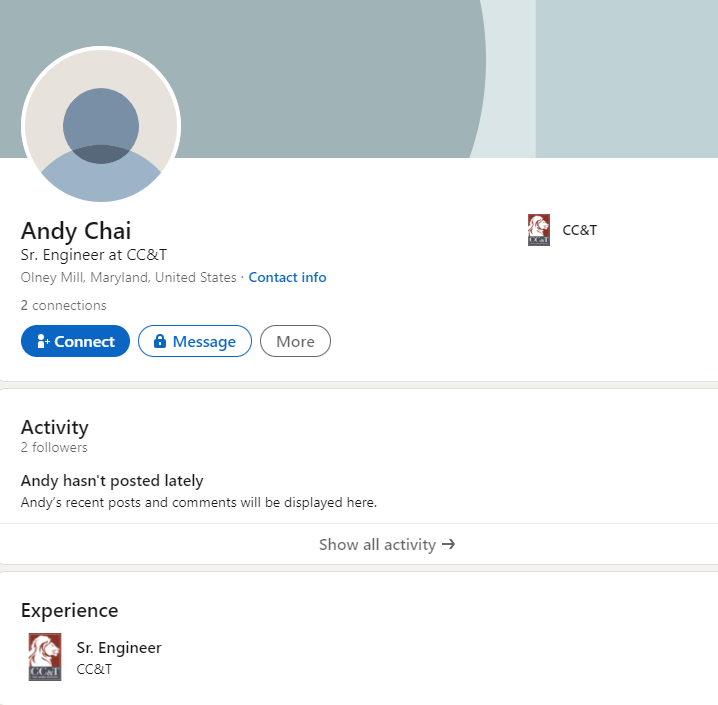 He is also listed as the registered agent for Globdial Communications, Inc., which he filed on December 18th, 1997.
En-Wei "Chris" Chai is listed as the registered agent for Angoya, LLC, a company which is registered to the same Gaithersburg, Maryland address as CC&T, according to his AllPeople.com profile. Angoya, LLC was incorporated on January 24th, 2002.
Interstellar
A search on the domain search engine, Whoxy, revealed that Lionel Ni was the owner of angoya.com, and the email address to which the domain was registered, ni@cse.ust.hk, is an email for the Hong Kong University of Science and Technology (HKUST). That email address in turn was connected to www.56iq.com's Interstellar Network Technology Co., Ltd., a company for which Chris Chai is the registered agent.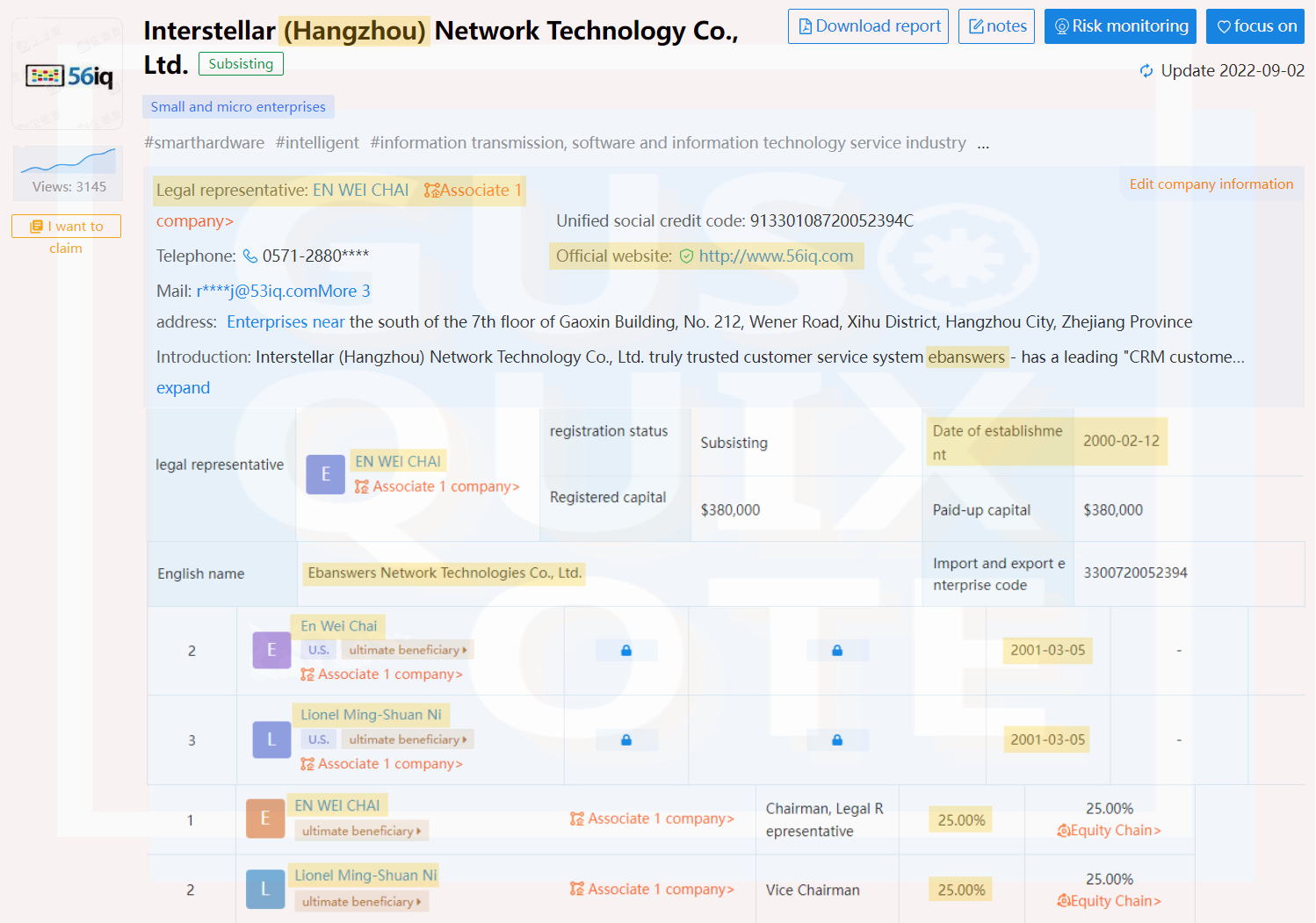 Interstellar 56iq is a "US-owned enterprise" and application programming interface (API) that can support facial recognition, banking, and communication software on a variety of computer devices.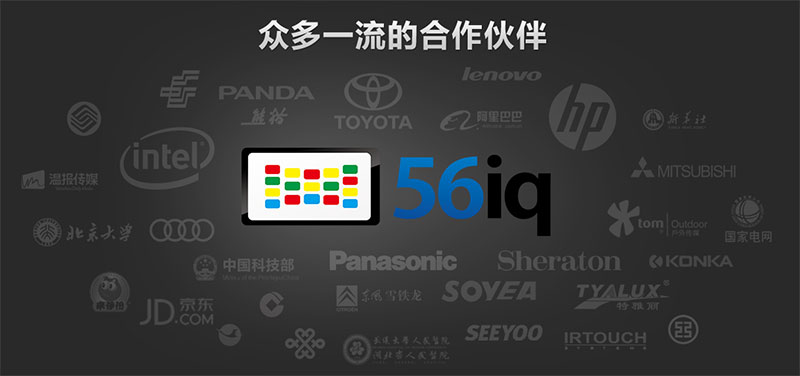 StarWorld (Interstellar) Network Technology Co., Ltd. is a U.S. funded enterprise, founded in 200, headquartered in Hangzhou, China, with a research and development center in Michigan, USA. 
Interstellar is a company developed by CC&T, which confirms a connection between Eugene Yu, Konnech's PBX servers, and a business called Interstellar owned by the world-renowned, Lionel Ni.
LJ Connection, LLC, was incorporated by Eugene Yu on July 2nd, 2001, which shares the same registered address as Engino Technologies Inc., DUNS-(157543898) at 4211 Okemos Rd, Okemos, MI, 48864. Engino Technologies Corporation was incorporated on March 11th, 2003 by Eugene Yu and Lionel Ni. 
"A university professor had a dream to connect every phone to the Internet. He has worked for that goal ever since," the LJConn stated on its website.
Interstellar, formerly hosted at ebanswers.com, partnered with the aforementioned LJ Connection, another company owned by Lionel Ni.
Eugene Yu's LinkedIn page states that he has experience in Internal Combustion Engine Design from Zheijiang University. The Zhejiang Province is also home to Interstellar, Yulian Network Tech, and Hongzheng Network tech.
Interstellar 56IQ announced a contract with Georgia Institute of Technology in 2020.
The Interstellar Beijing link at the bottom of the 56IQ homepage, which has since been updated, redirects to adone.com.cn, one of several companies on a shared cloud network.
The Star Wuhan link, which has since been removed from the website, redirects to singiv.com, a website controlled by the Chinese government, incorporated as Wuhan Interstellar Interactive Smart Technology Co., Ltd. or Wuhan Interactive Interstellar Display Technology, based in Wuhan, Hubei, China.
A company with the name, Angoya Inc., was incorporated on October 25th, 2002.
On October 14th, 2002, Lionel M. Ni signed a filing for a Certificate of Dissolution for Angoya, Inc.
Ni and his co-author, Abdol Esfahanian, received a $65,968 grant from the National Science Foundation (NSF) in 2003 for a study entitled "CISE Research Instrumentation: Emulate the Performance of Wide Area Networks" as a part of Michigan State University (MSU). The budget term ended on February 28th, 2003.
The next month, Lionel Ni published two papers at the 22nd Annual Joint Conference of the IEE Computer and Communications Societies in San Francisco in March 2003. "EMPOWER: A Network Emulator for Wireline and Wireless Networks" was written with co-author, Pei Zheng, and "Prophet Address Allocation for Large Scale MANETS" was written with Hongbo Zhou and Matt W. Mutka.
Soon after the NSF grant, Konnech was selected by Michigan State University (MSU) to build ChineseBrief for its Confucius Institute.
The cause for concern about CCP espionage is warranted, as it has already been documented.
In July 2021, Spyware was discovered inside an app called "Beijing One Pass" that foreign companies who operate in China must install on their electronic devices in order to access employee state benefits. The spyware disabled security features and recorded data, including keystrokes, screenshots and the ability to modify the system. American cybersecurity firm, Trustwave, named a similar program GoldenSpy.
It is important to note that LA DA George Gascon, who brought charges against Eugene Yu, is one of several prosecutors across the nation who are backed by left-wing radical multi-billionaire revolutionary, George Soros. In Gascon's case, it is a backing to the tune of at least $3 million.
A poll released by Rasmussen Reports on Monday revealed that 46% of likely US voters now have an unfavorable view of the FBI, while an October 4th poll found that 84% of likely voters believe the issue of election integrity to be important in the 2022 congressional elections.
The Pit was the name of the event whereat True The Vote publicly announced the results of their OSINT investigation.
Former 9th Special Forces Group Operator, Major Jeffrey Prather (RET.), also spoke at The Pit and commented on the recent announcement by U.S. AG Merrick Garland.
"They realized that China has found to be so overt that they have to do something to make it look like they are doing something while still doing nothing," Prather said on Tuesday.  "They're nervous. They have to say something so they are saying this."
Prather called AG Garland FBI Director Wray "the two most despicable people in government," on Tuesday.
"If the Chinese government, the Chinese Communist Party, continue to violate our laws they're going to keep encountering the FBI," FBI Director Christopher Wray said. 
"Well that is really worrisome" Prather said in response. "The FBI doesn't fight crime, it manages crime and they are all in with the Chinese."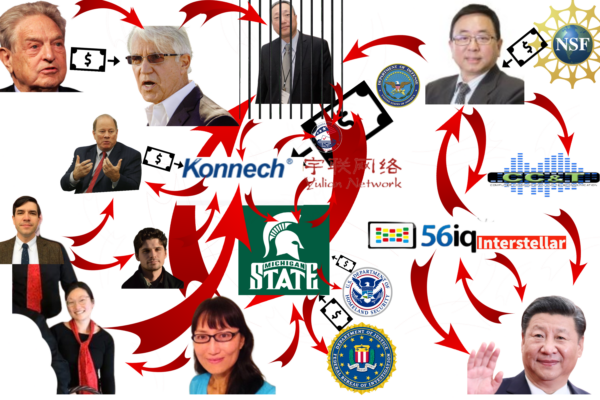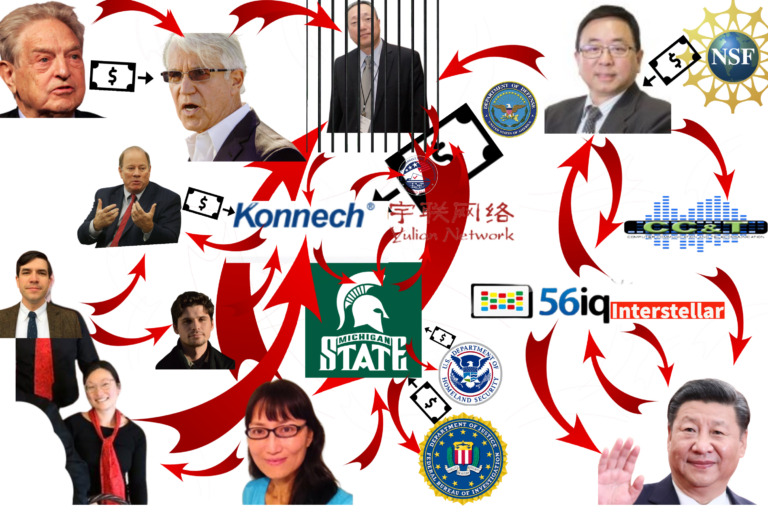 Eugene Wu's arraignment and plea hearing is scheduled for November 17th at 8:30 AM.