Last Updated on February 1, 2023
Virginia's Henrico County Public Schools are defending their decision to present an award to a teacher in a "trans kids" t-shirt, and then post a video of it to their social media pages. Despite public pushback from parents and community members, the district is falsely claiming that no one had a problem with the video and has endorsed the wearing of "trans kids" apparel, despite it blatantly violating their own dress code.
Henrico County Public Schools, located in the Richmond, Virginia suburbs, celebrated Highland Springs High School teacher Chad Taylor in a "YAY of the Day" video posted online on January 25th, as part of what the district tells National File is an "employee appreciation campaign" to cheer on staff members. In the video, which was filmed during the school day, Taylor is wearing a shirt that reads "Protect Trans Kids."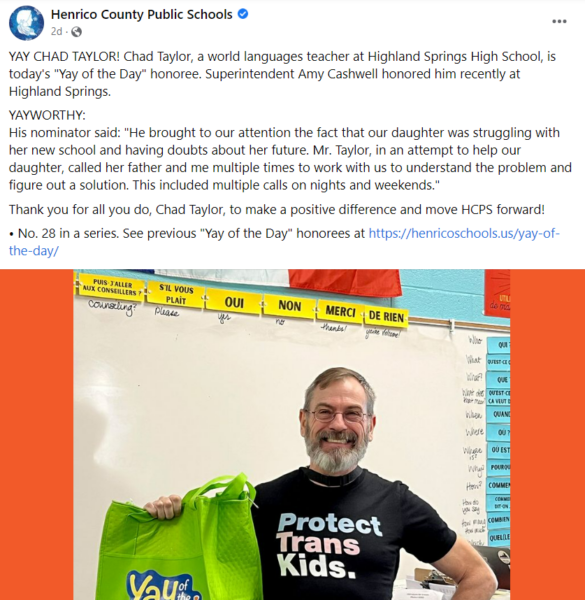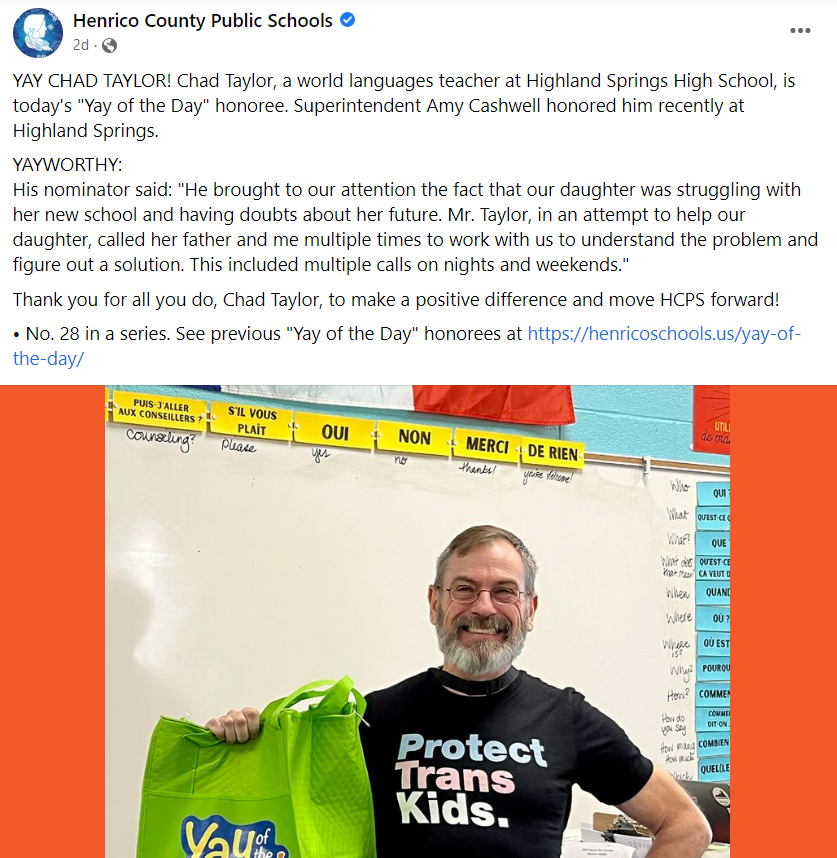 Despite Taylor's open sexualization of children in a public school, the district has defended featuring his "trans kids" t-shirt in their social media posts and on their official website, even though it blatantly violates their own dress code.
"With regard to employee attire, policy, and regulation indicate staff should 'exercise good judgment in promoting modesty, decency, cleanliness, and a sense of decorum so as not to disrupt or negatively impact the learning environment,'" Eileen Cox, the district's Chief Communications Officer, told National File in an email.
"Further, the Code of Student Conduct prohibits 'messages on clothing, chains, jewelry, and personal belongings that pertain to drugs, alcohol, tobacco, sex, gangs, vulgarity, or messages that negatively represent a religion, ethnicity, culture, sexual orientation, gender, gender identity, transgender status, or people, or that could cause a substantial disruption to the learning environment.'"
Though Taylor attempted to act surprised and like he didn't know the award was coming when the cameras and "YAY of the Day" gift bag were brought into his classroom, Cox told National File that "honorees are notified in advance" of their video appearance. It would seem that Taylor deliberately wore the "trans kids" t-shirt, to make a political statement in favor of the genital mutilation of children, using the social media accounts of the taxpayer-funded Henrico County Public School district to do so.
Watch the video HERE
Furthermore, Chief Communications Officer Cox went on to falsely claim to National File that "no complaints were made" about Taylor's choice of clothing, though Cox carefully procured her words, telling National File that the district has "still not received school-based concerns about disruptions caused by the teacher's clothing choice."
That claim flies in the face of Henrico County Public Schools' own Facebook comment section, in which numerous parents and community members have blasted the district for featuring Taylor in his "trans kids" t-shirt.
Cox did not reply to National File when further pressed for information, and when asked whether or not complaints about the teacher's attire have to originate from children within the school, as the phrase "school-based concerns" suggests, before any action is taken.
She also provided no answer when asked by National File if it is the official policy of Henrico County Public Schools to support the transgender genital mutilation of children.
Interestingly enough, an unverified comment from a supporter of Chad Taylor and his "trans kids" t-shirt on the Henrico County Public Schools Facebook page claims that Taylor was previously fired from a nearby school district, for being "too openly gay" in front of kids.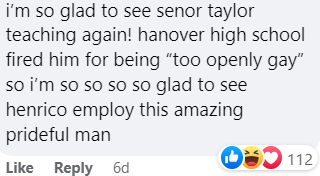 National File has reported extensively on the open grooming of children into homosexuality and transgenderism in Virginia's public schools, a situation that has shown very little improvement since Glenn Youngkin took office as Governor, riding a parental rights wave brought on by the covered-up rape of a teenage girl by a "gender fluid" boy in a skirt in a Loudoun County high school. In that case, the district's former superintendent, Scott Ziegler, is facing criminal charges.
Not far from Henrico County, in Chesterfield, a 5-year-old child was sent home from kindergarten with a copy of the book "I'm Not A Girl," a transgender tale about a small child.
Late last year, left-wing Virginia teachers and elected Democrat politicians aided students in holding "walk-out" protests against parental rights. The protests were organized by the "Pride Liberation Project," an LGBT extremist group seeking to "rehome" children whose parents don't support their supposed "gender identity."