Elon Musk mocked the far-left Anti-Defamation League for "defaming" him after he reinstated President Trump's famous @realDonaldTrump account to the Twitter platform. The account was barred by left-wing censors amidst the 2021 installation of Joe Biden.
"Hey stop defaming me!" Twitter owner Elon Musk tweeted to the ADL's CEO, Jonathan Greenblatt after he claimed that Musk's reinstatement of President Trump's Twitter account would lead to "hate, harassment and misinformation," among other buzzwords.
President Trump's reinstatement to the Twitter platform came after Musk democratized the process, fielding a public poll of Twitter users and asking for their opinions on reinstating the account. The result was a victorious "yes" vote and the apparent triggering of the ADL.
According to Greenblatt, for Elon Musk "to allow Donald Trump back on Twitter, ostensibly after a brief poll, shows he is not remotely serious about safeguarding the platform."
Notably, Musk's response to Greenblatt thoroughly "ratio'd" the ADL's CEO, with Musk's tweet receiving over 348,000 "likes," compared to a mere 131,100 "likes" for Greenblatt's initial tweet.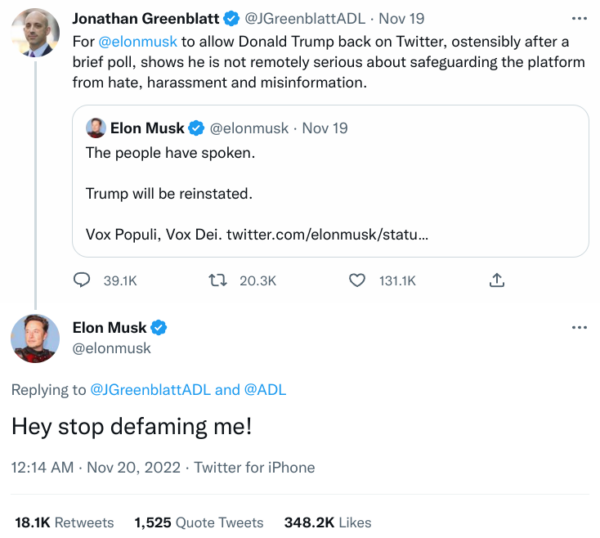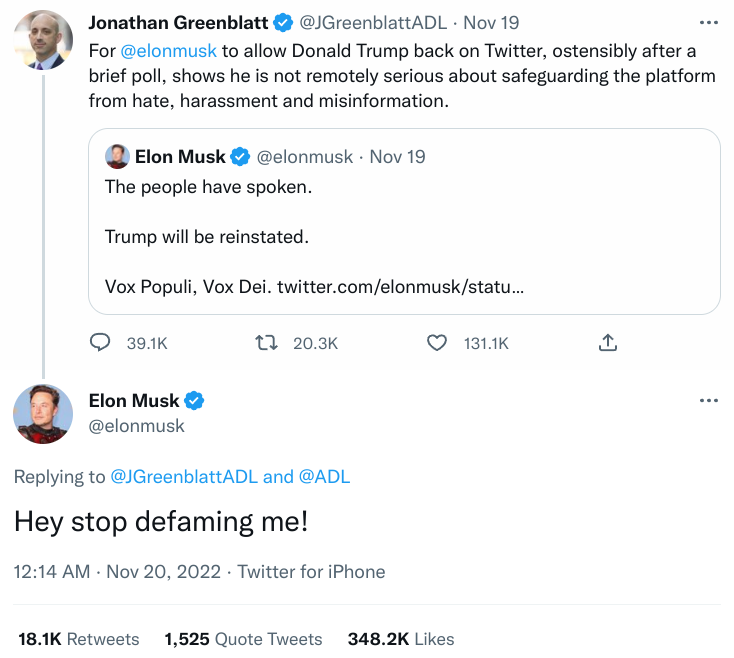 The tweet from Greenblatt was part of a larger thread in which the ADL's CEO claimed that by disobeying his orders, Elon Musk made a "dangerous" decision, representing a "threat to American democracy."
"We need to ask," Greenblatt tweeted, before seeming to issue a veiled threat, "is it time for Twitter to go?"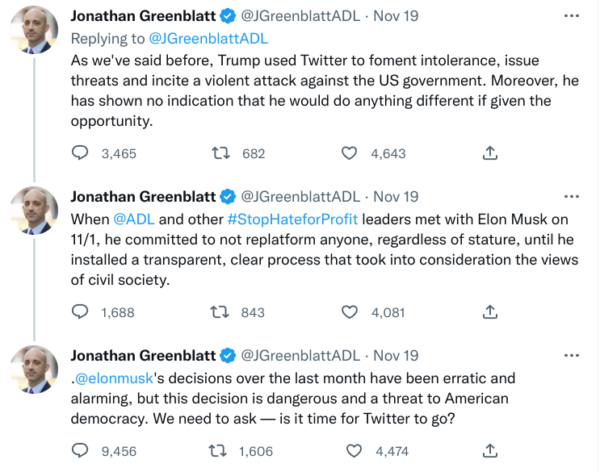 The exchange of tweets between Musk and Greenblatt after the reinstatement of President Trump is just the latest chapter in the larger story of the ADL's fight to silence Americans and control the flow of information and ideas online.
Weeks ago, the Anti-Defamation League, which is often criticized for engaging in the massive "defamation" of American patriots and conservatives, ordered advertisers to bail on Twitter over the limited expansion of free speech on the platform, even calling for the censorship of the Bible in the process, labeling the Holy text an "antisemitic conspiracy theory."
Much like the ADL, a multitude of other left-wing pressure groups and corporations have jumped in against Twitter, with the NAACP announcing a "pause" in Twitter usage over their apparent free speech concerns.
CBS News made a similar announcement, then quit their boycott of Twitter after less than 2 days.