Last Updated on November 20, 2022
CBS News has announced its return to Twitter following a weekend of backlash and ridicule after the corporate media outlet said it was going to "pause" its use of the social media platform. Seemingly, the CBS "pause" came in retribution for the free speech and in-person work policies that have led to mass resignations by left-wing Big Tech employees.
"After pausing for much of the weekend to assess the security concerns, CBS News and Stations is resuming its activity on Twitter as we continue to monitor the situation," CBS News PR wrote in a Sunday morning tweet.
More ridicule followed the CBS News announcement, as the short-lived Twitter "pause" came to a fast end.
"Hahahaaa," replied the famous Libs of TikTok account, appearing above a chorus of Twitter users offering similar responses directed at CBS, one of the largest and most entrenched corporate media outlets in the world.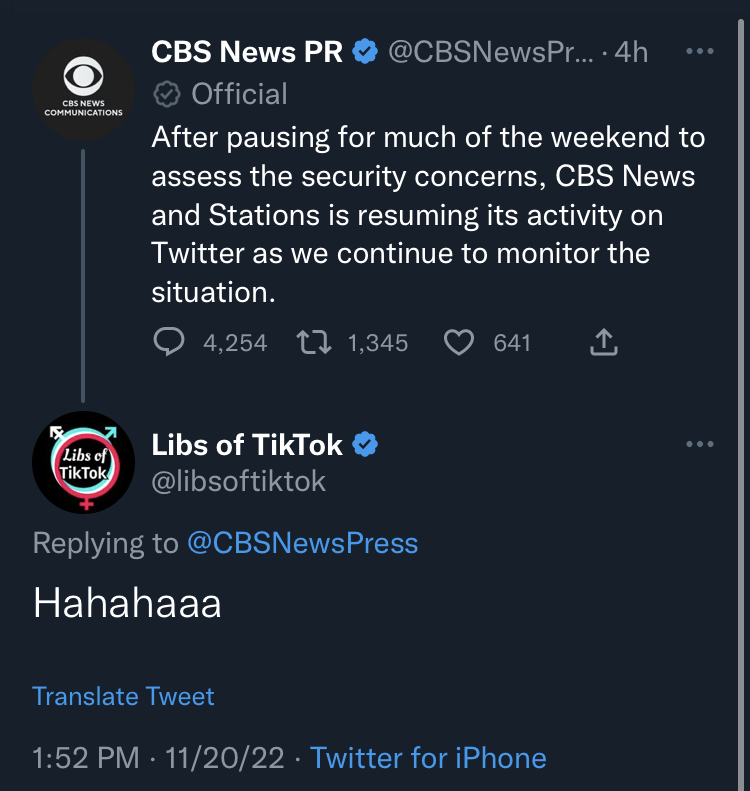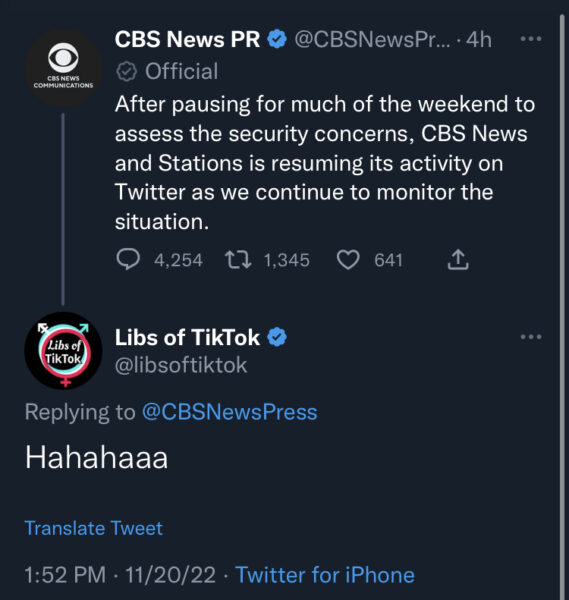 The "pause" from CBS, while mocked by millions, is part of a larger trend among political elites, corporate media outlets, and their associated advertisers to shut down any form of commerce or communication even loosely associated with one of America's founding concepts – the right to free speech.
Earlier this month, the far-left ADL began ordering corporate advertisers to pull their deals with Twitter, in retaliation for the slight expansion of free speech on the platform experienced since Elon Musk's takeover. In doing so, the ADL lamented the Holy Bible as an "antisemitic conspiracy theory," the contents of which have no business on social media, they claimed.
In their own announcement of the short-lived CBS Twitter "pause," the corporate media giant claimed they were acting out of "an abundance of caution," not going into much further detail. The announcement obviously followed the ADL's command and came as free speech was slightly expanded and accounts previously banned by left-wing censors restored.