Last Updated on November 5, 2022
The far-left Anti-Defamation League has ordered advertisers to "pause Twitter spending" after accusing the platform's users, and its new owner Elon Musk, of "antisemitism" and "hate" amidst a surge in free speech. Among the "hate" tweets cited by the ADL is a Bible verse posted to Twitter by Ye, formerly known as Kanye West.
After a week of back and forth between Elon Musk and the ADL regarding free speech on the Twitter platform, the far-left pressure group that's increasingly seen as being a Jewish supremacist organization authored a long tweet thread calling on advertisers to ditch the platform.
Allowing free speech, the ADL claimed in the thread, is not only "toxic," but part of a "hate for profit" scheme.
"Today, we are joining dozens of other groups to ask advertisers to pause Twitter spending because we are profoundly concerned about antisemitism and hate on the platform," reads the ADL's initial tweet, authored Friday, November 4th.
"Here's why we're asking advertisers to #StopHateForProfit and #StopToxicTwitter," it went on, introducing the thread that called the Holy Bible an "antisemitic conspiracy theory."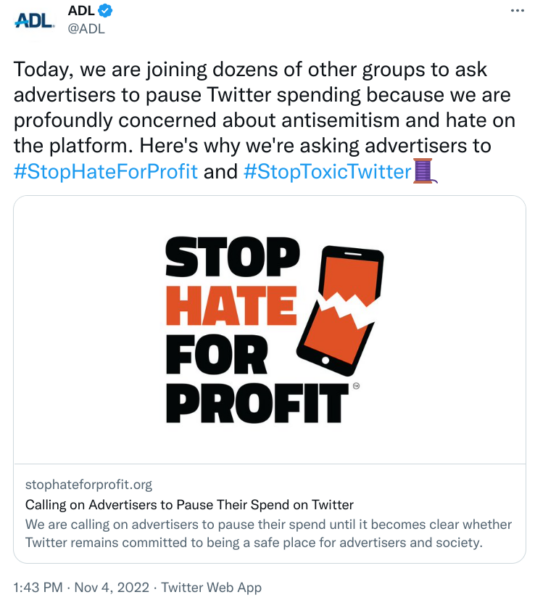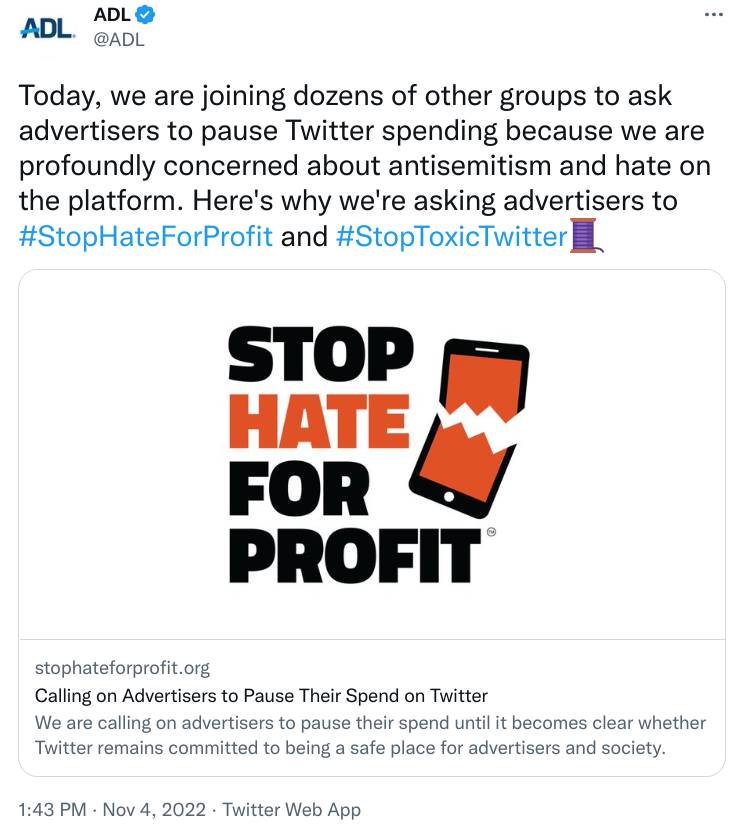 The ADL's call for collectively multi-billion dollar advertising sponsors to leave Twitter high and dry came just days after Elon Musk was slammed for groveling to the anti-speech group that threatened "dire consequences" for allowing free speech and re-instating accounts they don't like.
On Wednesday, Musk announced that he'd met with ADL leadership following their threat, as well as the NAACP, and even members of the Bush political machine.
Musk said at the time that his Twitter platform would continue enforcing anti "hate" and "election integrity" policies at the ADL's behest.
But, "since that meeting," the ADL claimed in their tweet thread, "Musk permitted @KanyeWest to start posting again," which, apparently, is a grave offense.
Among Ye's tweets that the ADL is most vehemently opposed to is his sharing of Holy Bible verse John 19:19, something the ADL claims is equivalent to posting "antisemitic conspiracy theories."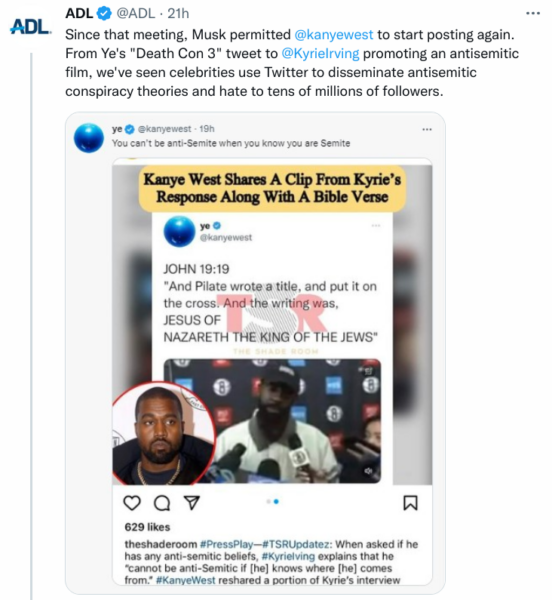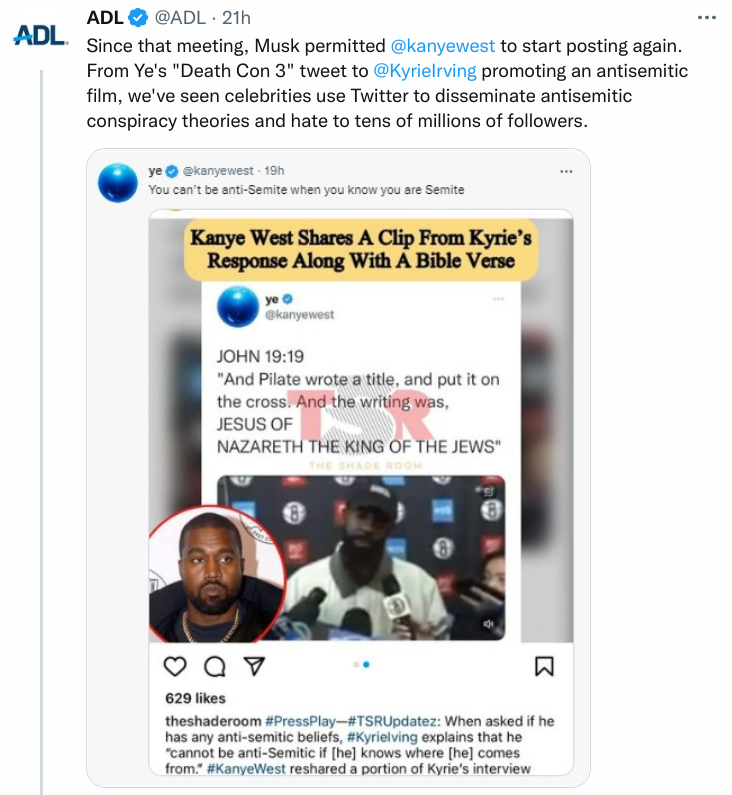 "Musk has also conducted massive layoffs," the thread went on, bemoaning Musk's firing of Twitter's top executives and anti speech censors that came almost immediately after he took the helm.
As punishment, the ADL is calling on Twitter's sponsors to drop all affiliations with them, effectively using financial blackmail to enforce their anti-free speech agenda.


The ADL's call for sponsors to drop Twitter despite Elon Musk seemingly going along with their will has led to great speculation online that the platform's new owner is playing a game of 4-dimensional chess with the left-wing pressure group.
If they order the sponsors to drop Twitter, the internet theory goes, Musk can then forge a new path, and wash his hands of the ADL and their anti-speech corporate foot soldiers.
The situation at Twitter is developing rapidly. Stick with National File for updates.