Last Updated on June 2, 2021
As revealed in the newly released earth-shattering emails obtained through FOIA, Dr. Anthony Fauci and John T. Brooks appear to have participated in a disturbing "March Madness" disease bracket in March 2020.
"Dr. Fauci's March Madness Bracketology Picks" are divided into four main sections, appearing to be the East, West, South, and Midwest areas of the United States. Diseases listed on the bracket include Coronavirus, SARS, MERS, Zika, West Nile, Rabies, Polio, among others. It appears that Coronavirus won the competition and was declared "CHAMPION." Meanwhile, a circled signature in the center of the bracket reads "Tony F."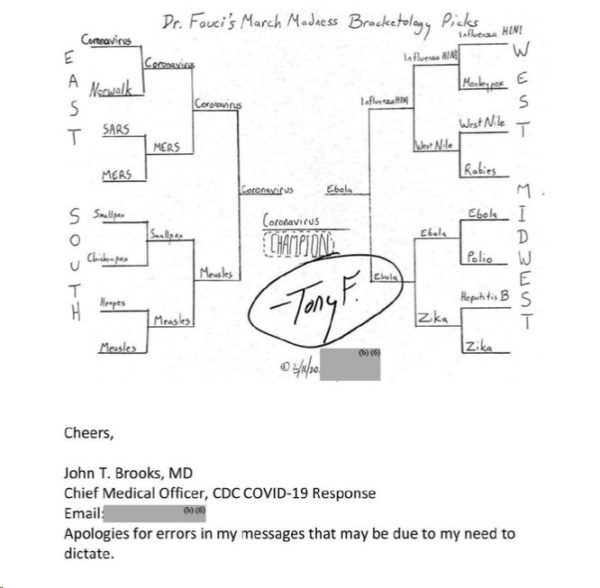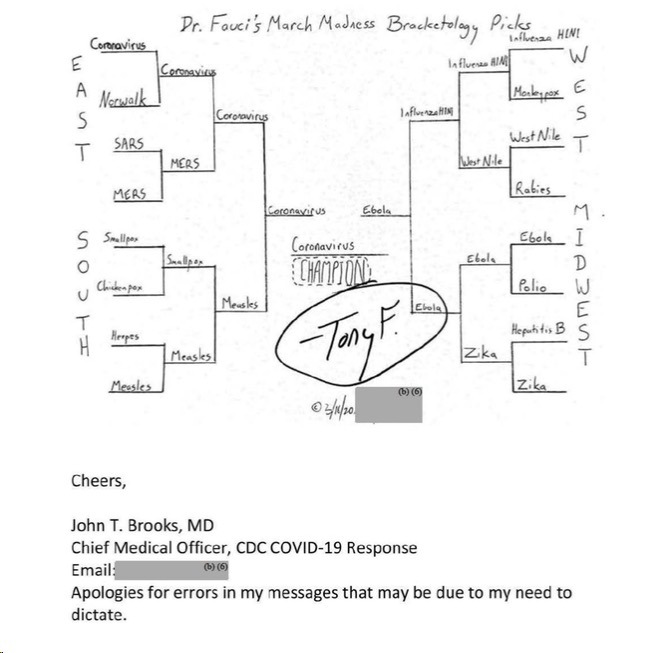 The email was sent to Fauci by the CDC's John T. Brooks, a "medical epidemiologist with the Division of HIV/AIDS Prevention, National Center for HIV/AIDS, Viral Hepatitis, STD, and TB Prevention."
"Cheers," wrote Brooks. "Apologies for errors in my messages that may be due to my need to dictate."
What the hell. These people are sick. pic.twitter.com/ibLNdfoj3V

— Tom Pappert is also infrastructure (@realTomPappert) June 2, 2021
In a separate email exchange with Sylvia Burwell, who served 11 years at the Bill and Melinda Gates Foundation, Fauci said that the "typical mask you buy in the drug store is not really effective" in stopping COVID-19, adding that the virus is "small enough to pass through the material," as National File reported. 
National File senior reporter Patrick Howley, who first broke the story exposing Fauci's funding of "gain of function" research at the Wuhan lab in China, noted that "Fauci initially told people not to wear masks before changing his stance on the issue, and American children have been wearing the slave masks in large part due to Fauci's advice. We now know that Fauci does not actually believe in the merit of masks, and he was willing to tell a well-connected former Obama administration apparatchik one thing while later telling America the exact opposite."
Facebook CEO Mark Zuckerberg sent an email to Fauci on March 17, 2020, thanking him for his "leadership" during the early stages of the COVID-19 pandemic, and offering to use Facebook as a platform to share Fauci's messages about COVID-19. Fauci saw the value in Zuckerberg's offer, noting that Facebook would spread Fauci's message more effectively than television, as National File reported.
Not the usual catchall b(5) deliberative process here.. but a less common b(4) "trade secrets and commercial or financial information obtained from a person [that is] privileged or confidential" on Zuck's offer to Fauci.

Was this the offer to censor wrongthink??? pic.twitter.com/UyoC1WSES8

— Phil Kerpen (@kerpen) June 2, 2021
In a separate instance reporter Donald McNeil sent an email to Fauci referring to Americans as "selfish pigs" for their behavior during the early stages of the pandemic, and the Chinese as "heroic" – citing a well-known state propaganda outlet for the Chinese Communist Party, which Fauci appeared to have concurred, as National File reported.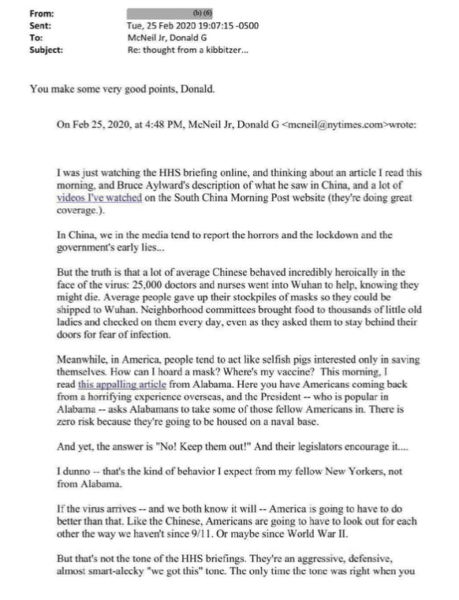 My take on the Fauci emails is that he thought it was a real and serious threat in February and March.

By May he knew it was a load of crap. But he was loving how important he felt and all the media attention, so he fed into it.

Tone of his emails changed in early April.

— Tom Pappert is also infrastructure (@realTomPappert) June 2, 2021