Last Updated on June 2, 2021
Then-New York Times star reporter Donald McNeil sent a lengthy email to Anthony Fauci characterizing Americans as "selfish pigs" for their behavior during the early days of COVID-19, and Chinese as "heroic" – citing a well-known state propaganda outlet for the Chinese Communist Party. Fauci seemed to agree with his characterizations.
"The truth is that a lot of average Chinese behaved incredibly heroically in the face of the virus," wrote McNeil, after noting that he was informed by known-CCP propaganda paper the South China Morning Post. "Meanwhile, in America, people tend to act like selfish pigs interested only in saving themselves."
McNeil then noted that people in Alabama, where "the President – who is popular in Alabama" asked Alabamans to "take in" Americans recently returning from China, and was shocked to learn "the answer is "No! Keep them out!" At the end of his lengthy email, McNeil suggested Americans would have to work together in a bipartisan fashion not seen since either 9/11 or World War II to face the COVID-19 pandemic, and Fauci responded, "You make some very good points, Donald."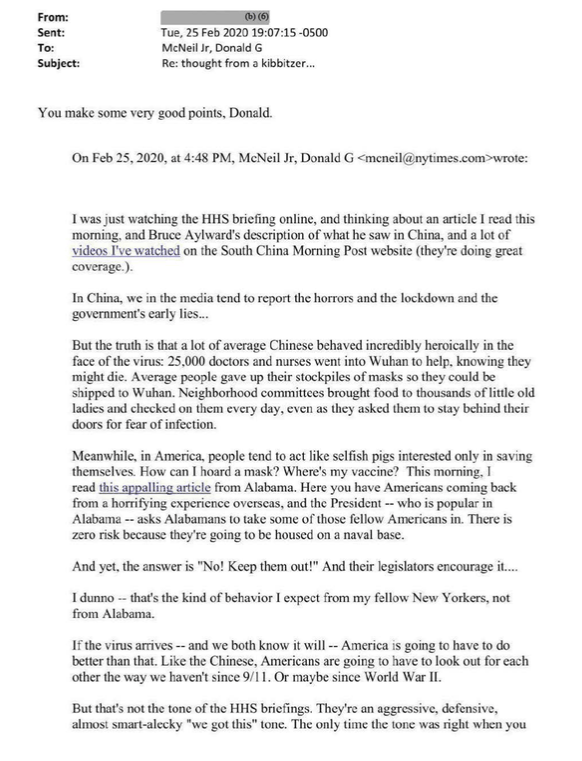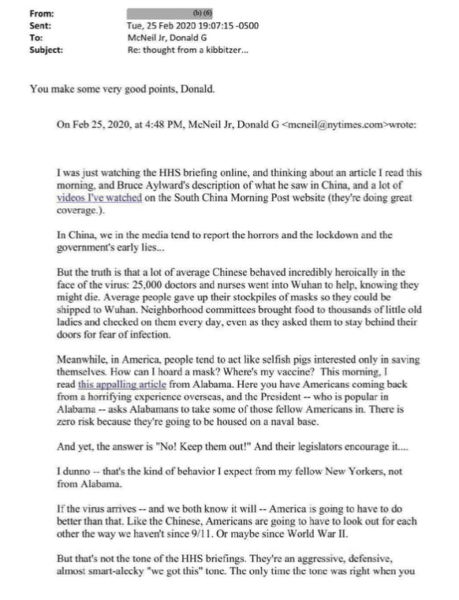 Despite McNeil's apparent personal relationship with Fauci, role as a health reporter at the New York Times, a paper where he wrote for 45 years, and his commitment to getting his news from Chinese state propaganda publications, McNeil was eventually fired from the New York Times after he allegedly used a racial slur during a student trip out of the country. The New York Times disciplined McNeil for his slur, but after The Daily Beast ran an article on the subject, a number of New York Times writers demanded successfully that McNeil be fired.
He later claimed he is not, in fact, a racist. According to the New York Times, McNeil asked, "'Am I a racist?' Mr. McNeil wrote. 'I don't think so — after working in 60 countries over 25 years, I think I'm pretty good at judging people as individuals. But 'am I a racist?' is actually a harder question to answer about yourself than some self-righteous people think.'"