Last Updated on August 31, 2022
Virginia AG Jason Miyares is stonewalling National File's FOIA requests into statements his office made about Monique Miles' defamation suit against it. Miles was fired earlier this year after a Washington Post hit piece attacked her pro-election integrity Facebook posts. After kowtowing to left-wing media, GOP AG Miyares falsely claimed that Miles had resigned, and then, amidst increased scrutiny, claimed that she and his office had "parted ways," while attacking her character.
In a statement made to National File after Miles filed her lawsuit on August 17th, the Miyares Attorney General's Office claimed that ousted Deputy AG Monique Miles is after "taxpayer dollars" in her lawsuit.
Telling National File that she entered the suit to clear her name, Miles is pursuing a defamation judgment for compensatory and punitive damages against defendant Miyares. Chief of Staff D.J. Jordan, Chief Deputy Attorney General Chuck Slemp III, Director of External Affairs Klarke Kilgore, and Communications Director Victoria LaCivita are also named as defendants in the lawsuit.
All of those named played a role in falsely and publicly claiming that Monique Miles had resigned and had not been fired at the behest of The Washington Post and their anti-election integrity hit piece.
National File made a FOIA request to the Attorney General's Office for information on any liability insurance policies covering the AG's Office and its staff in the event of such lawsuits. The existence of such a policy, which is standard in government, would completely disprove the AG's assertion that Miles is after "taxpayer dollars" in filing her defamation suit.
After National File's initial written FOIA request was made on August 19th, 2022, no response was had.
Under Virginia law, public officials and their offices have "five working days" to respond to FOIA requests.
Six days after National File's initial request, no response had been received, and additional attempts were made in writing to file a FOIA request and gain a response.
National File also reached out to the Attorney General's Office by phone, in search of the party responsible for FOIA compliance, but was referred to a voicemail box, leaving a message that received no response.
Just briefly after making an inquiry to Attorney General's spokeswoman Victoria LaCivita, asking if it was the official policy of the Jason Miyares Attorney General's Office to ignore FOIA requests, National File received a non-response to the inquiry by email, on official AG's letterhead.
The response was signed by Kimberly Soto, who is described below her signature as the AG's FOIA Officer.
Remarkably, though National File put in the original FOIA request to the Virginia AG's Office on August 19th, the date had been changed and recorded as August 22nd in the response from the AG's Office, creating the illusion that they were in compliance with FOIA's "five working days" response window.
"Please be advised that the Office has no records responsive to your request," the AG's Office response reads in stonewalling National File, before precluding future FOIA requests related to the Miles case. "It is unlikely that this Office can render any further assistance with respect to this matter within the coverage and limitations of FOIA or otherwise."
Additionally, the AG's office attached an invoice for $173.42, apparently for the labor costs incurred while stonewalling conservative media.
See the AG's FOIA stonewalling of National File below: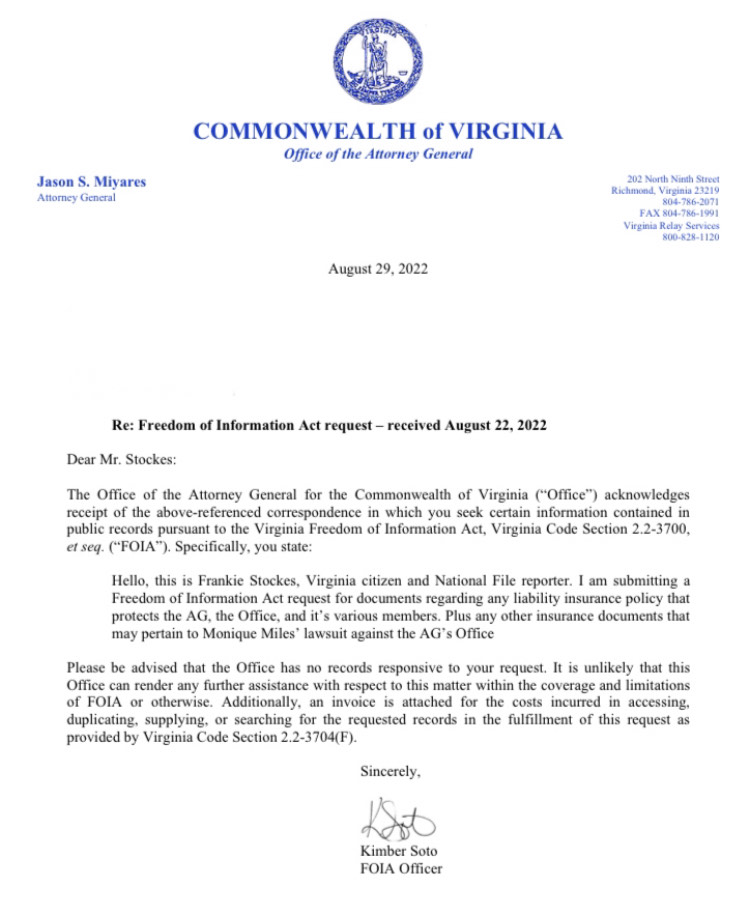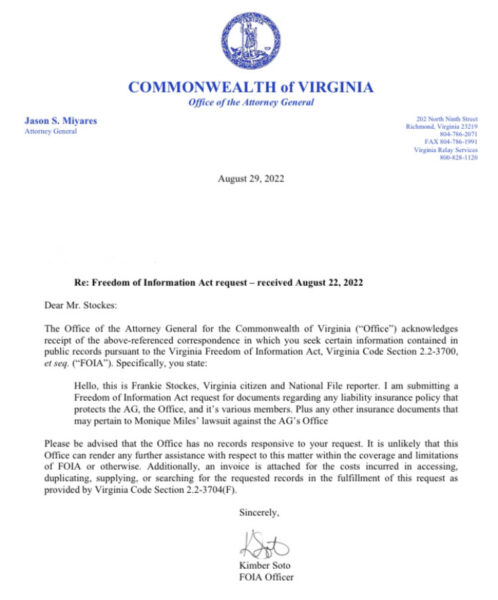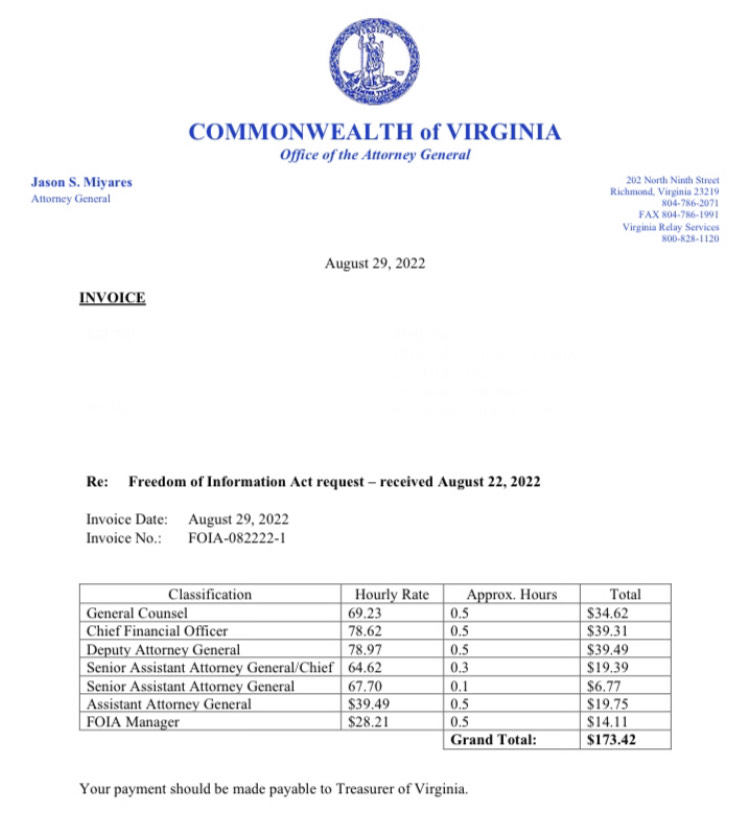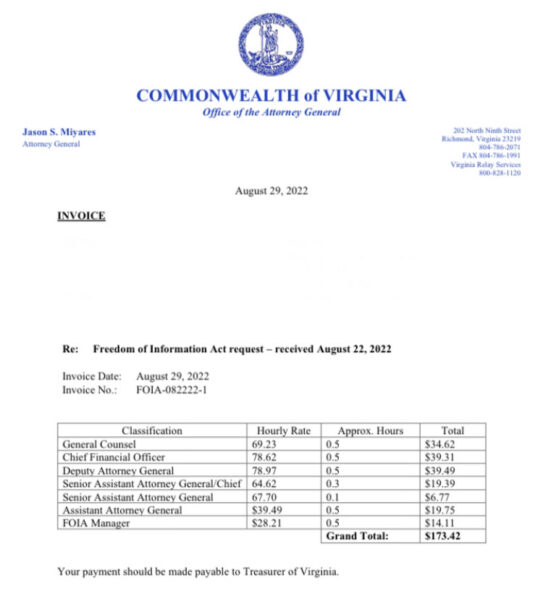 National File also reached out to spokeswoman LaCivita, who Miyares has hidden behind throughout the Miles situation, neglecting to make public comments of his own, to ask about the insurance policies that cover the AG's office and its members, but received no response to that inquiry either.
According to publicly available information listed on the Virginia Division of Risk Management website, which is administered by Virginia's state treasury, does indeed hold insurance policies that protect state government offices and officers from liability and "other hazards" of government work.
All "state agencies, institutions, boards, etc," as well as all "Constitutional officers" are protected from liability suits by the Virginia Division of Risk Management's insurance policies, the division's website explains.